Restaurants in The Lake Chapala and Ajijic Area
So many to choose from and so many to try. Discovering some of the best restaurants in the area will not take long and making a few of them your favorites is inevitable.  As part of Access Lake Chapala's ongoing effort to guide and show you on how Chapala living is like, we bring you our detailed restaurant section where we show you some of the best ones in town.
Many of the restaurants in the area have live music, you will often find local musicians or mariachi bands playing right at your table or on the local stage. Their are several solo artists that play the violin and harp, you will surely encounter them at one of the many restaurants Lakeside has to offer.
The Lakeside community is an international one and this reflects the quality of cuisine in the area. Many expats have opened their own restaurants and brought their delicious cooking and traditions with them.  Lakeside is filled with first class restaurants, everything from:
Thai, German, Argentinian, Greek, Mexican, Chinese, Japanese, Vegetarian, Italian & more….
Panino's Deli – sandwiches, daily specials & delicious desserts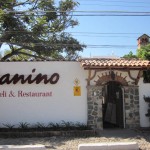 Along the Carretera in San Antonio near a grove of blooming trees is the restaurant Panino. It is easy to find. It is on the lake side of the highway. Panino's is a popular place for lunch among expats. Many residents eat their main meal there everyday. Their specialty is deli style sandwiches, everything from LAX salmon to turkey paninos. What drives so many of the exapts to Paninos's is their daily specials. They have different daily specials every day plus many other delicious entrees and soups.
Read the entire article on Panino's
Brunos Steak House Restaurant in Ajijic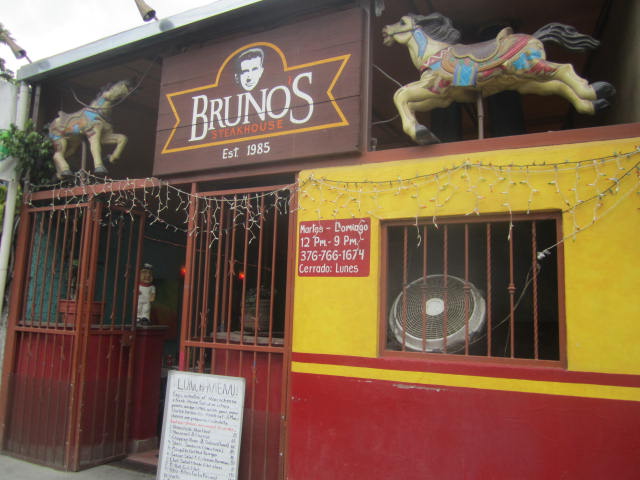 Bruno is quite a success story. He started with just a roadside barbecue stand a few years before 1985 in San Juan Cosala. In 1985 he moved to the current location in Ajijic. It has been there serving steaks and hamburgers every since then. They have a lot of experience in making delicious food. No wonder they are rated the best, year after year. Bruno's is located on the Carretera Oriente, number 20. It is on the east side of colon….
Read the entire article on Bruno's
Simply Thai – pad thai, emerald chicken curry & more
Simply Thai Restaurant has the only authentic Thai cuisine in the entire lakeside area. It is conveniently located in the heart of Ajijic, diagonally across the street from the entrance to the Lake Chapala Society. They also have takeout and delivery. They do catering. Call for more information. The appetizer menu has 7 items, including Chicken Satay, Tom Yum Soup with Shrimp, Crispy Spring rolls and Fresh Spring Rolls. Prices are from $35 to $80 pesos.  The meals can be ordered to your liking, from mild to hot.
Read the entire article on Simply Thai
Johanna's – Bratwurst, Wienerschnitzel, Jagerschnitzel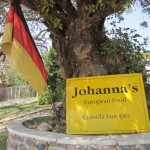 Das Essen ist lecker. La Comida esta sabrosa. The food is delicious. No matter if you say it in German, Spanish or English, it all means the same thing. The cuisine at Johanna's Restaurant is a real treat. You will not go away hungry or disappointed. Johanna's is located at the eastern edge of Ajijic, near the Plaza Bugambilias, which is on the Carretera, next to Revolution Street. They serve eight different meat dishes including their most popular dish Bratwurst. Pflaumenstrudel for dessert.
Read the entire article on Johanna's here
La Bodega Restaurant – Dancing and talent shows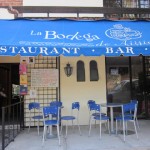 La Bodega is located at 16th of September St. No. 124. It has become a social and cultural center. The owners Javier and Martha Gonzalez started La Bodega in 1998. At the beginning it was a store for Mexican handicrafts. That was in February of 1998. They also had five tables and served coffee, cakes and baguettes. People kept asking them to serve other food and by July of 1998 they turned it into a restaurant.
Read the entire article on La Bodega here
Tony's Restaurant – Bar –  Famous for Ribs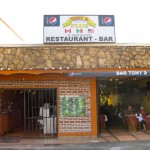 Tony Andalon and his wife Hermila opened up Tony's Restaurant in San Antonio on February 5th, 1998. Initially they just sold tacos but people kept asking him to sell other dishes too. One year after Tony opened, he expanded and started serving many different dishes. We asked him how he would describe his food. He said, "You could call it Mexican with a little bit of American or American with a little bit of Mexican"
Read the entire article on Tony's Restaurant here
Salvador's Restaurant – Best Breakfast & Lunch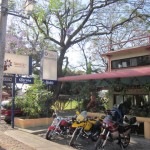 Every town in the world seems to have a central gathering place where men have coffee and breakfast in the mornings. Sometimes the women show up but not as often as the men. Maybe the wives are home doing dishes. Salvador's is probably the main restaurant in Ajijic for this sort of gathering. I am not saying that women don't go there for breakfast. They do. I am just making an observation about men and morning coffee gatherings.
Read the entire article on Salvador's Restaurant here
Manix's – In the heart of Ajijic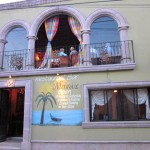 Manix Restaurant is located in the heart of Ajijic on Ocampo #56. The restaurant was once their family home. Now Manix is another one of the many popular "Hot Spots" for dinning in Ajijic Restaurants. Good food, music, dancing and wonderful service. The story of how the home was converted into a successful restaurant is like a fairy tale. It started with Manuel (Manix) Espana Ramos. When he was twelve years old he was working in…
Read the entire Article on Manix's Restaurant here
Pedro's GO le Club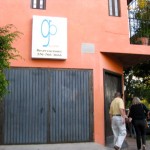 You don't go to the restaurant GO Le Club in Ajijic for the entertainment. There is no entertainment. You don't go for the view, although the sunsets are spectacular. You don't go for the drinks, although he serves them. You go for the world-class cuisine! Pedro Palmer, owner of GO has spent the past thirty-five years as a chef. He studied for three years at the Cordon Bleu School in Paris and since that time he has traveled the world, taking cooking classes wherever he visits.
Read the entire article on GO Le Club here
Mario's Restaurant in San Antonio MX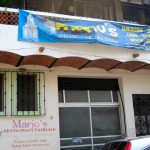 Mario's Restaurant is located half a block from the San Antonio Plaza. If you don't have a car, the small buses go through town and stop at the plaza. It is an interesting area to visit on your way to Mario's. There is fierce competition in the restaurant business. So, what is the secret to staying in business? Traditional Mexican Food: Swiss cheese enchilada, Birria, Chili Rellenos with meat or cheese, chicken cordon bleu
Read the entire article on Mario's here
Min Wah Chinese Restaurant
Some of his specialties include: Orange Beef for 90 pesos, Cantonese Chow Mien for two people for 115 pesos, Tofu Szechuan with ground pork for 75 pesos, Chicken with Mushrooms for 85 pesos, Beef with Black Mushrooms for 85 pesos, Prawn a la Shanghai (with Shell) for 100 pesos, Dragon and Phoenix for 95 pesos, Peking Duck (24 hour advance notice) for 350 pesos, Pot stickers (8) for 55 pesos….
Read the entire article on Min Wah here
Mom's Deli in Riberas del Pilar
Mom's Deli is open six days a week, closed on Wednesday. Breakfast hours are: 7:00 a.m. to 11:30 a.m. Monday through Saturday. Lunch is: 11:30 a.m. to 3:30 p.m. Monday to Friday. Saturday Lunch hours: 11:30 a.m. to 2:30 p.m. Sunday Brunch 9:00 a.m. to 2:00 p.m.  Mom's Deli is located in Riberas del Pilar at the Maskaras Plaza. The address is: Av. Hidalgo #79-I, Plaza Maskaras.
Read the entire article on Moms here
Cafe Magana in Riberas del Pilar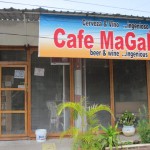 Deep Fried English Style Fish 'N Chips, Fish Tacos, BBQ Beef and Chicken Sandwiches, Meatloaf, Roast Beef and Chili. Perfected BBQ sauces. A list of the different flavors: Ginger, Garlic, Chili, Smoke, Apple, Tamarind, Pepper and Orange. Also sells these BBQ sauces by the bottle for 62 Pesos. The side orders are: BBQ Beans, Garden Peas, Coleslaw, Potato Salad, Baked Potato, Mashed Potato, and Chips/fries.
Read the entire article on Cafe Magana here
Lake taco Restaurant
Do you like Burritos? If so, this is the best burrito place in Chapala. I have friends who go to Lake Taco almost everyday. It is conveniently located, on the Libramiento, next to the car wash. The people working there are friendly. Food is delicious. If you go to the car wash, you could have a nice lunch at the same time. The service is fast. No long waits. There are always available tables and there is a view of the lake from everywhere in the restaurant.
Read the entire article on Lake Taco here
Want to suggest a restaurant?
We will be updating them as much as possible. If you are a restaurant and want to be included in our restaurant section, please contact us