Healthcare in Ajijic, Lake Chapala, and Guadalajara
Did you know that according to a Newsweek conducted study of the World's Best Countries, Mexico ranked #14? Overall, Canada was ranked #7, United States #11, and Mexico #14 in Health Care. Yep, it's not just great Margaritas, Beer and good weather. Mexico has great healthcare, Doctors and Dentists. All towns surrounding Lake Chapala have their own local Physicians and Orthodontists, costs involved are very low compared to the US or Canada and if any major surgery or operation is needed the city of Guadalajara is only 45 minutes away.
Guadalajara boosts world class hospitals and medical equipment. Private hospitals in Mexico accept many different kinds of insurance and public ones depend on the Mexican equivalent to "Medicare" called "IMSS". You will read and learn more about this in our Health Care section, so check out the articles below and please do send any questions you might have our way.
Medical coverage available in Chapala, Ajijic and nearby Guadalajara
There are many different options for covering medical expenses here in Mexico.  Anytime you start talking about coverage for medical expenses, there are always qualifiers. Many people have heard about IMSS, which is often likened to "Mexican Medicare". IMSS offers a very inexpensive annual medical coverage that is similar to HMOs in the United States. Applicants must take a physical and complete extensive health questionnaires. Acceptance is NOT assured. If an applicant is accepted, the premium varies depending on age as does the annual premium. Essentially, there is before and after age 65.
Read the entire article on Medical Coverage
Local Clinics and Doctors in the Lakeside area
The people living at Lake Chapala have found world-class medical care at extremely reasonable costs. Ever been too sick to go to the doctor? Not fun, is it? Well, in Mexico many doctors make house calls. In interviews with ex-pats comparing relationships between their doctors in Mexico with their doctors North of the Border, they overwhelmingly support their Mexican doctors. They cite that their doctors take whatever time is needed with patients. While in consultation, patients report that doctors care about their patients and their patients' families. The doctor also treats the whole patient instead of "body parts".
Read the entire article on Local Clinics – Read More on Healthcare – Part 2
Prescription Medicine and Pharmacies in Mexico
Buying prescription medication in Mexico, especially in a small town such as Ajijic or Lake Chapala is a little different from buying it in the United States or Canada.  There are many pharmacies (farmacias) in Mexico. There are small "mom & pop" size pharmacies and large "chain" pharmacies. One of the more difficult adjustments is learning your medication in its Spanish name. First of all, most of your medications are going to be available without a written prescription from a doctor. Until very recently, even antibiotics were available without a prescription
Read the entire article on Prescription Medicine
Dentists and Dental Care Lakeside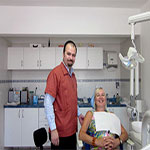 The following are listed within community, then alphabetically by Mexican last name. For example, first in the list is Dr. J. Manuel Ayala Candelas – Ayala is the last name; Candelas is his mother's last name. Mexicans carry both parents' last names but go by the father's, in the example, Ayala. All of these listed speak English. Mexican dentists receive the training that you expect back home, and they are fully qualified. Try to get a referral from someone you know although the work s(he) may have had could be very different from what you need. How were they treated?