The Famous Mom's Deli and Restaurant
Mom's Deli is located in Riberas del Pilar at the Maskaras Plaza. The address is: Av. Hidalgo #79-I, next to Plaza Maskaras.
Mom's Deli is open Monday through Sunday closed on Wednesday
Breakfast 7:00 a.m. to 11:30 a.m
Lunch is: 11:30 a.m. to 3:30 p.m.
Saturday Lunch hours: 11:30 a.m. to 2:30 p.m.
Sunday Brunch 9:00 a.m. to 2:00 p.m.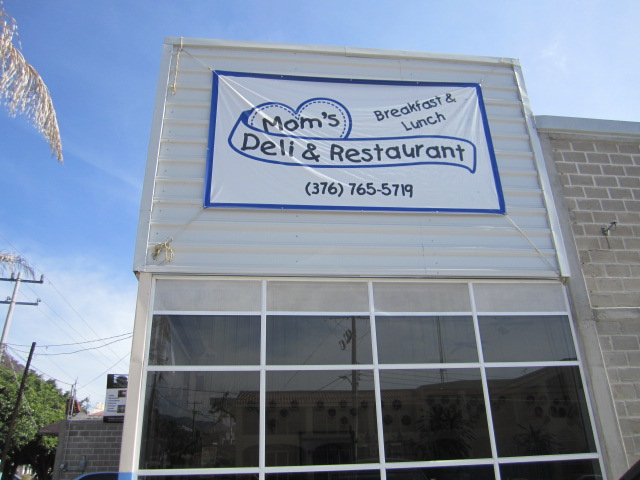 It is easy to find. It is on the lakeside of the Carretera and you will see the sign on the side of the building or else the Lakeside Bridge Club sign above the entrance to it. The phone number is: 765-5719.
Mom's Deli is owned by May Collins. She has owned it for ten years. She has eight employees. Her daughter Camille Collins helps to run it with her.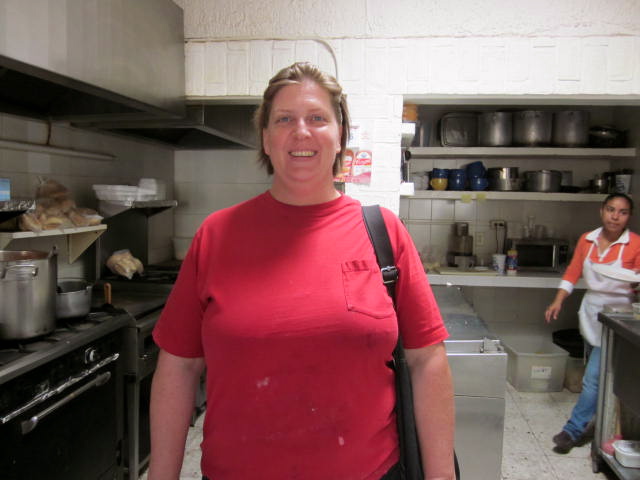 For the first five years that May was in the restaurant business here, she owned one near Bubba's Restaurant. Then she moved to current address.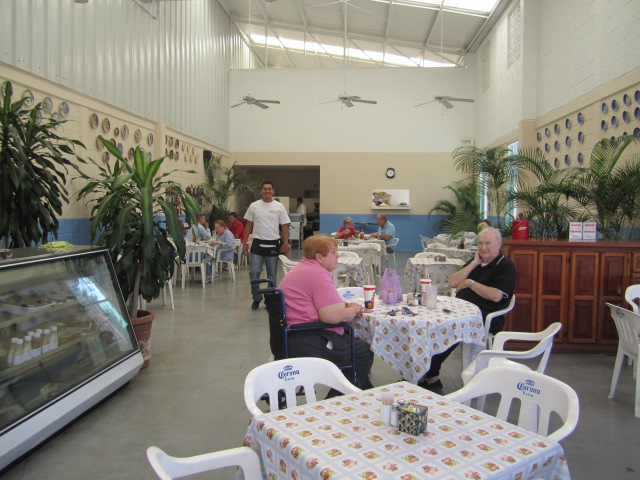 I arrived there at nine-thirty in the morning and already May was too busy to sit and talk with me. Fortunately, a nice man introduced himself and gave me information about the restaurant. His name is Julian Palinski. He has lived in this area for seven years and he eats at Mom's everyday of the week and sometimes twice a day. He was a wealth of information.
Mom's Deli is open six days a week, closed on Wednesday. Breakfast hours are: 7:00 a.m. to 11:30 a.m. Monday through Saturday. Lunch is: 11:30 a.m. to 3:30 p.m. Monday to Friday. Saturday Lunch hours: 11:30 a.m. to 2:30 p.m. Sunday Brunch 9:00 a.m. to 2:00 p.m.
Julian was having breakfast as we were talking. It looked good but I wasn't hungry. I just enjoyed watching him eat and hearing about all the other delicious meals that Mom's serves. He is an expert on their meals since he has been eating there almost as long as she has been open. Julian said he rarely eats at any of the other restaurants in the area because he doesn't trust the quality of the food. He said that Mom's is always excellent and healthy. He has never had any problems with her food. He said, "You can always count of the food here being delicious and safe."
Bridge Club is next to Mom's Deli
Julian is a bridge player and the Bridge Club is next to Mom's Deli. He said sometimes Mom's caters their bridge functions. I tried to pin him down to his favorite dishes but he loves them all. He said that breakfasts at Mom's are usually busy times and there are many repeat customers. This is what Julian said about the breakfasts at Mom's. "It has real honest-to-goodness American Breakfasts that taste like home."
Let's start with the breakfast menu.
Sunday: Belgium Waffle and Fruit. This is a favorite with the customers. Eggs Benedict is 80 pesos. There are several breakfast specials for 70 pesos. They include juice and coffee.
If you aren't very hungry you may want to try the Granola and Yogurt for 60 pesos, or the Oatmeal with Spiced Apples, Raisins and Nuts. It comes in two sizes, small for 40 pesos and large for 60 pesos. How about Biscuits and Gravy? There are two homemade Biscuits with Sausage Gravy with your choice of bacon or homemade Country Sausage Patties for 70 pesos.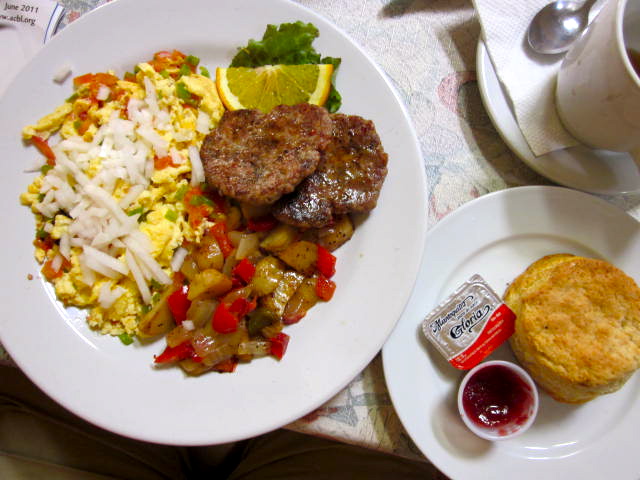 You can have Eggs any way you like them for 60 pesos and that includes Homemade Hash Browns and your choice of Toast (White, Whole Wheat or Biscuit) Add Bacon or Country Sausage Patties and it is 70 pesos,
There is a Roasted Veggie Omelet. It is a Three-egg Omelet filled with Roasted Onion, Mushrooms, Peppers and Cheese for 75 pesos. There is a Ham and Cheese Omelet for 75 pesos. How about Corned Beef Hash and Eggs? Small (one egg) is 50 pesos and large (two egg) for 75 pesos.
There are also many other delicious breakfasts, including French toast for 70 pesos, Cornmeal Waffles for 70 pesos, and Old-Fashioned Pancakes for 70 pesos.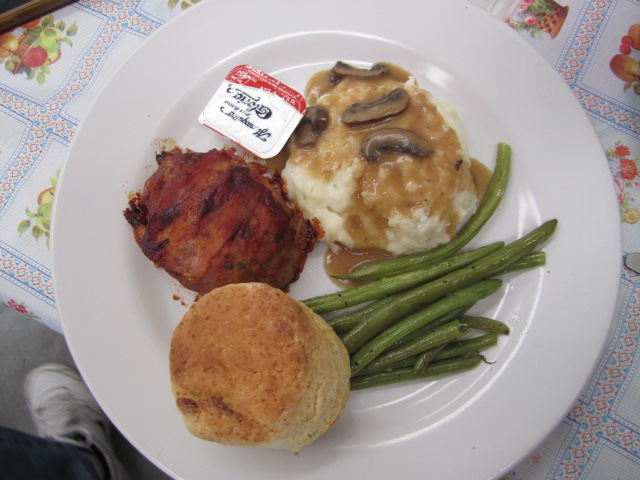 Some of the side orders are Homemade Cinnamon Rolls for 30 pesos and Scones for 15 pesos. All the bakery items are made in a small kitchen in a room just before the entrance to the restaurant. Mouth-watering smells come out of that little room. They bake all their bread and desserts there.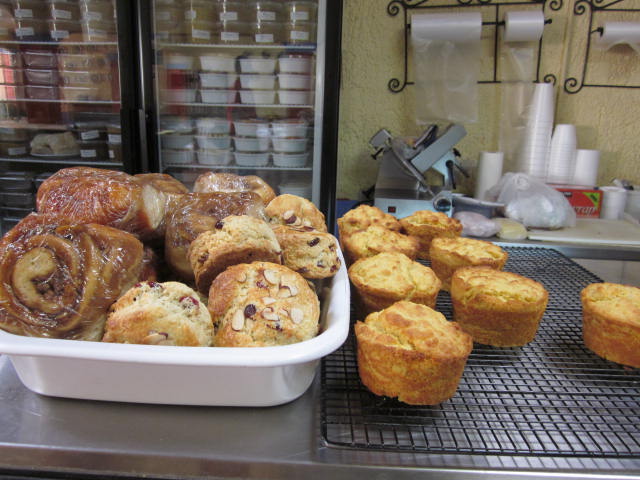 Some of the desserts include, Fresh Fruit Cobbler, Apple Pie, Blueberry Pie, Peach Cobbler, Lemon Meringue Pie, Brownies, Cookies and Carrot Cake. You will have to go and see all these desserts for yourself. They are hard to resist. This is not a good place to go if you are trying to diet.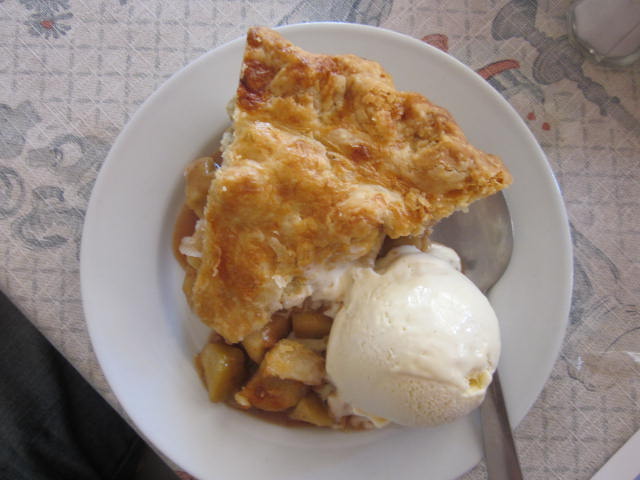 Everyday there is a daily special.
Monday is French Dip, Roast Beef on a homemade roll for 80 pesos.
Tuesday is Lasagna or sometimes she has Quiche for 75 pesos.
It is closed on Wednesday.
Thursday is Meatloaf with Mashed Potatoes, Brown Gravy and fresh Veggies and homemade Roll for 80 pesos.
Thursday is Fried Chicken. (This is a very popular dish so you have to get there early or else call ahead) It is 80 pesos.
Friday is the Cook's Choice.
Saturday is Oven-Roasted Chicken with Mashed Potatoes, Gravy, Stuffing and Vegetables. Sometimes they also have BBQ Ribs.
Sunday: Two Different Entrees plus Asparagus Omelet with Hollandaise Sauce.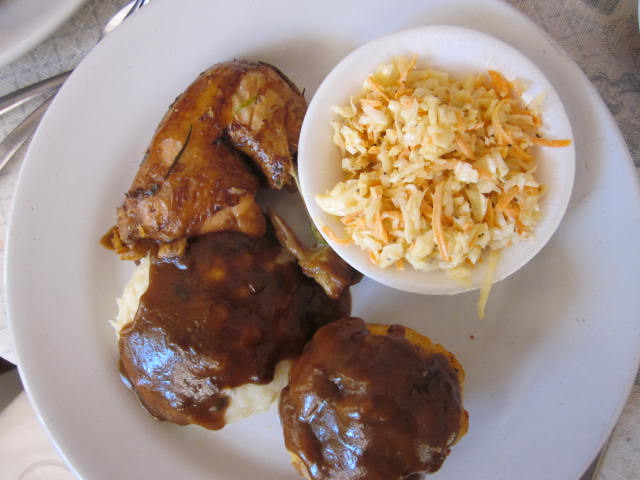 There are many homemade soups. I had the Gazpacho last Saturday and it was delicious. She also makes Lima Bean Soup, Vegetable Soup, Potato and Cheddar Cheese Soup, Chicken and Dumpling Soup and many more. Soups come in two sizes. Small for 30 pesos and large for 40 pesos. A large soup was enough for me for two meals. A jumbo Muffin is 25 pesos.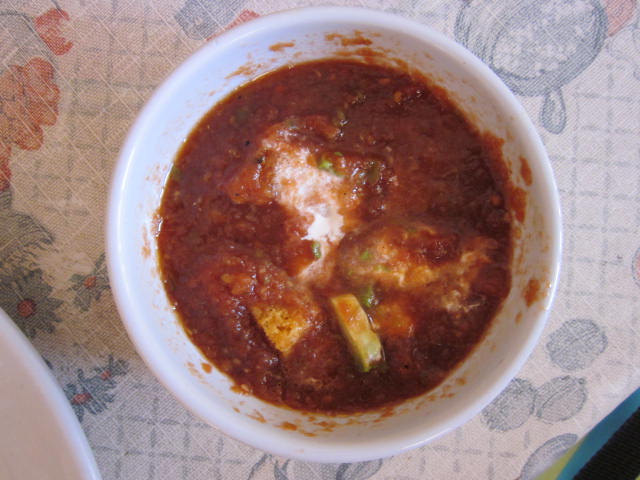 You can buy beer there or white or red wine. Negra Modelo is 20 pesos. Corona or Pacifico is 18 pesos. House wine is 35 pesos.
Animals are not allowed in the restaurant. Smoking isn't allowed and you cannot split an order or just buy a half order. But you can ask to have what you don't finish boxed up to take home. There is usually enough food for two meals. Be sure to leave your diet at the door.
There are also many great sounding sandwiches. Reuben Sandwich with Corned Beef, Sauerkraut and Swiss cheese grilled on Rye Bread for 70 pesos. The Rachael, which is Turkey, Swiss cheese with Cole Slaw, grilled on Rye Bread for 70 pesos, BBQ Beef Sandwich for 70 pesos.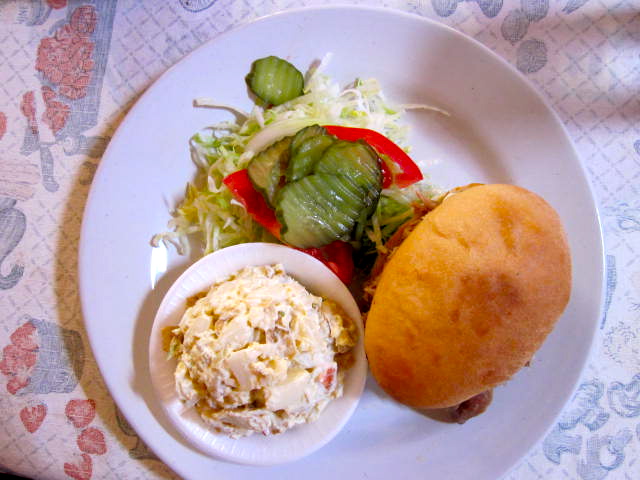 There are several salads. Julian highly recommends the Cobb Salad. There is a Chicken or Tuna Salad with two different deli salad choices from their extensive menu. You can have Potato Salad, Macaroni Salad, Coleslaw, Three Bean Salad or Pickled Beets. They make their own beets and pickles. The dressing is 10 pesos extra.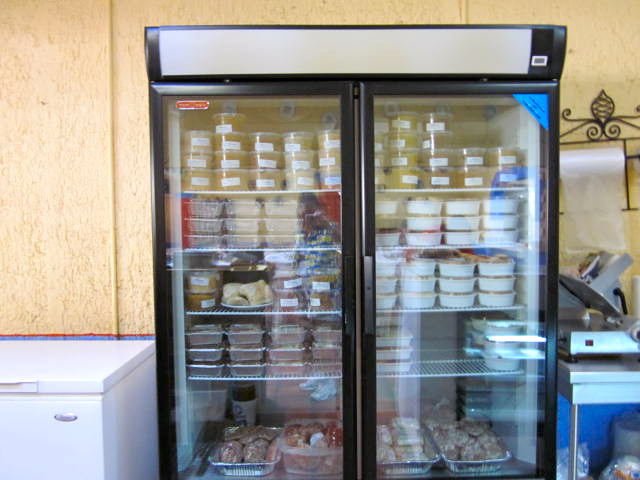 There is an extensive take-out section. Julian raves about all of her dishes that are preprepared.
I love going to Mom's Deli. There are so many delicious smells both inside the restaurant and outside, near their bakery area.
If you want to know more about the area, we are here to help. You can contact me in the comments below and either I or one of the Access team members will be glad to help you and answer questions.
By, Evelyn Walker
AccessLakeChapala.com Team
Questions or Need Help?
[onw_simple_contact_form subject="Mom's Deli and Restaurant"]