Min Wah Chinese Restaurant
Min Wah serves Cantonese, Mandarin and Szechuan food in the American-Chinese style. It fits the formula for success. The owner is hard working and has been hard working since he was a young boy.
Their contact info is:
Hours for Chinese food are: from 11:00 a.m. to 9:00 p.m
He serves breakfast from 8:00 a.m. to 1:00 p.m
The address is: Calle al Tepalo # 96-A
Tuesday through Sunday. Closed Mondays.
Telephone number is: 766 0686.
The family owns the building so they have no rent. Family members help run it. They are trustworthy. The owner has had many years of training in cooking. The family has lived here for generations. They are well liked in the community. All of these elements help to crate a successful restaurant here and keep it open.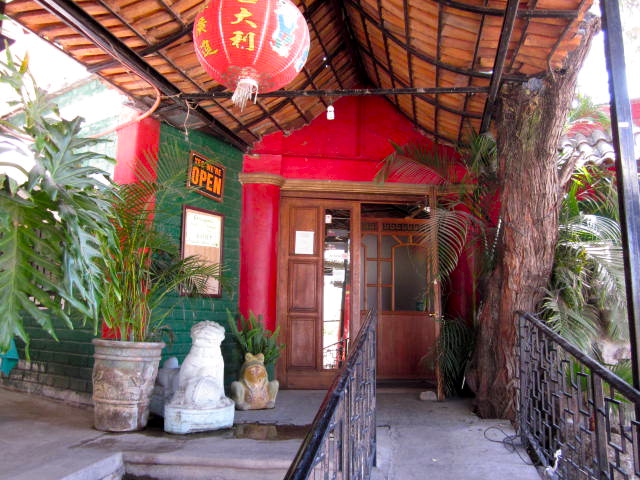 Family Owned Since 1995
The owner is Alvaro Beas Morales. He has nine employees, including two chefs. Alvaro makes the third chef. Three of his employees are his sisters. All of his employees have been with him for many years.
Alvaro, his father and his brothers built the Min Wah in 1994. Alvaro's mother owned land further up the mountain and part of the sale of it included acquiring the land that the Min Wah was built on. Alvaro is one of thirteen children. His family has been living in Ajijic for many generations.
Alvaro calls his food American-Chinese because he says it is cooked the way they cook it in America. He lived in America and cooked in Chinese restaurants there for fifteen years.
Alvaro was born in Ajijic and went to America to make his fortune when he was only sixteen years old. He missed his family and finally, after eighteen years in America, returned to Ajijic. He has been married for eight years. He has two young children, Itzel, six and Carlitos, four years old. He is devoted to his family. They live in an apartment next door to the restaurant.
There are thirty-one tables inside the restaurant and three tables outside in the little garden area. There is a pond close to the outside seating area.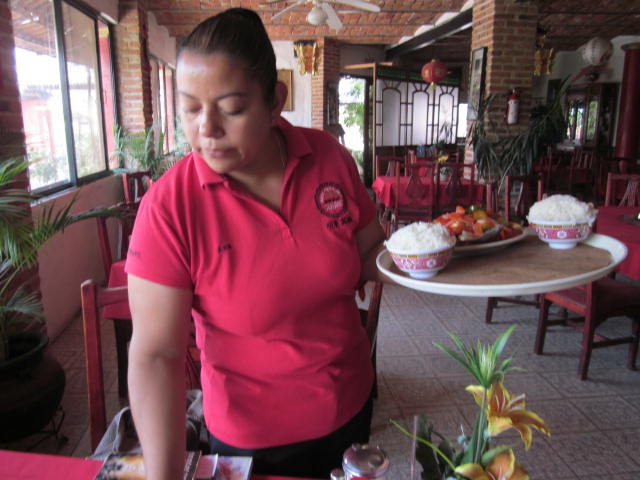 Min Wah Also Does Catering
Alvaro can serve up to a hundred and twenty people at one time. He also does catering. He will either cook in your home or bring in precooked food but he needs at least two weeks advance notice. He won't do this for less than eighty people. It is too costly for small groups. He charges from eighty-five pesos to two hundred pesos per person, depending on what they order.
The busiest days are Saturday and Sunday. That is when the Guadalajara crowd comes into town. The locals usually avoid weekends and come in during the week. He has many regulars.
Several groups also meet there on a regular basis. From December through March, most of his customers are expats. The rest of the year, he depends on the people from Guadalajara.
There is a motorcycle group that comes in once a month or so and fills up his parking lot with beautiful motorcycles. His eyes lit up when he talked about them. He must be a motorcycle fan.
The Red Hat Society sometimes meets at the Min Wah. The Polo Club also meets there. CASA meets there once a month on the third Monday at three p.m.
Alvaro buys his food from the markets in Guadalajara. He gets deliveries two and three times a week from them.
Alvaro started working when he was only five years old. He worked for his grandfather, a farmer. He grew corn and tomatoes and chilies. At nine years old, Alvaro started handing out flyers for his uncle. His uncle owned the local theater. At eleven, Alvaro started operating the projector. At sixteen he went to the States to seek his fortune.
Alvaro organizes the Sky Runners. This is a race that is held once a year. Runners come from all over the world to run up the mountain and back. This year it will be on July 17th at 10:00 a.m. It starts at the Min Wah. A hundred and fifty runners were in it last year. The record is one hour, nineteen minutes and forty-five seconds. It is a thirteen kilometer and eight hundred meter race. People qualify for the race in Albania. They come here from all over the world to race. Alvaro did it four times. The winner goes on to race in Mexico City to the mountain Iztaccihuatl. The world champion runner, Ricardo Mejia, will be here this year. It sounds like an exciting event.
The Min Wah has a full bar. There are eighteen different tequila drinks ranging from forty to sixty five pesos each. He has many Margaritas, Brandies, Cognac, Gin, Vodkas and Whiskeys. Prices range from forty to eighty five pesos. He also has wines and beers. Negra Modelo is 28 pesos. Sodas are 18 pesos. He serves Orange Juice for 18 pesos, Coffee for 18 pesos, Tea and Milk for 18 pesos each.
He serves breakfast from 8:00 a.m. to 1:00 p.m. Tuesday through Sunday. He has Hueves Rancheros for 40 pesos, Hueves al Gusto for 40 pesos, Hueves Benedict for 45 pesos. Hueves Divorciados for 40 pesos. There are four kinds of omelets ranging from 40 to 50 pesos. He serves four different kinds of Chilaquiles ranging from 40 to 50 pesos. Other specialties include egg sandwiches for 35 to 50 pesos, Waffles for 45 pesos. Oatmeal for 30 pesos, fruit plate for 30 pesos, Hot cakes for 35 pesos, Cereal for 30 pesos. Many people go there for breakfast.
His desserts include a chocolate cake with hazelnut for 35 pesos, flan for 30 pesos, cheesecake for 36 pesos and Neapolitan ice cream for 30 pesos.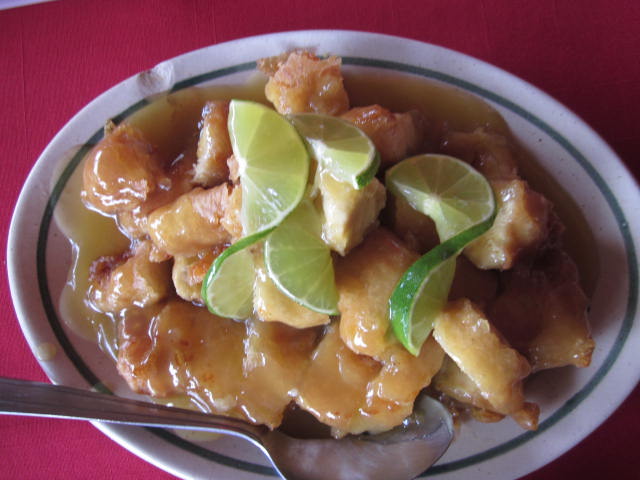 Some of his specialties include: Orange Beef for 90 pesos, Cantonese Chow Mien for two people for 115 pesos, Tofu Szechuan with ground pork for 75 pesos, Chicken with Mushrooms for 85 pesos, Beef with Black Mushrooms for 85 pesos, Prawn a la Shanghai (with Shell) for 100 pesos, Dragon and Phoenix for 95 pesos, Peking Duck (24 hour advance notice) for 350 pesos, Pot stickers (8) for 55 pesos, Bean noodles with pork for 75 pesos, and several others.
There is also a lunch Special. It is served from 11:00 a.m. to 3:00 p.m. It is 75 pesos and includes soup, either Egg Flower or Hot and Sour Soup, Fried Rice, Fried Wonton, Hot Tea or Ice Tea.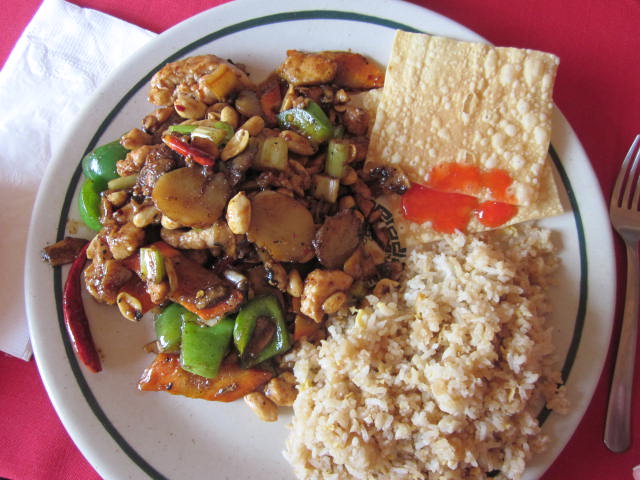 Some of the specials are: Almond Chicken, Cashew Chicken Beef with Broccoli, Green Pepper Beef.
Some of the other dishes include Moo Goo Gai Pan, Hot Mongolian Beef, Northern Style Vegetables, Princess Chicken, Sweet and Sour Chicken, Lemon Chicken and Sweet and Sour Pork.
Appetizers include Egg Rolls for 30 pesos, Fried Shrimp for 55 pesos, Crab Puffs for 40 pesos, BBQ Ribs for 70 pesos, BBQ Pork Slices for 65 pesos, Fried Wonton for 25 pesos, Drums of Heaven for 30 pesos and Combination Appetizers for 80 pesos.
I am sure I missed some interesting dishes. Drop by and check out the menu for yourself. It is a relaxing and cool place to spend some time.
If you can't decide what to order, try the buffet. It is available only on Saturdays from 2:00 p.m. to 6:00 p.m. Cost is 85 pesos.
The address is: Calle al Tepalo # 96-A. It is just a couple of blocks north of the Carretera. Breakfast hours are: Tuesday through Sunday from 8:00 a.m. to 1:00 p.m. Hours for Chinese food are: from 11:00 a.m. to 9:00 p.m. Tuesday through Sunday. Closed Mondays. Telephone number is: 766 0686.
If you want to know more about the area, we are here to help. You can contact me in the comments below and either I or one of the Access team members will be glad to help you and answer questions.
By, Evelyn Walker
AccessLakeChapala.com Team
Questions or Need Help?
[onw_simple_contact_form subject="Min Wah Chinese Restaurant in Ajijic"]