Brunos Steak House Restaurant in Ajijic
Bruno's Restaurant in Ajijic is one of everyone favorite places to eat. Same for me and my friend Nicks and his dog named Dog. Lucky for Dog, they allow service dogs inside and he is a service dog. Nicks and Dog eat there two and three times a week.
I interviewed the owner's son, Kelton Sclisizzi today. The owner is Vicki Sclisizzi. She inherited the restaurant three years ago after her father, Bruno, passed away.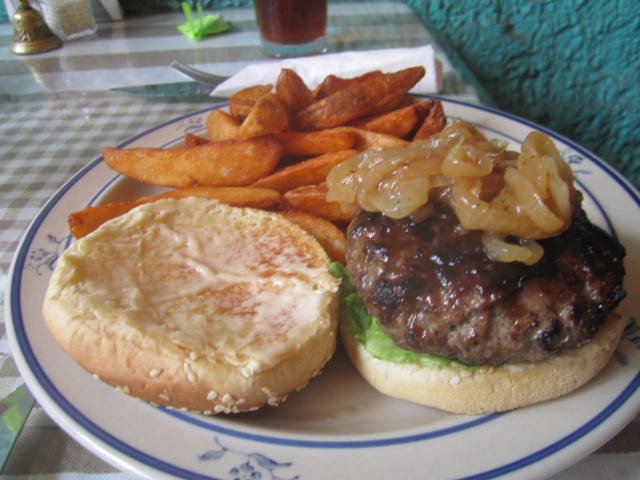 You can order your lunch meal with a side of French fries, or a salad, or cheese and Mac salad. They are all delicious. The hamburger above has grilled onions on it.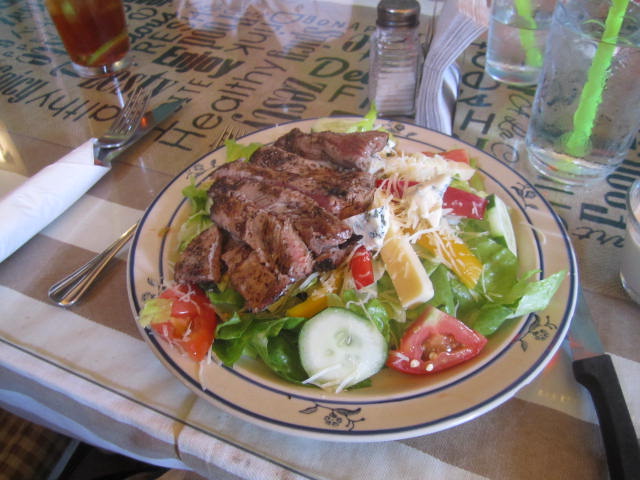 There are also delicious salads on the lunch menu. Above is a steak salad. They also have chicken salad. The lunch specials are only during the week. Weekends are their busiest times so they don't have the lunch specials. This is a popular restaurant with the people who visit from Guadalajara on weekends. It can get crowded on weekends.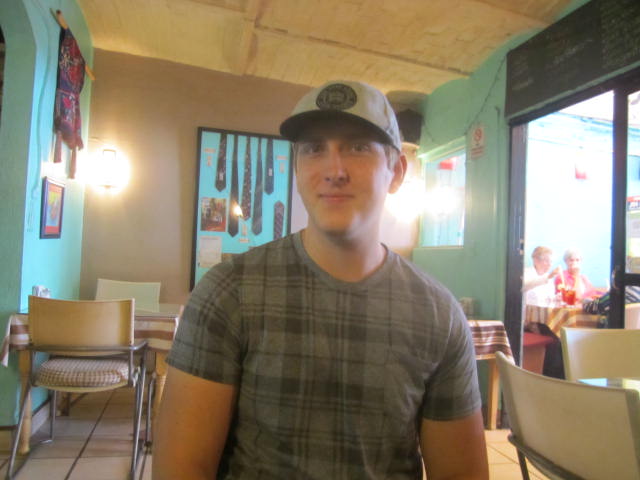 Kelton is a part time manager of the restaurant. He works three days a week. He said that for three years in a row Bruno's has been given the honor by the Ajijic Directory as the best steak house in town. Also the best Barbecue restaurant and the best place to buy hamburgers. He thinks there were more bests but he couldn't remember them all.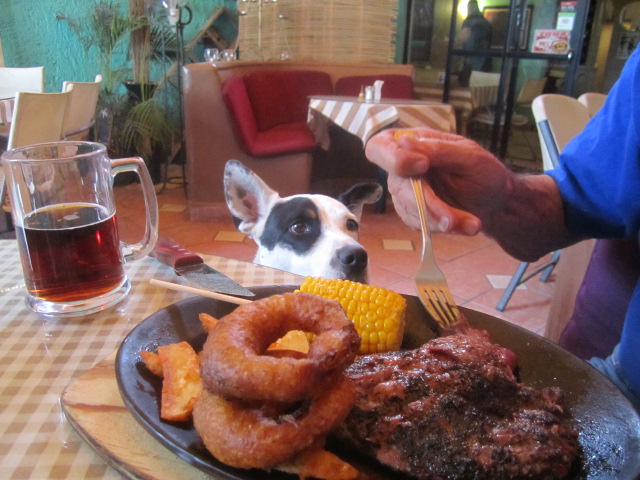 Above is a steak sandwich. Dog is looking on hungrily. The onions rings and the fries are DELICIOUS!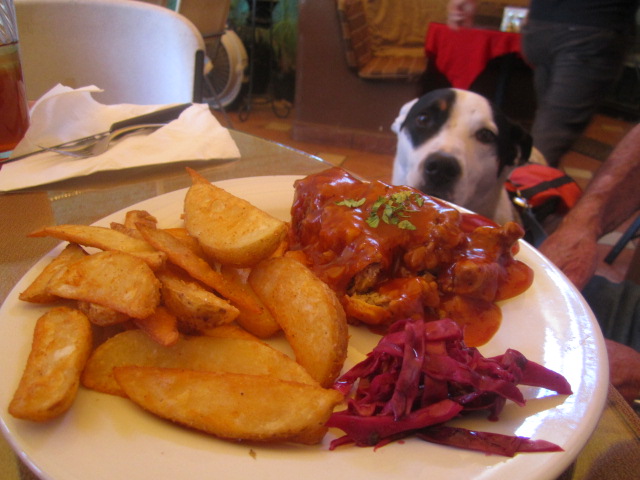 The above photo is of their meatloaf. It is also delicious. They serve red cabbage as a side dish. It is soaked in vinegar. I like it. Nicks doesn't like it and I always get his serving. Dog likes the fries.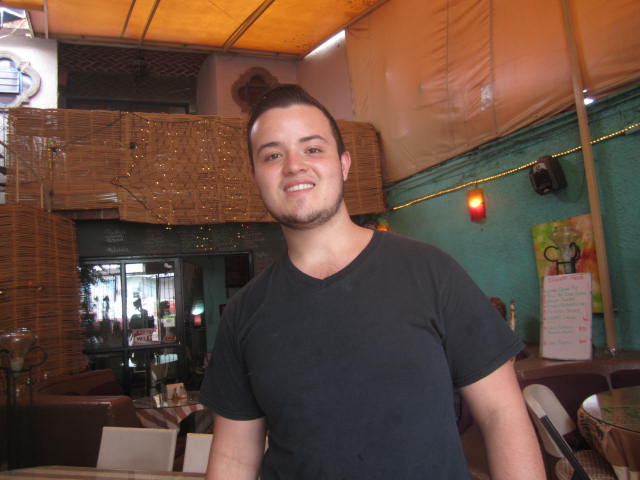 There are fifteen employees. Their steaks come from Sonora, Mexico. Below is a photo of their grill with the cook, Vicki, carefully tending to it. She didn't want her picture taken so I just got a side shot of her. She uses mesquite coals.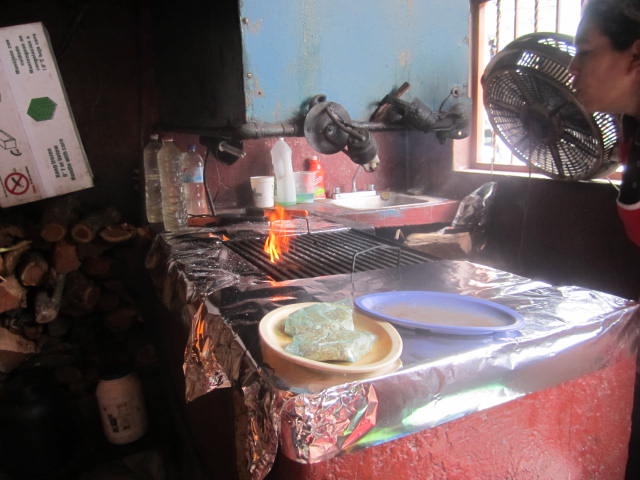 This grill is located at the front of the restaurant and if you walk within a block of it you will smell the steaks cooking. Just follow your nose to find it.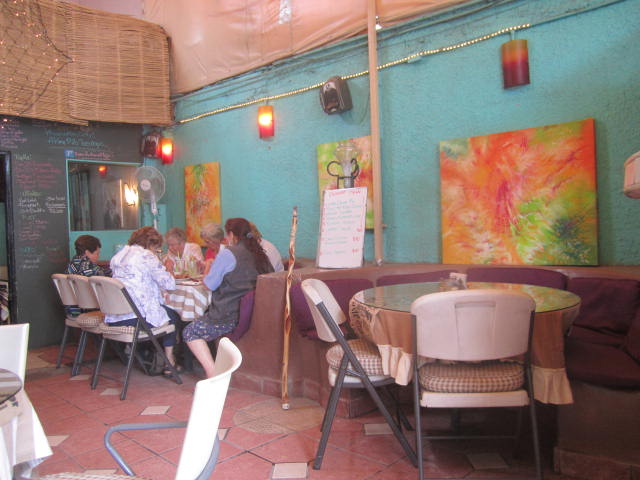 Since I am eating at Bruno's so often, I recognize some of the regulars and they recognize me. I have seen this group of women in there often. They were very friendly. Much laughter was coming from their table. One woman praised the chocolate sundaes to the skies but I was too full to try it. Another day.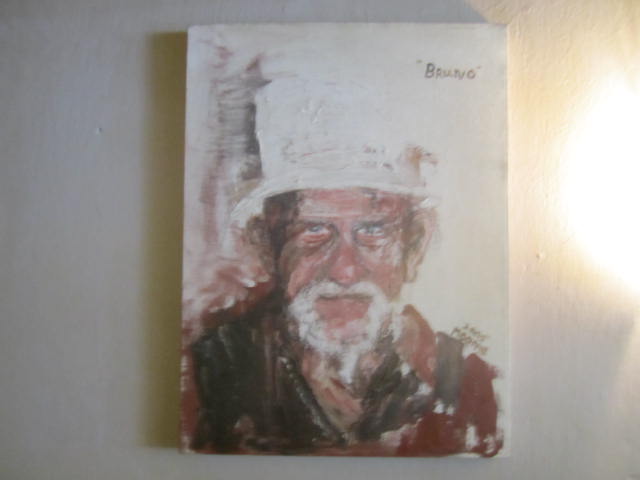 Bruno is quite a success story. He started with just a roadside barbecue stand a few years before 1985 in San Juan Cosala. In 1985 he moved to the current location in Ajijic. It has been there serving steaks and hamburgers every since then. They have a lot of experience in making delicious food. No wonder they are rated the best, year after year.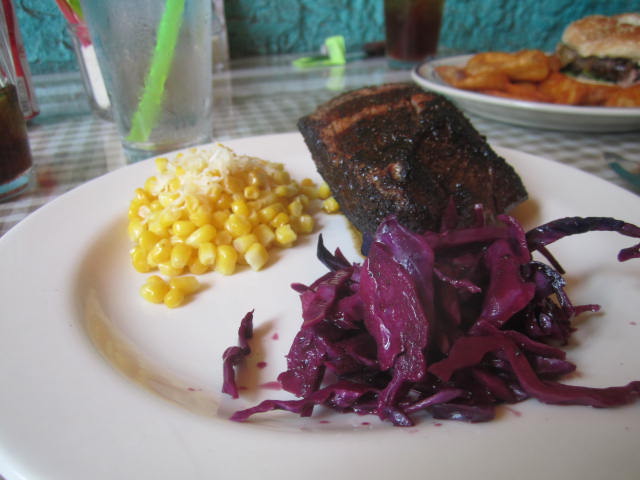 The photo above is of the baseball steak. It is one of the restaurant's most popular steaks. I also got a side order of Mac and cheese. It is in the photo below. That is a lot of food for one person. I had to take some of it home with me. Not that I minded. It will make a great dinner.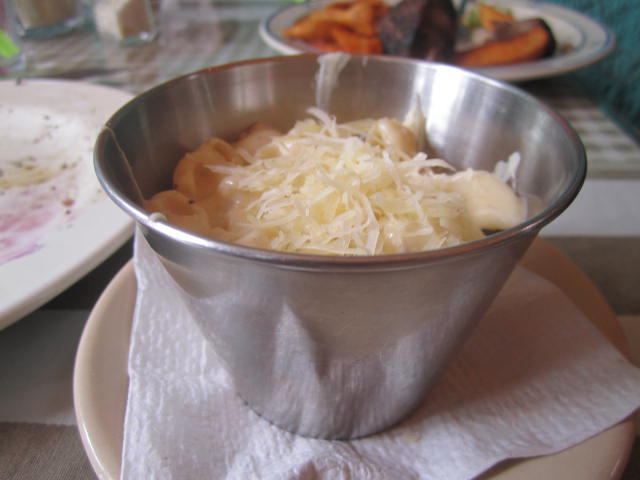 I love the Mac and cheese. They also have it as a main dish but I warn you, it is very rich.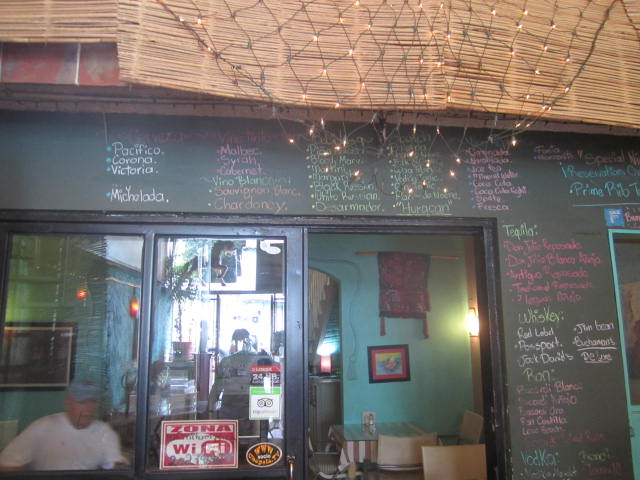 They serve many different kinds of alcoholic drinks. Plus, on Tuesday nights, starting at six, they serve Prime Ribs. But you have to reserve a spot in advance. On Facebook or call them by Sunday at: 376 766 1674.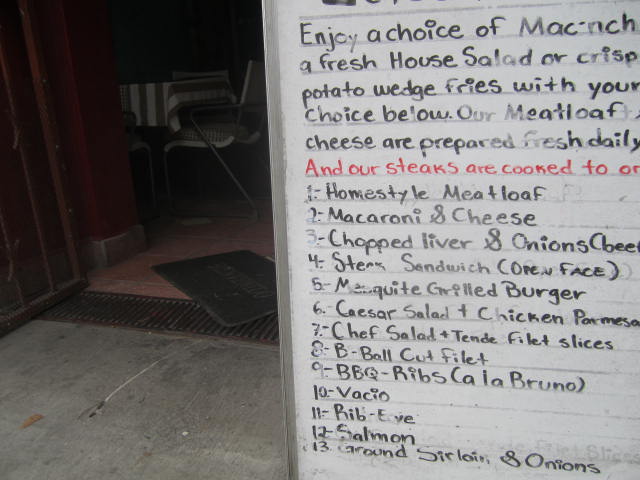 I cut off the prices on this menu board. It is difficult to put prices in the articles about restaurants because they change. Okay, they mostly go up. And people get disappointed if they visit one of the restaurants I have reviewed maybe months or even years earlier, and the prices are higher than they expected. But let me say that these lunch specials are very reasonable. The specials are during the week. You will still get a delicious meal on weekends but they are higher priced. How much higher, and what price? You will have to discover that for yourself. You won't be disappointed.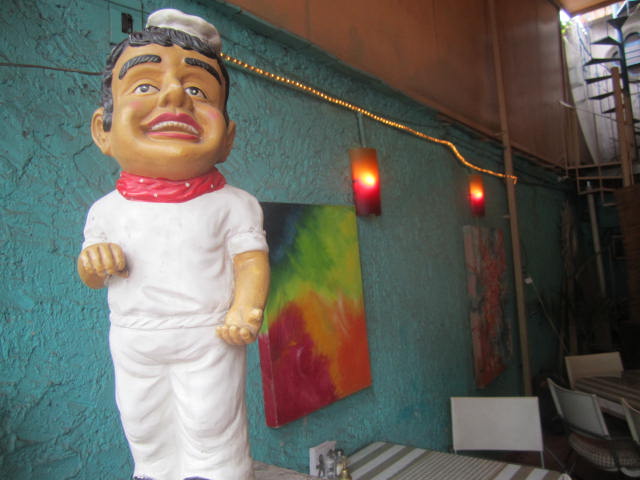 As you can see in the background, there are some interesting original paintings on the walls. The upper part of the walls and the ceiling are made out of canvas. This cook statue welcomes people at the door.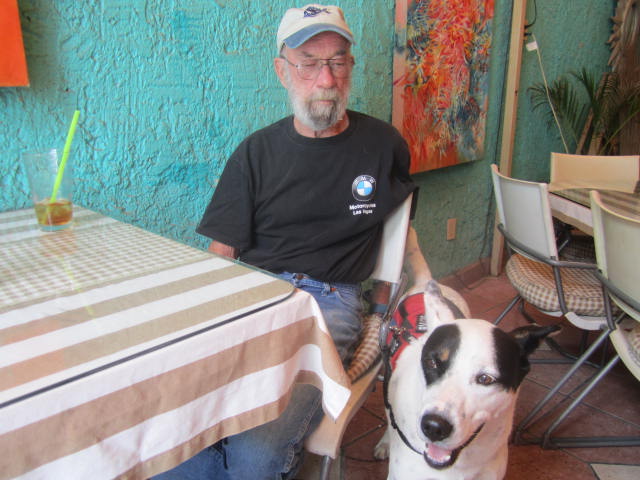 If you visit Bruno's during the week, you most likely will see Nicks and his service dog named Dog. They are regulars and are very friendly. Say hi to them for me.
Bruno's is located on the Carretera Oriente, number 20. It is on the east side of Colon. Their hours are Tuesday through Sunday from noon to nine in the evening. Except Sunday when they don't open until three in the afternoon. Closed Monday's.
Here is a photo of the outside of it.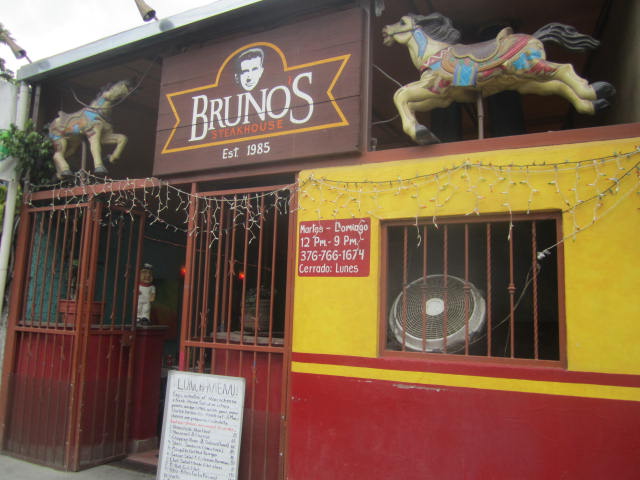 As I wrote at the beginning of this article, Bruno's is one of my favorite places to eat and I eat there several times a week. It is in a great location, within walking distance of the plaza and on the Carratera. The prices are reasonable. The workers are friendly. And I love the food. Try it. You may become a regular too
By, Evelyn Walker
AccessLakeChapala.com Team