Panino's Deli & Restaurant in Ajijic
Along the Carretera in San Antonio near a grove of blooming trees is the restaurant Panino. It is easy to find. It is on the lake side of the highway. Panino's is a popular place for lunch among expats. Many residents eat their main meal there everyday.
Carretera Chapala-Jocotopec 91 A. Phone number: 766 3822
Hours: Monday through Friday 11:00a.m. to 4:p.m.
Closed Saturday and Sunday.
I arrived before the lunch crowd. I was the only customer sitting in the garden area. I have been there at noon and of the twenty or so tables almost all of them were full. I was thinking ahead this time. The place usualy get's packed after 1:00 pm, you will sometimes even find people waiting to get a table at the front entrance.
Their specialty is deli style sandwiches, everything from LAX salmon to turkey paninos. What drives so many of the exapts to Paninos's is their daily specials. They have different daily specials every day plus many other delicious entrees and soups.
Below are their daily specials:
Monday: Open face hot roast beef sandwich with mashed potatoes, gravy and veggies.
Tuesday: Meat loaf with mashed potatoes and green salad or chicken fried steak or chicken fried chicken with country gravy, mashed potatoes and corn-on-the-cob or peas.
Wednesday: Open face turkey sandwich with gravy, mashed potatoes and peas.
Thursday: Spaghetti with fresh tomatoes, basil and pine nuts. Add shrimp if you want or spaghetti with meatballs.
Friday: Cook's choice. These specials range from 78 to 89 pesos.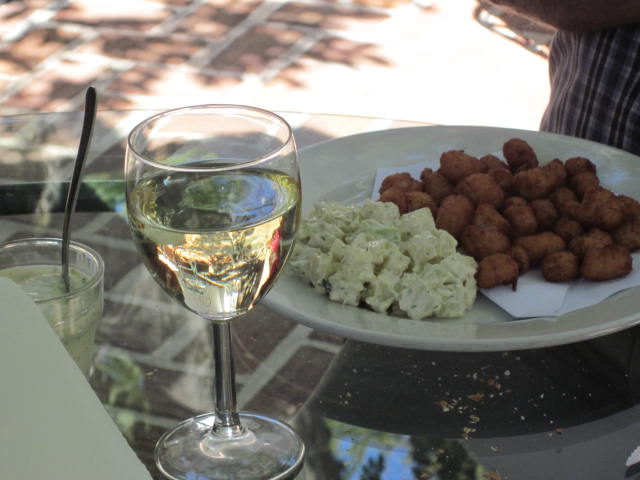 Thursday and Friday: Deep-fried scallops with homemade tarter sauce and coleslaw
Everyday: Your choice of fresh shrimp Louie salad, oriental chicken salad, or chicken Caesar salad.
They have many interesting sandwiches. They range in price from $63 to $76 pesos (aprox 5-6 USD). I was writing them down when the owner, Lupita Moreno, came to my table. She was visibly upset. She said for me not to write down the sandwiches. She had a bad experience one time. Someone went in and wrote down her menu and then they copied all her sandwiches. You will just have to go there to see for yourself. She has many unusual combinations of ingredients in her sandwiches.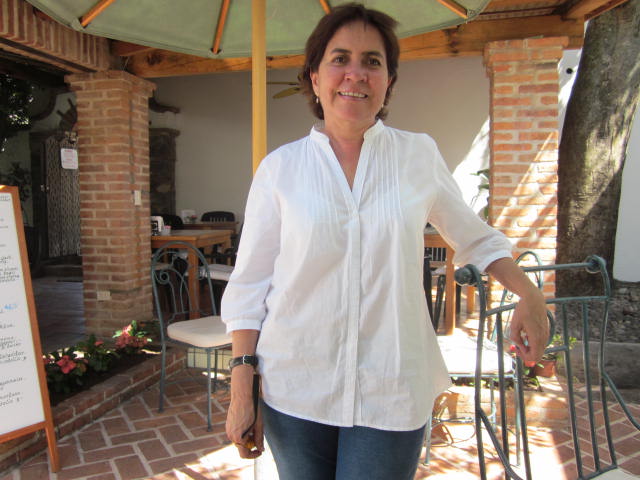 Lupita was warm and friendly after she understood that I wouldn't copy her special sandwiches. She has been in business going on eleven years.
The waitress Becky Palacios let me taste their carrot, ginger soup. It was delicious but I was in the mood for their special, Spaghetti with pine nuts, shrimp, fresh tomatoes and basil. They offer this special on Thursdays. If you do not like shrimp you can also go for the spaghetti with meatballs.
What a treat it was for me. I had enough to take half home for another meal too. I am looking forward to enjoying it again. Forgot to add that it comes with a side order of garlic bread and a green salad, very good salad might I add.
I was there early in the day and I was the only customer. I was treated like a queen. Waiter Pedro Chavez was 100% bilingual and has been working at Panino's for many years.
I managed to get a photo of the cook in the kitchen. I have a friend who always worries about if the kitchens in local restaurants are clean. This photo is for her. Panino's has a very clean kitchen and it is open for every customer to see.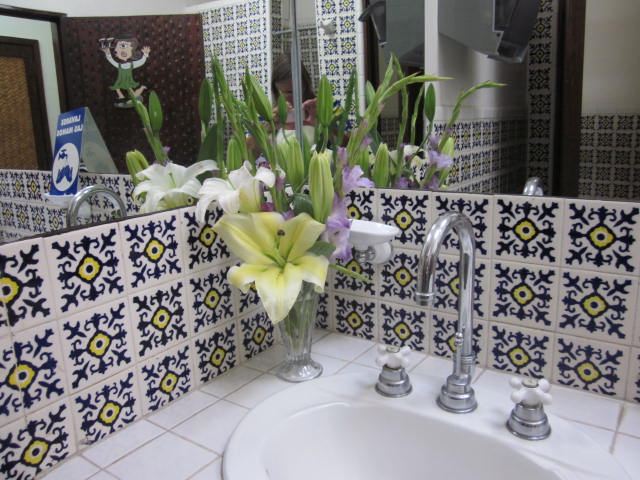 I also took a photo of the sink in the bathroom. Good to know that it was very clean. It isn't much fun to go to a nice restaurant and walk into a dirty bathroom. That happens sometimes. No problem here. Everything looked spotless.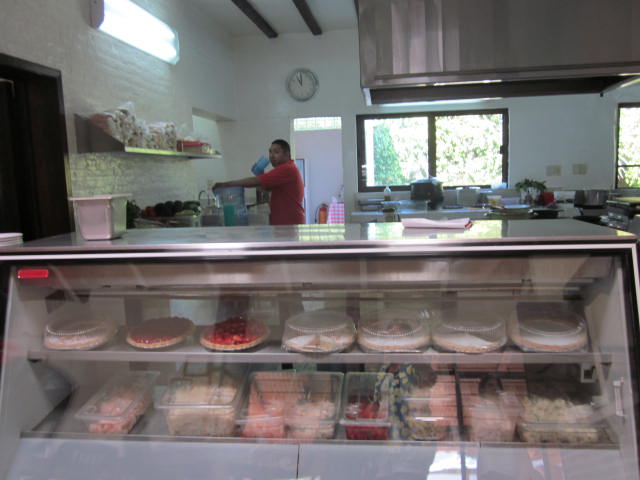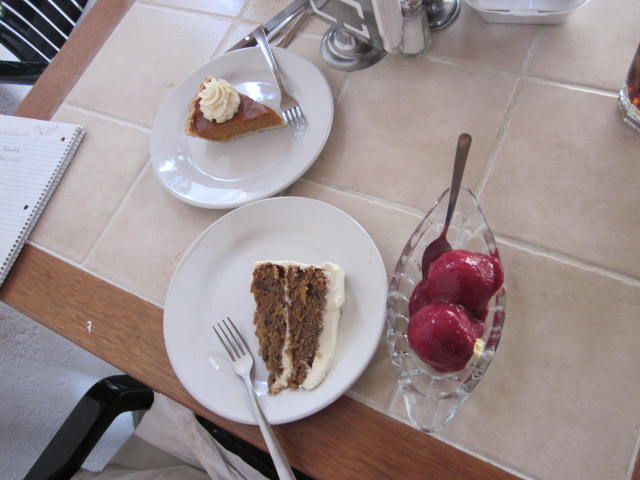 I thought about having a dessert. They have an extensive dessert menu but Lupita didn't want me to copy that down either. You will have to go by and see for yourself, but let me warn you they are very tempting and it is hard to just try one. They are all so good.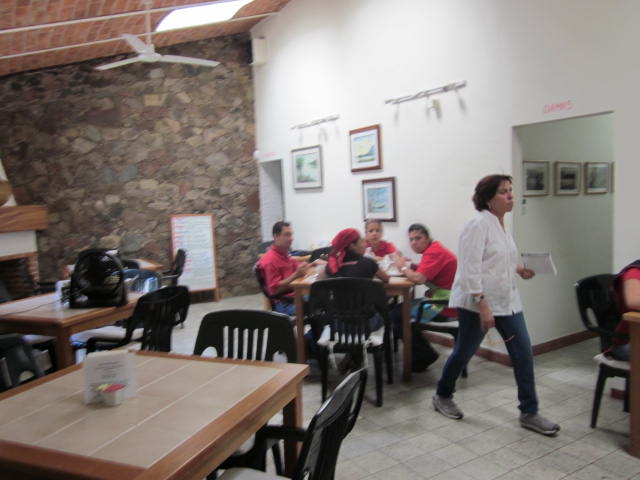 I have eaten at Panino's a couple of other times and I took photos of the desserts and other meals they offer. Usually the patio is crowded at lunchtime. If you don't like smoking, you can sit inside to eat.
They also do catering. The address is:
Carretera Chapala-Jocotopec 91 A. Phone number: 766 3822
Hours: Monday through Friday 11:00a.m. to 4:p.m.
Closed Saturday and Sunday.
They also hold fundraisers. This month they will be open for a special fundraiser. All the money made that day will go to the expense of rehabilitation for Lupita's nephew Andres. He was rendered quadriplegic six months ago. The menu will be limited that day. Please have a nice lunch and help out at the same time.
If you want to know more about the area, we are here to help. You can contact me in the comments below and either I or one of the Access team members will be glad to help you and answer questions.
By, Evelyn Walker
AccessLakeChapala.com Team
Questions or Need Help?
[onw_simple_contact_form subject="Paninos Article"]