GO Le Club in Ajijic
You don't go to the restaurant GO Le Club in Ajijic for the entertainment. There is no entertainment. You don't go for the view, although the sunsets are spectacular. You don't go for the drinks, although he serves them. You go for the world-class cuisine!
Address: Emiliano Zapata #50
Phone: 045 (33) 3502 6555.
Open: Tuesday – Saturday
Hours: 6pm – 10pm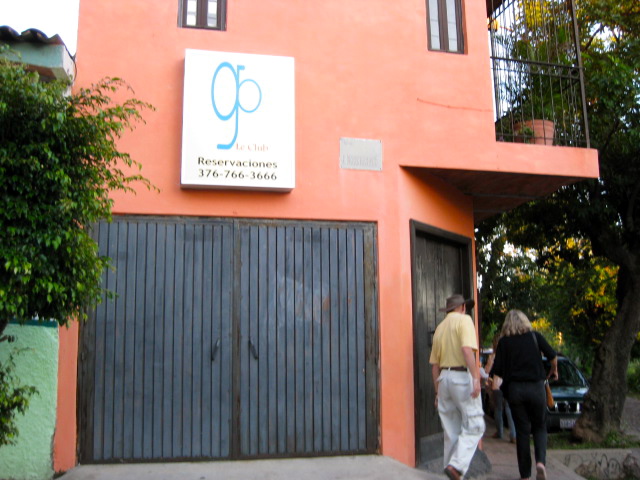 Pedro Palmer, owner of GO has spent the past thirty-five years as a chef. He studied for three years at the Cordon Bleu School in Paris and since that time he has traveled the world, taking cooking classes wherever he visits.
World Fusion Cuisine
He calls his cuisine "World Fusion". He said that the Cordon Bleu was a great school for learning the basics, especially making sauces but they are now outdated. Their foods are too rich with butter and cream. He sees his education there as a beginning and he has branched out into food from all over the world. He studied in Toronto under Chef Jacque Marie. He follows Jacque Marie's cooking philosophy. Which is "Ours is not to recreate past glories but to create glories of our own."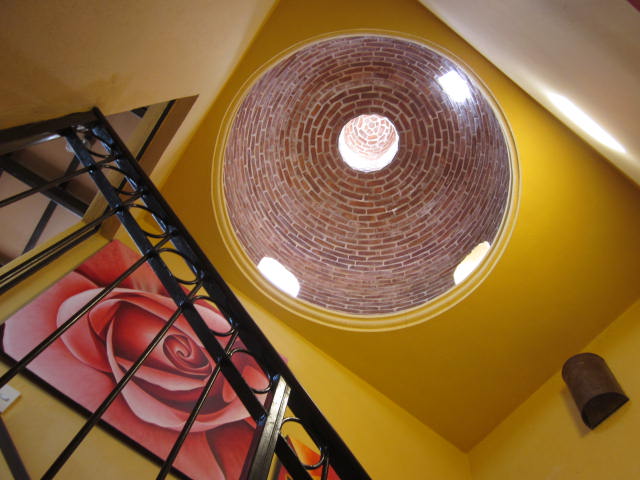 Pedro studied Mole making in Oaxaca, the center of Moles. Did you know that a good mole has over seventy ingredients and takes all day to make? There are twenty standard moles.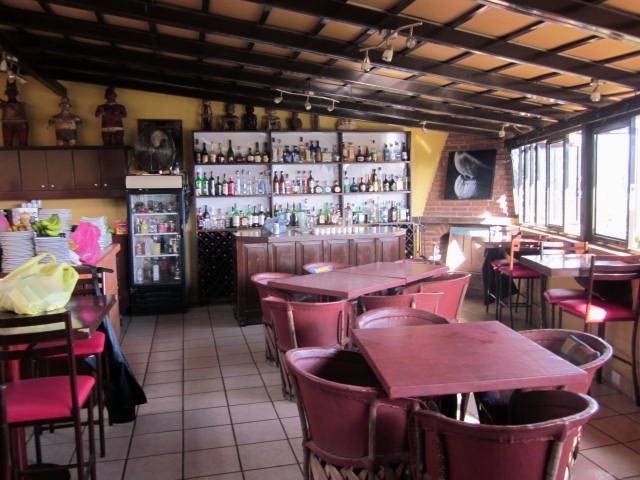 Pedro's menu has dishes from all over the world. The main dishes change weekly and the small dishes change monthly. There are a few well-loved dishes that are always on the menu.
Pedro was born in Cuernavaca to a British/Scots father from Edinburgh and a Spanish/Mexican mother. They lived in Cuernavaca for five years and then moved to Toronto, Canada. Pedro learned Spanish and English at the same time.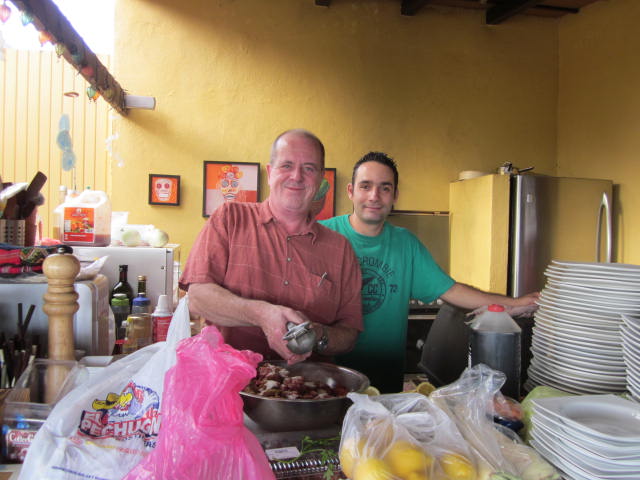 After Pedro grew up, he started his restaurants in Toronto. Eventually he owned five restaurants there. All the time he ran them he studied cooking in Toronto and around the world. He said that Toronto is an international city. It has cooking styles from everywhere. He was in the restaurant business there for twenty -five years.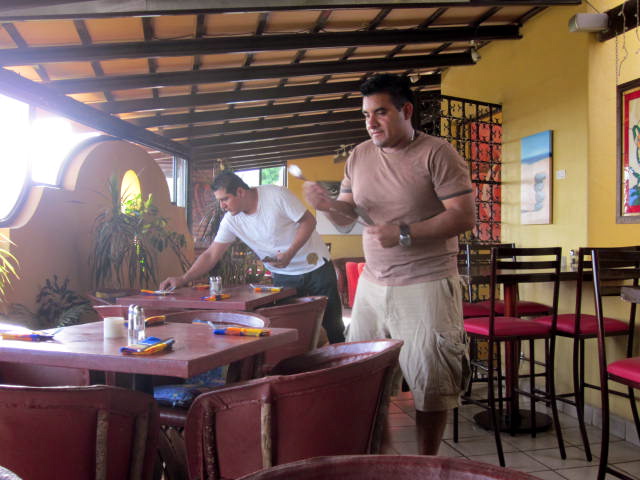 Eleven years ago he decided to retire. He sold his restaurants and moved to Ajijic. He quickly became bored and opened a small restaurant in San Antonio. It became successful. Then ten years ago he opened the restaurant Pedro's, on Ocampo Street in Ajijic. It too became a success. He ran it for several years but found that he prefers cooking to being a Maitre d', the role he played there.
September first a year and a half ago he opened Go. He remodeled the top floor of a home he owns in the heart of Ajijic. For a year he ran both restaurants. He finally let the one on Ocampo go and now he focuses entirely on Go.
If you look at the logo in the first photo you will see how he came up with that name. The two letters in GO put together as they are, look like a P and a G which represents Pedro's Gourmet. Pedro lives alone on the first two floors. He is a widower. His wife passed away five years ago.
Shrimp, Soup, Noodles, Scallops. Delicious!
Pedro has several Thai and Malaysian dishes that are popular staples on his menu: Mussels in spicy red curry for 75 pesos, Shrimp with sweet Thai chile for 85 pesos, Pork Satays with Malaysian ginger and soya flavored peanut dipping sauce for 75 pesos.
He has Thai noodle salad-bean thread noodles, coconut chicken, shrimp, pecans, cilantro, carrot and ginger for 75 pesos.
Pedro studied cooking in Thailand for six months.
He has Italian dishes on the menu: Fettuccine tossed in butter, garlic, smoked provolone, parmesan and fresh parsley for 70 pesos, Oven roasted sweet pepper brochette for 60 pesos, Antipasto plate–Italian pepperoni-summer sausage-smoked black forest ham-tomato, mushroom and celery salad, calamata olives for 85 pesos. He has roasted pimentos with extra virgin olive oil, balsamic vinegar and pine nuts for 75 pesos. Goat cheese with caper stuffed mushroom caps for 65 pesos. Pedro learned Italian cooking in Italy.
He has Indian dishes; Punjab curried chicken with pineapple chutney for 80 pesos. Moroccan dishes: Moroccan stuffed squid with fiery tomato sauce for 85 pesos.
He has fresh salmon Sashimi with pickled ginger and Wasabi.
There is Steak Tartare with dijon, garlic, capers and lemon for 90 pesos, also a medium and large sized board of imported and domestic cheeses, grapes and selection of breads for 100 and 150 pesos.
He has fresh scallops in meuniere sauce for 85 pesos.
There are many more items that I haven't listed. You will have to go there to discover them for yourself. I have listed items on the small plate menu. There is a cold small plate menu and a hot small plate menu and many of those items change on a monthly basis. Pedro says that two small plates will easily serve three people.
He also has a menu of Yum Yum Dim Sum. He has three different pot stickers: vegetarian for 65 pesos, shrimp for 75 pesos, pork and beef for 70 pesos. He has Shu Mai: shrimp for 70 pesos, and crab for 75 pesos. There are two Gyozas. Pulled sweet pork for 70 pesos and lemon chicken for 65 pesos. He also has Chinese honey garlic ribs for 75 pesos, tamarind black tiger shrimp for 85 pesos and peppered northern pike fillet for 75 pesos. As you can see, he has studied Chinese cooking.
His main courses change weekly. He has a pork dish, a fish dish, a seafood selection and a meat selection. These dishes range from 110 pesos to 140 pesos.
I was there the night he was serving food from Turkey because he was anticipating a trip to Turkey within a few days. The restaurant was filled with the delicious aroma of the ground Lamb dish he was making. Lamb Koster. It was ground Lamb, dried fruit, cardamom, yogurt, cumin and other wonderful flavors. It was delicious.
Pedro said that Shish Kebabs come from Turkey. There is no refrigeration for the tribal Curds so they have to eat everything right away. They spear the meat on metal blades and lean into the fire. That sounds like a fun way to eat. No dishes to wash.
He also gave me a taste of the sauce he was preparing for Monkfish Shish Kebabs. I wanted that too but no reasons to be greedy. I can only eat so much food at once.
One of the secrets of his delicious meals, besides his love of cooking and extensive knowledge of world flavors, is his insistence on using only the freshest ingredients. He shops an hour a day. He has forty different suppliers. He says one of the problems in Mexico is getting good meats. He gets his steaks from Sonora. He has three different fish suppliers. If at any time the quality of his suppliers goes down he looks for another supplier. All of this takes time.
Another secret to his success is his willingness to change and try new things. He is always learning new techniques.
Pedro has two resident artists. Now he is featuring 22-year-old Gabriel Martinez. Gabriel has had no art training but his paintings are striking. They line the walls in Pedro's restaurant. Since he took Gabriel under his wing, Gabriel's work is being displayed all over Mexico. He has won many awards. So far, Pedro has sold over 100,000 pesos of Gabriel's artwork.
This second resident artist is Judy Welch. She is from New Orleans. Soon her work will be up on the walls along with Gabriel's and also there will be a show with just her work. Pedro is anticipating that to be in July or August. Those two months are a second mini high season. It is the time when people from the hot southern states, like Texas, come down here to cool off.
During the high season Pedro serves around 400 customers a week. In the low season he serves approximately 300 a week. There are many regulars. He can serve up to 52 people at a time.
In a few days Pedro will be taking his vacation. He always goes to places where he can have a kitchen and also take cooking classes. He said, "I can't stand to go without cooking for more than one week. I live to cook. I guess you could call me a cooking addict."
Pedro will be going to Umbria, Italy for cooking classes, then on to Rome, Istanbul, Toronto and back to Ajijic. The restaurant will be open the first week but will close from April 12th to the 18th.
Pedro's Go, Le Club is a gourmet's delight. And don't forget the desserts. His signature desert is Chocolate pecan chipotle flourless cake. Sometimes he has Cheesecake or Berry Mouse, Bananas Foster and Berries Jubilee. Soon he will have Crème Brulee. He will be adding Tiramisu, which is a famous Italian dessert, made with ladyfingers, ricotta cheese, and espresso coffee. Dessert price is 45 pesos.
Even during the low season it is good to call for a reservation. If you go at sunset, you may want to ask for a window seat and bring your camera. Phone: 045 (33) 3502 6555. The address is: 50 Emiliano Zapata. It is easy to find, just one block up from the carretera.
He is open Tuesday through Saturday at six p.m. Tuesday, Wednesday and Thursday he closes at 10 p.m. Friday and Saturday he closes at 11 p.m. He also serves a traditional Thanksgiving and Christmas meal. You are in for a special evening when you visit Go, Le Club in the heart of Ajijic.
By, Evelyn Walker
AccessLakeChapala.com Team
Questions or Need Help?
[onw_simple_contact_form subject="Pedros Go"]