Manix Restaurant in Ajijic
Manix Restaurant is located in the heart of Ajijic on Ocampo #56. The restaurant was once their family home. Now Manix is another one of the many popular "Hot Spots" for dinning in Ajijic Restaurants. Good food, music, dancing and wonderful service:
Mondays though Saturdays
Closed Sundays
Hours: from 1 p.m. to 9 p.m
Phone: : 376-766-0061.
Address: Ocampo #56.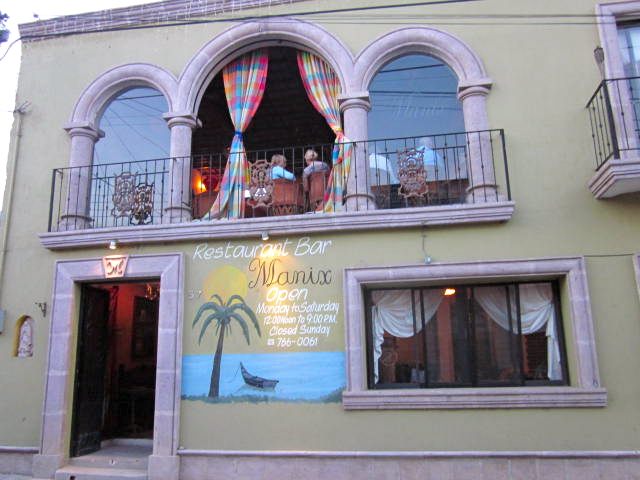 The story of how the home was converted into a successful restaurant is like a fairy tale. It started with Manuel (Manix) Espana Ramos. When he was twelve years old he was working in construction with his father, Jose Rosario Espana Orosco. They were working in the back yard of a house that belonged to a woman from New Orleans when her cook started having her baby. The woman asked Manuel to come in the house and cook while the woman left to have her baby and then he stayed for forty more days. By the time the young woman returned, Manuel had impressed the owner of the house so much with his love of cooking that she kept him on as the cook and transferred the young woman to other jobs in the house.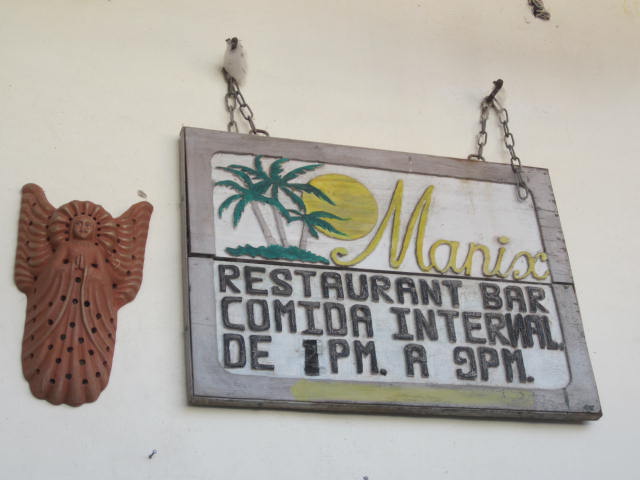 That is when Manuel's dream came into being. He wanted to open his own restaurant. He worked for the same woman for many years and when he was in his early twenties, she took him with her to New Orleans. He stayed there for one year but he wanted to return to Ajijic.
He got his family to help him slowly turn their home into a restaurant. They didn't have much money and it took until Manuel turned forty years old before they could finally open it.
Manuel's father didn't put in parking when he was building their home because he figured they would never have enough money to own a car. So, after the restaurant was opened they had to make a parking lot. This is important because Ajijic has changed dramatically since the time the home was first built, over forty years ago. There are many more cars now and parking, especially downtown is always a problem.
First Opened in 1987
Manix opened on September 23rd, 1987. Manuel still has the first invitation sent out and the first sign.
The family has been in Ajijic for many generations and is well liked and respected. The mother, Julia Ramos is still alive. She will be eighty-five this year. She waters the plants on and off at the malecon park. It all depends on the people in political power. There were six boys and one girl in the family. The middle boy, Oscar Espana Ramos is the president of the Red Cross.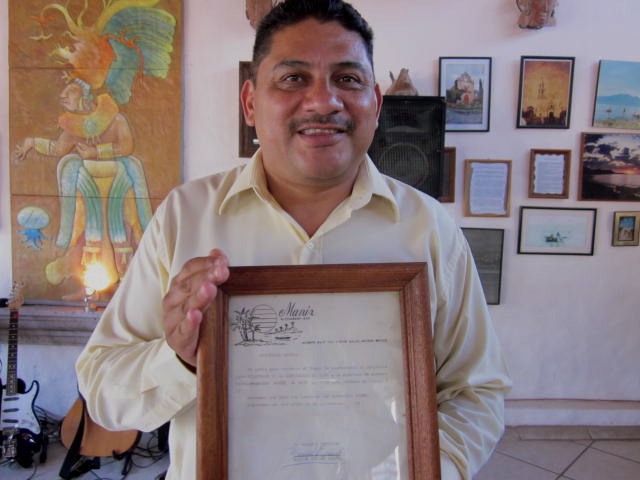 Hector helped Manuel with the restaurant and then went to the United States. For six years he worked in three different Italian restaurants. He learned how to cook food from Milan, Napoli and Sicily. A month and a half ago, he created a website and he reconnected with one of the cooks. His name is Mario Zanetty. He was born in Milan. Hector hasn't seen this man for twenty-nine years. But he is hoping that Mario will come down and visit with him soon. The web page is: www.manixajijic.com Hector does some of the cooking for Manix, including the pastas that he learned from Mario.
After Hector returned from the States he took a job a manager of the clubhouse and restaurant at the Chapala Country Club. He worked there from November 2000 to December 2006. He showed me photos of the surprise party they gave him on his last day at work. They also gave him a beautiful plaque. It expressed their admiration of him and his work. Here is what it says: We extend our sincere appreciation to you for your outstanding service, professionalism, culinary skills, personal integrity, and most of all, your kindness to us. Buena Suerta, Amigo. Your friends at Country Club de Chapala. That is a pretty good personal recommendation for anyone. He has a right to be proud.
Live music two nights a week
After Hector left the Country Club, he worked again at Manix. Unfortunately, Manuel developed health problems and could no longer run the restaurant. Hector took it over. Four years ago he had the upstairs built. It has a large dance floor and there is live music two nights a week.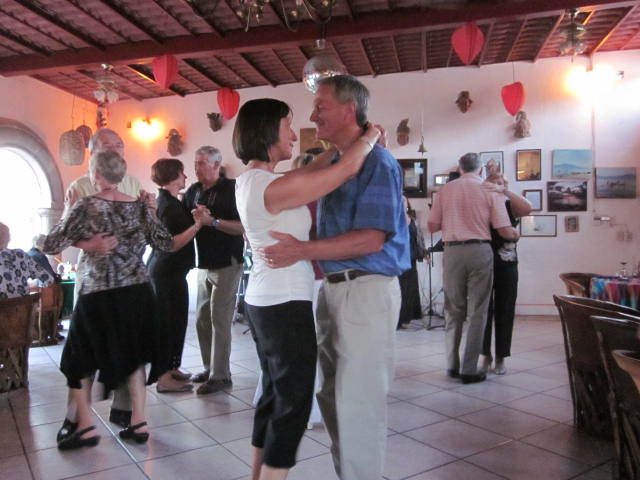 Manuel still does some things for the restaurant. He is in charge of the artistic details. He makes beautiful place settings of fresh flowers and candles for each table and every one is different.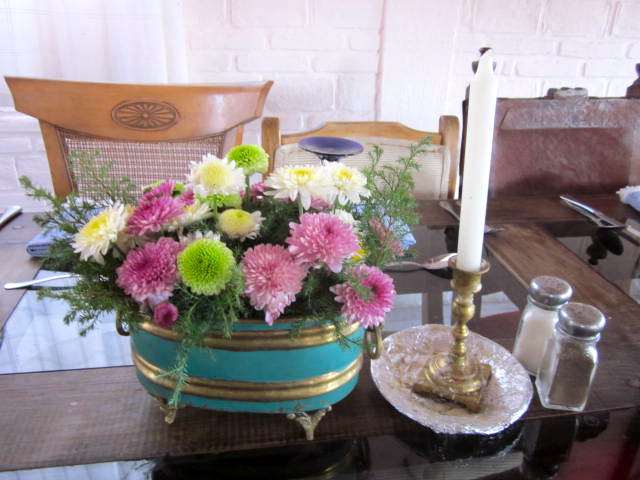 There are many beautiful paintings in the restaurant. Everywhere you look, you will see beautiful things.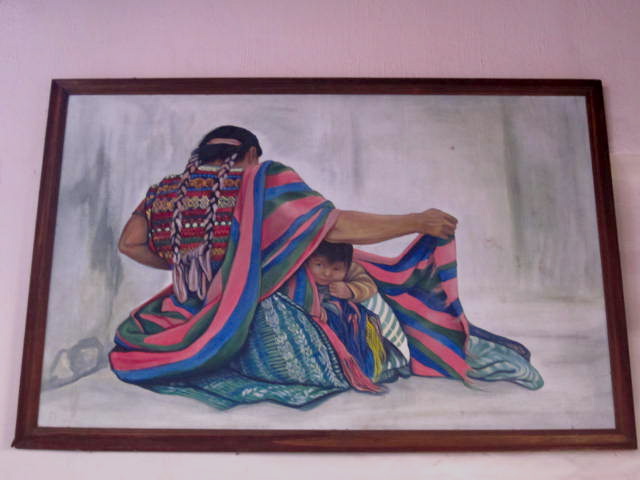 Four years ago they started having live music on Wednesday and Saturday nights. Those have become their biggest nights of the week. Ricardo Razo plays the keyboard and his girlfriend Blanca sings on Wednesday nights. They play American and Spanish classics from the 60's, Cumbia and Salsa.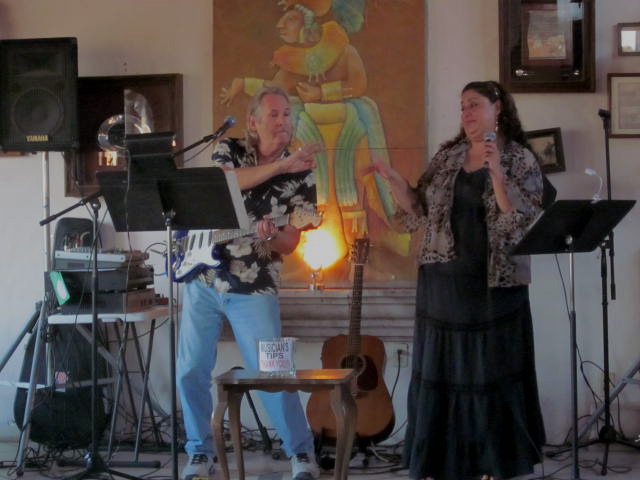 On Saturday nights, Ron Baker and Emy Santos play and sing the classics, 60's music, Mexican music and all kinds of great dancing music. Ron plays the guitar and synthesizer and sings. Emy sings. The music is from seven to nine p.m. There is no cover charge.
On Wednesdays and Thursdays, they feature a famous dish from Milan. Osco Buco. It is shank of veal, oven roasted with soup or salad. Price is 130 pesos.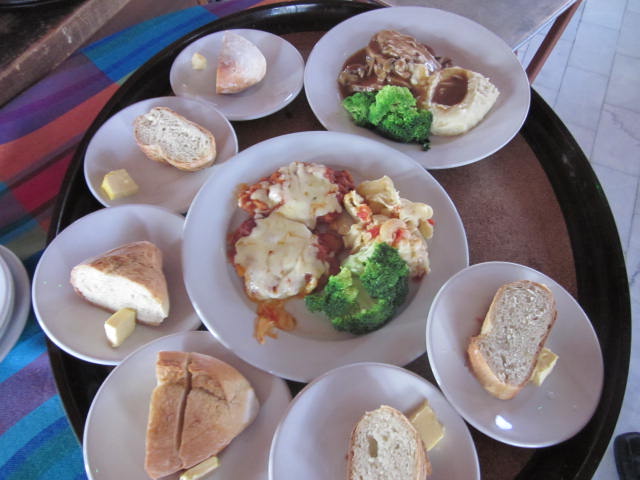 On Saturdays, they have a house special. They will run the special for two weeks and then change to something else. I was there when they had two specials because one was pork loin. Since many people don't eat pork, he also had veal Parmesan dish. The specials are always 100 pesos and that includes a dessert. I had the veal and it was very good.
Sometimes he has barbecue pork ribs for the special, an Italian pasta dish, or a chicken dish. He likes to be creative. But you can always order from the regular menu if you don't like the sound of the special.
There are twelve tables downstairs and that area can handle up to eighty-five people. The upstairs area can handle up to a hundred and twenty people. Many times the restaurant is full. It is good to reserve a table before you go. Call: 3767660061.
Manix Catering
Hector has developed a thriving catering business. He has three parties set up for this coming week. If you are interested in having something catered, call or get on his web site.
Hector describes his food as International Cuisine. He laughed and said, "Did you know that just in Ajijic there are sixty restaurants that call their cuisine the same thing?" He went on to say, "If I could give advice to newcomers I would tell them not to open another restaurant. We are overrun with restaurants and real estate agents here." He should know since he has been in business for so many years. Restaurants come and go all the time here. Investing in one is a great way to lose all your money.
Manix is open from noon to nine in the evening, six days a week. They are closed on Sundays. They have a lunch menu that includes a Rubin sandwich with their own corn beef, and a Quiche Lorraine, a Lazangia (both meet and veggie), avocado shrimp salad. There are fourteen different dishes on the lunch menu ranging from 45 to 75 pesos. They have a Meat Canelones for 75 pesos on Monday and Tuesday plus a spinach mushroom and cheese Canelones.
On Wednesday and Thursday they have a special of liver and onions with mashed potatoes and veggies for 75 pesos and on Friday and Saturday they have fish and chips with Cole slaw for 75 pesos.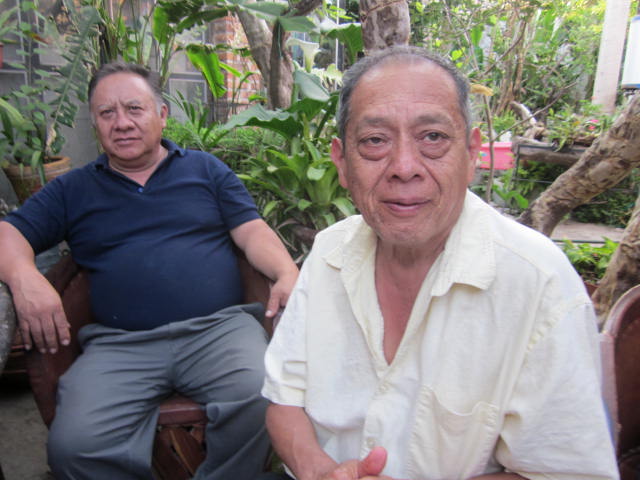 Hector, his family life in a house directly behind the restaurant. The family is close and they gather often in the small courtyard that is between the house and the restaurant.
They always use fresh ingredients that are carefully cleaned. Mostly Americans and Canadians patronize Manix. Only about ten percent of his patrons are Mexican.
His cook's name is Jose Veles. He has five full time employees plus extras that come in from time to time.
There are clubs that meet in the restaurant on a regular basis and everyone is welcome to join in the fun. The British Club has lunch there on the first Saturday of the month for lunch and cards. The Vets of the U.S. Navy meet there every third Saturday.
Their appetizers range from guacamole and chips for 50 pesos to stuffed mushrooms and shrimp for 65 pesos. There are eight other delicious sounding appetizers.
There are eight meat dishes on the menu, including Filet Mignon for 140 pesos and Grilled Pork Chops for 110 pesos.
There are three chicken dishes for 120 pesos each. And seven seafood dishes ranging from 120 to140 pesos.
There is an extensive bar. The house wine is 45 pesos a glass. They also sell wine by the bottle.
Manix is one of the oldest established restaurants in Ajijic. Hector is now in the process of creating a beautiful outside patio upstairs with a view of the mountains for the smokers. No smoking is allowed in the restaurant. Be sure to check out this local hot spot when you are in Ajijic.
By, Evelyn Walker
AccessLakeChapala.com Team
Questions or Need Help?
[onw_simple_contact_form subject="Manix Restaurant"]