The AccessLakeChapala Living Guide!
Welcome to our detailed living section. Get ready to discover all there is to know about Lake Chapala. The ALC team has created the "Access Living Guide", which allows you to explore several different topics filled with articles that will help you make that final leap and move down to paradise.
As you might have already noticed, our website shows you allot of real estate and information about the area. We bet you have allot of questions and how to get started moving here. What we have been working on behind the scenes is a detailed information guide on several topics that are important to know before you move down to Lake Chapala. In this section we are going to cover allot of information.
Chapala Living: Read about everyday Living
This is one of the most unique areas in the world because it has such a large population of Mexicans, Canadians and Americans. It is three worlds in one. You can combine these three into many interesting realities. The Chapala Living section covers several interesting topics such as: bringing your pets, transportation in the area, weather, learning Spanish, drinking water, activities and more.
Enter the Chapala Living Section
Driving in Mexico: Flying or Driving to Chapala
All foreigners are legally allowed to temporarily import one US or Canadian (or any foreign plated vehicle) into Mexico. The procedure is simple and straightforward. We will show you the requirements on how to import your vehicle, drive while staying here and even directions on how to get here. Not driving but flying? See our detailed article on how to get from the Guadalajara International Airport to Chapala and Ajijic in this section.
Enter the Driving in Mexico Section
Restaurants: Read about Expat favorites
So many to choose from and so many to try. Discovering some of the best restaurants in the area will not take long and making a few of them your favorites is inevitable.  As part of Access Lake Chapala's ongoing effort to guide and show you on how Chapala living is like, we bring you our detailed restaurant section where we show you some of the best ones in town. Some expat favorites include: Panino's, Simply Thai, Tony's & Salvador's.
Real Estate: Rentals, Homes and Lots
Should I build or should I buy an already made home? Many questions arise and if you are not sure whether you want to live in Chapala, Ajijic or another surrounding town, check out our articles on individual towns real estate. These articles will give you an idea of how each towns real estate looks, we will also give you an idea of price ranges and the differences of living between towns surrounding Lakeside. See pictures of different homes, developments and even lots.
Enter the Real Estate Section
Living Costs: Live on your Pension or Social Security
Can I live here of my pension or social security checks? How much does electric, gas, property tax and other living expensis cost? These are all common questions we get asked on a daily basis. We have put together our "Living Costs" section where we explain and lay out out all the different expenses you run into and what they cost. Did you know you can live here with as low as 1,300 USD per month? It all depends on your lifestyle and if you are renting or own your home.
Enter the Living Costs Section
Legal & Immigration: Visas, Wills and more
We know it can become confusing when trying to find out about certain legal and immigration maters before moving to a foreign country. This is why we have made it a little easier for you to understand certain basic legal and immigration procedures that you will undergo once you come to Mexico for a visit or even if you are planning retirement in the area. We will go over the different type of legal Visas, known as Visa Temporal and Visa Permanente, wills in Mexico…
Enter the Legal & Immigration section
Making the Move to Mexico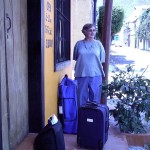 So you are ready to make the big step and move down to Ajijic and Lake Chapala Mexico? This section will provide you with some detailed information and tips on how to make the move. We will list articles on topics such as: Occasional visits to the US and Canada once in Mexico, Moving your household goods and furniture, Tips on moving to Mexico and more. ou must have hundreds of questions when it comes to making the move, such as legal documents, permits…..
Enter the Making the Move section
Health Care: Clinics, Hospitals, Doctors and Dentists
Did you know that according to a Newsweek conducted study of the World's Best Countries, Mexico ranked #14? Overall, Canada was ranked #7, United States #11, and Mexico #14 in Health Care. Yep, it's not just great Margaritas, Beer and good weather. Mexico has great healthcare, Doctors and Dentists. All towns surrounding Lake Chapala have their own local Physicians and Orthodontists, costs involved are very low compared to the US or Canada
More content we are working on:
Financial and Banking
Banking in Mexico
Investing in Mexico
Can I get a Mortgage
Mexican Taxes
Tax on Real Estate
Property Tax in Mexico
Our guide is not complete yet but we are working hard on getting it all completed. We will be adding new topics and articles on a weekly basis until we feel we have provided all the helpful information we can give.