Lake Chapala Mexico Map: Interactive Area Map
There have been several maps made exclusively for Lake Chapala and its surrounding towns, which are: Ajijic, San Antonio Tlayacapan, Jocotepec, and San Juan Cosala. We have compiled several maps for you to see, the best in town. The first one is our interactive Google Maps of Lake Chapala. We have pinpointed the highlights and popular places such as the Lake Chapala Society, Gas Stations, Golf courses and more:
Access Lake Chapala Detailed Google Maps
View Lake Chapala Mexico Location Map in a larger map
Tony Burton's Map
However, the most detailed and interactive map made for the area is by former Lakeside resident, Tony Burton. He lived in Jocotepec for years until moving back to Vancouver and left us with his impressive map.
The map has been embedded in image format below, click on the image to open the detailed PDF map, there is also a download link below this article.
Click here to download map of Lake Chapala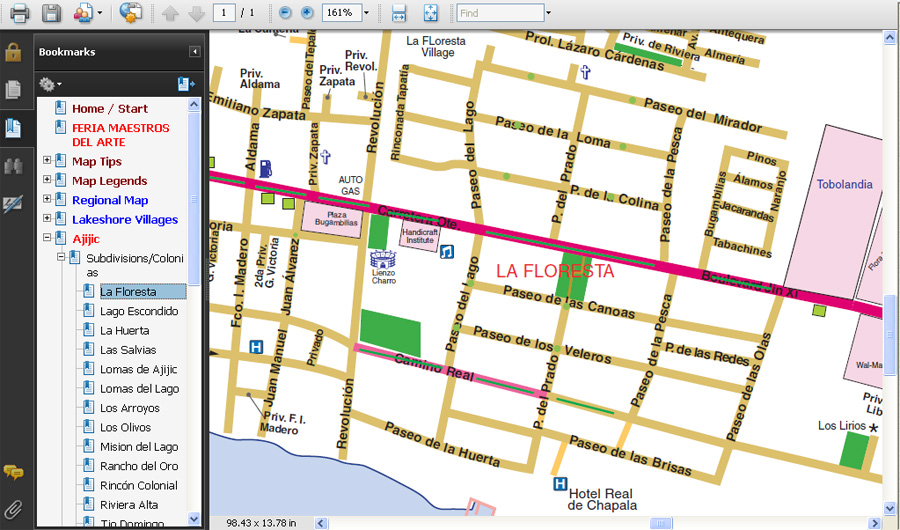 Click here to download map of Lake Chapala
Tony's interactive map goes into so much detail that it has been considered the best map lakeside.  It includes everything from the lakeside villages to Hotels and Real estate offices. A complete list of its sections includes:
Towns and Villages
Ajijic, including  subdivisiones: La Floresta, Lomas del Lago, Los Arroyos, Mision del Lago, Rancho del Oro, Riviera Alta, Villa Nova…..
Chapala including subdivisiones: Chapala Haciendas, Brisas de Chapala
Jocotepec
San Antonio Tlayacapan including subdivisions: Chula Vista, Riberas del Pilar, Mirasol
Vista del lago including all its streets
Hotels
Bed and Breakfasts
Public Buildings
Schools
Stores
The AccessLakeChapala  Map of Ajijic and Chapala
For those of you who want a graphical way of looking at Lake Chapala and surrounding towns, our graphics team have put together a great map that makes map viewing fun.  We have highlighted important points with numbers. Each number represents a Tourist attraction, town, village, golf course….
The below image if in reduced size, to see a larger version, click on the image and you can download it for a more detailed view.
Click here to view a larger version of the Access Map
Please do not hesitate to contact us. We are here to help. If you have any questions about the Lake Chapala area, let us know.
Questions or Need Help? Contact us below: