Another year has come to an end and the Access Lake Chapala team celebrated their annual Christmas Party, known in Mexico as "Posada". This year we celebrated at a well known restaurant in West Ajijic called "The Smoke House" which specialize in brisket and ribs.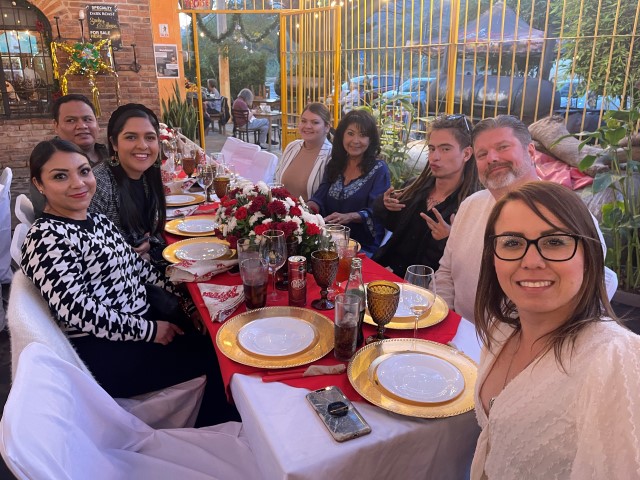 Although a few team members and agents could not make it we had a great turnout. We rented tables, chairs and even the decorations, including the plates, glassed and napkins. The tables were set very nicely, a special thanks to our agent Luly and Mario's wife Lupita for getting things looking so nice.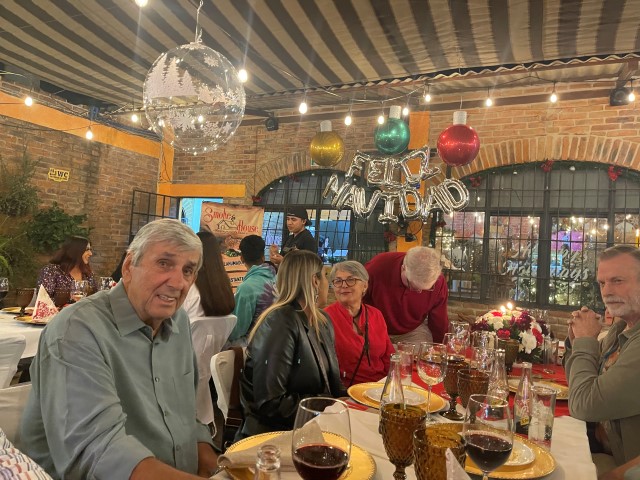 Our closing girl Janet did a great job in preparing the balloons, we even had a large one that said "Feliz Navidad" which is Merry Christmas in Spanish.
A full house by 7pm, everyone was enjoying there glasses of wine. We even had a few clients join us for the fun. Notice the beautiful flower center piece decorations on each table prepared by Lupita, Mario's wife.
Most of the staff enjoyed their wine at the table, but even a few were at the bar in charge of the music. It was a great time, everyone was thrilled with the food, décor and overall service at the Ajijic Smoke house.
We also had a piñata prepared for our office, notice it in the picture above, on the upper right corner. Although we did not get to break it, we decided to use it next year.
One of the best pictures that was taken is the above, we all got together for a group picture and it turned out great!!! Michael Rosenblum does not like pictures but we got far enough away to get him in the shot, even if he was sitting down.
Everyone can tell Karen Ramsey is having a great time above. This will be the last year she is with Access. Sheila and Karen decided to part ways and go on separate paths, due to this Karen decided it was best to continue at another agency. We hate to see her go but wish her the best. We will always cherish her.
After a great meal and several large, very large glasses of wine, Alma sparked up the dance floor with others following shortly after.
Sheila, Monica and Dulce wrapped up the night by signing New York, New York to everyone. We think Sheila really thought the wine glass was the microphone.
It was a wonderful year on 2022 and we hope that 2023 will be even better. We thank the whole staff and agents at Access Lake Chapala Real Estate for such hard work and dedication.