The Ajijic Verbena is a tradition celebrated every year to raise funds for the "Passion of Christ" play that is held the following week after the verbena. The locals meet at the plaza to sell common Mexican dishes such as "Enchiladas", "Sopes" and even "Aguas Frescas (flavored water).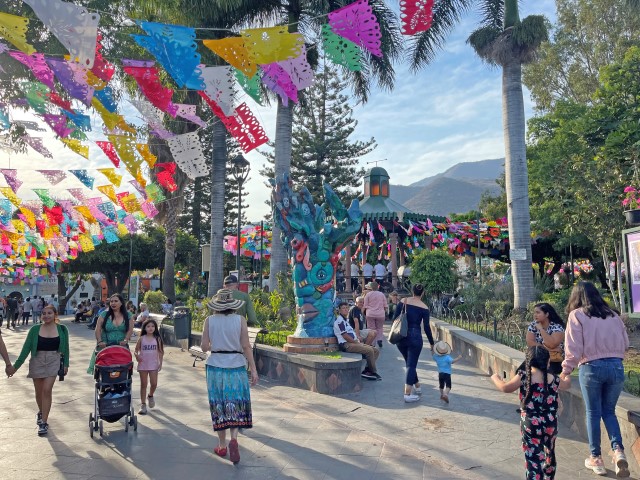 A few days before the event is held you will see volunteers decorate the whole plaza with "papel picado" (china paper) that has different designs. It creates a magical atmosphere for the attendees and keeps to Mexican tradition.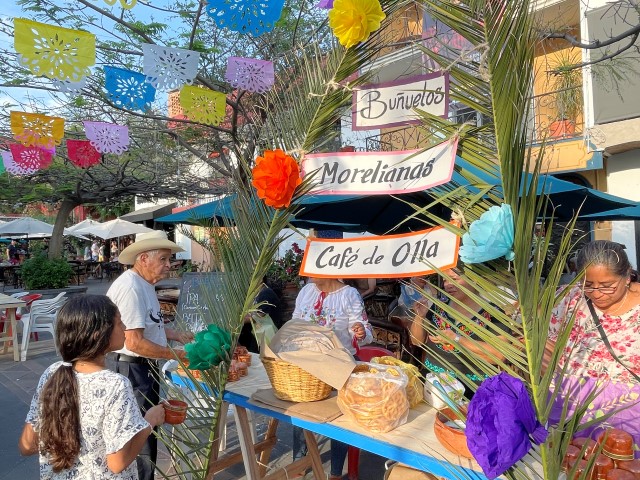 The above pictures is a sand set up that sells Mexican coffee and "Bunuelos", a Mexican style of fritter that is covered in sugar, goes great with coffee.  Notice the young girl that is approaching the stand for a refill of coffee, hopefully it is for her grandfather that is in line in front of her.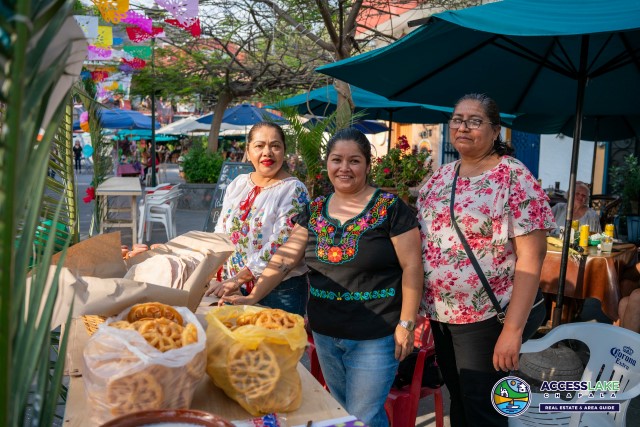 For the Ajijic "Verbena Jamaica del Pasado"it is important that all participants who are setting up stands to sell food to the public wear traditional Mexican clothing such as these 3 ladies in the picture above.
The Mexican Tacos Dorados are one of the most popular foods sold at the event, notice the long line of customers that are eager to get their dish and are willing to patiently wait for their turn.
Mexican Enchiladas are also a hit at the Lake Chapala Verbena. They are usually served with tortillas, lettuce, and powered cheese sprinkled on the top.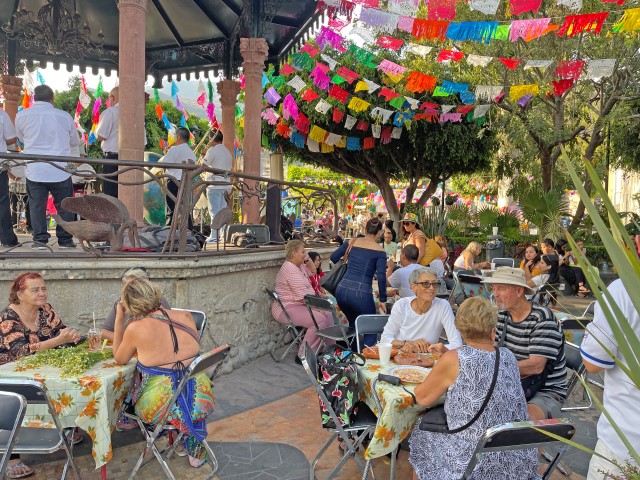 The Verbena organizers set up plenty of tables and chairs all around the Ajijic Plaza, this makes it easier for the public to sit down and enjoy their meals, rather than sitting on the benches at the Plaza. Notice there is a great mix of expats and locals enjoying their meal.
Another stand that is selling tostadas, another hit at the Verbena. They are usually served with meat, lettuce and different salsas. All participants that sell the food do not take a profit, all funds go towards the "Passion of the Christ" play.
"Ponche" is widely available and in many different flavors, the most popular being Lemon water and Jamaica water. Notice they are not using plastic jugs to hold and serve the water, everything is served in "clay" jugs, which is the traditional way of doing it and how it was done hundreds of years ago.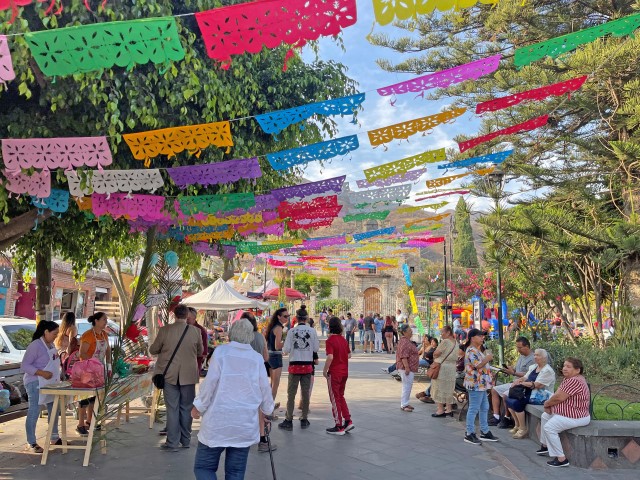 The Plaza was packed with people by 5pm. There was plenty of food to go around for the crowd and the organizers even had live music for everyone to enjoy.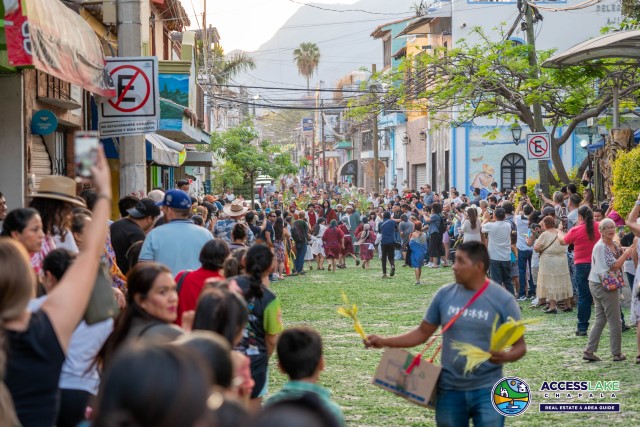 The above photo was taken just as the procession was coming down the street. They are strewn with alfalfa. In the past they used Palm fronds but they are too difficult to get. The street is filled with the alfalfa greenery for several blocks. People are told not to walk on them before the procession.