Once again as every year and by far the most popular event, this Saturday, September 8, 2018, was the Globos traditional regatta. It launched off paper mache balloons and the beginning of the ten day Mexican Independence celebrations. The crowds that attends this wonderful tradition grows year by year, as do the size of the balloons. This year's Access Lake Chapala balloon was over 13 meters long.
September is towards the end of the rainy season. Often umbrellas are needed when the rain comes but this year people used their umbrellas for the hot sun. Not much happens in town during the rainy season so the Globos was a day for having fun and meeting friends.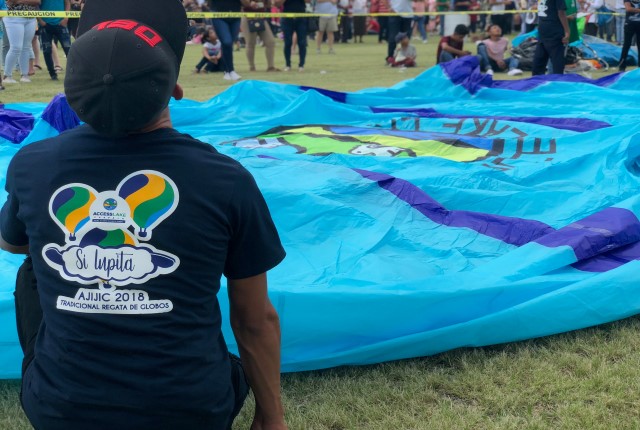 The team Access Lake Chapala sponsors "Si Lupita" is known for making some of the largest and best balloons at the event, above you can see them getting up the Access Globo. Unfortunately it didn't make it up very far. Next year……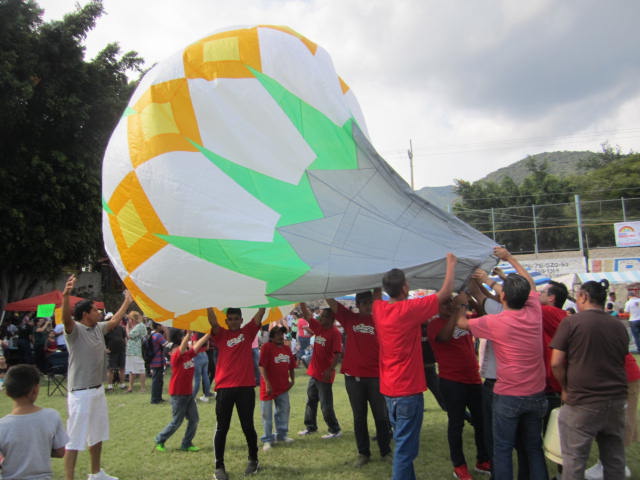 I couldn't begin to estimate the number of people at the event or the number of Globos that were stacked high in the various stands. But far more than I had ever witnessed since writing about this event. Almost overwhelming.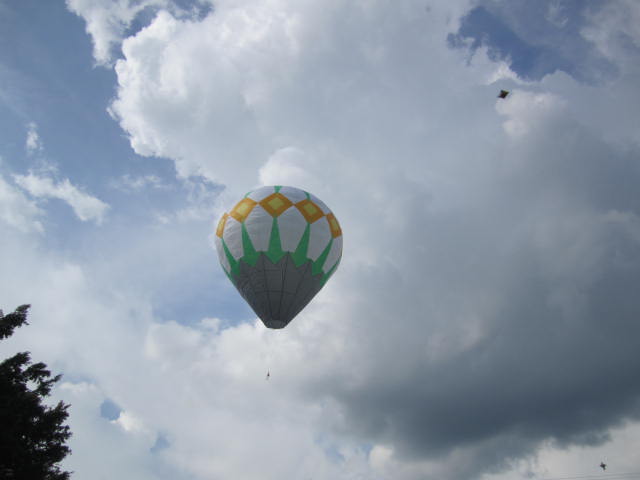 It is always exciting when a Globo lifts off the ground. Either it will burn up immediately or it could fly for miles. Either way, the crowd yells at each one, hoping to see it escape and not burn.
I liked the Globo in the above photo. It belonged to the couple celebrating their fiftieth wedding anniversary.
Unfortunately their Globo was one that burned up almost immediately. They didn't care. They were celebrating a fifty year marriage. Hard to match that.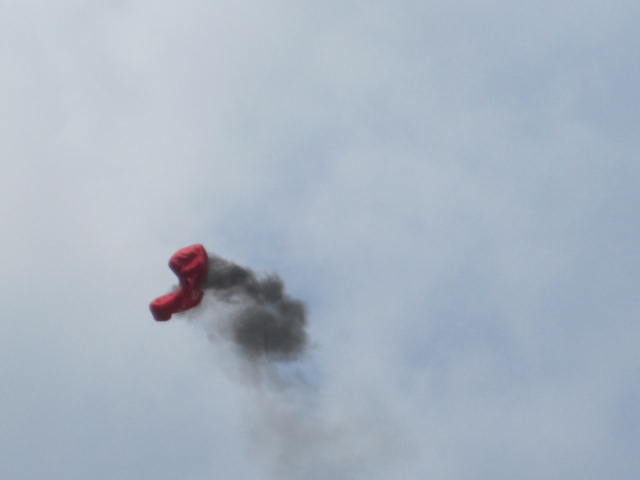 Anniversary globo belonging to Harry and Cris, burning up just a few feet off the ground.
Many of the Globos belonged to local businesses. They often pay professionals to make the Globos weeks in advance and launch them on the day of the celebration. That is why there were only a few launching areas that were stacked high with Globos, ready to be blown up.
I don't know the proportion of Globos that burn up in comparison to ones that make it. I would guess, less than fifty percent get up very high.  Above is one that made it. They go up with fire under them. Since they are made out of paper, it is surprising to me that any make it. Usually, the larger they are, the quicker they fall.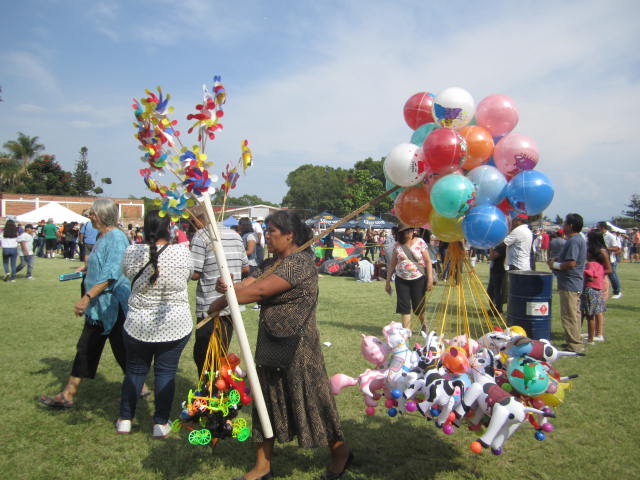 Lots of people were there selling things, from ice cream to balloons. No need to ever bring your own food to Mexican events. There are always an abundance of food choices. Plus many souvenirs.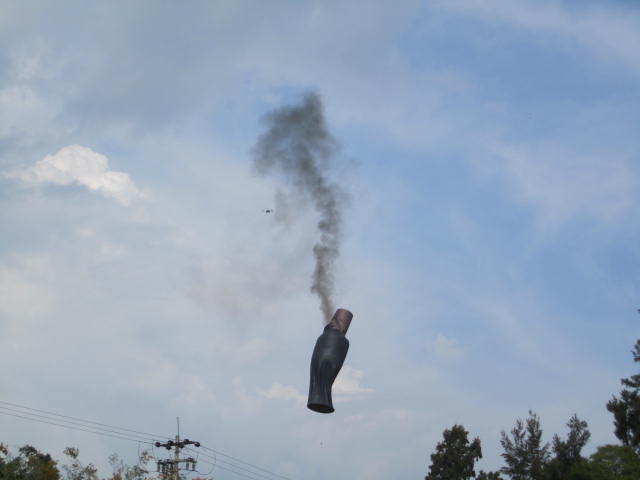 The above Globo was a replica of a beer bottle. Unfortunately, it burned up just a few yards off the ground. Even more unfortunately, it landed on the electric wires and turned off the electricity to the arena. We lost the background music until they could get it back on. You never know where they will land.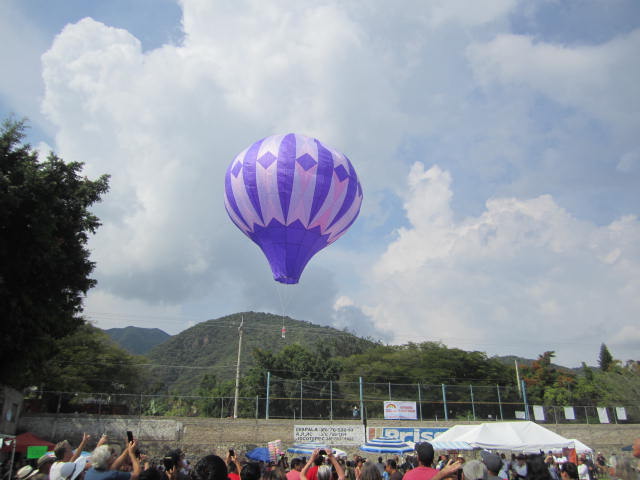 I liked the colors of the above Globo and was glad it stayed up. That size and shape doesn't burn up as easily as the larger and irregular ones.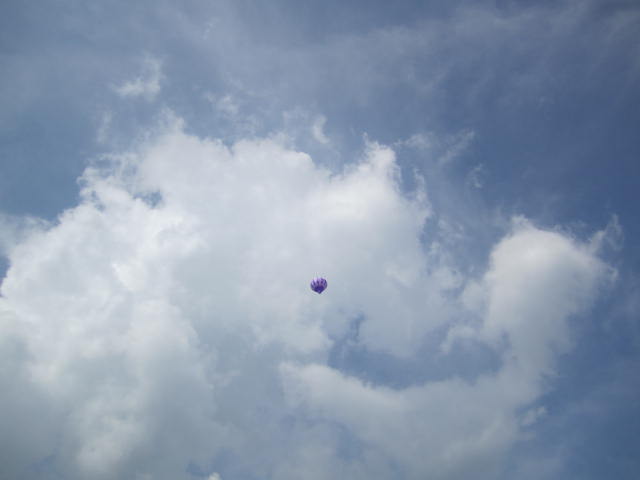 Above is a photo of one globo that went so far that it eventually disappeared from sight. I have heard that sometimes they even fly across the lake, maybe landing in a corn field. Possibly burning it op.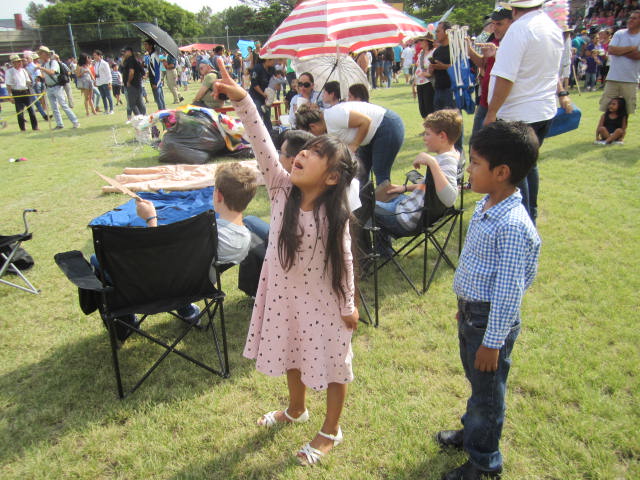 People of all ages go to this event. I saw almost as many expats as Mexicans. Everyone was welcome. No charge to get into the arena except for a collection box to help pay for the next year's event.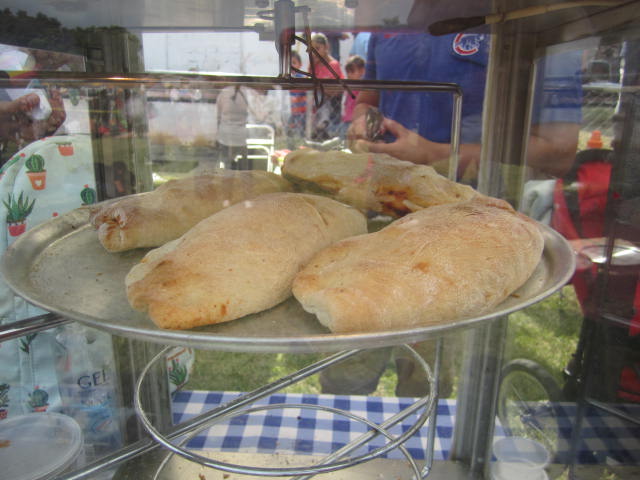 Those hot pockets were popular. This stand also sold pizzas. It all looked delicious.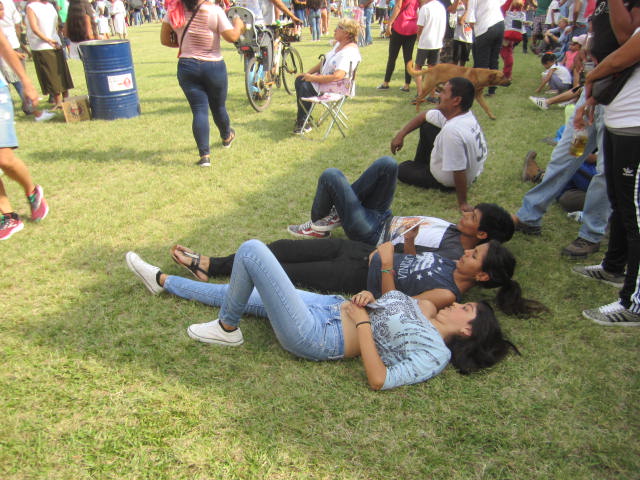 These young people watched the show from the ground up. Next to the pizza stand. Smart!
The above Globo went up a long ways. Another medium and round shape that is less likely to burn up immediately.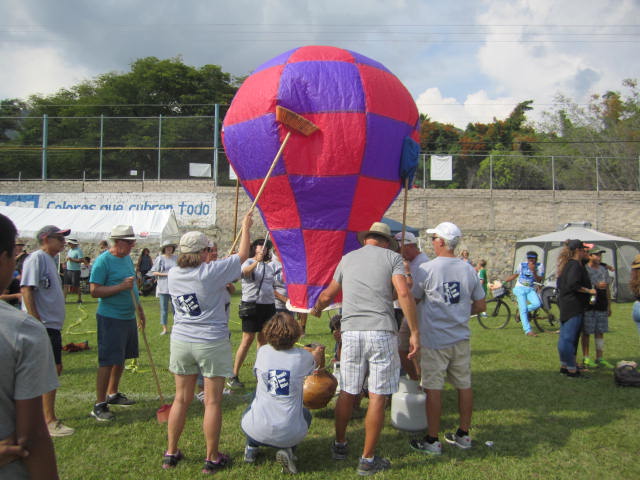 Another Globo, about to be launched. How about that broom? The perfect launching tool. This one didn't burn up immediately. The smaller ones often stayed up.
The Globo above was just launched. It was encouraged by the  yelling crowd.
Balloons and umbrellas were everywhere. So much color.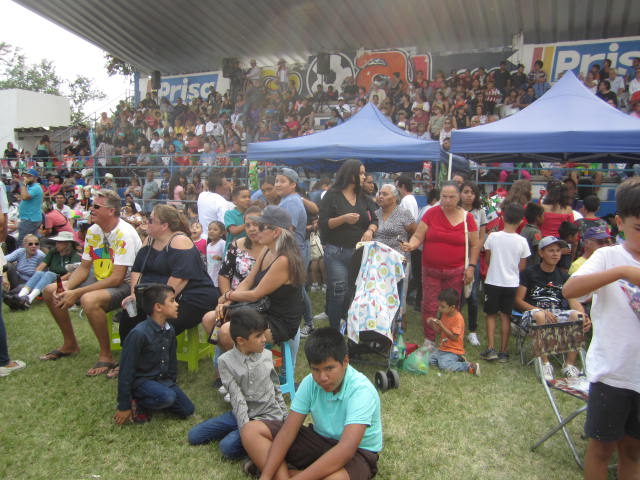 Above is only a partial photo of the crowd. More people were out on the lawn than in the stands. It did look cooler up there but I too wanted to be close to the action.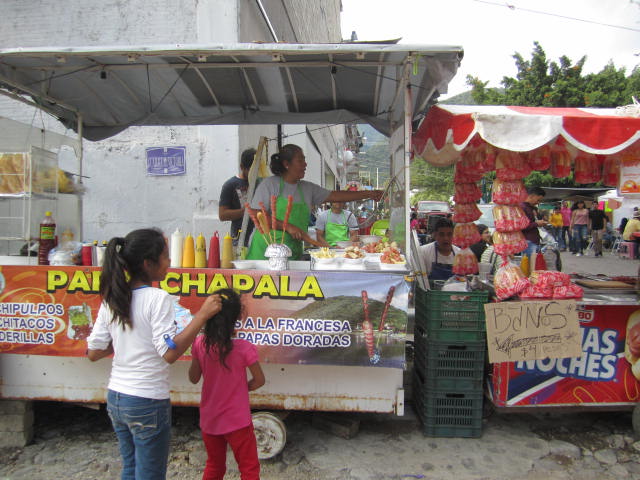 These last photos were taken out on the street, in front of the entrance. These are only a few of the food stands.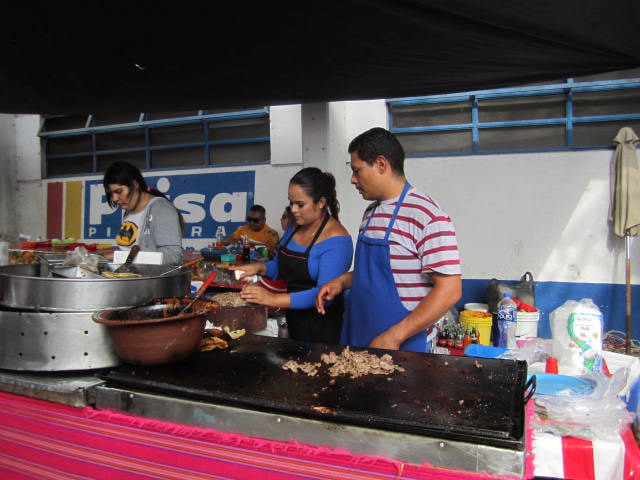 Grilled meat. Yum.  But it was too crowded for me to stop. I was being pushed up the street.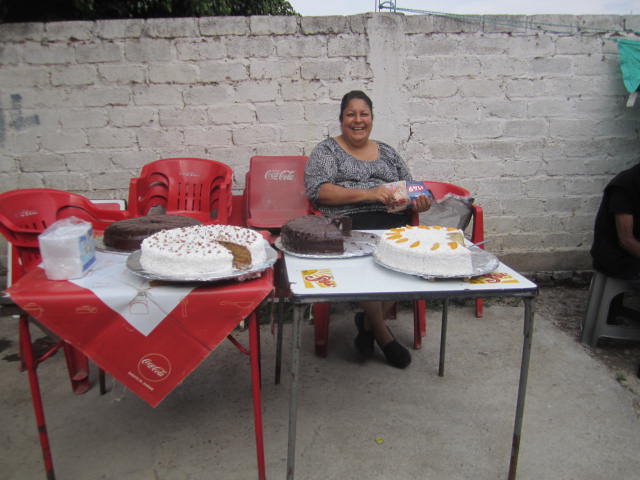 I have eaten a couple of pieces of cake from the woman in the above photo. She also sells them in the plaza on weekends. They are delicious. I love her smile. She is very friendly. Maybe selling cake to people makes her feel good. I know that buying cake from her makes me feel good.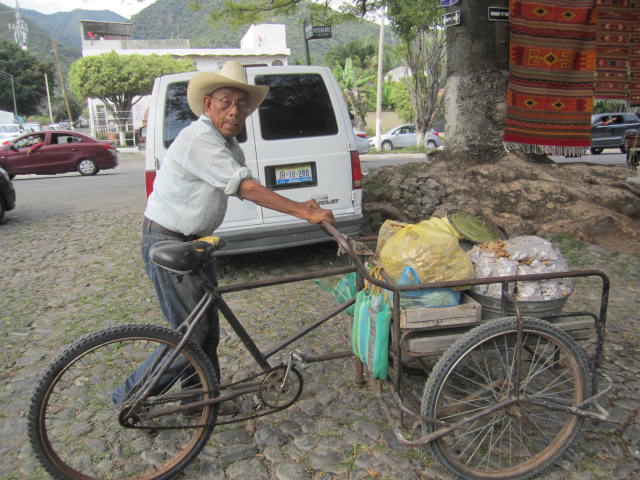 I bought a bag of peanuts from the peanut man but I didn't realize that they had been boiled, not roasted. I had never had a boiled peanut before and was not pleased but he let me take his picture. That was worth the price of the peanuts.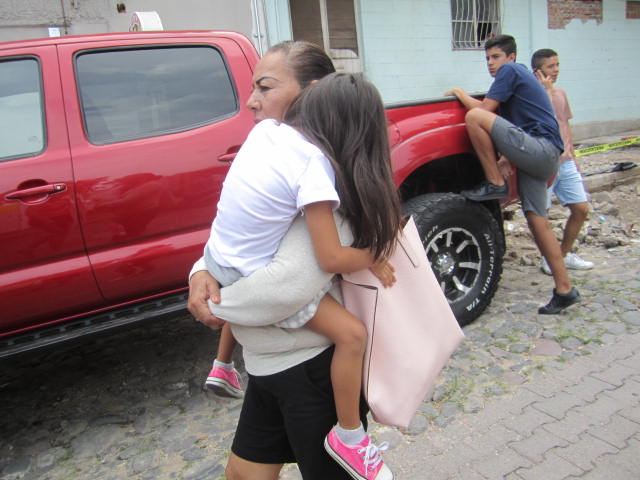 Time for this little girl to go home to bed. I left early too. As I was leaving, many more people were arriving. It went on until dark.
If you are ever in town during the Globos, I hope you won't miss it. It is a spectacular event.