Palm Sunday was on March 25th this year. I went to the same celebration last year and wrote about it then. But every year it is a bit different. It is also called Verbena Sunday. Verbena means a dance/celebration, or agricultural event. It is actually a fund raising event to pay for the Passion Play.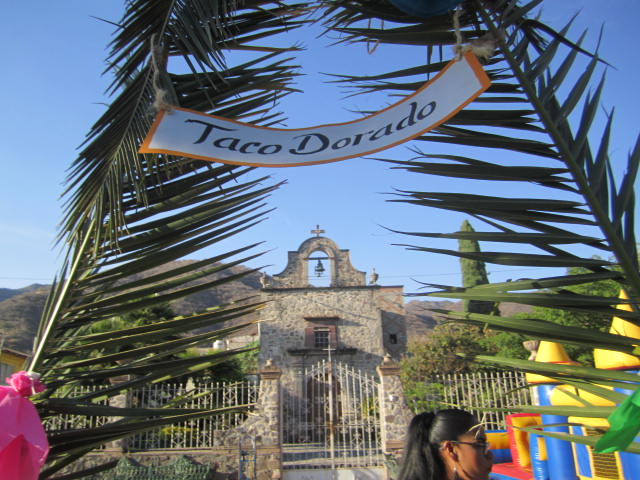 This event had small and large stands set up all around the Ajijic Plaza with signs above Palm branches with the names of what they were selling.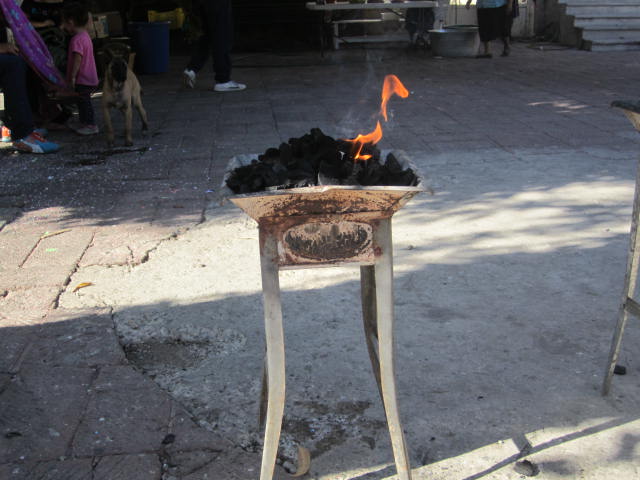 The people selling food were not supposed to use any modern cooking methods. Also not use any paper or plastic products. Just things that were used a hundred years ago. You can see one of their cooking methods in the photo above.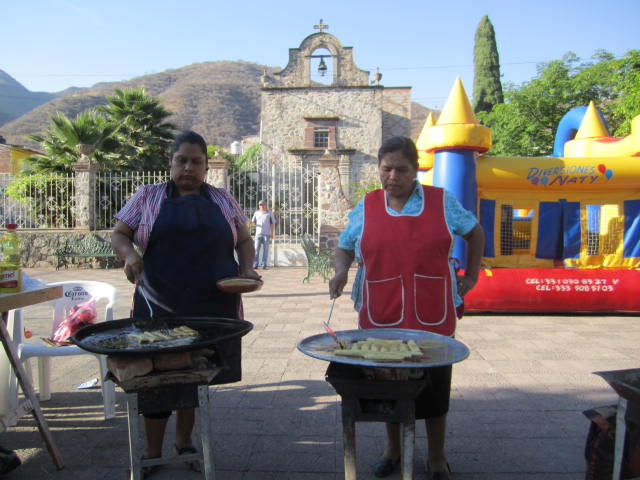 I liked the photo above because it shows the old church and the hills in the background. I don't imagine that a huge plastic bouncing room was in existence a hundred years ago but the children love it. There were many exceptions to this rule, including glass, plastic and paper products.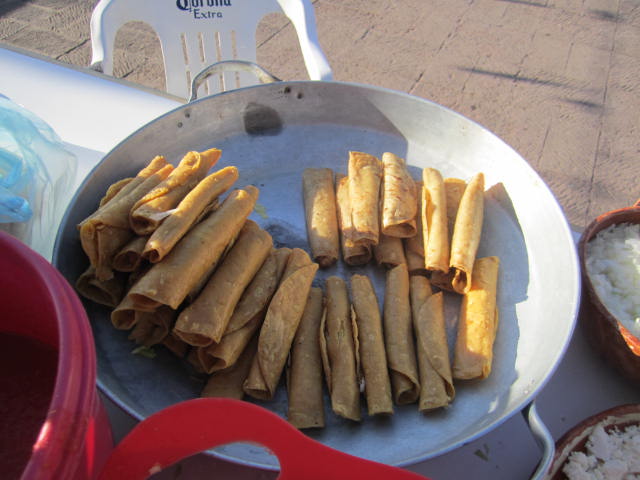 The photos directly above and below were taken at the large stand in front of the church. They also had many extra ingredients that the customers could add to the top of them. The sign said Tacos Dorado but those didn't look like tacos to me. I am no expert on Mexican food.
I had two of each but I still didn't know what they were. A lot of the food is made with the same ingredients and tasted very similar. But also very delicious. Who cares about the name.  I just was interested in the taste.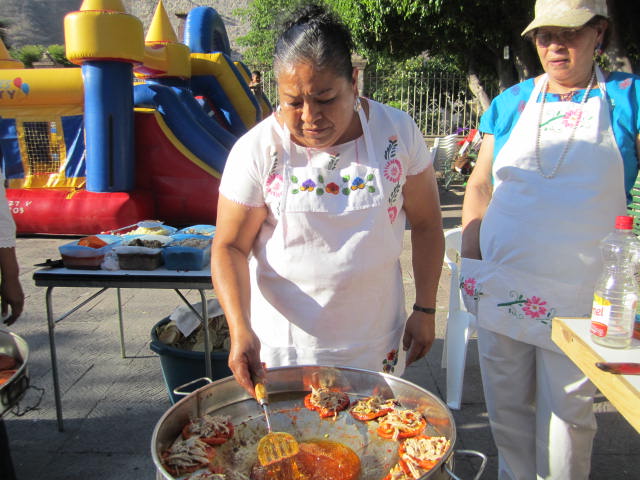 The stand in the photo below was selling rice and that delicious bread pudding, Capirotada. I just went to the Capirotada festival and wrote about it on the previous article.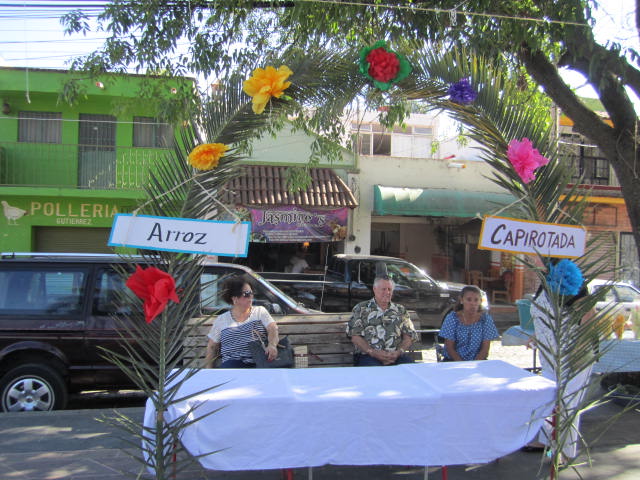 The photo below is the rice pudding. Notice the large bowl. That is a traditional pottery bowl. All the food and drinks were supposed to be served in bowls and cups like that but that didn't happen.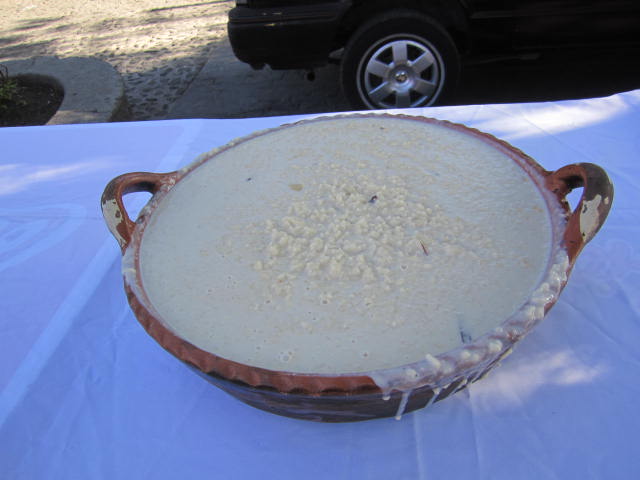 Below is a photo of a taco, or maybe it was a tostada, served in a small traditional pottery plate. It had crumbled cheese on top of it.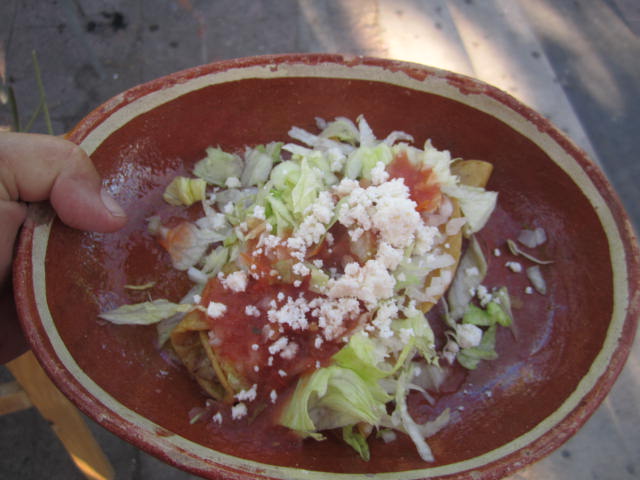 I was full by then and decided to look around at the other things that were happening in the plaza. There must have been about fifteen different food stands. There was a long table where people played the traditional bingo with little cards. Each card had a picture of a different object on it and the point was to match the cards to the larger one. Much like our bingo game.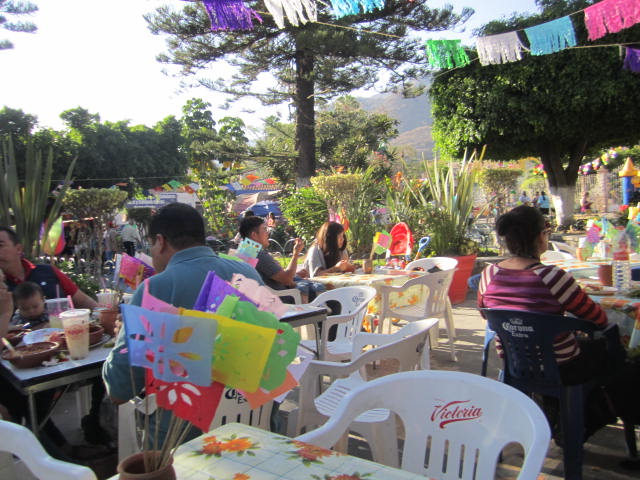 All around the gazebo were plastic tables and chairs for people so they could sit down and eat. Wait a minute. Plastic???? Now that was a no no. But if it is a choice between sticking to the traditional and having a comfortable table and chair, I preferred to be comfortable. We have to break the rules at times.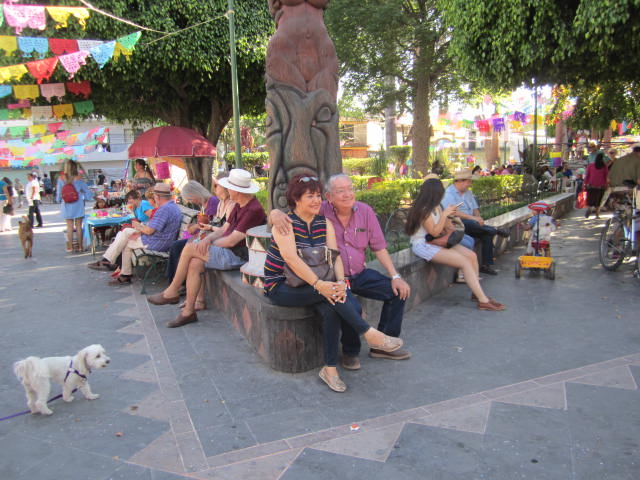 There were hundreds of people at this event. It was a family affair and one of my favorite events of the year. People were relaxed and there were lots of good food and drinks to be had for small amounts of money. Dogs were also allowed. Everyone was welcome. There was no entrance fee.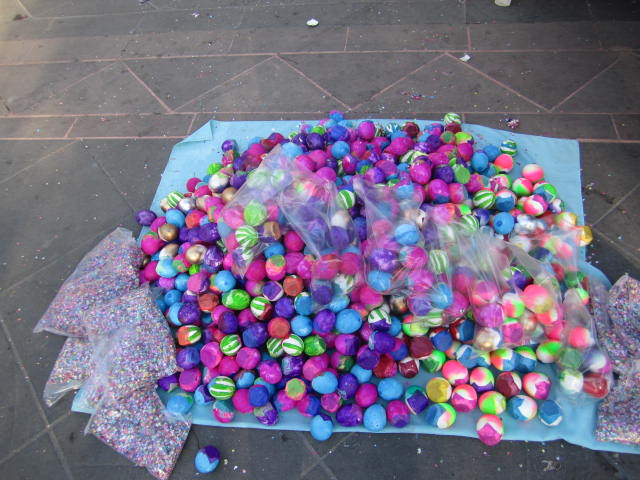 These confetti filled Easter Eggs were a big hit with the children. They liked to hit their friends over the head with the eggs and watch the confetti spill down their friends faces. What fun.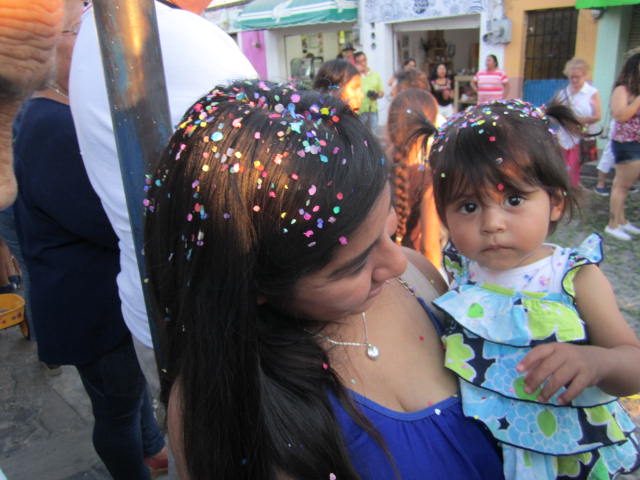 Above are two girls who had been hit with confetti eggs. The youngest seems a bit overwhelmed by it all. Maybe next year she will be more prepared.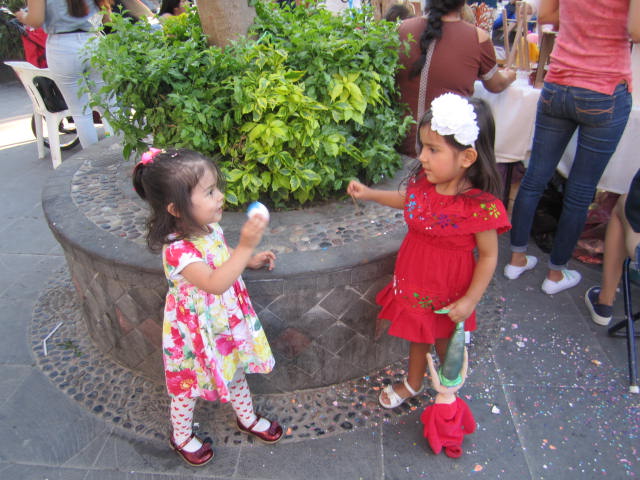 The two little girls in the above photo made instant friends over their shared confetti eggs. I wish it were that easy for us adults to make friends.
If it is difficult to make friends as we get older, it is even more difficult to find a mate but this Registro Civil was ready and willing to provide those lucky enough to have found a mate, to obtain a marriage certificate. Of course, it wasn't legal and binding. Just all in good fun.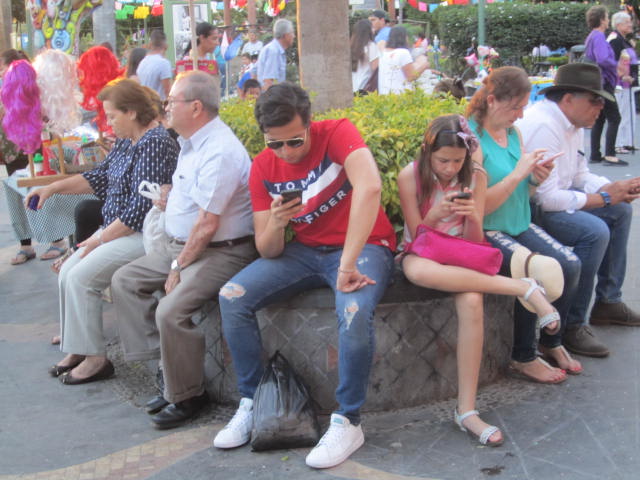 I know cell phones weren't in existence a hundred years ago but try to tell these people…..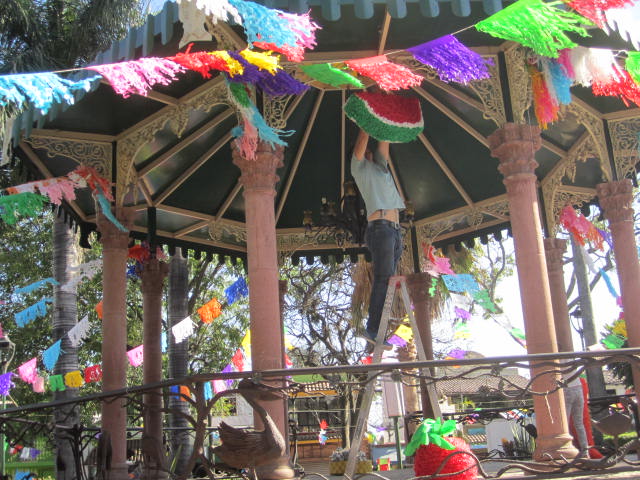 The man in the above photo was adding the finishing touches to the gazebo decorations.  Watermelon slice piñata.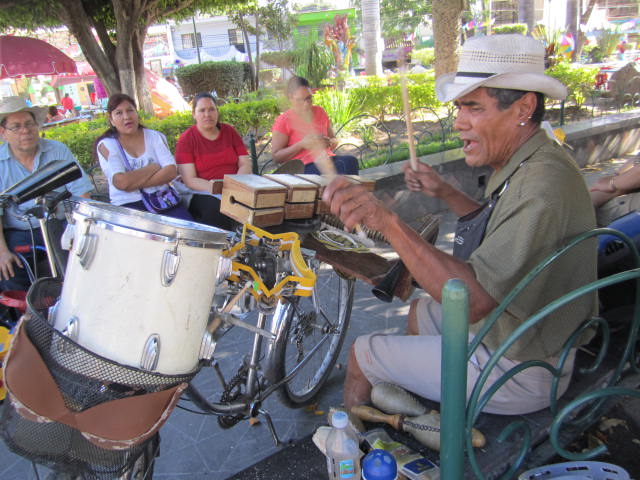 The one man band in the above photo was drumming up a storm for his captive audience. How about that bra on the front of his bicycle? Or maybe it was a woman's bathing suit top?  I wonder why it was there. He was too busy to listen to my question so I walked on to other things.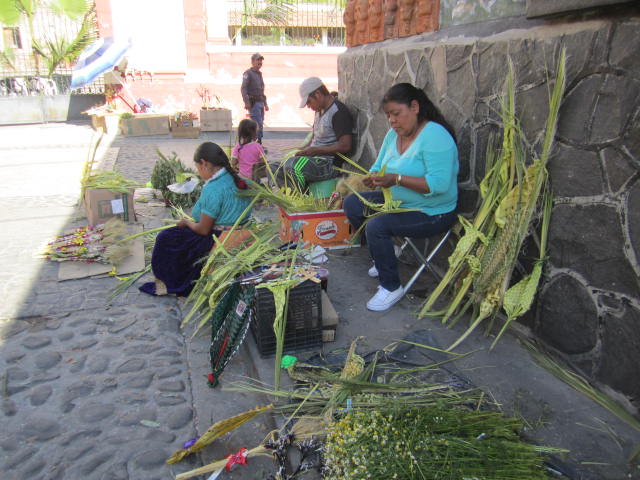 Families from outlying villages always come into town to sell their palm crosses on Palm Sunday.  They work in front of the church and then walk around in the crowds, selling them for small amounts of money. Some of them are amazingly done. They are made out of palm fronds.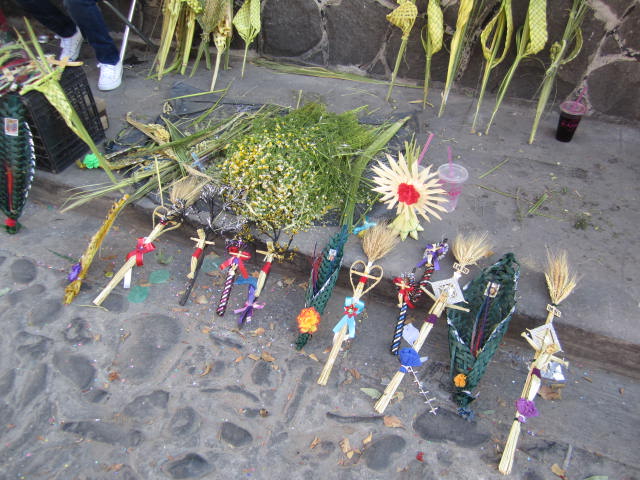 I was impressed by all the work that these families put into making and selling the palm crosses. Each one was unique. I was told that many of the people making crosses did not speak English or Spanish but their own native language.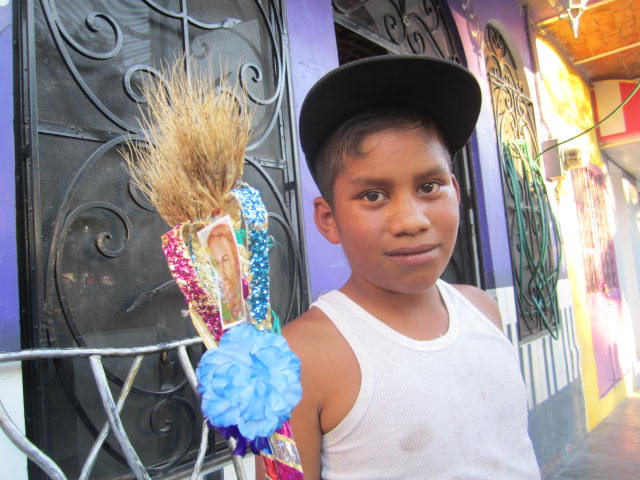 How could anyone resist buying from such a beautiful and innocent boy?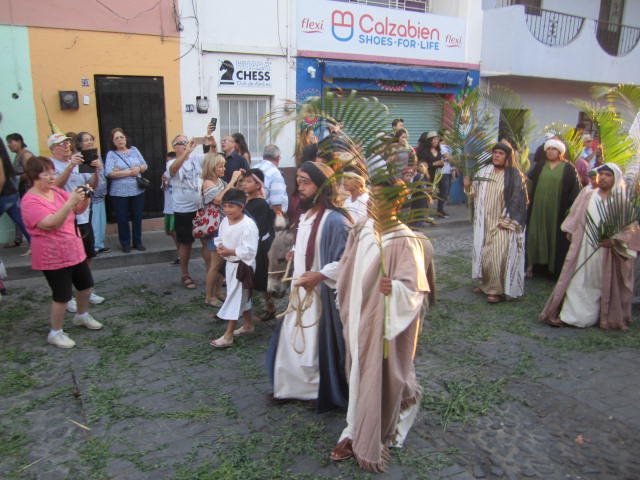 Finally the procession arrived. Jesus did not ride in on a donkey. Two children were riding it. He was guiding it with a rope and walking on the alfalfa that had been put down just before his arrival. People used to put down palm fronds but they are much harder to find. The alfalfa was scattered on several blocks of the road before the procession started.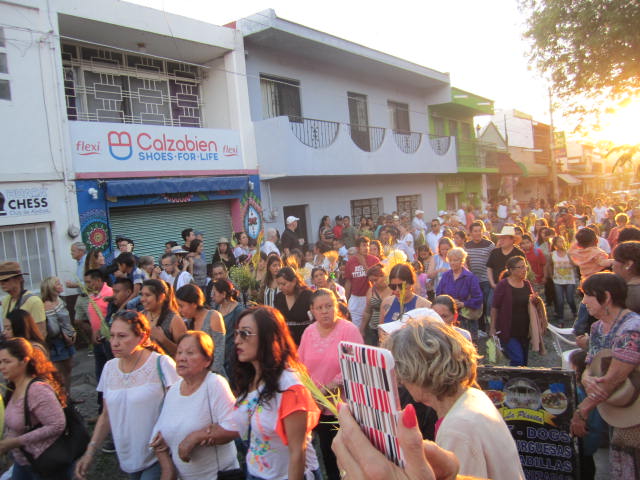 The sun was just starting to go down, making a beautiful golden glow on the people following Jesus and the donkey. It was magical. Just ignore that cell phone at the front of the photo. The twenty first century always intrudes on these simple celebrations. There is no escaping it.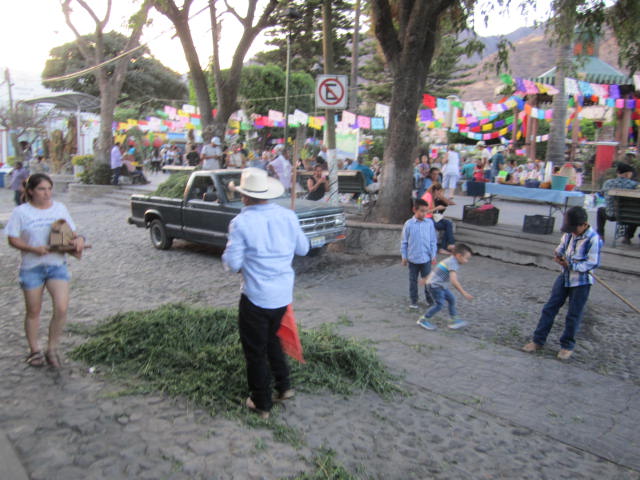 After the procession, many people started sweeping up the street that was green with alfalfa. You can see the truck in the background, piled high with alfalfa. So another Palm Sunday ended.  Maybe you will be there next year if you weren't in that crowd. I hope I will be there too.
I was told that at nine thirty in the evening all the lights in the plaza would be turned off and there would only be candle light. I didn't stay that long. Maybe next year……