This is a very special year for the Ajijic Chili Cook-Off. It is the 40th year. It started out very small at the Old Posada Restaurant which is next to the malecon. At that time the restaurant was owned by the Eager family. Morley Eager was so into it that he hired an elephant and headed the parade by riding on it. Unfortunately, he is no longer alive but his spirit lives on.
The photo doesn't do this year's elephant justice because you can't see that it is almost as large as a real elephant. It is made out of paper mache. That is supposed to be Morely Eager riding on top of it, also made out of paper mache. The depiction of Morely also doesn't do him justice. But I applaud such a huge undertaking. I could never make something like that.
The Cook-Off was again held this year at the Tobolandia water park. There is plenty of parking and the space has many trees to cool everyone down. Before entering the gate, there were two men playing the bagpipes. They stopped and let me take a photo of them. I think they were also getting hot and tired.
There was a parade from Ajijic before the gates opened but I missed it. I did get a couple of photos of the horses and cowboys and the cowgirl. They are always in the parade, not quite as exciting as an elephant but fun anyway.
Above is a photo of the walkway up to the Cook-Off area. I liked seeing the water park. All the pools also cool down the area. It was a hot day.
The Cook-Off this year was on Friday, the 23rd of February; Saturday, the 24th of February and Sunday, the 25th of February. I went on the 24th which was also Mexican Flag day.
There was a ceremony on the stage about the Mexican flag. And also thanking everyone involved in making this year's Cook-off happen. Especially to Jacque S. Bouchard, President of the Mexican National Chili Cook-Off 2018.
This is the largest fund raiser in the Lakeside area for our charities. The money goes to eight of them: Cruz Roja Delegation Lago de Chapala; Programa Pro Ninos Incapacitados del Lago; Centro de Desarrollo, Ajijic; Casa de Ancianos de Chapala; Los Ninos de Chapala y Ajijic; The School for Special Children; Love in Action Center and The Shriner Organization.
From the time the doors open at eleven in the morning to the closing at five fifteen in the afternoon, there are constant activities and entertainment on the center stage. I was able to see one band and beside the stage was an impromptu dance performance. It was given by a Mexican man with his horse standing off to the side. At least he had an appreciative audience of one, the very patient horse.
I took the above photos early. Soon after the gates opened so not many people were in the food area yet. These food booths were also for raising money for the charities. Everything looked delicious. I had a hot dog.
It was only a little after eleven in the morning and the chili tasting didn't start until one. So I enjoyed my hot dog. I wish they had a hot dog competition. That is my favorite food.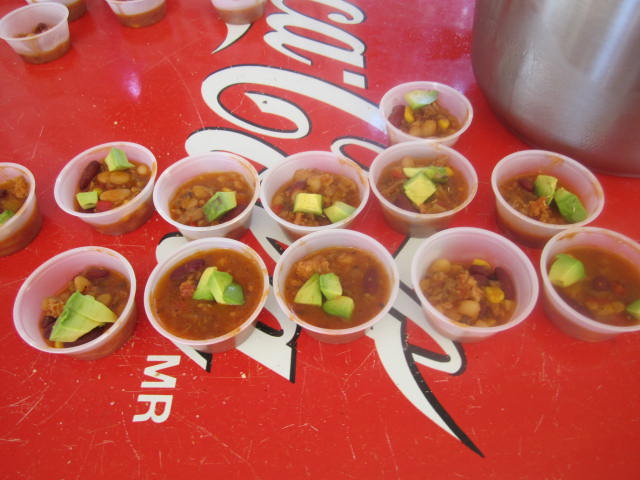 I only put on a few of the chili photos because I wanted to get everything else too. What happens is that you buy a ticket and you are given a small plastic tasting spoon and a list of the nine different booths. Then you walk through the line and get a little tasting plastic bowl of each chili and at the end you cast your ballot for your favorite one. But number eight didn't show up.
Now I am backtracking a little bit to the main area where they were serving different kinds of food before the actual chili area opened. There was no reason for anyone to go hungry that day. There was food everywhere you looked.
After my hot dog , I wandered around the different art, craft, clothing and jewelery booths. There was so much to see that I couldn't get to all of the booths. Many of them were locals selling things that I have often admired here at the outdoor markets. Some of them were from out of town.
Above is just to show you the crowds that had started coming in around noon. It is a good thing that tarps had been set up over the walkways, otherwise it would have been too hot to shop. And that would have been a real loss. Who doesn't love to shop? And eat…..
The woman in the above photo was walking around the entire area asking if people wanted to buy raffle tickets. The money from the tickets also went to the charities. People at the booths donated items for the raffle.
I like to take photos of people shopping. Unfortunately, I couldn't put on all of them. I must have taken over two hundred photos. Just know that there were many beautiful booths.
I forgot to mention that on Friday there was a Margarita competition and also a Salsa Competition. I could have gone for those two. But one day was enough for me. There is a lot of walking involved in looking at all those booths.
I was surprised to see the Medical Cannabis booth. I have never seen it in any of the other festivals I have attended here. I couldn't resist taking a picture of it.
I liked the sculptures. They also had some paintings in the background. Everything I saw in the booths was excellent.
I liked seeing what was happening in the above photo. That small child wanted to go over and meet the elderly woman who was sitting alone at the table.
Sweet. You never know what kind of magic will happen when you go to the festivals. New friends. Old friends. This looks like a new person meeting an old person.
There is a chess club in Ajijic. They meet at the Ajijic Plaza to play and two people were playing a game at the Cook-Off. They were oblivious to everything else around them. Such concentration and love of the game. They welcomed me to join their group. But I never could play chess. I can't think that far in advance to decide on moves.
The man in the above photo had a clothing booth. But he was kind enough to have a small table set up for tired shoppers, like me, and he gave out shots of tequila.
I really appreciated his generousity and thoughtfulness because I had been shopping and shopping. I didn't buy anything except a few books from the Lake Chapala Society booth but I took a lot of photos. One shot of Tequila did the trick to keep me going for awhile longer.
It was finally time for the Cook-Off to begin. You can see the crowd. It was crazy but fun, trying to get a sample from each overcrowded booth. I tasted each of the eight chilis. The first ones were mild and the further down the line I went, the hotter they became.
Did I mention that I don't like chili? Of course not. Forget that I wrote that. But my stomach is sensitive, especially to hot things. Forgive me chili lovers. I will now go on pretending that I like chili.
I didn't vote on my favorite chili. I didn't think it was fair for a non chili lover to vote. But I took a lot of photos. Here are just a few of them.
Each booth had something special besides chili. I heard one of the cooks say,"To clear your palate."
So I enjoyed the crackers and little cheese style chips.
You can see that the man in the above booth is filling the bowl with stick like snacks. And there is some kind of chili conference going on in the background. This competition is stiff. The winner gets to go to the international Chili Cook-Off.
I always like to take pictures of smiling people. Notice this year's apron on the woman. Each booth is supposed to get only one apron. But I see that the man is also wearing one.
Maybe they were allowed to buy an extra apron. I don't know any of the politics of chili cook-offs. But I found another area where they had displays of many of the aprons from previous years.
As I was walking down the hill, I noticed these people sitting in the shade. Smart people. I just kept on walking. I knew if I stopped for very long, I wouldn't have been able to get up again. But Tobolandia has many trees and cool places to sit and just relax.
I ran into these Mariachis as I was looking for the bus home. I don't know if they were coming or going. I didn't know if I was coming or going, I was so tired from the day at the Chili Cook-Off. If you are a real chili lover and want to be part of the one next year or if you just want to learn more about this year's Cook-Off, go to: www.mexicanchilicookoff.com
Until next year, I am signing off with a quote about chili.
"Next to jazz music, there is nothing that lifts the spirit and strengthens the soul more than a good bowl of chili."
Harry James