Combate de Flores, translated, it means flower fight. But actually it is the story of romance. The romance of the way Ajijic was in the past and how it is now. It is also about how the young people used to court each other. And as you may see in the photos below, some current courting going on.
I am going to write as much as I can remember or read of my own notes, the stories that were told to me before the event started.  If my facts are wrong, you might have to be a very old person to remember because this event started on Independence Day in 1926 and by 1936 it was over. What I learned came from Edwardo Ramos Cordero. Below is his photo.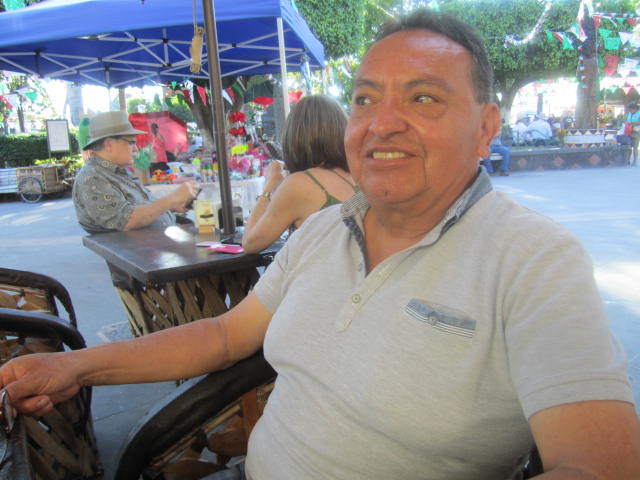 As you can see from the photo, Edwardo is not old enough to have seen the Combate de Flores. Access Lake Chapala decided to learn about this event and fund another one, hoping it will become a tradition once again here in Ajijic. So, Edwardo and Dulce went out in the the five barrios of Ajijic and found the oldest people around to tell them what they remembered or was told about it from their parents or grandparents.
In 1927 Ajijic was a very small town. There was no electricity so the plaza had oil lights all around. This was before the town filled up with all the houses. There were flower fields everywhere. And right across the street from the plaza there was a field where donkeys grazed. There were no cars. But by 1937 there were cars and electric lights and few open fields of flowers. People were becoming more sophisticated and the young people may also have become more independent. So the event died.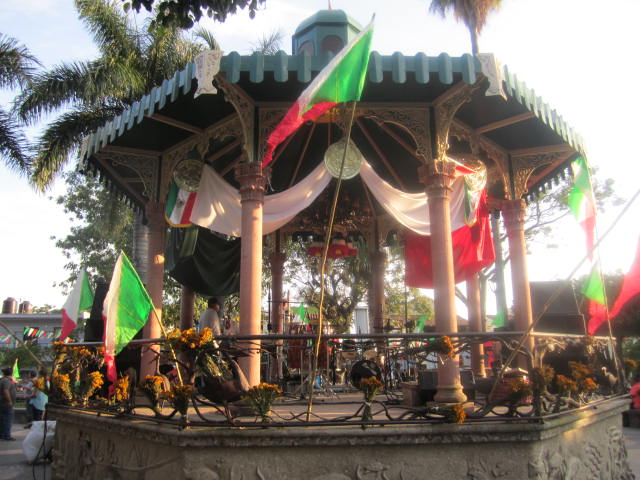 There was a gazebo at the time but it had no roof. A band played on it as they did again last night at the event. I took this photo before they arrived. And people danced to the music. But no single people danced together in the past. This event was a way for the single people to meet each other. At that time, dating was not allowed except at the plaza with a chaperone nearby or in front of the girl's home. The boy was never allowed inside the house. The girl had to stand in the doorway.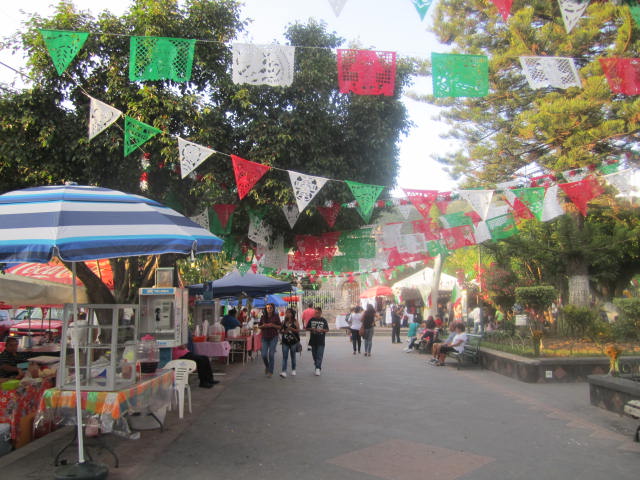 This event was a way for the young people to see each other. At the beginning of it the girls carried Zinnias and rode in Donkey drawn carts around the plaza and threw the flowers out to the crowd. Later on, the boys would walk in groups in one direction around the plaza and the girls would walk in the opposite direction. If a boy liked a girl he would give her a flower. At first it was a Zinnia and later on, through the years it became carnations and then gardenias.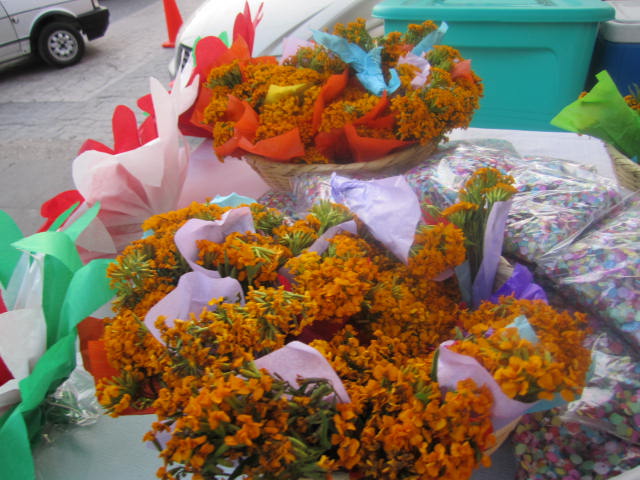 Can you imagine how beautiful it was in Ajijic when it had fields of beautiful wild flowers? The ones above were given out last night. But not in the same tradition as a boy giving a girl a flower. The woman at the desk was giving them to everyone.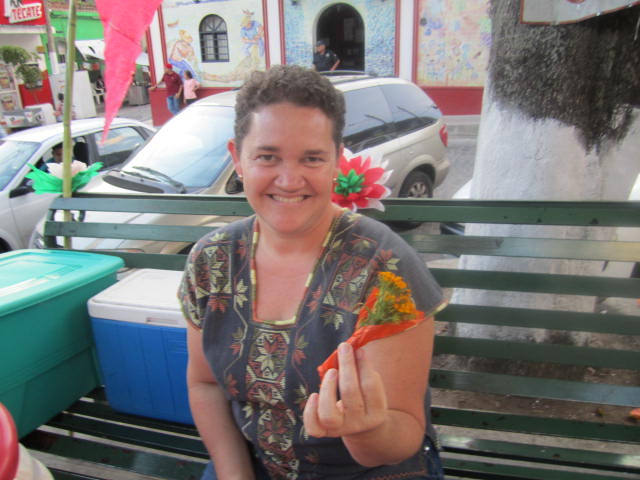 There are five barrios in Ajijic: San Miguel, San Sebastián, San Gaspar, Santo Santiago and Tecoluta Guadalupe. Each barrio had it's own section of the plaza for selling or giving away things and that was also the case last night at the new event.
I want to go back a bit to the boy giving the girl a flower. That was his way of letting her know that he liked her. He would sometimes whisper to his friends before they got to her that he was going to give her his flower. So the boys all knew what was going to happen.
But what if the girl refused his flower? Sad news for the boy. He then had to walk back to his group of friends and continue walking in the circle with them. I can imagine how much those boys would have teased him if she refused the flower.
If she accepted it, then he could walk with her. BUT NO TOUCHING… no holding hands. All they could do was walk beside each other. Romantic, right? If it is 1927 and you aren't allowed to date. And there are no cell phones.
Above is a photo of the table for the Tecoluta Guadalupe Barrio. They had bags of confetti that they were giving to people to throw at each other later in the evening and they were also selling Guayaba punch in that big pot.
Barrio San Gaspar also was giving away the Santa Maria Flowers and selling drinks, some had alcohol in them. I see a bottle of tequila on the table. And they had the confetti filled eggs to throw.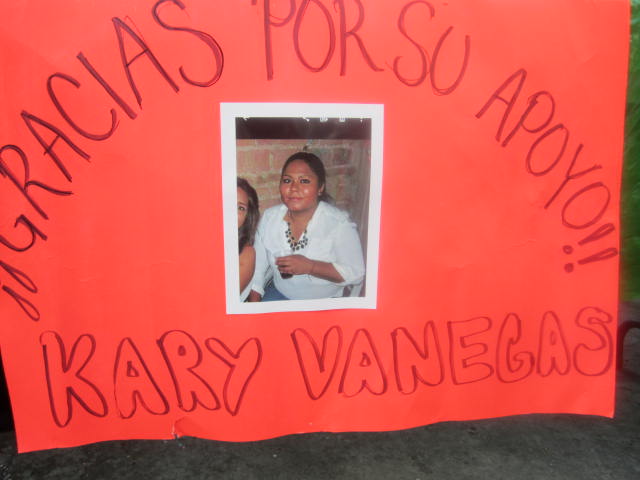 There is another part of the celebration I haven't mentioned yet. The young woman in the above photo is in the hospital with a very serious illness. Her hospital bills are piling up. So the largest section of the plaza was for selling food to help pay for her bills.
This is common in all of the barrios. I remember it happening at different times. Signs would go up about a party being planned to help pay for hospital bills for a member of the community. They would block off a street and everyone would come and sell food to give to her family for her bills.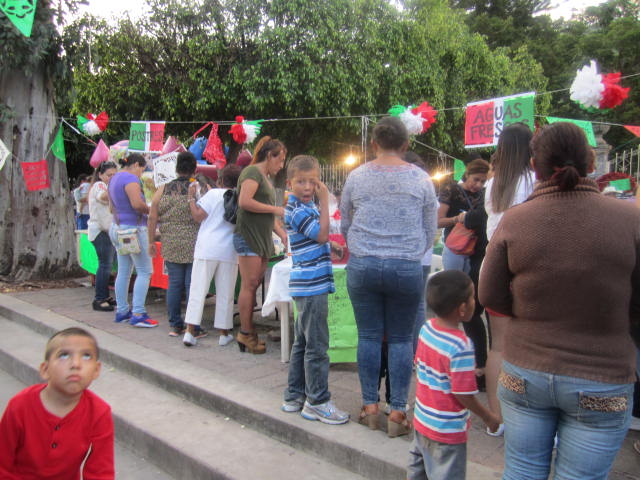 You can see from the signs above this line some of the things they were selling. I have no idea what that boy in the front was looking at but there were a lot of things of interesting going on everywhere.
The food they were selling was mostly traditional Mexican food, like pozole and tamales but they also had some great looking desserts. You can see in the background the long table where they were selling food for the fundraiser. All these tables eventually filled up with people enjoying the great food.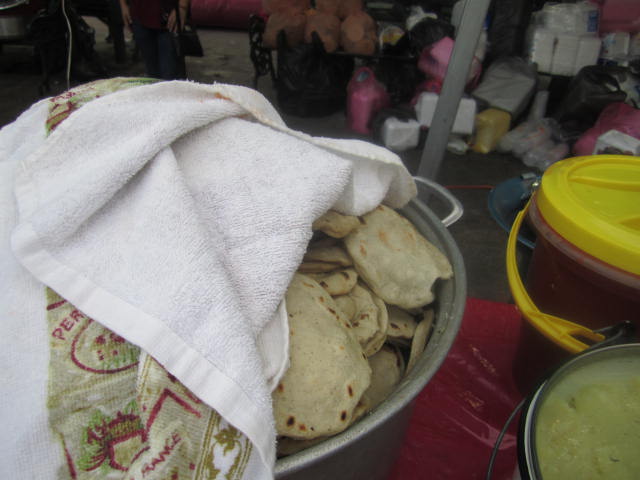 Tamales? Not sure. Maybe it is some kind of flat bread. I didn't get a chance to taste it. I believe it could have been gorditas?
Several of the five barrios were selling food and drinks. This was also the tradition when it first started. The four photos above were of the fund raiser. There were also other stands, not related to the fund raiser or the event. Ones that are there every evening. I like the roasted corn.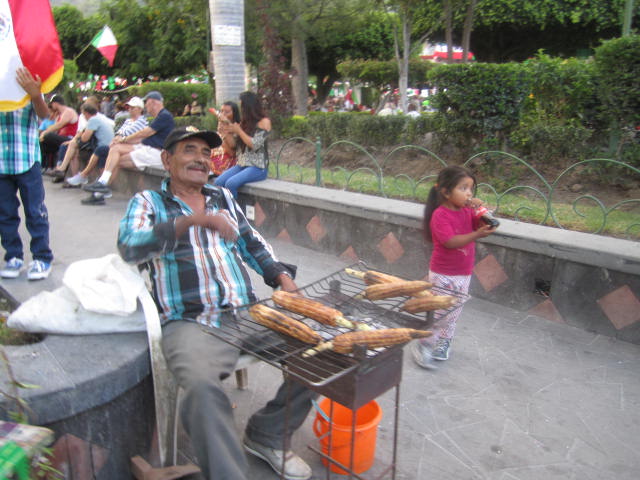 I wish I had more space because there was so much happening. There is no way I can get it all in here. I liked the expression on the corn roaster's face. I love to take photos of people smiling.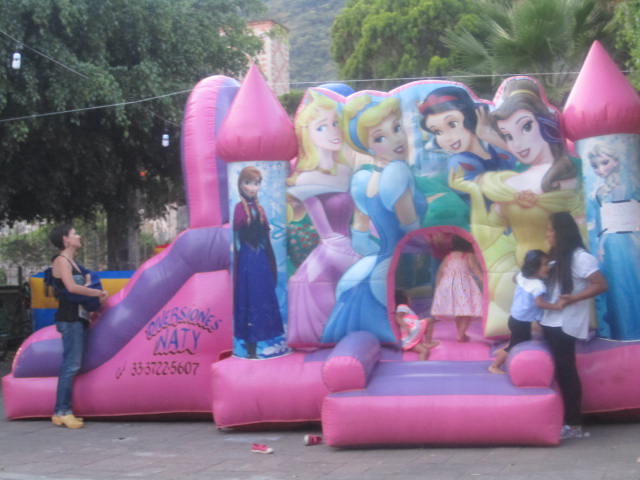 This event was for people of all ages. The children gravitated to the bouncing area.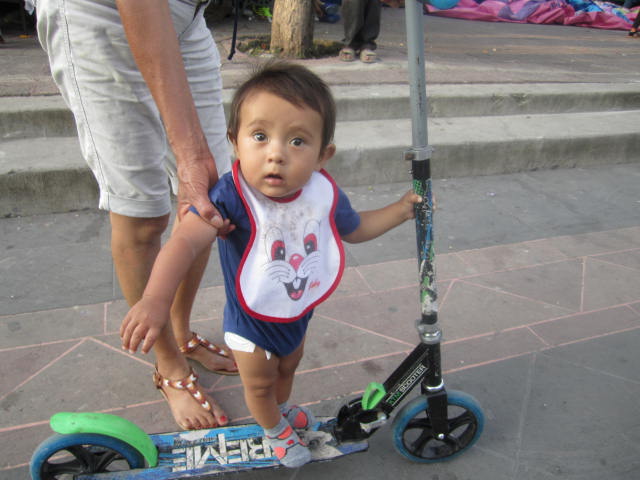 This child was too young for the bouncing area. I just loved the facial expression. As if life was such a wonder. I wish I always felt that way. One gets more jaded as one ages. But I did have that sense of wonder last night at the celebration.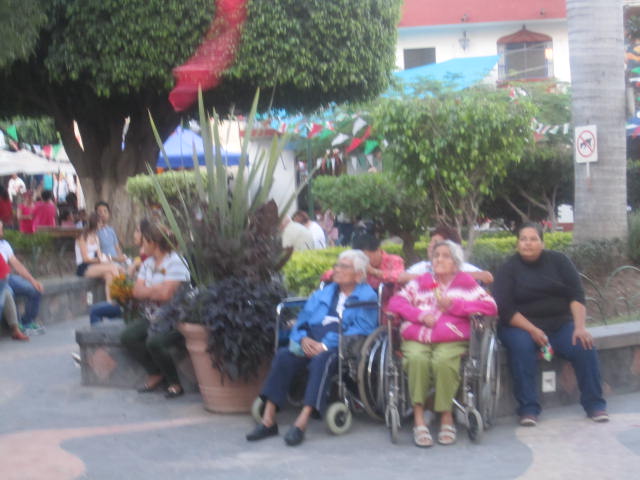 The people sitting behind them must have been their helpers. Families in Mexico mostly take care of their own elderly. They rarely send them to nursing homes. For one thing, it would be too expensive. And for another, the families stick together, often several generations are living in one house. I like that about Mexico.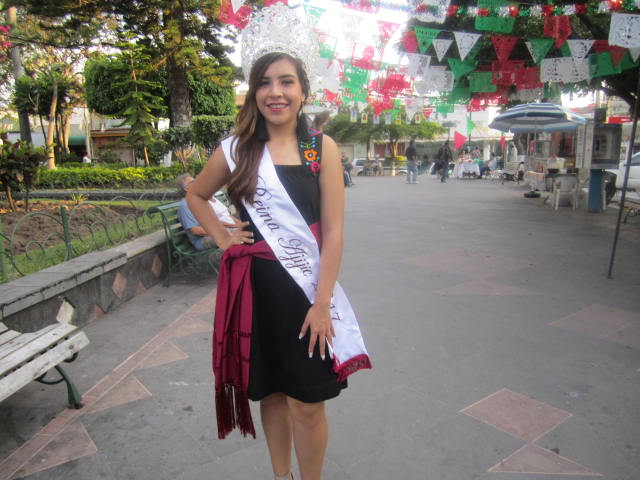 Instead of the young men and women walking around the plaza in circles eyeing each other, the queen of this year's Independence Day Parade walked ahead of the band and everyone threw confetti.
The children love these events. I do too. As I was walking around and looking at everything going on, I couldn't help but feel thankful for being lucky enough to live here. Ajijic has changed a lot since 1927. No more fields of flowers but there is still a very strong sense of community here. Families help each other out. Barrios help each other out. Individuals help each other out. No one is a stranger here.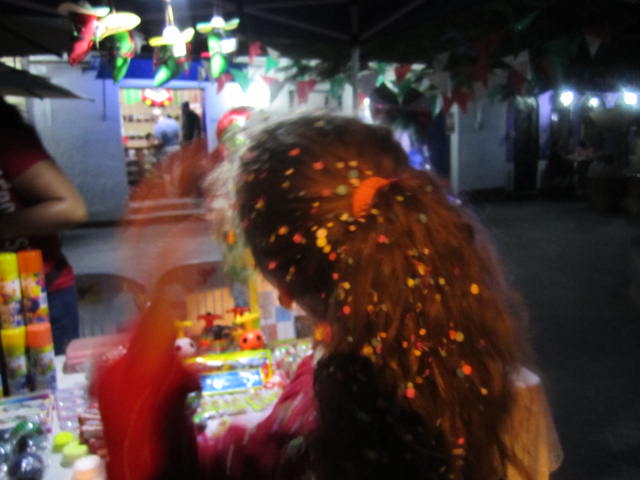 There was no way of escaping getting confetti in your hair.
I started this article with a photo of a couple dancing together and am ending it with an older couple where the woman is brushing the confetti out of her man's hair. VIVA AMORE!  VIVA MEXICO!