The annual Thrill the World Zombie Dance took place on Saturday, October 27th, 2012. This is an international event to raise money for charities. It was inspired by Michael Jackson's Thriller music video. Thrill the World is an allusion to his song title, Heal the World. People from all over the world danced to his Thriller song at the same time.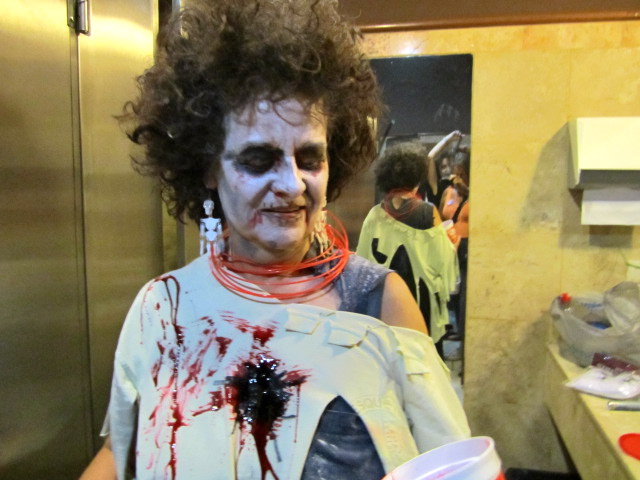 If you had been at the Ajijic Plaza an hour before the two o'clock scheduled event, you might have run into zombies everywhere. I had a scare when I opened the bathroom door to find myself face-to-face with this zombie. Then she said my name and I realized that I was looking at my dear friend, Carolina. What a surprise for me. I hope her boyfriend didn't see her in that costume.
I decided to wait on the park bench for awhile and I ran into another zombie. There was no escaping them.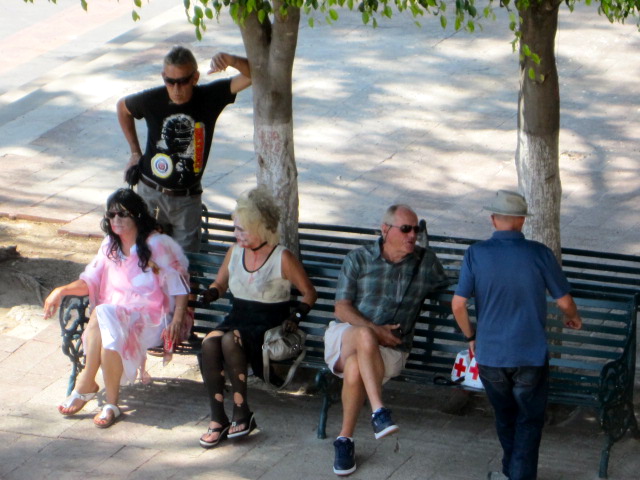 Some zombies came already in costume. Others went to the back room behind the Jardin Restaurant and got their makeup put on by other volunteers.  There was a lot of excitement in the air as people tried out their scariest faces on each other. Both adults and children participated. They had been practicing the dance steps for several weeks. There were over forty different steps involved in the dance.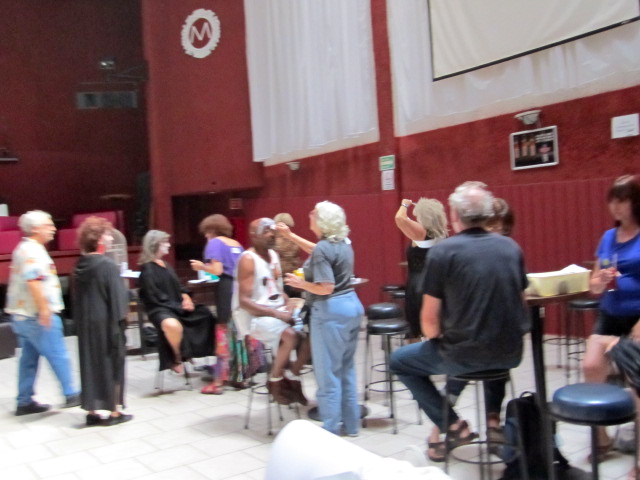 I checked online for information about this event. If you would like to see some videos from different countries, look on you tube under Thriller Dance or Thrill the World. You can also see photos of it on Facebook. This event has caught on quickly.
These two little girls below were having a lot of fun although they tried to put on their scariest faces for the photo.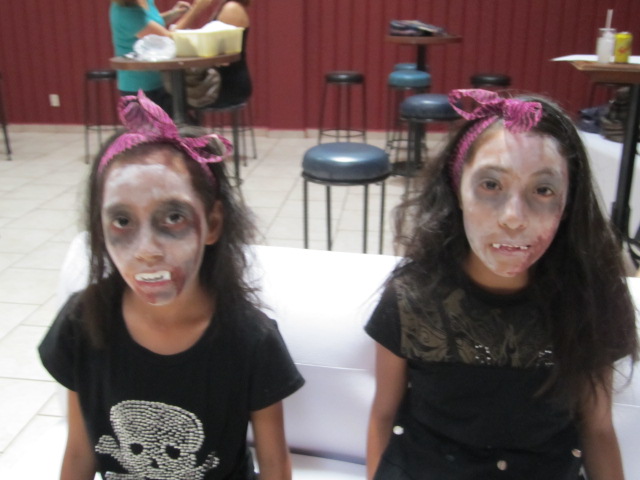 My friend Inez is in the photo below.  Even though she recently had problems with her foot, she wasn't about to miss all the fun of dancing in this event.
Outside of the makeup room, a photographer was recording the event by taking portraits of the participants. It would later be part of a CD of the activities and the dance.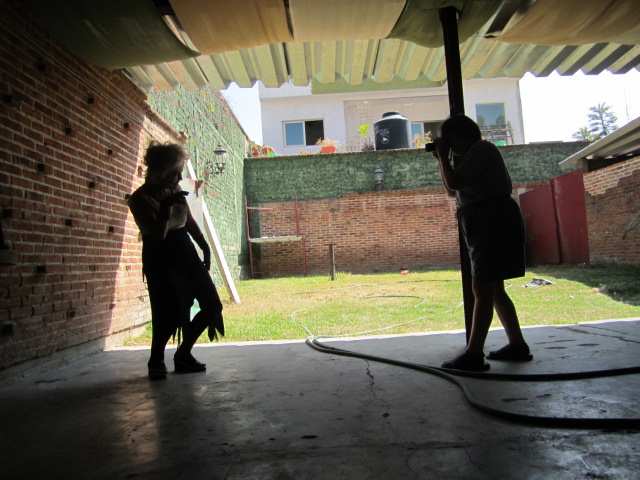 Below is one of the youngest zombie dancers. She tried to look scary but she could never pull it off. She was too adorable.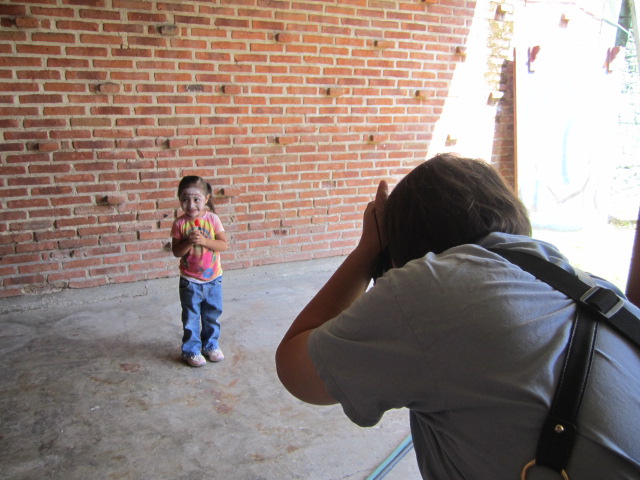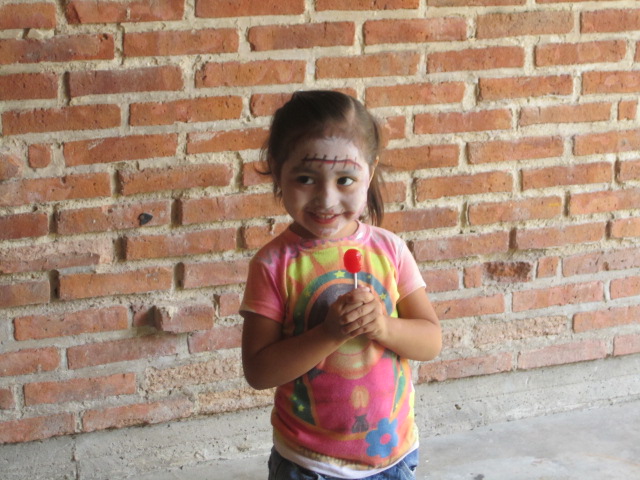 People had made pledges to their favorite zombies and the money went to the local Red Cross. Below Charlie Klestadt, one of the organizers, is talking to his zombie helper.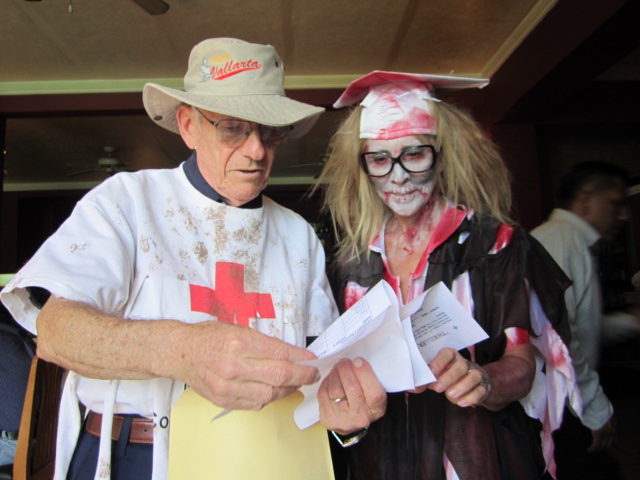 Charlie's wife, Anne is also involved with the Red Cross. She spent time asking for more pledges from people in the plaza.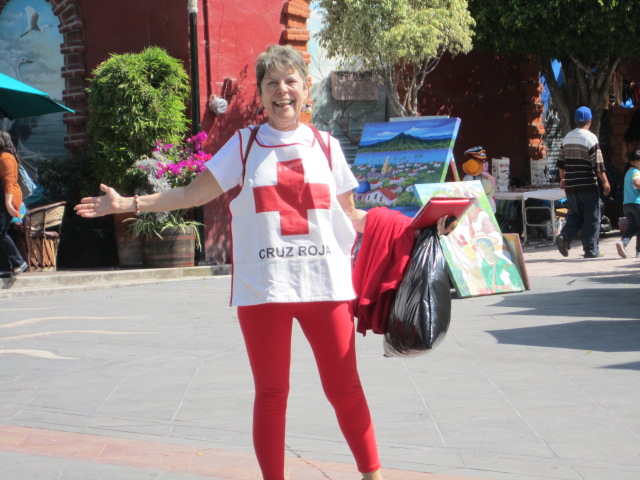 The first Thrill the World zombie dance was held in a community hall in Canada in 2006. Sixty two zombies participated and it set a Guinness World Record for the Largest Thriller dance in one location. It was followed by another event, Thrill Toronto in 2007. It was also an international event in which 1,722 people in 80 cities in 17 different countries participated. This idea had snowballed into something very large.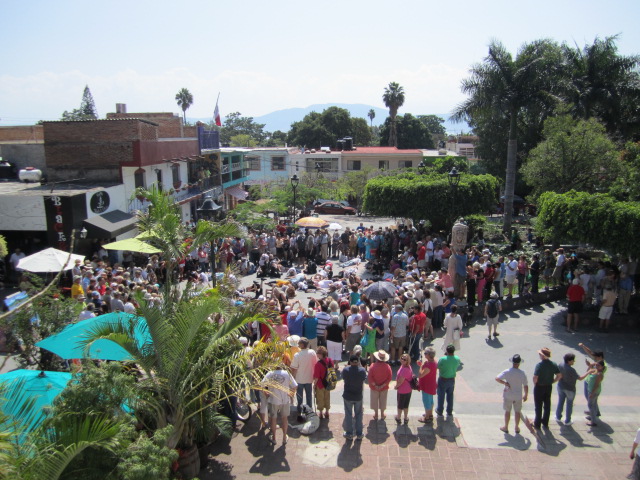 In 2008 the event coincided with the 25th anniversary of Michael Jackson's Thriller album. 4,179 people danced in this event in 13 different countries.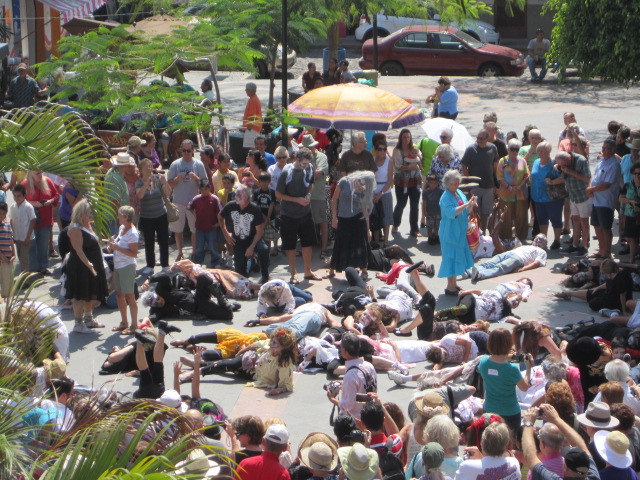 In 2009, 22,923 people danced in the event in 264 cities and 33 countries, setting a world record and raising 100,000 in the United States for eighty different charities.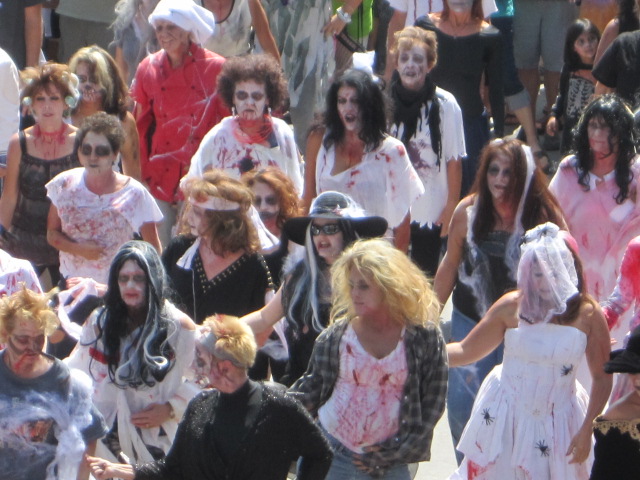 In 2010, 13,042 people danced in 221 events around the world. You can see by these numbers that each year more people are caught up in the excitement and want to be part of it.  In 2011 the money from the event was given to the Van earthquake fund.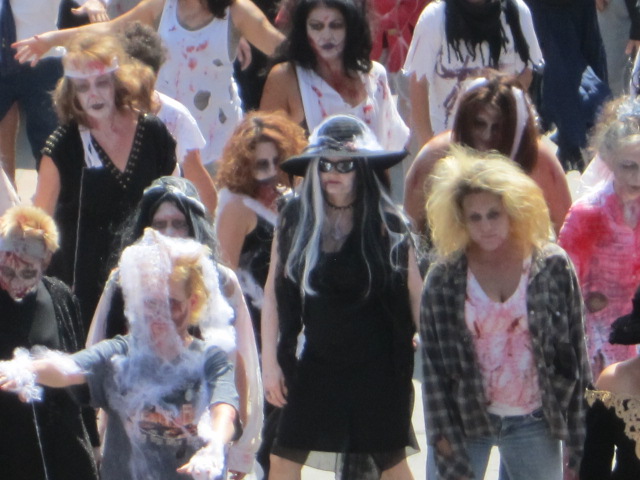 I don't know if the numbers are in yet for this year's events but I am guessing that many more people joined in to have fun and raise money for charities.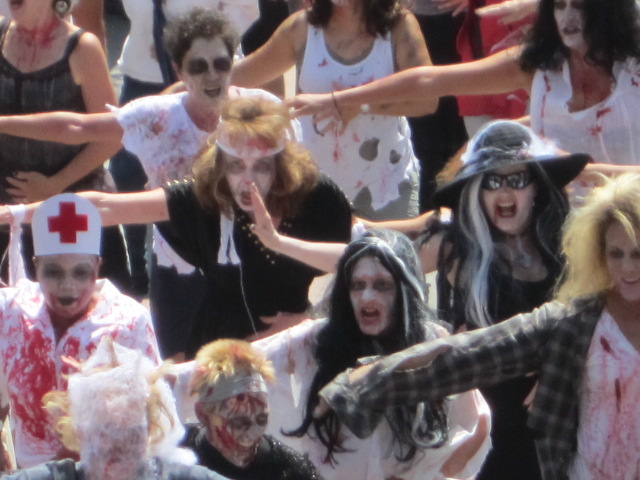 Few people would doubt that Michael Jackson had a deeply troubled life but if he could see what his song has inspired, I am guessing he would be be resting in peace.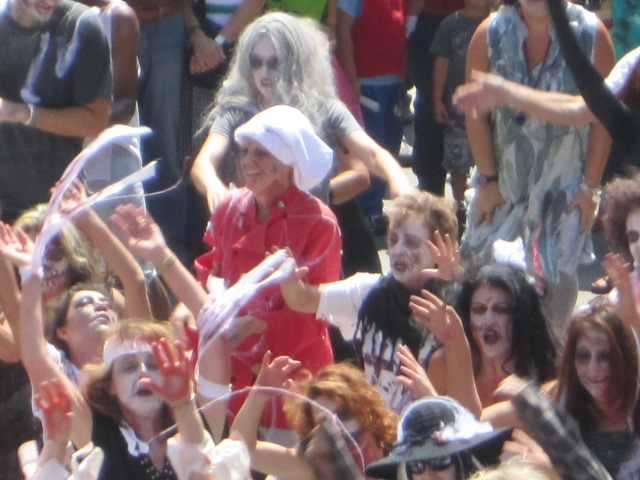 I don't know how many people participated in the Ajijic event. I hope they raised a lot of money for the local Red Cross.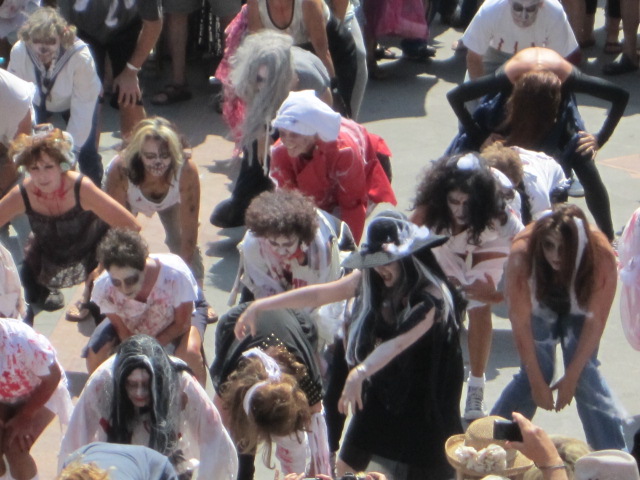 I heard that there was a party after the dance for the participants. Since I was just an onlooker, I went on home. I am looking forward to next year's dance. Maybe I will volunteer to be one of the dancers.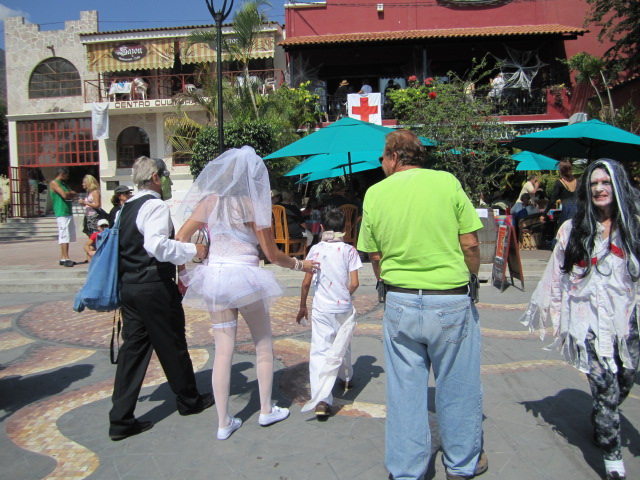 I just received an e mail from my zombie friend  Carolina. She wrote that this event raised over 95,000 pesos for the local Red Cross.