The Ajijic Art Street show was held on October 13th and 14th, Saturday and Sunday. It was a two day event. It started in the morning and lasted until the evening with art, music, dancing, food and fun.  Ajijic is a center for the arts. There were many different kinds of art work on display; oils, acrylics, watercolors, sculptures, photographs, etc. Most of the art work was for sale. All the artists allowed me to take photos of them and their work. That is unusual. For some reason, artists don't like me to take photos of their work. I felt privileged to see so many of the local artists coming together to create this event.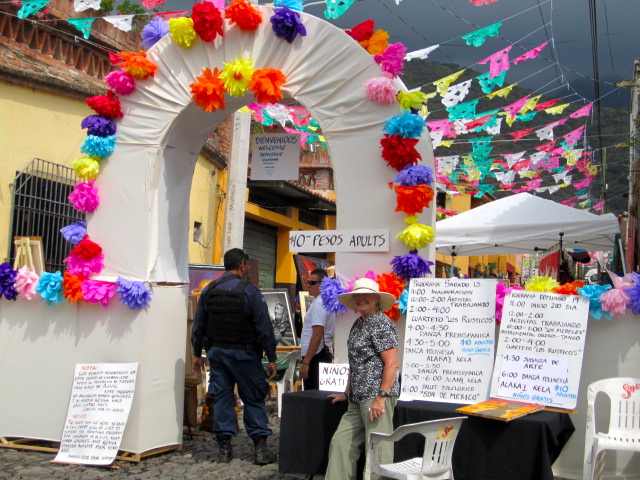 The Entrance fee was only 10 pesos and you only had to pay once to be able to come and go all day long.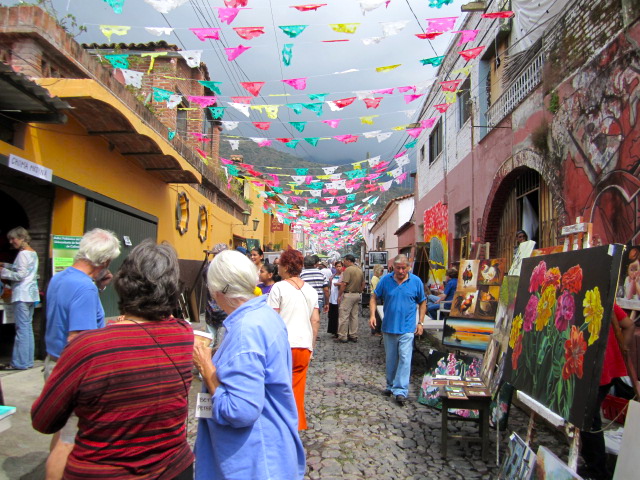 I went on Saturday and Sunday. Saturday was crowded for the entire event. I only stayed a little while on Sunday and it wasn't as busy. Maybe people were still at Church. I didn't stay for the performances or the art auction.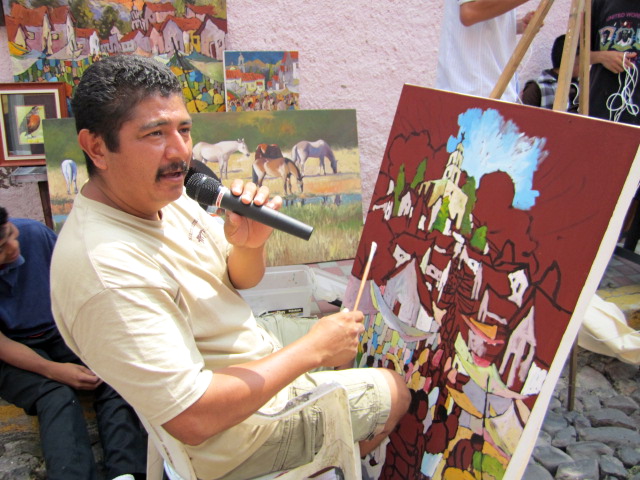 The event was held on Marcos Castellanos street which is close to the Ajijic Plaza. Efren Gonzalez organized it and the money raised is earmarked for the Children's Art Program at the Lake Chapala Society which has been a special project for four years for Efran and his wife, Reyana. You can contact Efren at: artbyefren@hotmail.com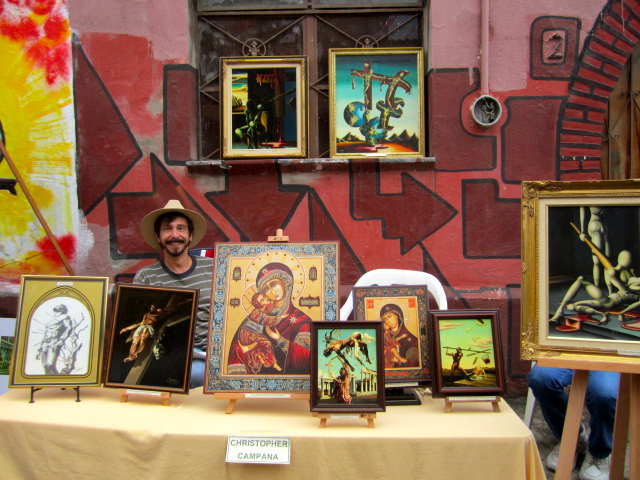 The street was lined with artists. Unfortunately, I don't have room for all of them. I apologize to everyone I missed. I had to pick out just a few artists and that doesn't mean that they were better than all the others. It was a random decision making process. I wish I could have put on all of the beautiful art work but space here is limited.
Above is artist Christopher Campana with his paintings. He is a newcomer to Ajijic. He has only been living here a few months but he has already become involved with the art community here. Christopher has been a painter for over 35 years. He can be reached at: trinitas@gmail.com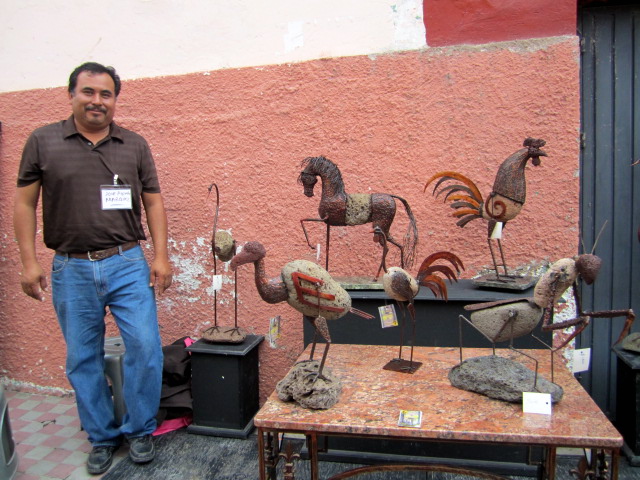 Jose Alfredo Marquez Flores makes beautiful sculptures out of rocks. He can be reached at: 331 460 3662.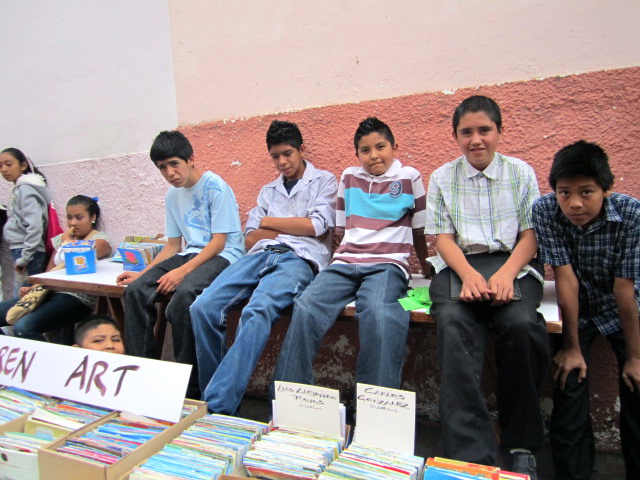 Above is a photo of some of the boys from the Children's Art Program. They were selling beautiful handmade cards.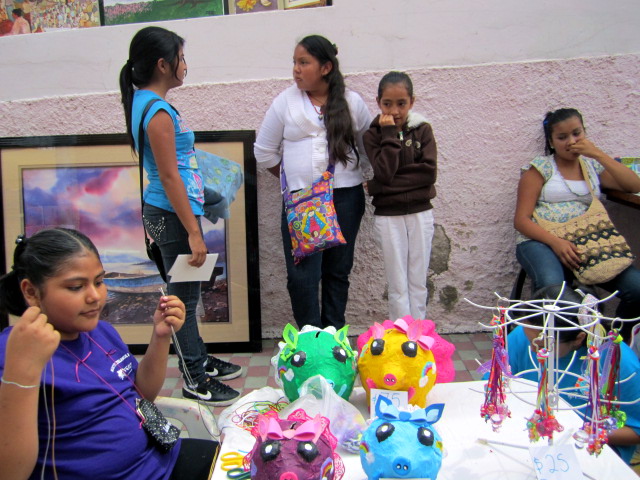 The girls from the Children's Art Program were selling paper mache sculptures.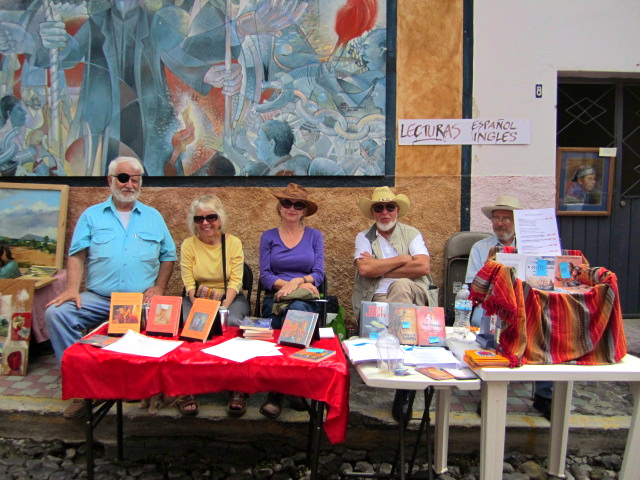 Above is a photo of a few of the local writers. They were selling their books. This is only a fraction of the writers in this area. Ajijic has been a cultural center for many years. D. H. Lawrence lived here and many other famous poets and writers.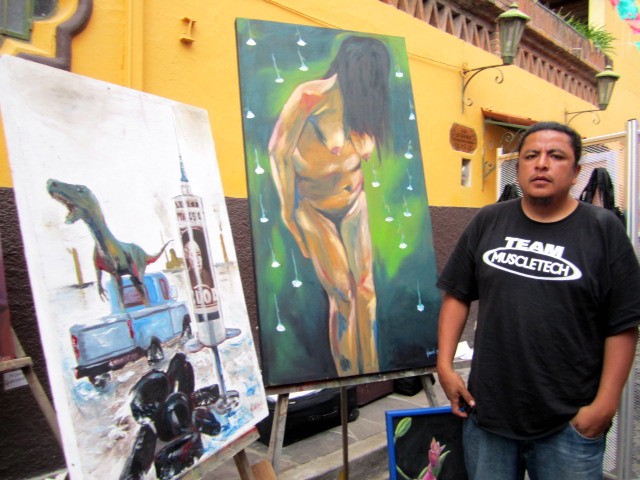 Artist, Noel Gonzalez is a native of this area and has been doing art work for ten years. He can be reached at: 333 441 4107.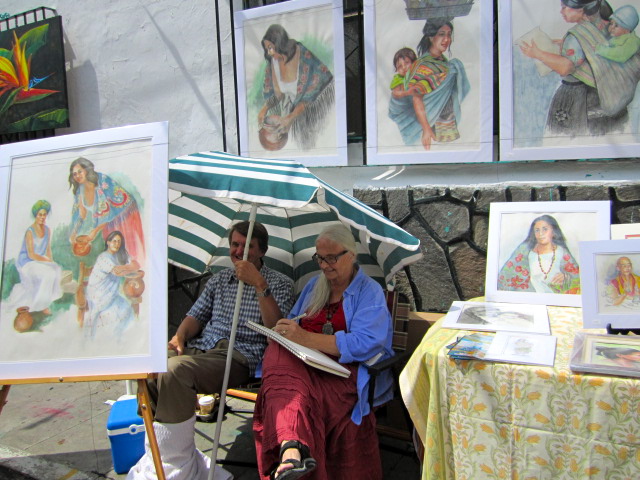 Artist, Betty Peterson started out as a fashion illustrator. She went from doing that to industrial art and then to fine art. She has been an artist since she was ten years old. She can be reached at: belamo@msn.com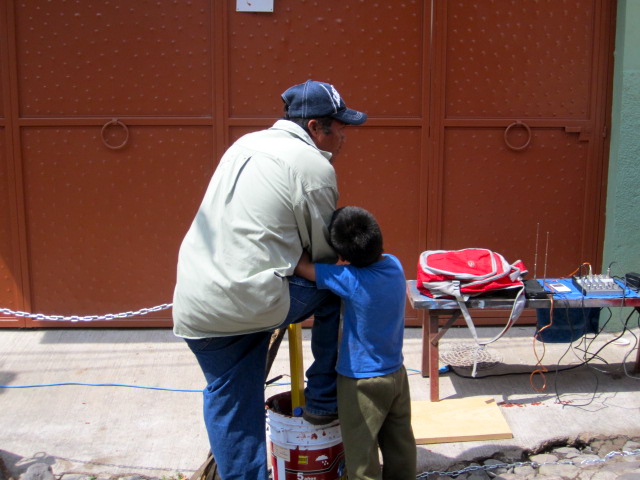 It was crowded and hectic at times on the street. I snapped this photo of a man and his son taking a break from all the activity.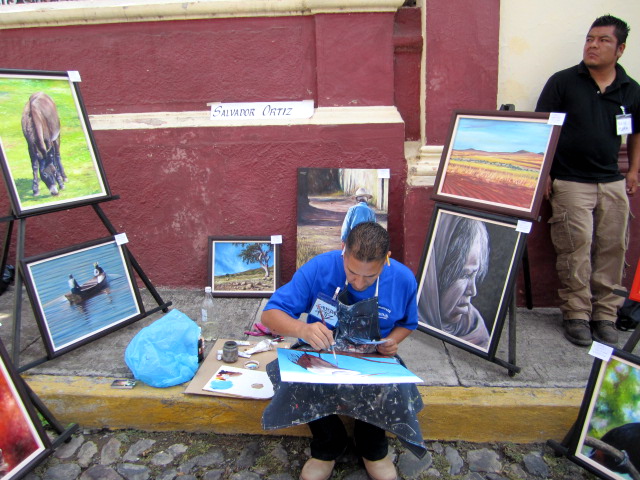 You can find out about Salvador Ortiz on his website: http://artinstructiondemos.blogspot.mx/2011/11/salvador-ortiz-art-gallery.html  He is an excellent artist.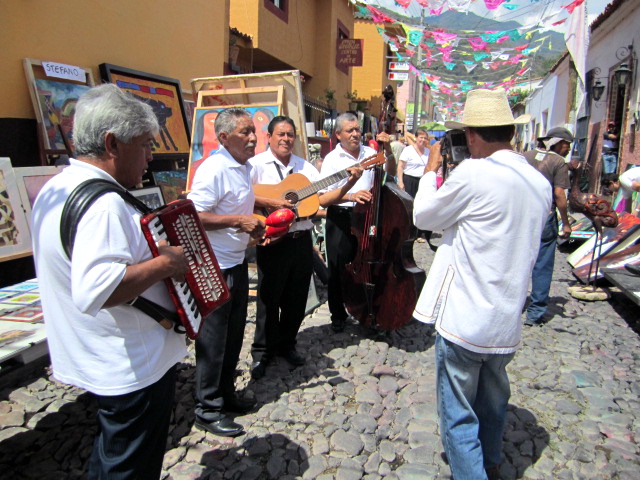 Above is the group Quarteto Los Rusticos. They played traditional Mexican music.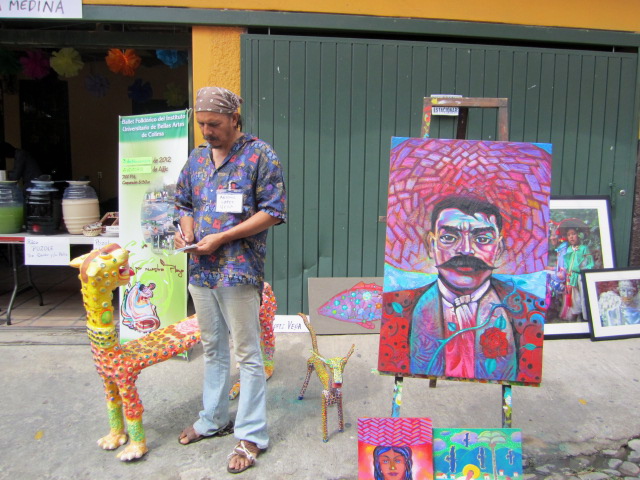 Artist, Antonio Lopez Vega has been an artist since he was six years old. He helps with the Children's Art Program. He makes sculptures, paintings and murals. He is a native of the Lakeside area. He can be reached at: 331 116 1962.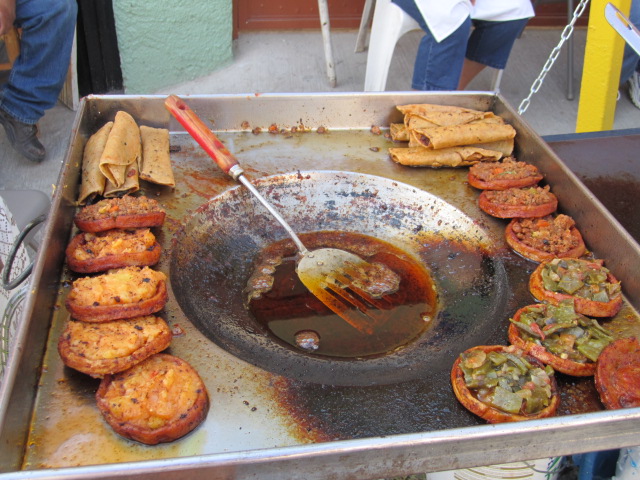 There were several food and drink stalls. All of the food looked delicious and it was reasonably priced. I had two glasses of a cucumber drink and one beer.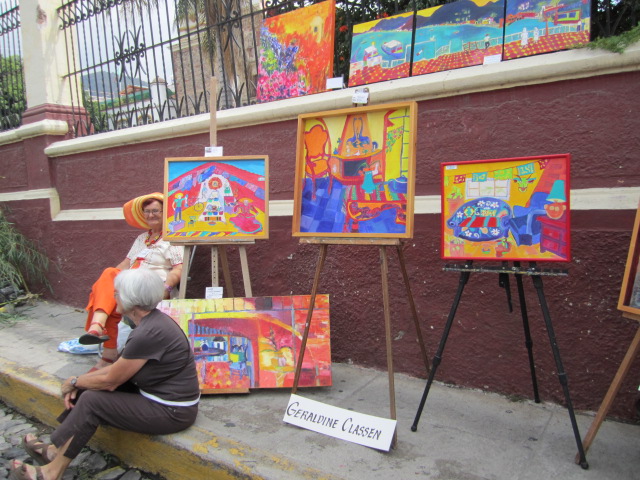 Geraldine Classen creates bright paintings. She wears outfits to match and she said she is painting her house in the same bright colors. She said it is because she grew up in the north of England where it was drab and dreary. Now she lives here and surrounds herself with bright colors to match the environment. She can be reached at geraldineclassen@gmail.com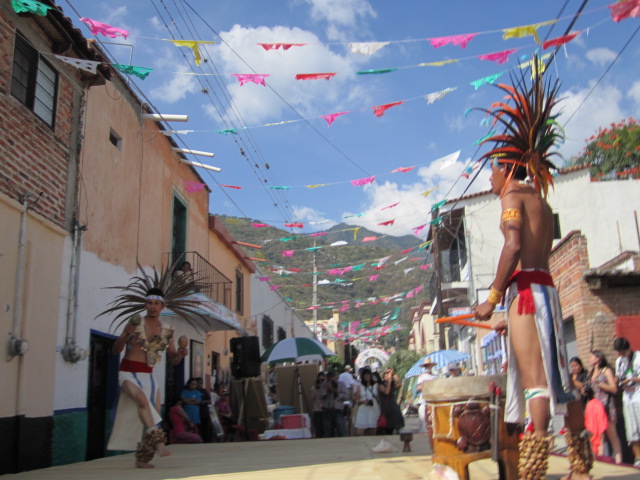 Above is a photo of a dance performance. Danza Prehispanica.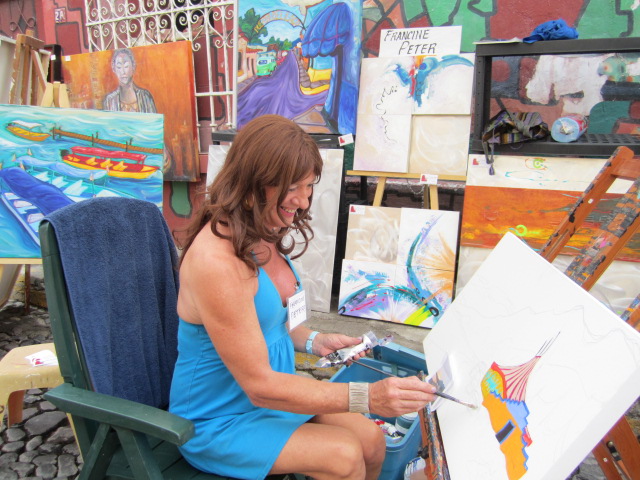 Artist, Francine Peters is a new arrival to this area although she has been visiting here for over ten years. She will soon be opening a piano bar on Morelos Street.  She can be reached at: www.ElPianoRojo.com or 376 766 2876.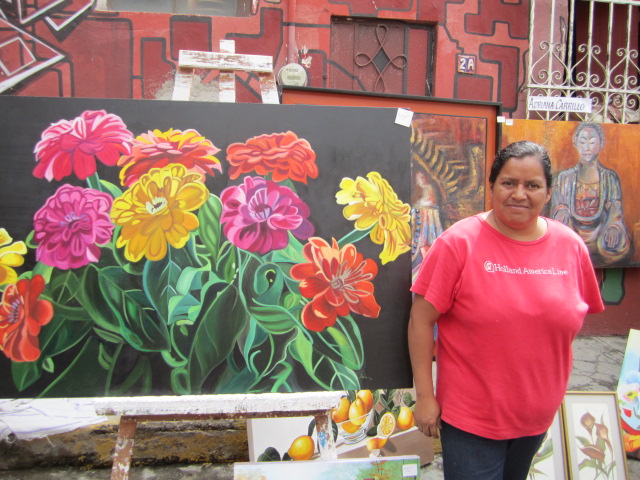 Above is a photo of artist, Isela Martinez. Her husband, Victor Romero is in the photo below. They work in a studio with two other artists, Galeria de Arte. It is located on Javier Mina #35. They can be reached at: 766 3586. You are always welcome to stop by their studio and check out the works in progress.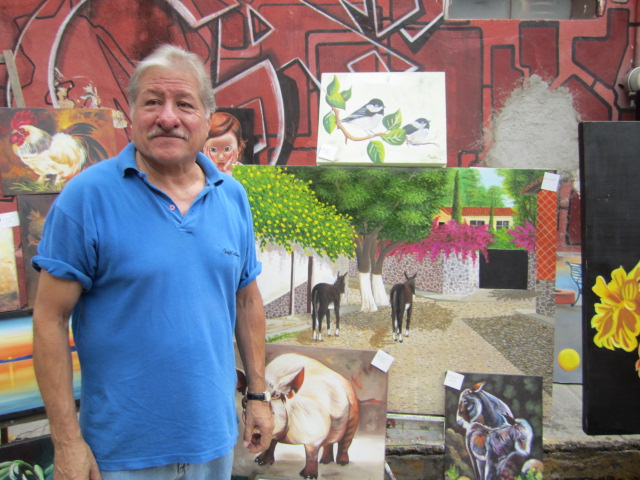 I need to repeat what I said at the beginning of this article, about not having the space to take more photos and spotlight more artists. I enjoyed seeing everyone and I apologize to the many artists that I slighted. You are all wonderful and it was a memorable day for me to see you all together. Thank you. And the children at the art program thank you too.