Wednesday morning I was standing at the bus stop, on my way to the outdoor market when my friends Ilona and Casey came along. They stopped and asked if I would like to go to Chapala to the Art Exposition with them. Of course, I am always up for a little adventure. What would life be like if we weren't flexible? I have to admit that sometimes I get stuck in ruts and I do the same things everyday. I know this is a failing on my part. So, I jumped into their car and we took off for Chapala. They told me that the expo was being held at the west end of the malecon. Great. That is one of my favorite areas of Chapala.
I lived in downtown Chapala for four months when I first arrived in this area, over three years ago. I love the vitality of downtown Chapala. There are always people walking down the streets and on the new malecon near the water.  It is a beautiful walk.  There are many large flower pots planted with different kinds of blooming flowers all along it and everything is kept clean.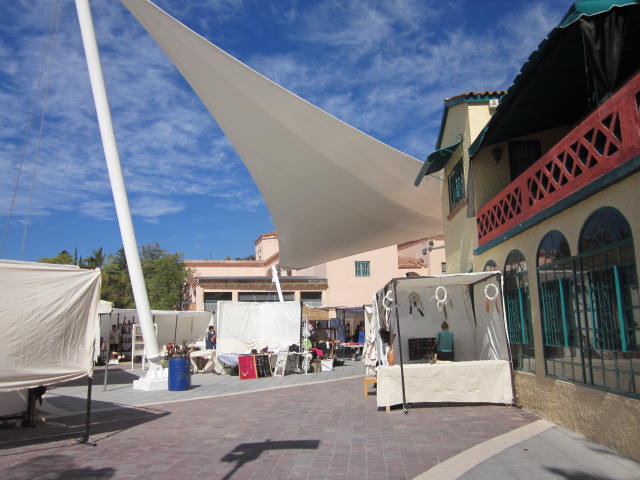 It was the first day of the art opening and everything wasn't set up yet.  It is called the Expo Artesanal Chapala and it runs from the 9th through the 13th of February. Hours are from 10:00a.m. to 7:00p.m. There is music until 5:00 in the evening. There is also regional dancing and daily workshops in art for adults and children from 12:00 to 4:00.  There are many beautiful craft items for sale in various booths.
This is a not to be missed art show put on by the Director of Tourism Chapala and the next one isn't until August of this year. If you miss it, there is another one in November.
There were several booths displaying beautiful pottery.  There was jewelry, clothing and other handicrafts. Everything I saw was fine quality.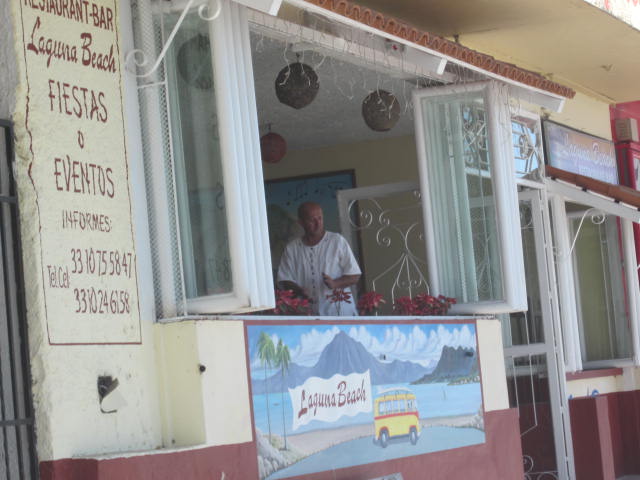 After walking around the craft show, we walked back to the beginning of the malecon. I took photos of some of the businesses that are located on the malecon.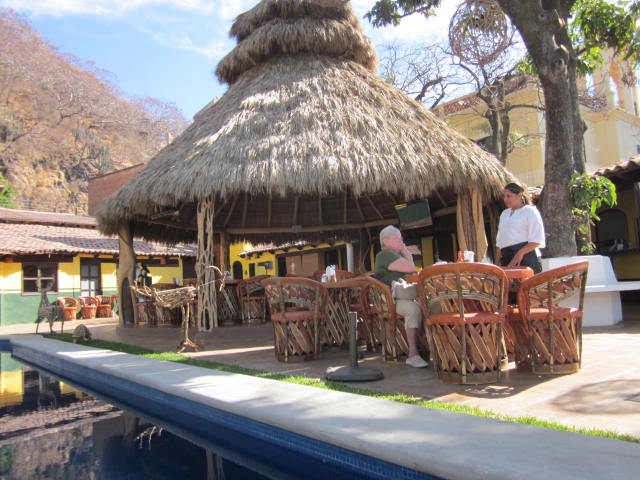 There are several hotels and restaurants. One of them has a beautiful pool. I didn't go inside so I don't know if it is heater or not.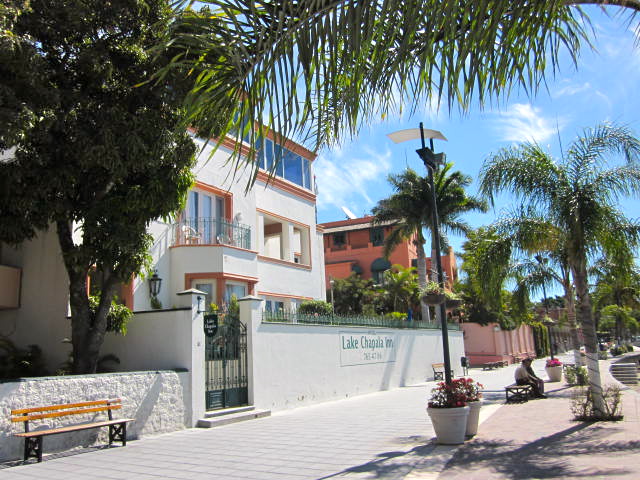 Another hotel that has been around for a while is the Chapala Inn. When I lived in Chapala I took a tour of the inside of it. What a beautiful hotel. A couple of the bedrooms have huge beds and balconies that overlook the lake. It is a bed and breakfast hotel. I would love to someday be able to afford to pay for my son and daughter-in-law to stay there for a few days. For now, almost a hundred dollars a night is beyond my means. There are only four suites, so it is quiet and you get lots of individual attention. I have heard that the breakfasts are excellent. If you are interested here is their email address: Chapalainn@prodigy.net.mx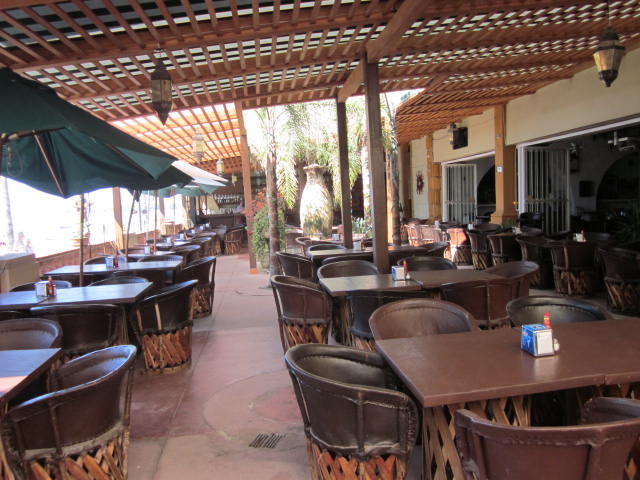 There are several inexpensive little restaurants along that portion of the malecon. At the beginning of the walk going west is a large restaurant, the Chapala Beer Garden. It is over sixty years old. On Sundays, the mariachi musicians walk through the outside patio and play. On weekend nights there are local bands and lots of dancing goes on. It is a great place to meet up with friends.
I have been reading a book titled Western Mexico A Traveller's Treasury written by Tony Burton. The book is filled with history and facts about this and surrounding areas. He wrote that the Chapala area was rediscovered by the Spanish in 1538.  By the early 1900s many famous and wealthy Mexican families came here and built mansions along the waterfront.
One of these was the Braniff house. It is on the corner across the street from the malecon. It belonged to Alberto Braniff, of the Braniff airlines family. He spent one month out of a year there. He sold it in 1942 and it is now the first class Cazadores Restaurant. It has excellent food.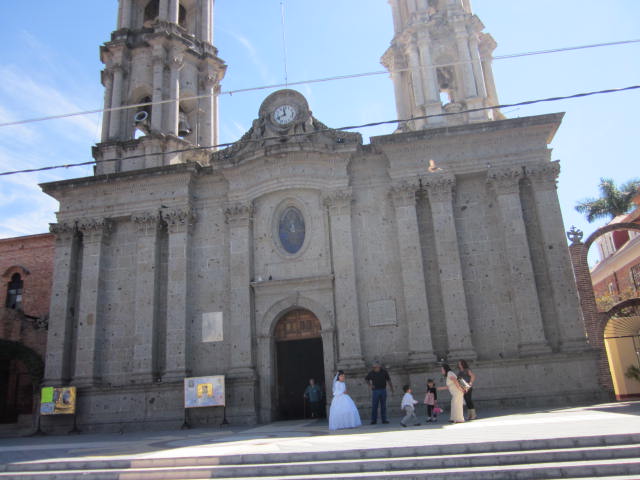 The main Catholic Church of San Francisco is also on that busy corner, near the Cazadores Restaurant.
When people started coming to this area, many of them took a train that stopped at the town of Atequiza and then they went the rest of the way over the mountain by a ten-passenger stagecoach pulled by eight mules. That must have been a rough ride.
In 1920 the railroad came all the way here and a railway station was built along the water. But in 1926 it flooded because the lake waters flooded the town that year.
The first car arrived in Chapala in 1909 and buses started coming here in 1917. I learned all this from Mr. Burton's informative book.
As you can tell from this history, the lake area has been a popular vacation spot for many years. The rich and famous and the poor have all congregated here for it's many advantages. For me, number one in importance is the beautiful weather.  When you walk around, you will see old buildings and lots of historical sites. Every year more people discover this place. And you no longer have to take a bumpy stagecoach over the mountain to get here.
If you want to know more about the area, we are here to help.  You can contact me in the comments below and either I or one of the Access team members will be glad to help you and answer questions.