I took a walk along the Carretera the other day.  It was interesting for me to explore the different shops. There are many restaurants. I had lunch at an Egyptian restaurant. It is very small. It is on the mountainside of the Carretera. The owner is from Egypt. He works from early in the morning until late in the evening. I figured it was about 12 hours a day. He didn't seem to mind those long hours. He has only been in business a few months and he has big plans. He wants to have a larger place in the future with Middle Eastern music and belly dancing. Sounds like it would be a lot of fun. The name of the restaurant is El Faron. If you like Arabic food, you should try it.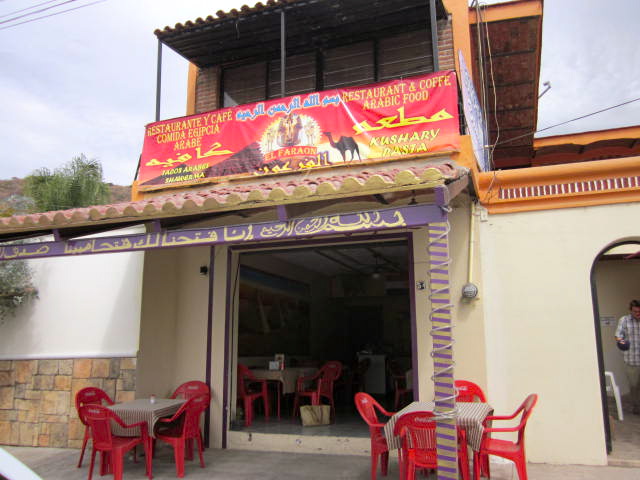 The owner's name is Wael Noaman Soliman. If you went to reach him, call 331 0441 1441. The address is Riberas del Pilar Carr. No. 54 A. It is a clean restaurant and the food is good. I had a gyro. It was made with chunks of lamb and interesting spices. It is good to have a new kind of food. I love Mexican food but change is nice from time to time.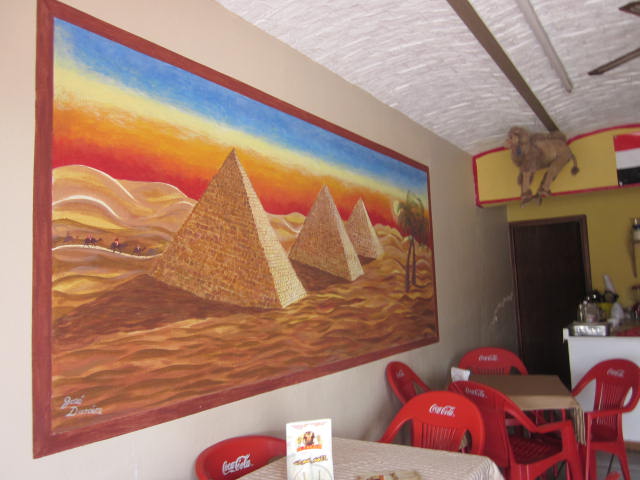 I had an interesting talk with the owner about the problems in Egypt now. His family still live there. His email address is restaurantefaraon2010@hotmail.com or nwlover2001@hotmail.com He is very friendly and open to talking about himself and the problems in Egypt.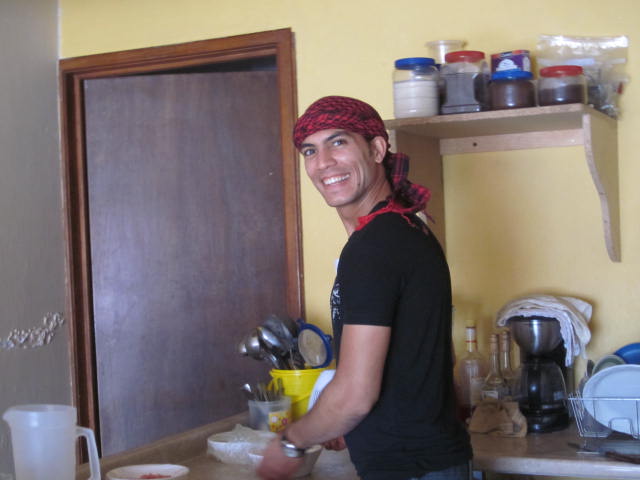 After eating my gyro, I walked on down the Carratera. There are many restaurants on that stretch of the road, from small outdoor places to more upscale ones.
I came upon the animal shelter for the dogs. I had never been in it. I had visited the one on the lakeside of the street. They only have birds and cats there. The dogs are on the mountainside of the Carretera. They have done a lot of work on the building and it is beautiful and clean.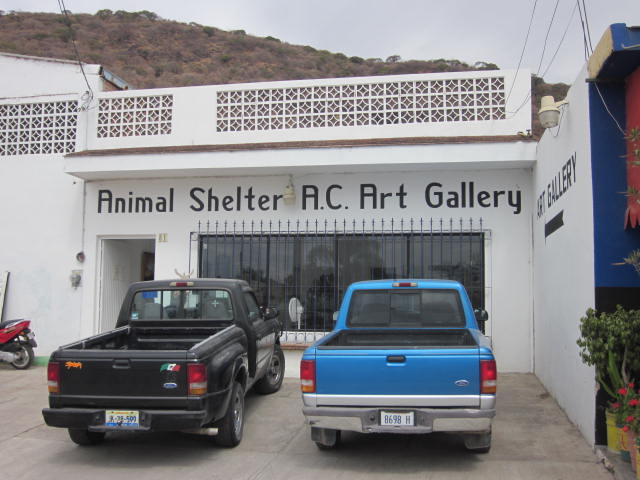 When you first enter, there is a large art gallery. Part of the proceeds from the things sold there go to support the dog shelter.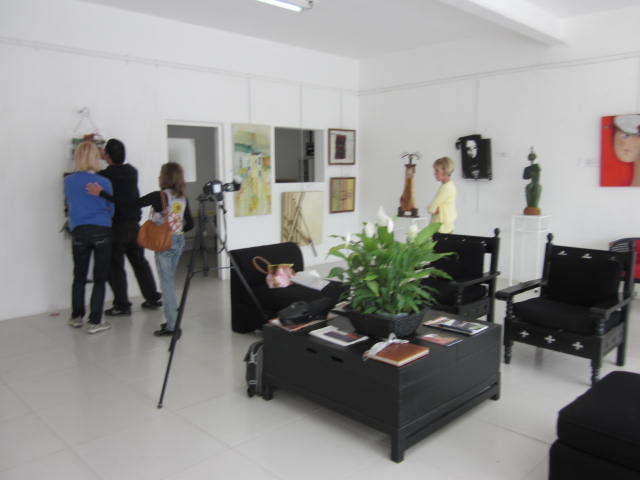 After the art gallery there is a women's clothing boutique. They had some beautiful clothes in it but I didn't feel like shopping. I wanted to visit with the dogs.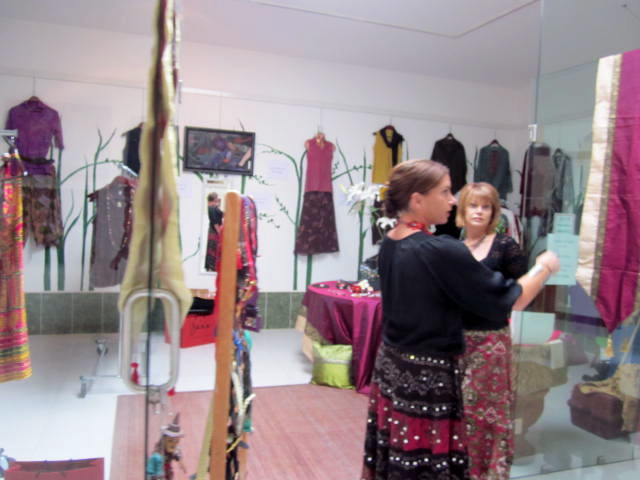 Their cages are kept clean and they all seemed to be contented. I got some longing looks but I couldn't take any dogs home with me. I don't have a place for them.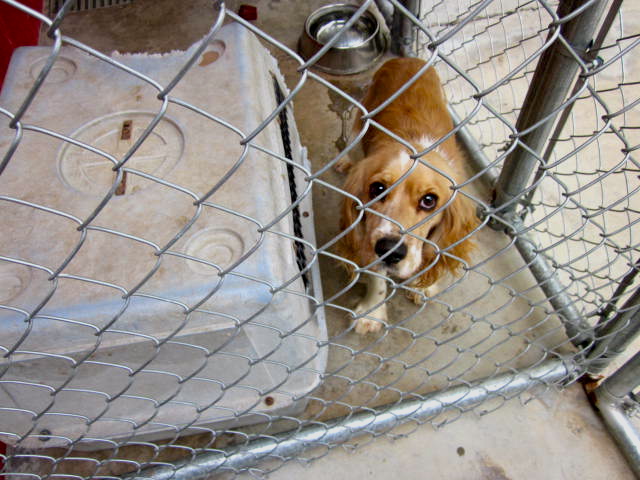 I walked on down the Carretera. There are some interesting small buildings along that road. I saw two thrift stores. I did a little shopping in them but didn't buy anything. I don't need dogs or things at this point in my life.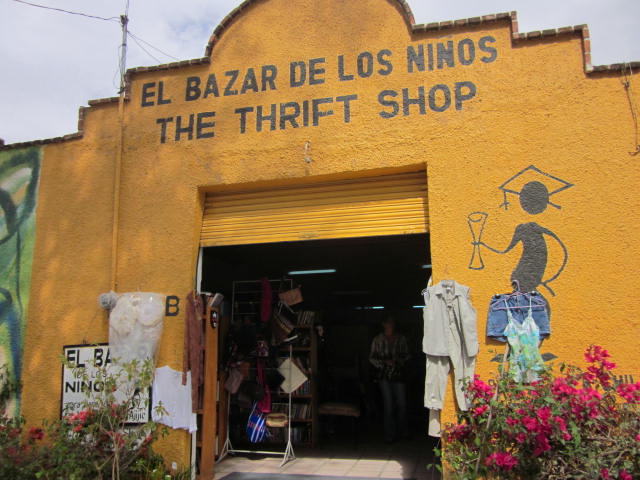 There was a craft gallery with nice pottery outside. I decided not to go in and look at all the things I can't have in my life.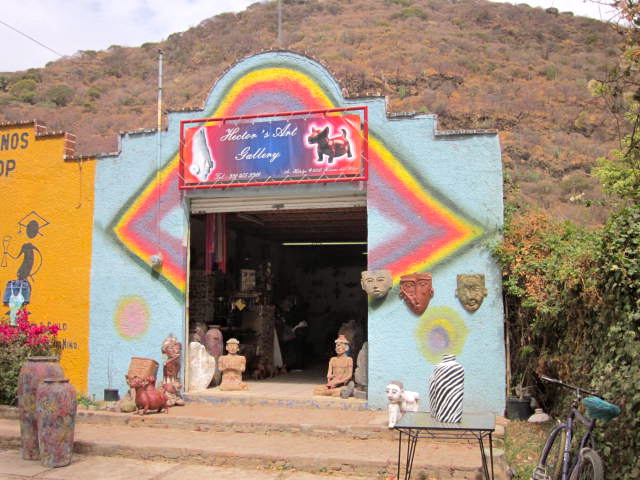 Sometimes it is difficult to remember that I need to travel light. I have no desire to be tied down with responsibilities. There are many beautiful stores here and other tempting things but I have to JUST SAY NO.
I came across a nursery. Another temptation. Plants. No, I can't buy plants either. That means more responsibilities.
This area around the lake has many temptations. There are almost a hundred restaurants listed in the local telephone book. Because there is so much competition here, restaurants come and go often. You might find one that you love and the next time you go to eat there, it is closed or it has changed hands and the food isn't as good. There are Italian restaurants; of course there are Mexican restaurants. There are two Thai restaurants that I know of and there is a Taiwanese buffet. There was a French restaurant but it may have gone out of business. I know of several Chinese restaurants. There are many pizza places and BBQ places. There are steak houses, burger places, and breakfast restaurants. There is a Cuban restaurant, and several fish specialty restaurants. There is a Sushi restaurant, a Natural Food restaurant and a Mediterranean restaurant. I may have missed some. Of course there are many little places all over town that aren't listed in the telephone book. I love the little street stands, especially the ones that broil whole chickens.
There are nineteen boutiques listed in the telephone book. This isn't counting the numerous ones that aren't listed and all the little stalls that sell beautiful things in the outdoor markets. I like the idea of buying things from the animal shelter because it will benefit the homeless dogs. I know the dogs there are well taken care of but everyone needs a home, even dogs.
If you want to know more about the area, we are here to help.  You can contact me in the comments below and either I or one of the Access team members will be glad to help you and answer questions.