Fun on Ajijic's Beautiful New Malecon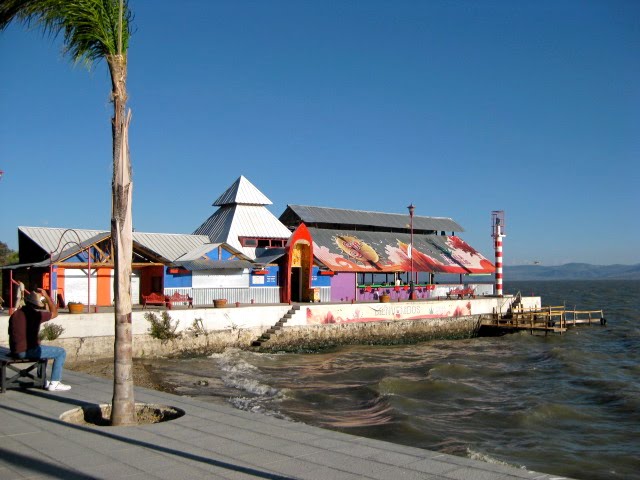 Within the last couple of years, Ajijic has built a beautiful new malecon along the waterfront.  There is a pier and the malecon goes off to the right of it, towards the west. There is a restaurant at the end of the pier. I have never eaten in it so I can't tell you anything about the food or the prices. I have had a beer at the bar they also own. It has outside stools. I like to sit there and watch the people and the lake.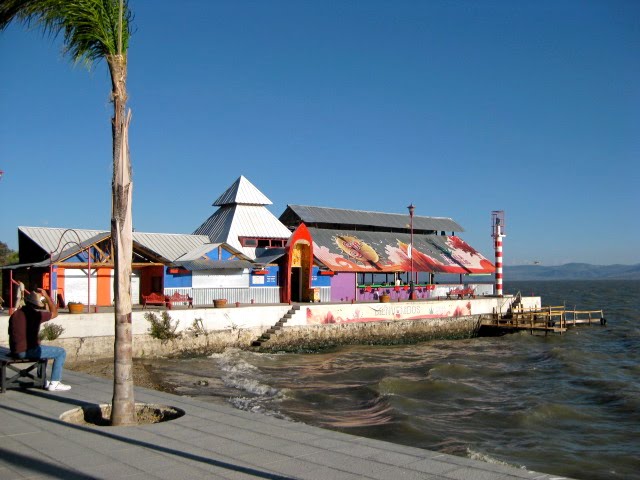 My friend Pedro and his donkey named Vino Blanco like to go there in the late afternoons.  Pedro always wears a huge floppy hat decorated with artificial flowers and feathers. You can't miss him. Pedro is well known here and even in Guadalajara. He has lived here for many years.
Vino Blanco likes to hang out at the bar with Pedro. They love to visit with tourists.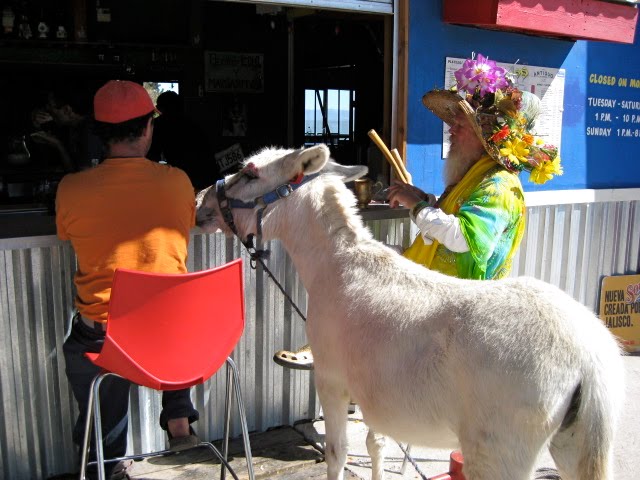 Last year Vino Blanco had a baby, much to Pedro's surprise. He didn't even know that she had a boyfriend.  But the baby only lived three days. It was a heartbreaker for Pedro. He has much love for Vino Blanco. He dresses her up too. He paints her hooves and her eyebrows purple. He puts fancy hats on her. He had a cart made for her. Sometimes he rides home from the bar in the cart.  Once it tipped over and threw him on the ground. The bar hung the bent up wheel out where everyone could see it. Pedro also has someone help him to sell rides on the cart to the children. They get a kick out of that. I think Vino Blanco likes it too. She seems to enjoy all the attention.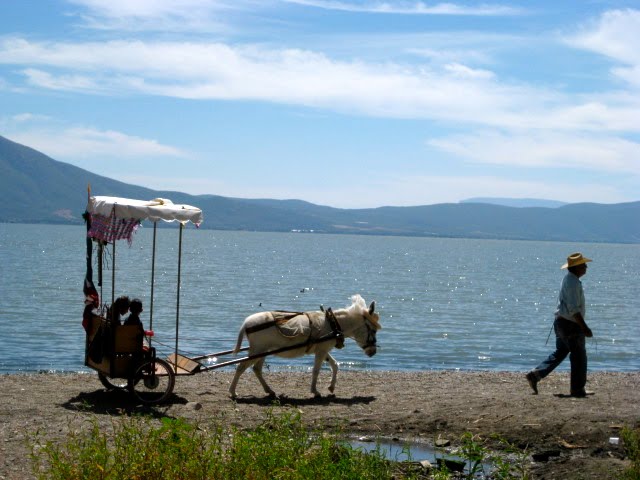 Several other men offer rides along the beach by the malecon on their horses. On weekends there are many people riding along the water's edge. I saw a mama horse with her two babies there once. The mama was very gentle and she didn't mind that I went up and petted her babies.
The Malecon is quiet during the week. On weekends it gets crowded with tourists from Guadalajara. Several times on weekends, I have seen a platform set up with a large inflated beer can balloon beside it. Beautiful young women stand on the platform and sell beer at a few pesos more than in the local grocery stores. I guess it is worth the extra pesos to the men for the privilege of buying from these beauties. They blast out music while this goes on, making it seem like a party. Maybe it is a party for them.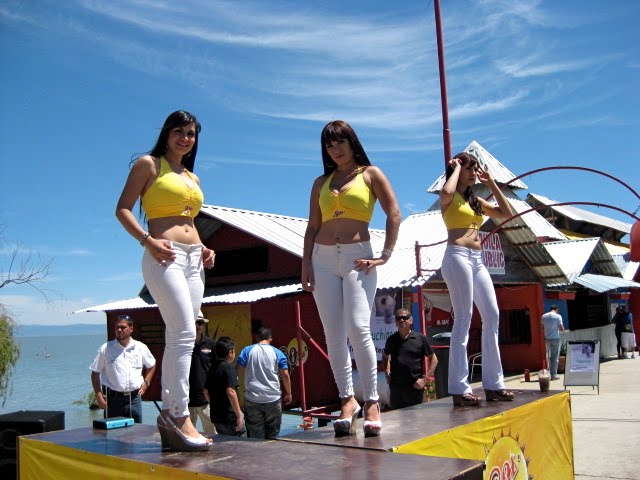 They have recently added onto the Malecon. You can walk for several more blocks on it before you come to the end.  Then a dirt path goes on for a few more blocks. It is a great place for dog walking. There is also a basketball court and a place for playing soccer and swings for the children.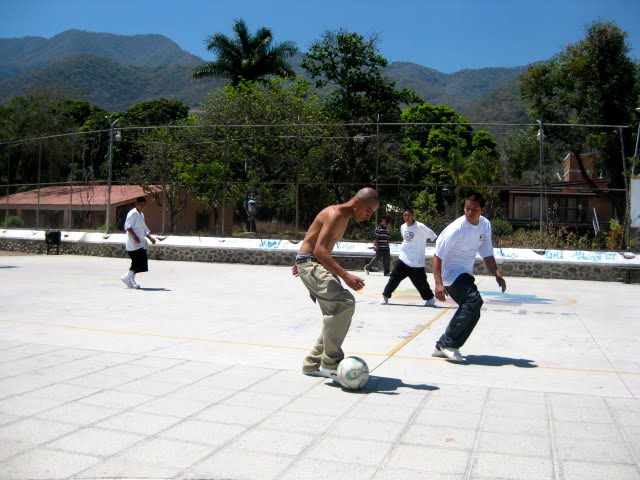 There are palapas where people can sit in the shade and picnic or just enjoy the view of the lake and the mountains.
There are many benches all along the malecon for people to rest and enjoy the view. There is an amphitheater towards the west end where performances are often held.
I always enjoy walking on the malecon on weekends when people are out having fun.  Sunset is my favorite time to be on the Malecon. I can see a long ways from it and sometimes they are spectacular.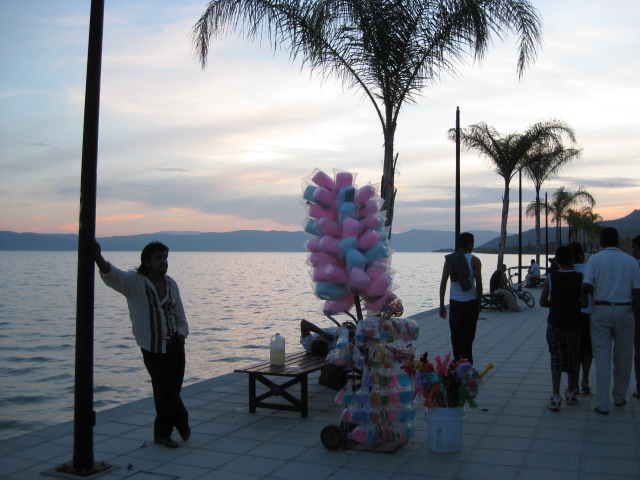 People are friendly there.  I have never seen any aggression, no matter how many beers those men have consumed from the beautiful young women. I love to watch the families enjoying each other. That makes me envious.  I sense so much love between Mexican family members. Old people come along with the babies. Sometimes there are huge family groups having picnics along the water. I like to see that.