Wednesday is my favorite day of the week because it is market day. I love to shop at the outdoor market. I live just a couple of blocks from it. I buy all my food for the week there except milk, bacon and toilet paper. I also like to sometimes have breakfast at Salvador's Restaurant with my friends. Salvador's is busy all day on Wednesdays.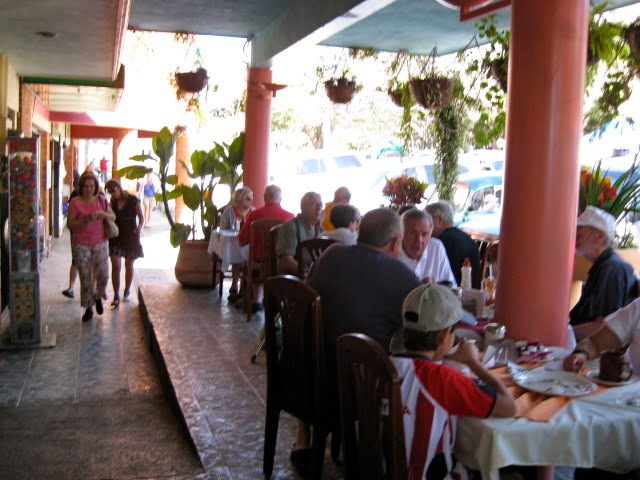 Some of the sellers are what I call floaters. They don't have stands. They carry their wares in their arms. Women walk around with homemade banana bread, cookies, flowers or sometimes just one object for sale, like a strainer. A man always shows up with beautiful handmade baskets. There are the beggars. They go up and down the area, looking for a few pesos.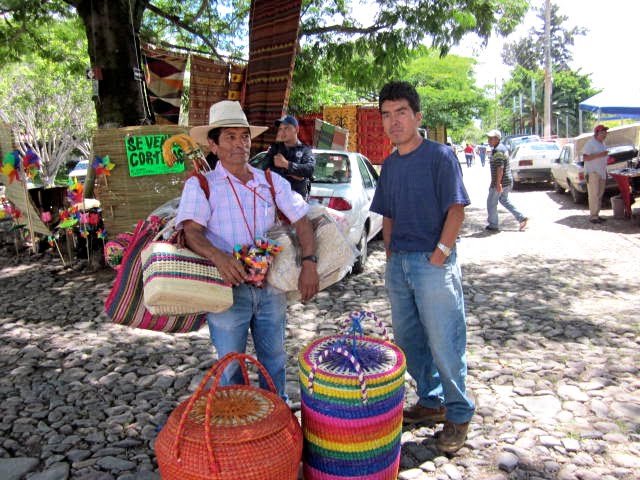 Early Wednesday morning, before daylight, the pick-up trucks and cars pull onto Revolution Street and people start setting up their stands. Sometimes this can take several hours. Many of the stands also put up canvas over-hangs for protection from the elements. That can get tricky with so many people trying to do the same things at the same time.
Here is a great walk though video of the Market, this will give you a good idea of how long it is and all the stuff different vendors have to offer:
People usually start shopping around ten in the morning and by two or three in the afternoon the process starts all over again. People have to take everything apart and pack their trucks and drive out. The next day the street cleaners are very busy on Revolution Street. Some weeks at the market are more crowded than others. Eleven in the morning to twelve are the busiest times and of course just before major holidays. The photo below is of a normal day.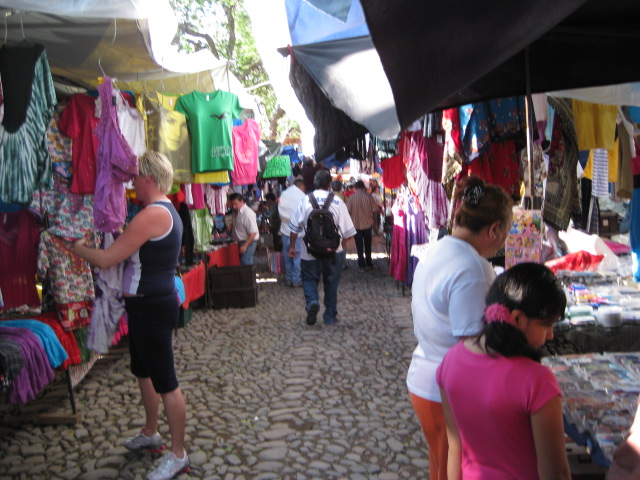 The first place I go to in the mornings is the booth for Anita's animal shelter. They bring in the kittens and puppies that need homes. Lots of people donate to them. They sell paperback books, homemade breads and candies, DVDs, clothing and all manner of other donated things. All are reasonably priced. I like to take pictures of the animals to help find homes for them.
I have a lot of respect for Anita and everyone involved with her shelter. She once took a mama cat that had had two kittens in my yard. One rainy night the cat showed up at my door with a kitten in her mouth. I followed her to her bed and found another kitten. I called Anita and she sent someone to my house to take them. Two days later I heard more meows and I went to the bed and behind it were two more kittens. They had been alone all that time. Anita sent out the man again. Anita said the mama cat also adopted another kitten at the shelter. I love this photo of the elderly woman with the dog. Anita is in the background.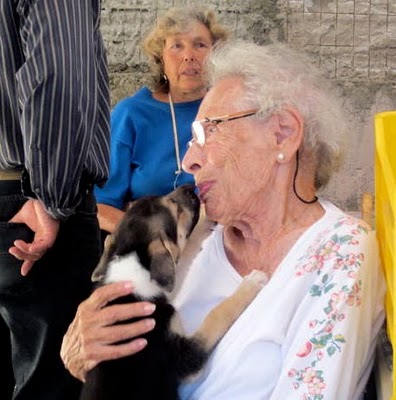 Revolution Street runs down from the main street in Ajijic. It starts at the top of the hill, across the street from the bus stop and next to Salvador's restaurant and runs down about three or four blocks. Each seller has his or her own territory so it is easy to find the people you trust.  I always buy my tacos at the same taco stand. If I am not very hungry, I buy fruit that has already been cut up, pealed and cleaned. They sell it in a large plastic cup. It costs less than two dollars.
If I am feeling like breaking my ongoing diet, I buy a slice of fresh pizza.  It is made in the ovens that have been set up in one of the stalls. Sometimes I will buy another piece for later on in the day. It is delicious.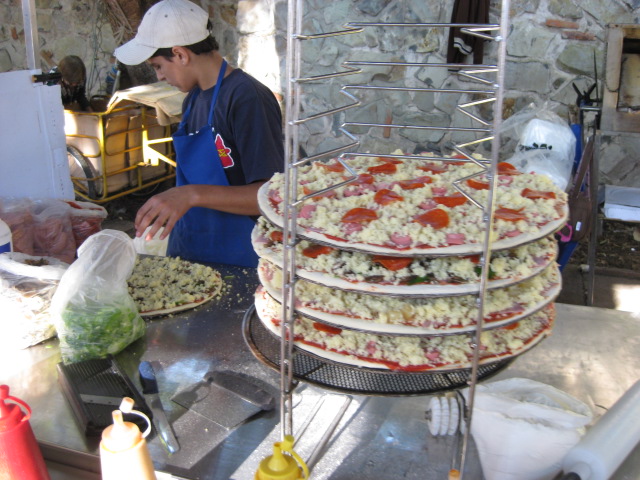 I always like to buy a bouquet of flowers. I like the lilies because they last for a couple of weeks and they make my casita smell good. But there are also very strange flowers that I haven't seen before and I can't name, like the one in the photo below.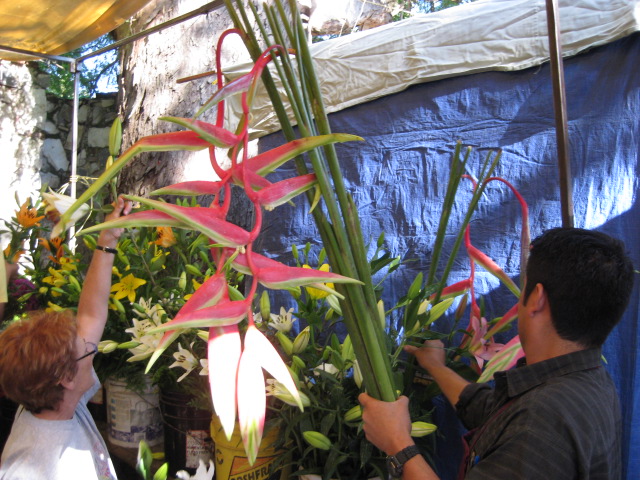 In the three or four trips I take to the market with my large basket filled with food, I probably don't spend over twenty or thirty dollars. Not bad for a week's grocery shopping. My problem is that I buy too much and half of it goes bad before the next shopping day rolls around.
As I said earlier in this article, I love market day. I love the excitement, meeting my friends, taking photos, listening to the musicians, and all the colors and interesting things for sale. It sure beats buying food from an indoor market that is prepackaged. I hate piped in music. Not much excitement in that kind of shopping.
I think the best thing of all is that I know I can afford to buy foods that I love to eat and not have to worry about going broke for the week; papayas, pineapples, mangoes, strawberries, raspberries, avocadoes, etc.