It is hard to get facts about Lake Chapala, Mexico's largest fresh water lake.  I see the lake as a living  entity. It can't easily be measured because it won't stand still long enough. I have read that it is 50 miles long by 10 miles wide and 415 sq. miles total. I have read that it is  70 miles long by 20 miles wide and it is 650 square miles total. As you can see by these so-called facts, the lake is constantly changing.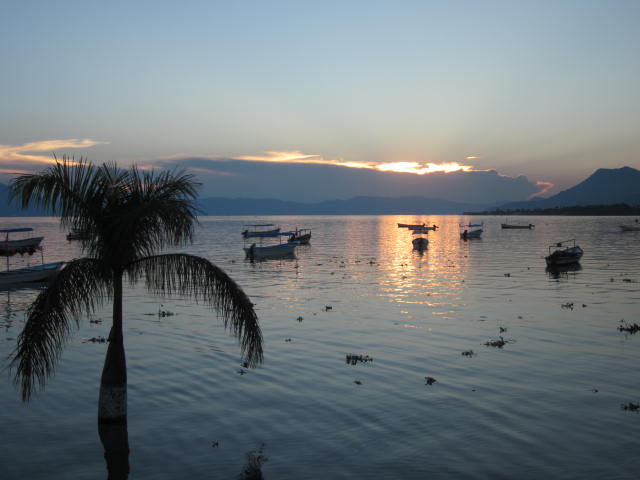 Certain times of the year, after the rainy season, there is no beach. The water comes up to the street. I learned that the hard way a month ago. I saw sand floating on top of the water and mistakenly assumed that part of the beach had come back. I stepped into a foot of water.  I slipped in headfirst. I broke my ankle and came out crawling and screaming for help. So I can tell you for a fact that there is no beach now along the lake near my house, which is in La Floresta area.
I am assuming that is also true for the entire area from here to downtown Ajijic, and probably much further. Six weeks ago, I couldn't walk along any beach from La Floresta to Downtown Ajijic. It just didn't exist. Fortunately they have built a beautiful new walkway from the pier that goes for many blocks west along the lakeshore.
I will talk more of that at a later post. Now I want to focus on the lake itself and how I have seen it change since I started observing it three years ago. That is not a very long period of time but I have been able to see some seasonal changes.
Because the lake is alive, it changes constantly. I have taken my beach chair down when there was a beach and sat in it for hours with Chico, my dog companion. I watched the light flicker on the water, first hidden by clouds and then directly beaming down on spots of it. It can seem calm one minute and quickly become rough. It can be so rough that it feels like the ocean waves hitting the shore. There are times when I feel sorry for the fishermen standing up in their little boats, throwing out their nets.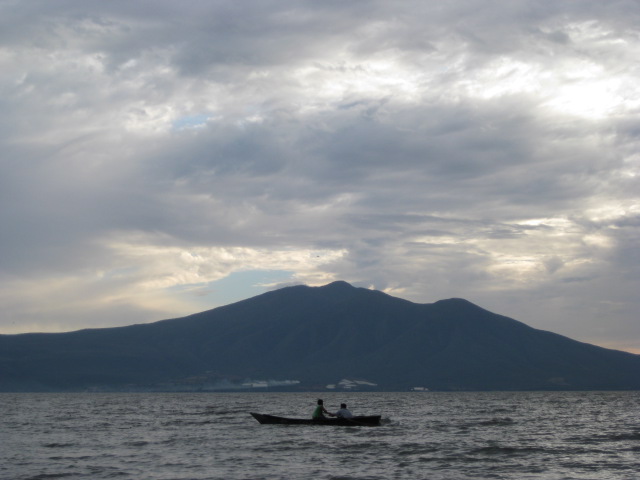 I saw a couple one evening arguing over if they should go out or not. The woman and child stayed on the shore and the man angrily rowed out. As soon as he got out a few yards, the weather changed. It started pouring down rain.  There were loud claps of thunder. Lightening flashed across the sky. The man kept on rowing further out into it. He was either a very stubborn man or a very hungry man. Maybe he was both.
Sometime the water is so calm that it is like a mirror, reflecting the clouds above it or the birds flying low.
Every evening just before the sun goes below the horizon, the birds fly over the lake and roost in the trees. They fly low and mostly in small groups. Certain times of the year there are large groups of Pelicans. I love to watch them skim close to the water and dive in for fish. I haven't seen them for the past few months. Sometimes I see a few hanging out in Chapala.
After the light is almost gone, then the Swallows come out. They have long, skinny pointed wigs. They fly so quickly that it is impossible for me to get a photo of one.
Last year the water hyacinths appeared for several months. First there were just a few clumps of them. Within days, they multiplied so quickly that in some areas that I couldn't even see the lake water. Then the workmen had to wade in the water, pull them out and pile them into the trucks. It seemed like a thankless job because the next day there would be as many as they had taken out and more. Sometimes these hyacinths bloom pretty flowers. But those few pretty flowers aren't worth the trouble they cause to the lake.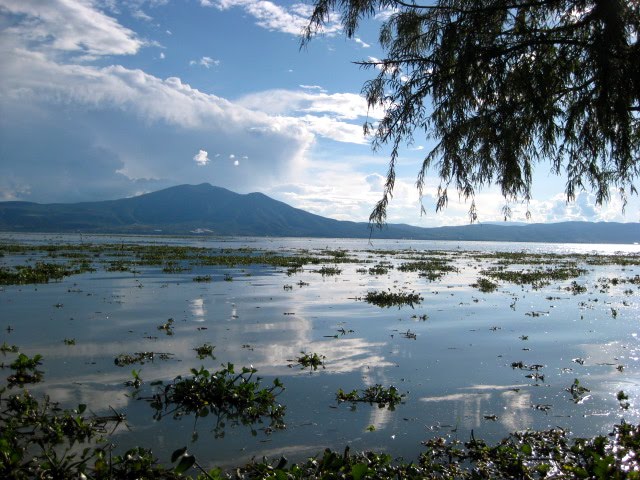 I was told that an Englishman brought the first plant over here first because he thought it was beautiful. Blame it on the English. I don't know the real story behind how they got here but I don't mind blaming the English. I can do that because I come from English descent. I can just see my father or grandfather doing something like that.
There are spectacular sunsets when the clouds are right. I can never tell if the clouds will turn into a colorful sunset or just slowly fade to grey and then black. That is part of the mystery of sunsets. Sometimes I can predict rainbows. If I see sunshine and rain at the same time, then I look for rainbows.
This isn't a post about facts and figures. You can find all those things if you look on the Internet. The Internet is full of sometimes useless and unimportant facts. I can tell you that the lake is said to be very shallow. At one time in the 1950's it nearly dried up. I hear stories around town about how farmers put their barbed wire fences out and created their own little farms where there was once lake water. When the water came back, the fences stayed. That is one excuse I use for not swimming in the lake. The other one is that the water is cold. But I see people swimming in it all the time. I rarely hear of people drowning. It is too shallow.
There was also a time in the mid 1970's when the lake flooded Chapala and there was two feet of water in the town. At that time the lake was 22 feet deep. I haven't been able to find facts about how deep it is today.
It is hard to weigh and measure a lake. Not impossible, I am sure that scientists know how to do that sort of thing but I don't want to experience the lake from a scientific perspective. And even though I recently broke my ankle in it, I still love it. I love living near it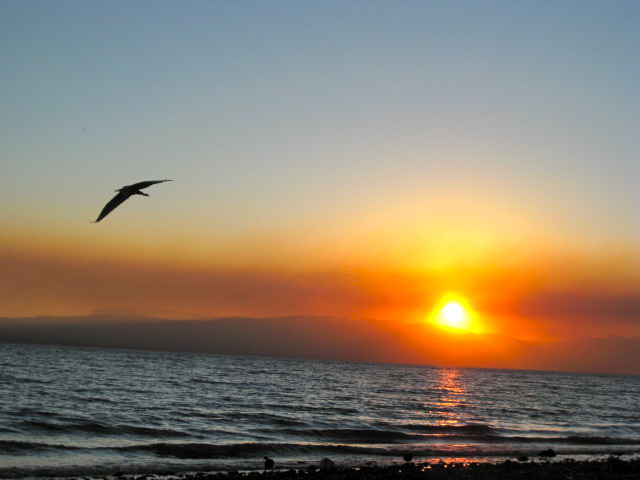 I don't care how much my son or my friend or my dog weigh or how tall they are or any other facts. All I care about is that they are living beings and that I can be near them and love them and be loved by them. That is also how I feel about the lake. So, sorry to disappoint any of you fact-minded people. All I can honestly tell you is that I love this lake.