The Day of the Dead is November 2nd. But there are many events before that date, including the Thriller Dance, parades, music, races and games. But the 2nd is the biggest event. I celebrated it at the Ajijic Plaza. It lasted for many hours. Here are just a few photos from it.
Different booths were set up to paint faces of the crowd. I arrived around three in the afternoon and there were already several hundred people enjoying the day.
As I gazed around the plaza, I saw many people with painted faces; children, adults, Mexicans and Expats. All were having fun.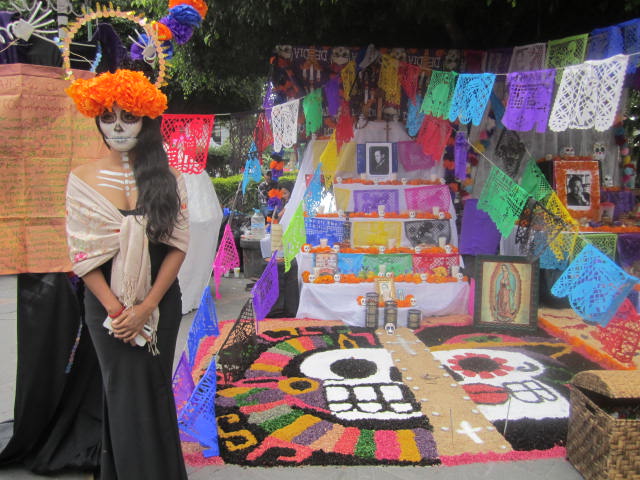 Altars were still being set up around the plaza. Some had Catrina dolls beside them and some had real people watching over them. No matter how hard she tried, the young woman in the above photo couldn't make herself look scary. She was too beautiful.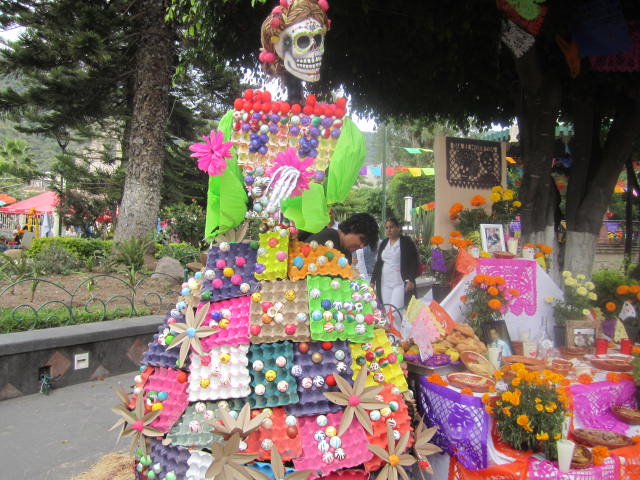 The Catrina dolls were created by local school children. The one above was made out of tissue paper, colored egg cartons and decorated eggs. Real eggs with the centers blown out. That must have taken a long time. I bet the children had fun doing that.
The Catrina doll in the above photo was made out of paper butterfly's and long thin rolls of paper. All these catrinas were very time consuming and were made out of recycled materials.
Altars celebrate the lives of people who have passed on. Sometimes more than one person is honored on an alter. Sometimes it is a famous person or family members, friends, or even beloved pets. The altar above was to honor Florence Nightingale. A ghoul nurse watched over it on one side and a Catrina doll on the other side.
The road in front of the plaza was blocked off to traffic and colored sawdust drawings were covering it.
Sawdust paintings were made by different organizations and businesses. Young people were doing most of the work. It was too much for the older generation.
At the end of the sawdust paintings there was a food court. I was getting hungry and it all looked delicious. Inexpensive too.
I guess the little girl in the above photo read my mind because she got up off of her little chair, walked up to me and handed me the apple that she had been eating.
I felt blessed. Most of the time I wander around taking photos, invisible to everyone. She had such a questioning look on her face. Maybe she felt sorry for me because I was alone. Many Mexicans don't understand why expats prefer to be alone.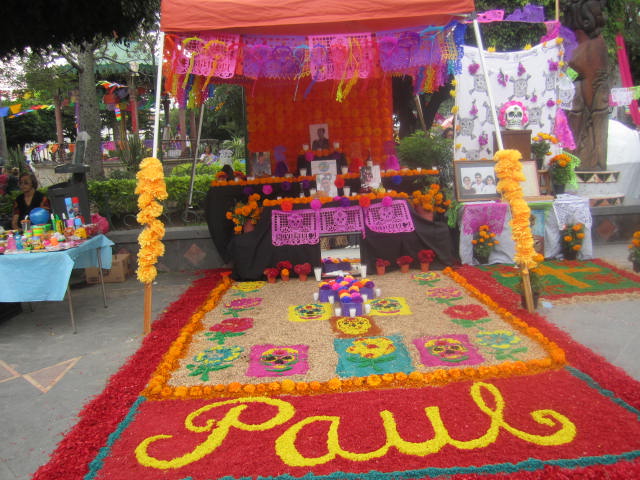 The colorful altar above was made to honor two family members. I saw several altars set up for people I didn't know had died recently. It is always a shock to learn about a death by way of an altar.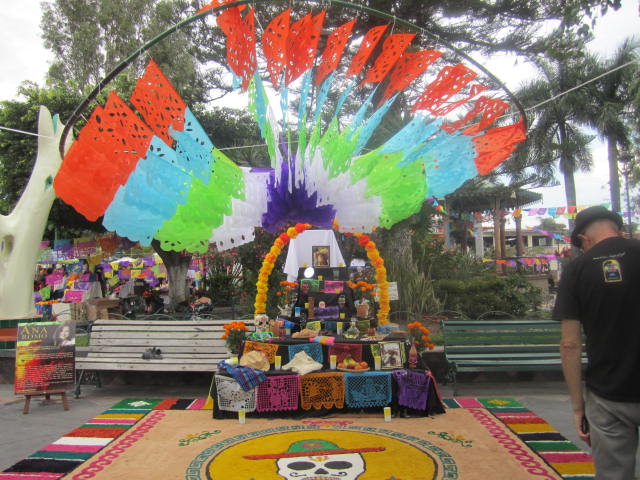 These beautiful and difficult to make altars only last a few hours. At the end of the evening, they are taken down and swept away. After this day, and many hours of work, the rain came and quickly washed away what the sweepers had left behind.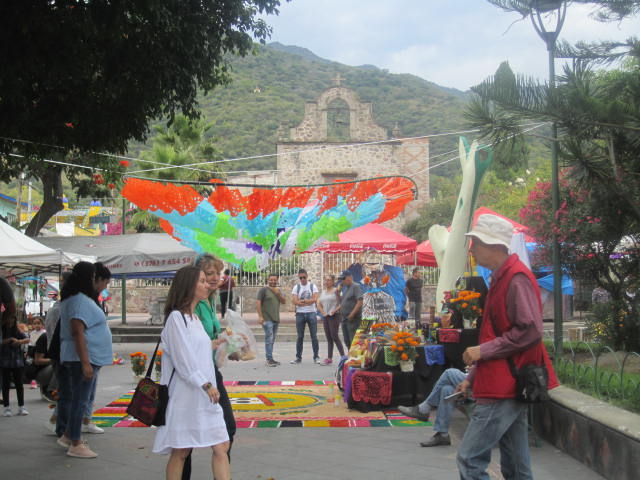 Many of the decorations for the Day of the Dead holiday are marigolds.  Everywhere there are marigold flowers woven into altars and sawdust paintings . Marigold plants sit in front of restaurants and homes.
Marigolds are used to guide the Dead to their altars because of their bright colors and pugnant scent. They also represent the fragility of life.
The Catrina doll in the above photo was made out of black plastic. Surprising how elegant plastic can become in the hands of creative children. Love and attention to detail is the formula for success.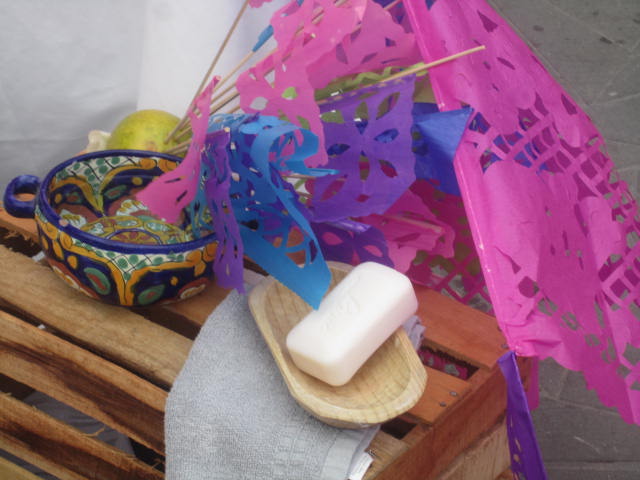 Above are supplies on an altar for when the Dead loved one returns to visit. Soap and water are for washing up before eating the food that has been laid out for him/her. Often there is even a mirror.
Photos of the loved ones who were honored in the alters were displayed on the altars, along with other symbolic things. Food and drinks they loved, things they liked to do, clothing they wore, and objects that were important to them were also on display.
The event lasted into the night. It was another exciting time for the children. No free candy but lots of other fun things….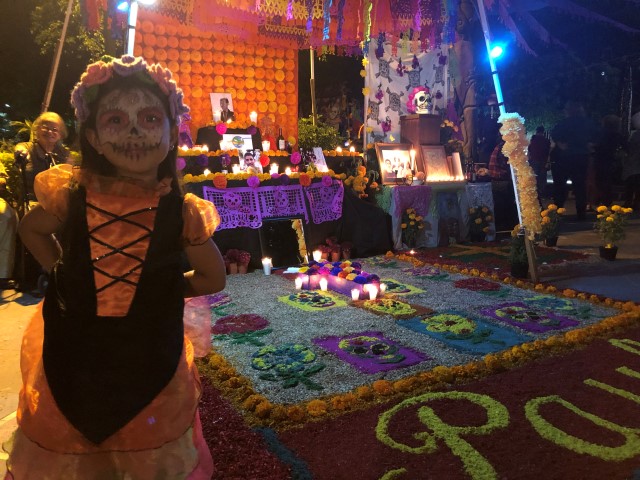 What child doesn't like being transformed into a monster? But no matter how hard they try, their sweet souls shine through and make their costumes unconvincing.
Finally, all the candles in front of the wall of masks light up the night. Each mask is named after a loved one. And another Day of the Dead comes to an end. If you missed it, I hope you can be here next year.