Once again, the Mexican National Chili Cook-off was held on the Tobolandia waterpark grounds, from February 15, 16, through Sunday the 17th, 2019.
This is the 41st annual Chili Cook-Off. In case you don't feel like counting backwards, it started in 1978. Were you here then? I have talked with several people who were here for some of the first ones. They all told me that the Cook-Off was always a big event.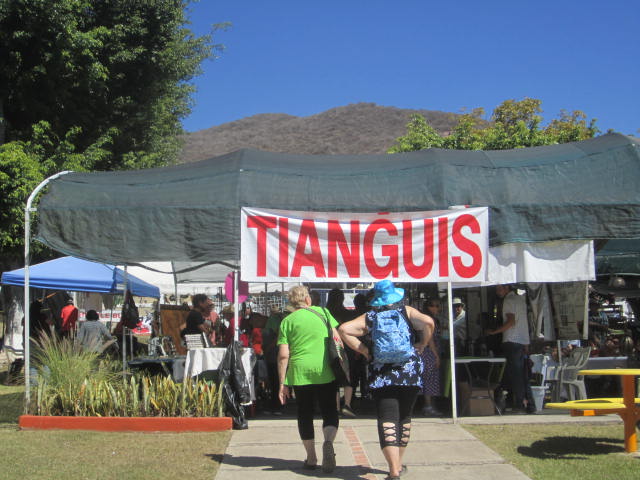 The Cook-Off started very small on the Ajijic pier as a fundraiser for local charities. Since then it has grown larger and moved to different locations until it now takes over most of the area in Tobolandia. Even when it was a small event, it was always the biggest fundraiser of the year.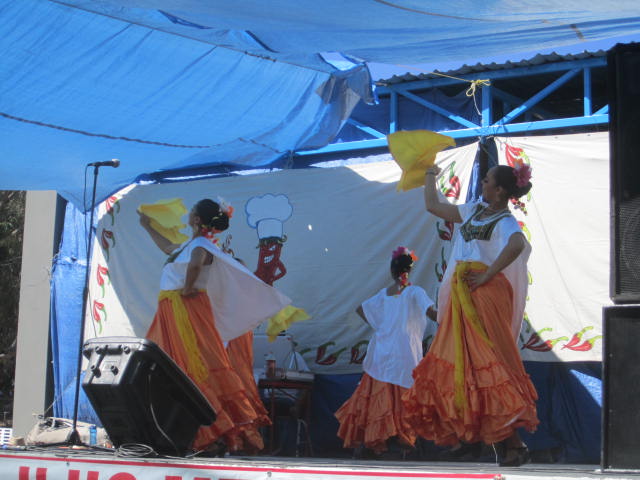 Check out the two women in the above photo. They are living proof that the walk up the hill to the area in Tobolandia of the cook-off is not easy. I was holding my sides at that point too.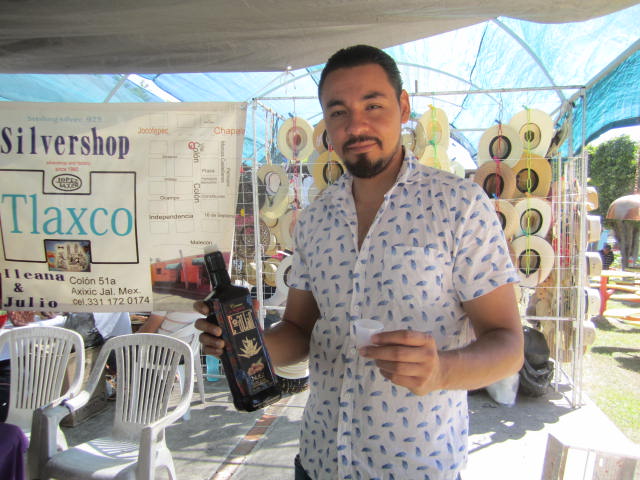 Fortunately, once inside the tianguis tent, a nice young man was offering free tequila shots. That perked me up enough to walk the rest of the way up the hill.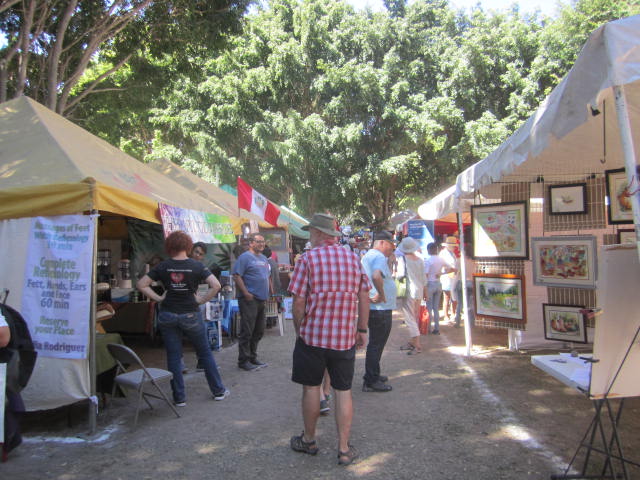 The first photo was of a group of dancers that did traditional Mexican folk dances. Folkloric Ixtlacateotl. They were lovely. There was entertainment going on at the stage every hour of the day, all three days. Plus they had raffle drawings.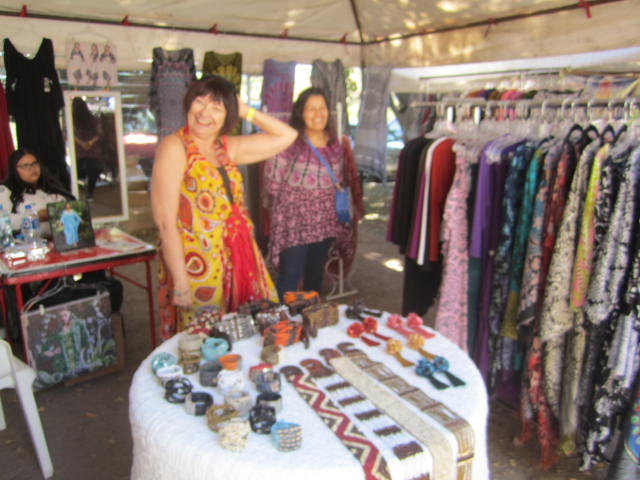 There were sixty booths this year. Many were food booths. But if you were looking for some nice arts and crafts, clothing and even booze, this was the place.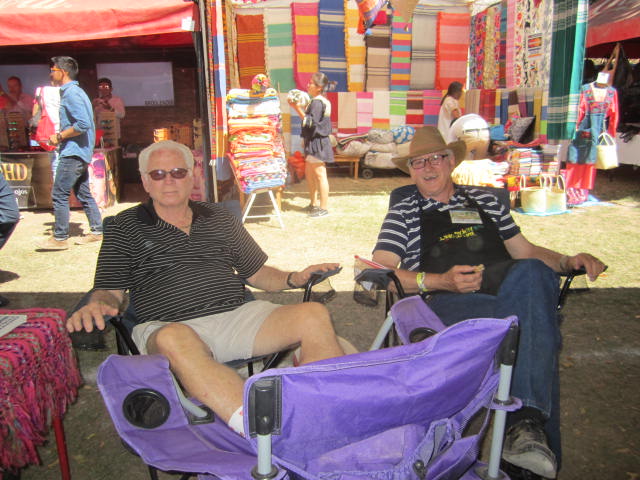 I stopped at the Access Lake Chapala stand to talk briefly with two of their agents. They were relaxed and enjoying all the activity around them. I would buy a house from either of them, if I had the money to buy a house here. I don't.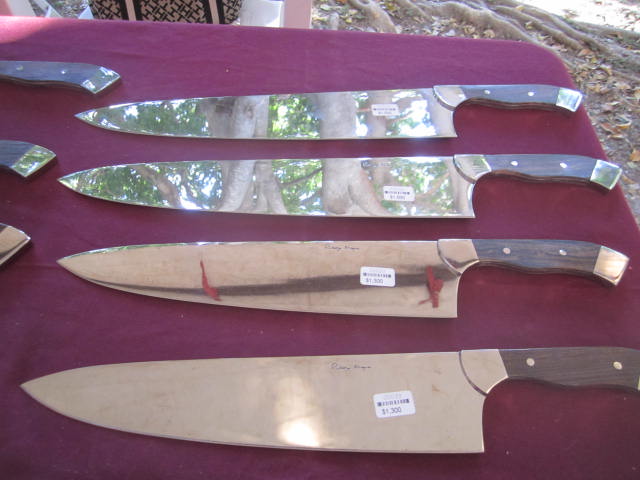 There were two stalls selling handmade knives. I was impressed with these knives. I thought about buying one but didn't relish the idea of walking around the rest of the day with it in my pack. But they were selling out fast.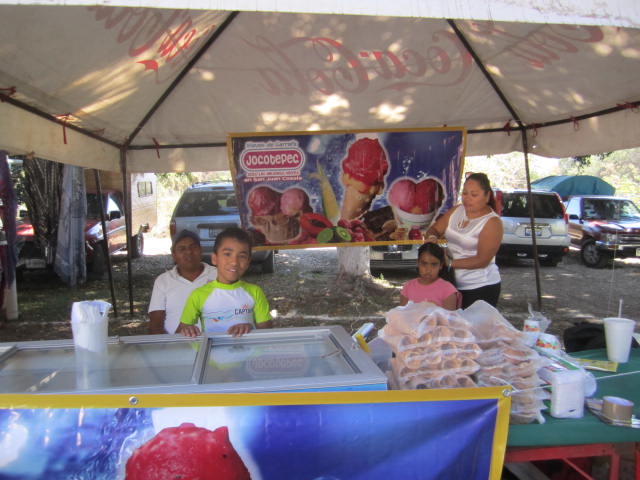 There were two kinds of stands at the Cook-Off. Either they were selling things or food to raise money for charity, or they were selling things or food for their own benefit. I think this family was selling ice-cream in the second category. I hope they made good money. Both Mexicans and Expats participated in this event, buying and selling.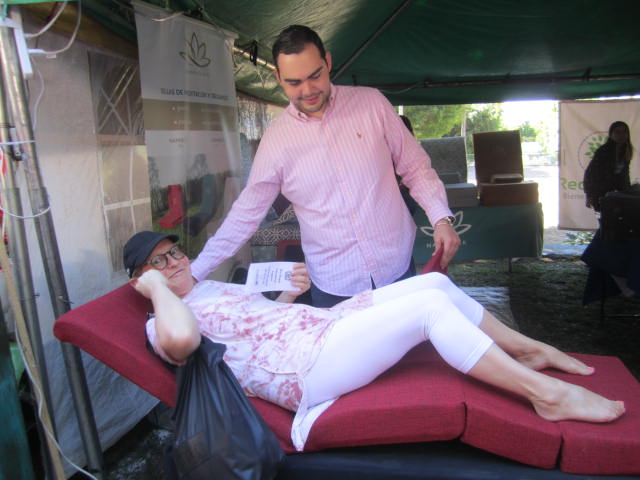 I think the man in the above photo was letting the woman try out his couch. Or was he going to massage her feet? I didn't wait around to see what was going to happen. I had too many other interesting things to see and photograph. Besides, I think my camera was making the woman nervous.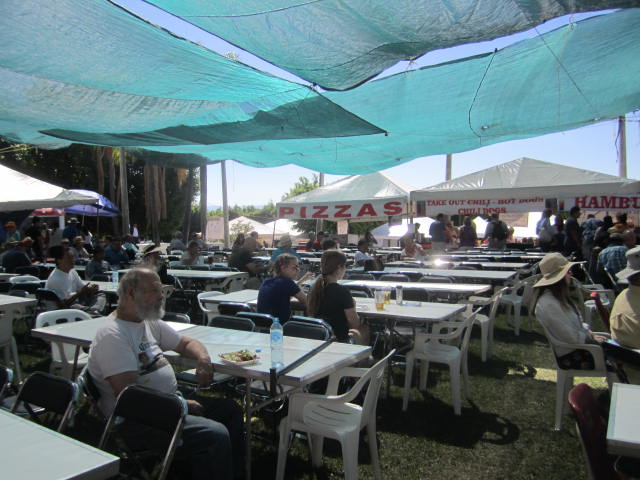 I arrived early and the main eating and stage area was still almost empty. Later on in the day it filled up with hungry people.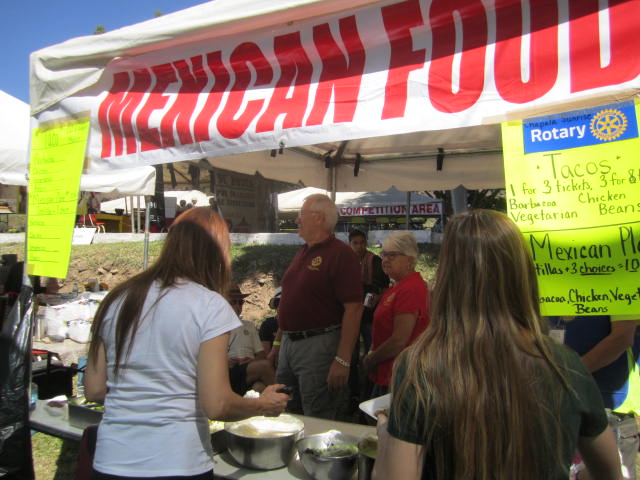 There were many different kinds of food to choose from, or you could just wait for the chili tasting. I decided to wait.
But the little guy in the above photo was tired of waiting for his food. His dad had that huge hat on his head but he was having none of that. He just wanted to eat. I could relate.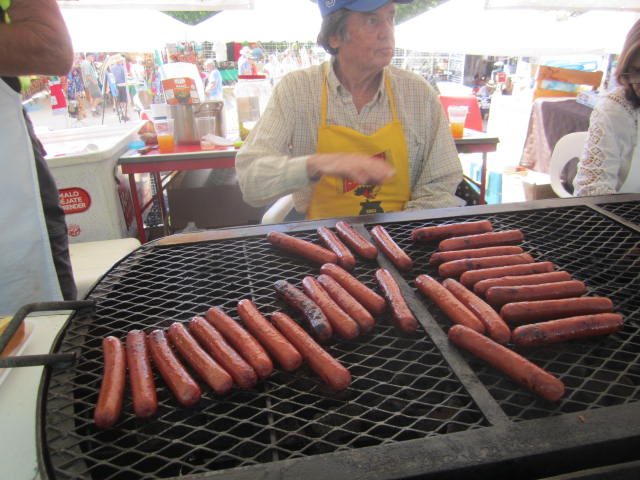 How about a hot dog? Hot dog is my favorite food but I still decided to wait for the chili.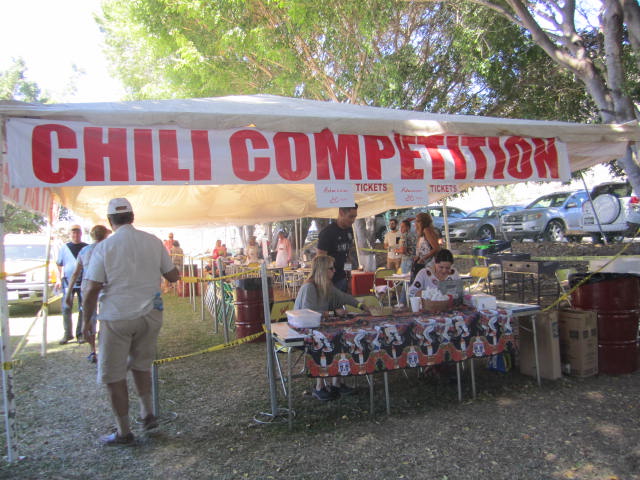 Above is the entrance to the Chili Competition. The line became very long after it opened.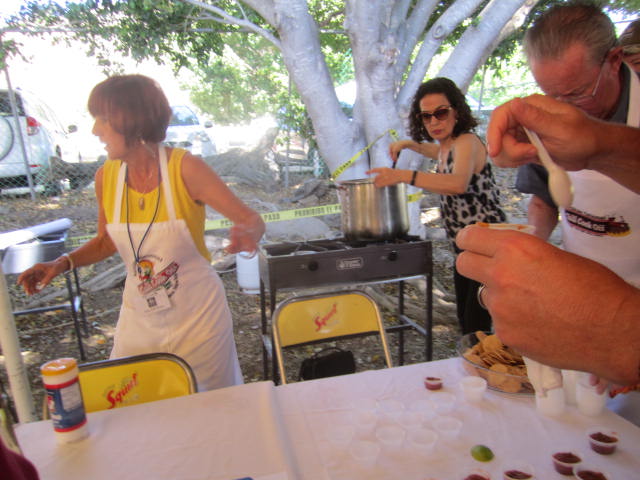 The photo above catches the mood of the stand. It was chaos when it just opened.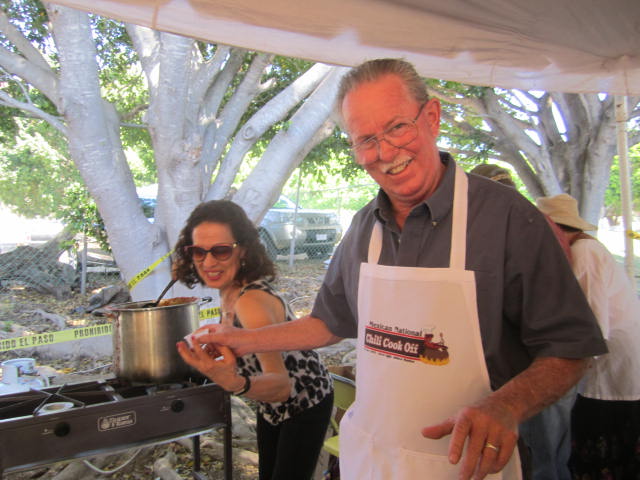 Above is the second stand. It was a bit calmer there. You can see the chili cup in the man's hand. It is small but seven of them makes up a pretty good size bowl of chili.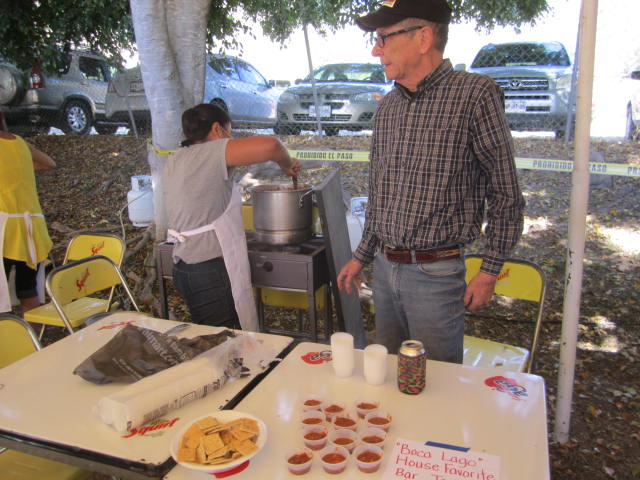 More chili cups on the table. They also served crackers with the chili. Most of the stands had something else to go along with their chili.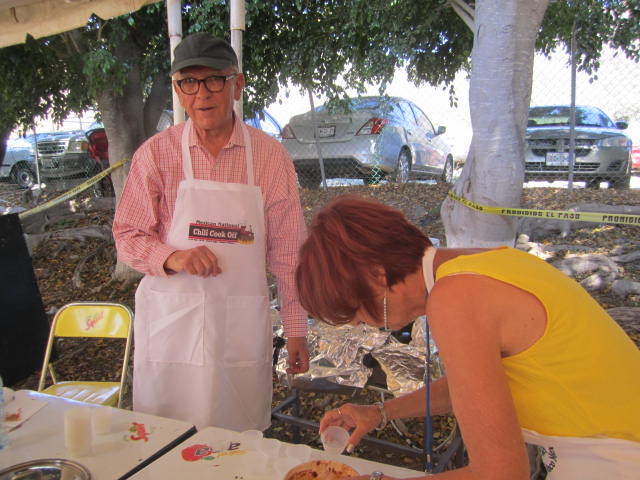 I don't know much about chili. I was wondering what the vegan restaurant was going to do to replace meat. They used nuts instead of meat. Interesting taste.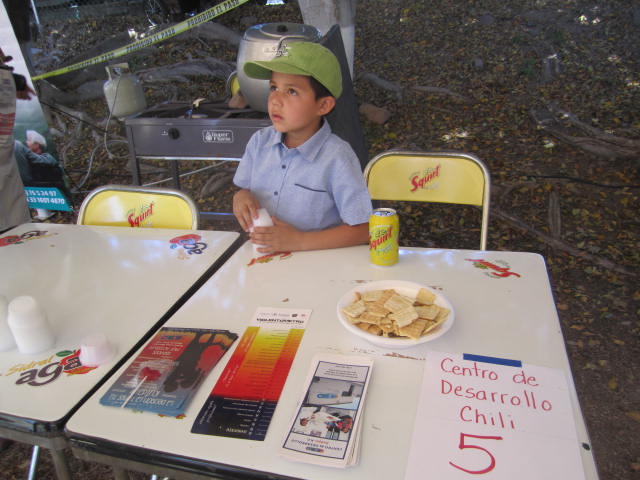 I was getting towards the end of the line and it had calmed down a bit. Calm enough so the stand could be handled by this very serious little boy.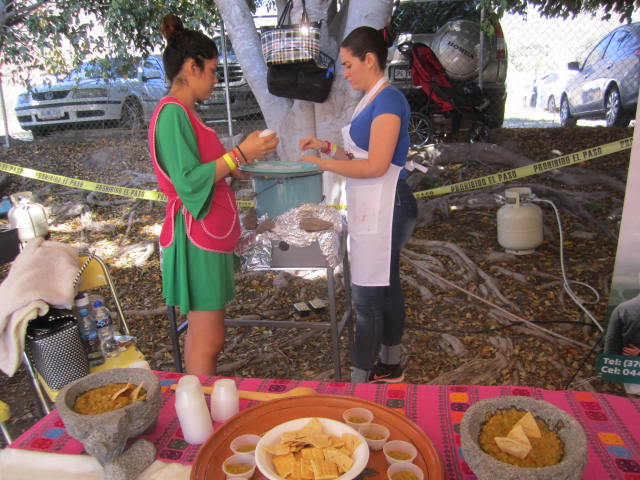 Some of the stands were run by local restaurants. Some were run by expats and some by Mexicans. But all were for the local charities.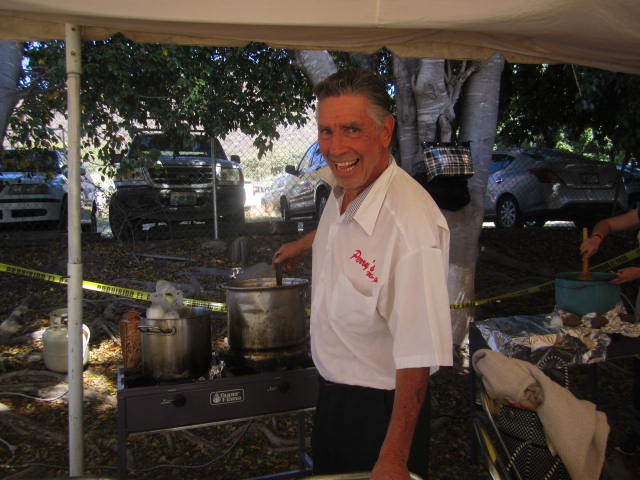 Perry's Killer Chili was a good name because it was HOT….. It had a good taste too, kind of like pizza. This is the pizza man so it makes sense.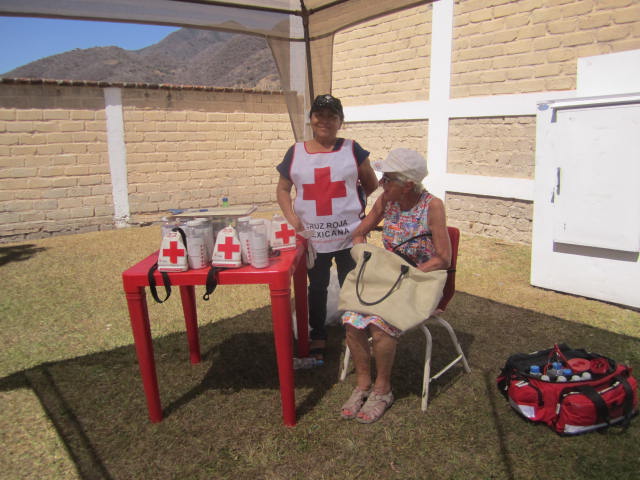 After tasting some of the very very hot chilis, I made a stop at the Red Cross station. I was hoping they had some water to cool down my mouth but all they had was information and bottles for the refrigerator. I made a donation and took one.
You put all your important papers in it and then put a sticker on the refrigerator so the emergency people will know where to look. That way if they come for you at home, they can get all the information just by looking in your refrigerator. Smart idea. I hope I never need to use it.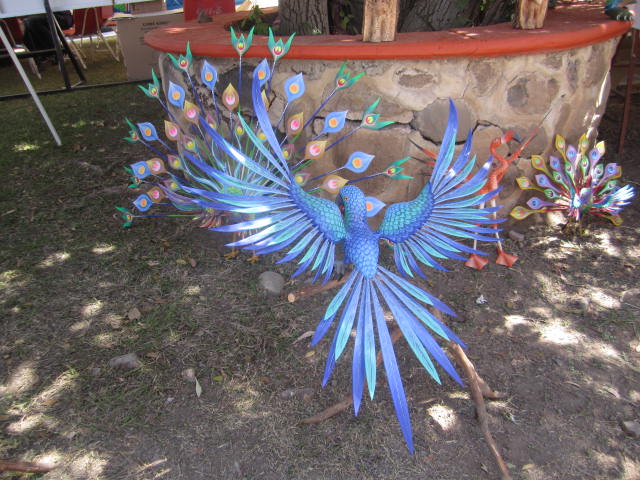 On my way out, down the hill, I saw this spectacular flying bird in a stand from Oaxaca. Behind the bird are also flowers. These are all made out of wood. Many small pieces that are fitted together.
These two women were taking a break in the shade. They worked hard, walking around selling the raffle tickets. There were over a hundred sponsors for the raffle, ranging from restaurants to barber and beauty shops, to art and craft stores and boutiques. So you could win a haircut and a free meal. It was well worth the cost of the ticket.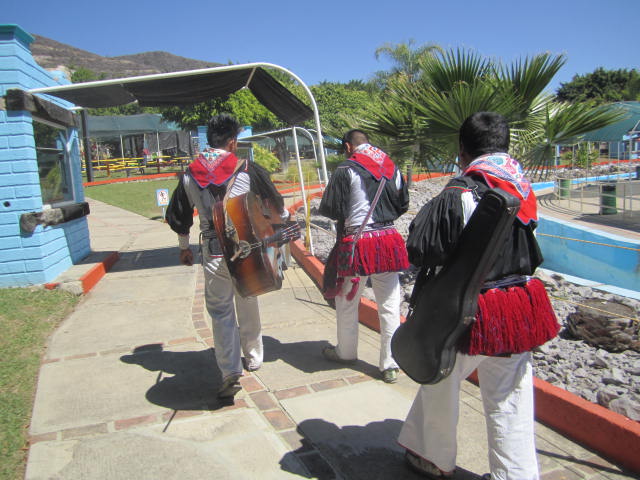 I also ran into several musicians coming up the road. I was almost tempted to walk back with them so I could hear them play but I was too tired. Tired  but happy. It was a fun day for me. I am looking forward to next year's Chili Cook-Off.
Maybe I can practice eating hot things before then so I can enjoy the extra hot chilis more. If you are here during this event, I hope you will go to it. It won't be a disappointment. Something for everyone.