Every town in Mexico celebrates the Day of the Dead (Día de los Muertos) in their local plazas.  Ajijic had one of the largest celebrations I have seen since moving here twelve years ago. This year they had altars up and Catrinas. Many more people were celebrating the holiday there than in previous years. It all happened on Friday late afternoon and night, November 2nd.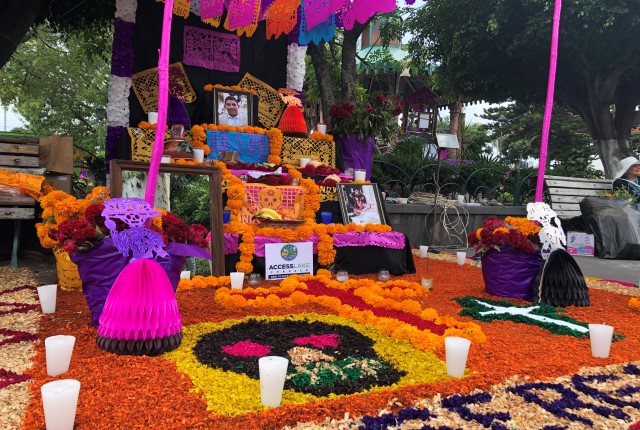 Above is a photo of one of the altars. This one had many marigolds and an elaborate, colorful sawdust carpet in front, with candles all around. It was created by Access Lake Chapala.
Each Altar is devoted to someone or several people who have died. Photos of that person or persons are placed on the altars, along with their favorite things. It might be articles of clothing, or objects they enjoyed or their favorite foods. There was even an altar set up for beloved favorite dogs. Everyone was welcome to add a photo of a dog that had passed over.
There were several larger than life Catrina dolls set up around the plaza. The one above was made mostly out of corn husks. Each Catrina was made by a school, business or organization. They are extremely time consuming to make so it takes a lot of effort from many people.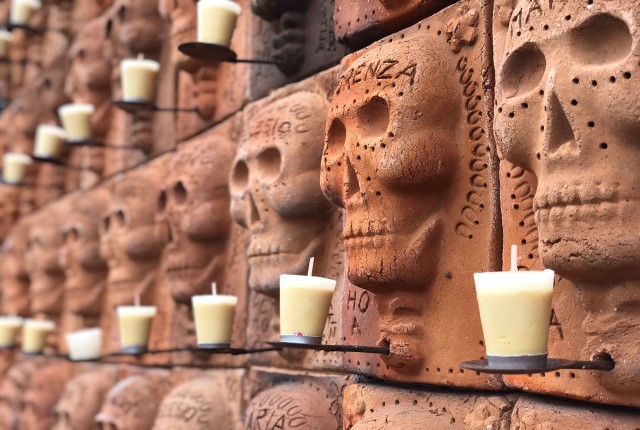 Just off the plaza, along a wall of Marcus Castellanos school, is the wall of skulls. It was created in 2016 by the artist Fran Gonzalez. Each plague was fashioned from the same mold but with a different name inscribed on it, honoring someone who has passed over. I will write more about it in the next photos of the wall.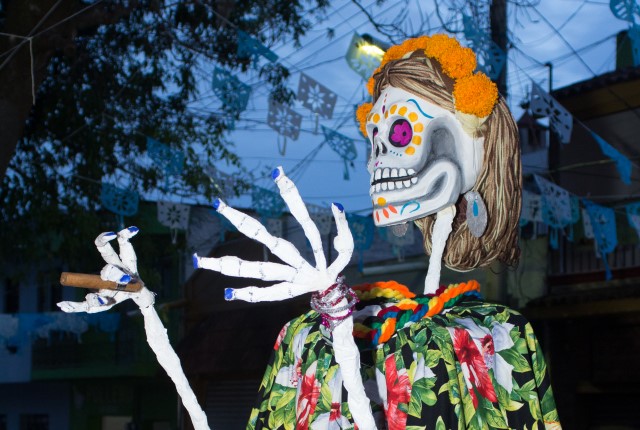 Above is a close up of one of the Catrinas. I like the cigar in her hand. Many were created by the local schools who worked on them for weeks so they can show their work at the Ajijic Plaza.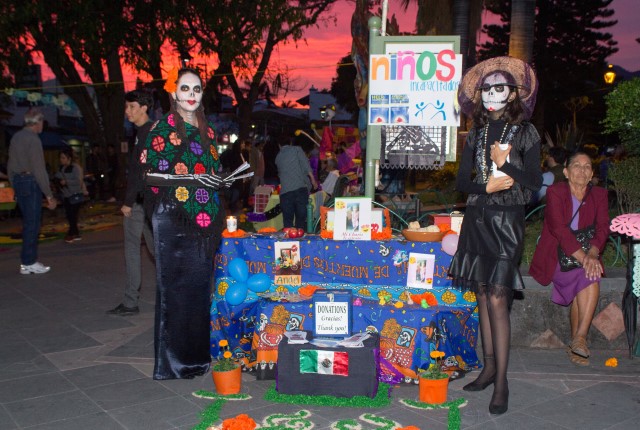 Besides skulls on the altars, there were skull faces to be seen all around the plaza. The above altar was created for Ninos Incapacitades. This organization helps poor Mexican families with medical expenses for their children. They also had a donation box set up in front of the altar.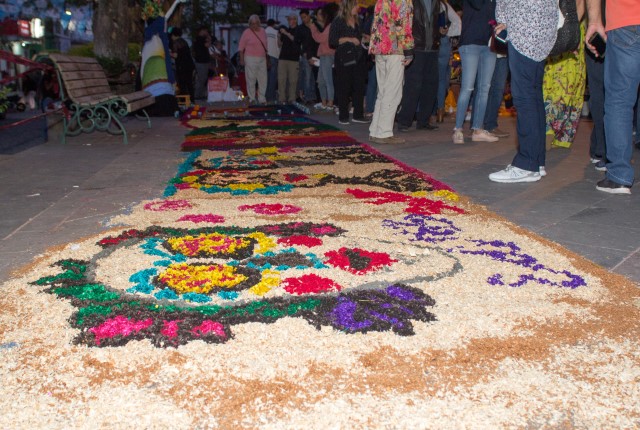 Above is an extravagant sawdust creation. So much work was put into making these altars and sawdust pictures and they were taken down and swept away at the end of the evening. Just like life. We don't mourn the loss of it. We celebrate the creation and brief existence of it.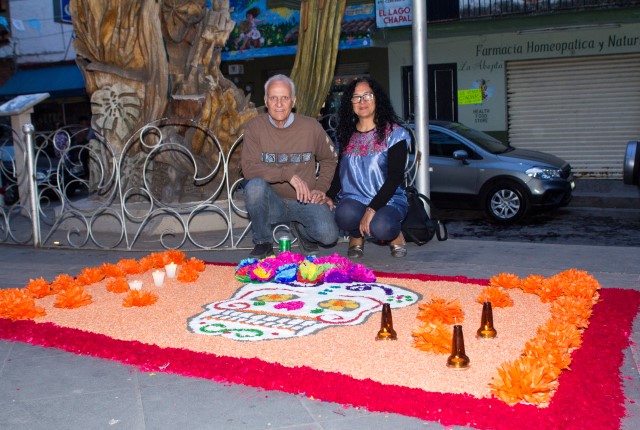 Above is a photo of just a sawdust creation with votive candles. All the altars had colored sawdust designs in front of them. But there were a few things with only sawdust. This one was very complex. The couple posing with it have a right to be proud.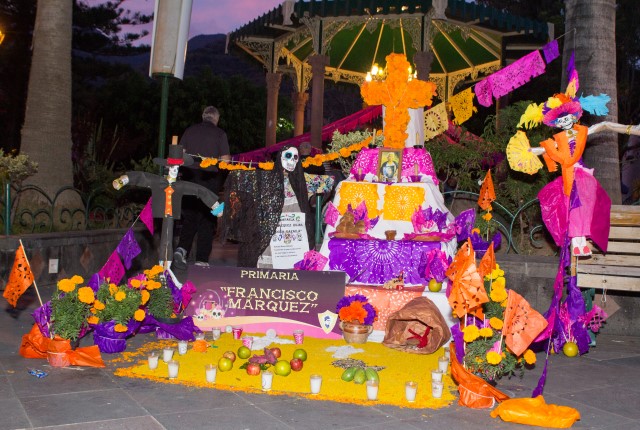 The alter above was created by the primary school Francisco Marquez. I like the bright colors they used.
Above is the altar in honor of DIF. DIF is a national system for integral family development. Meaning it is a public institution that focuses on strengthening and developing the welfare of Mexican families.
Above is a close up of one of the more than life sized Catrinas.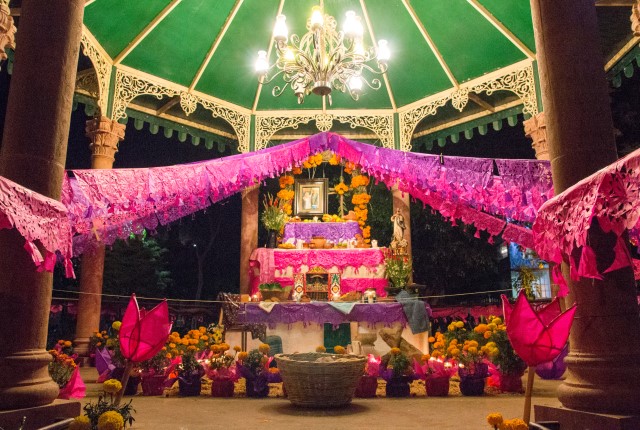 Every year at the Day of the Dead, the gazebo is decorated with marigolds, candles, crosses, photos of the dead and with brightly colored banners. These banners are called "papel picados" which in English is "pecked paper". They are created with small chisels. They are made out of tissue paper or thin plastic and have designs that honor the celebration for which they are made. Each celebration has it's own designs. When there is going to be a parade in town, the streets where the parade will go on will be lined with these papel picados. That way you won't be standing on the wrong street and miss it.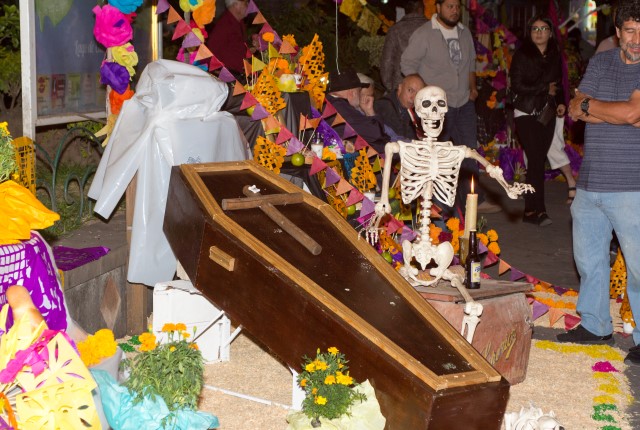 The coffin and skeleton were details of one of the altars. Check out empty bottle of beer next to the skeleton. I don't know what the white rain coat represents. Either it belonged to the departed or it is supposed to be a ghost. Maybe it is left up to your imagination.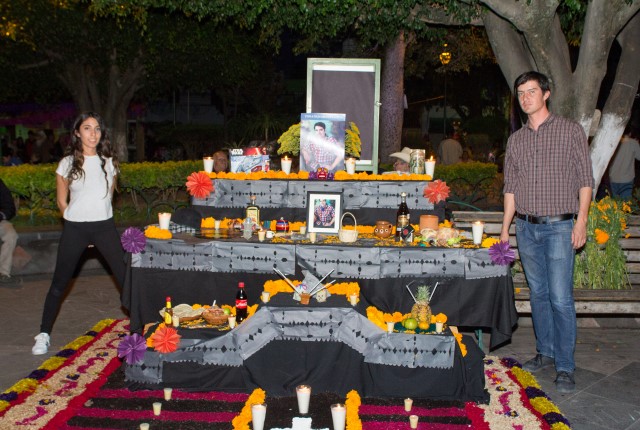 The altar above was a bit different from all the others. They used colors that weren't often seen in altars. I liked the simpler design of it, the rectangles and symmetry of everything. It really stood out in the crowd.
Above is a photo of another altar. This one was in memory of a couple. I did not get any information on them, just the tribute to them in the beautiful altar. That was enough to know that they were greatly loved.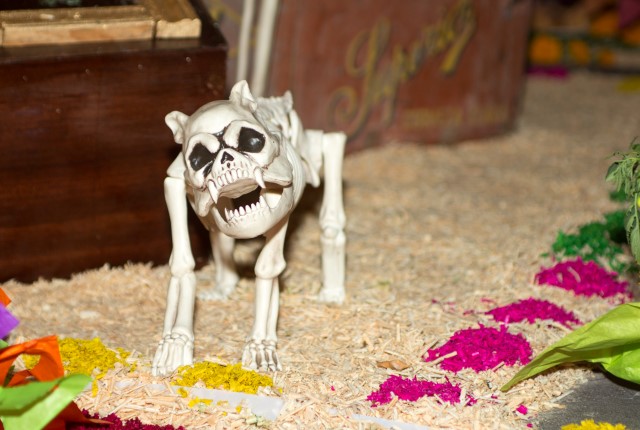 There were lots of skeletons on the altars. My favorite is the one above. I think it is supposed to be a dog. Pretty scary dog.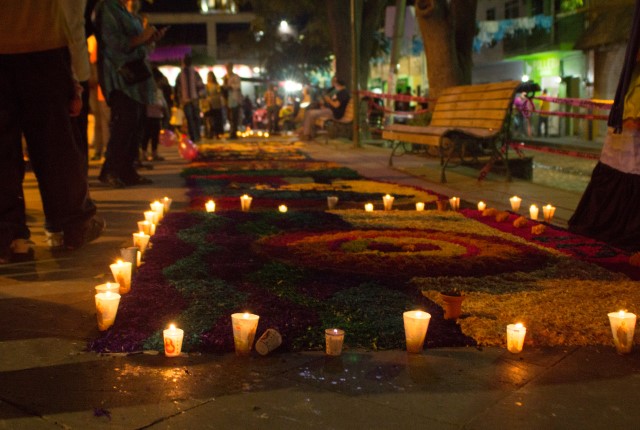 The next few photos were taken after dark. Candles lit up the plaza and the side street where the wall of skulls was being celebrated.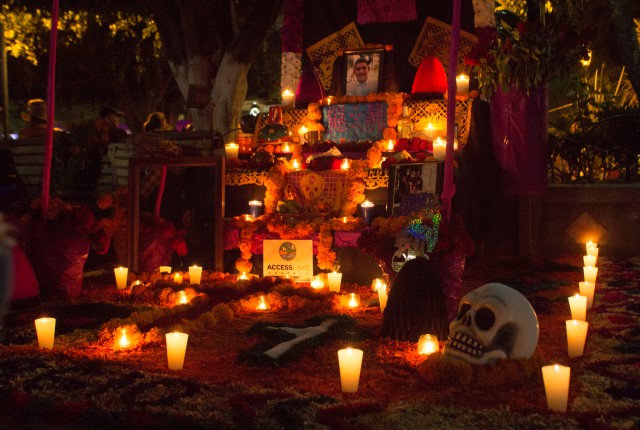 Above is another photo of the altar created by Access Lake Chapala. There were enough candles to see everything on it. That was obviously a labor of love. And it would be taken down just a few hours later on.
Above is a photo of a man lighting the votive candles. One candle is on each plaque. When the wall was created, anyone who wished to honor a loved one could pay a small fee to have that person's name on a plaque.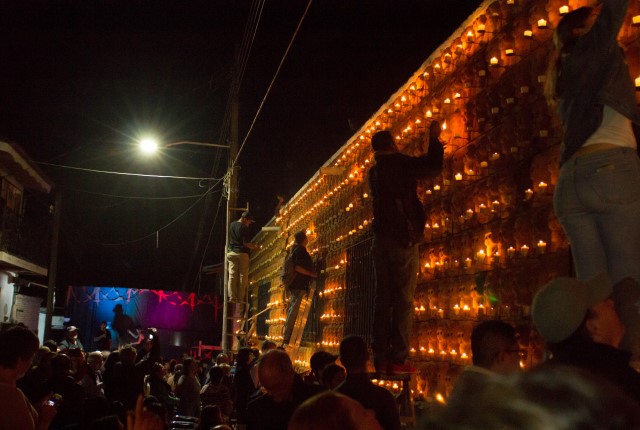 It was awe inspiring to see it all lit up. You can see in the above photo, towards the back, the stage where a band played during the ceremony. This wall is directly in front of San Andres Church and just around the corner from the plaza.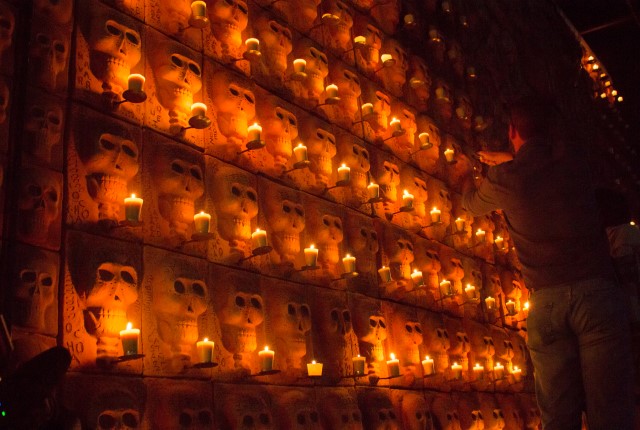 Above is a more detailed photo of the wall of skulls. There was also a parade the night of the festivities in and around the Plaza. The Day of the Dead celebrations last for many days.
Cohates, which are loud fireworks, go off day and night. Not much sleeping happens during this holiday. But life is short. Celebrations are to be enjoyed when they come along and the Day of the Dead celebrations are highest on the list in Mexico. I hope you didn't miss them and if so, next year, be sure to be here for them.