Today is June 19th, 2016, Father's Day. I decided to go out this morning in search of a celebration honoring fathers. I thought it would be easy because I remember how exciting Mother's Day was in Ajijic. But it wasn't. There were no special celebrations in the plaza for fathers. No banners. No activities. Just one small flower stand.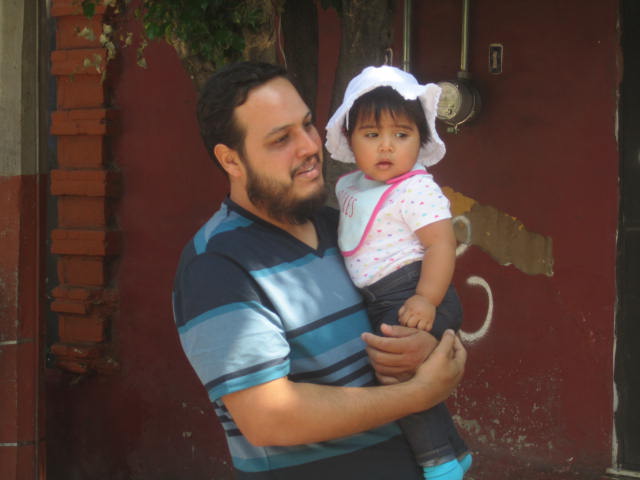 I know there is a special fathers golf tournament at the golf course but that isn't what I had in mind. I was looking for a local festival with lots of fathers and sons and daughters. I am glad I decided to make most of this article about fathers throughout the year, not just for today. That stand wasn't doing a booming business. It was located in the plaza. So I went on, looking for fathers.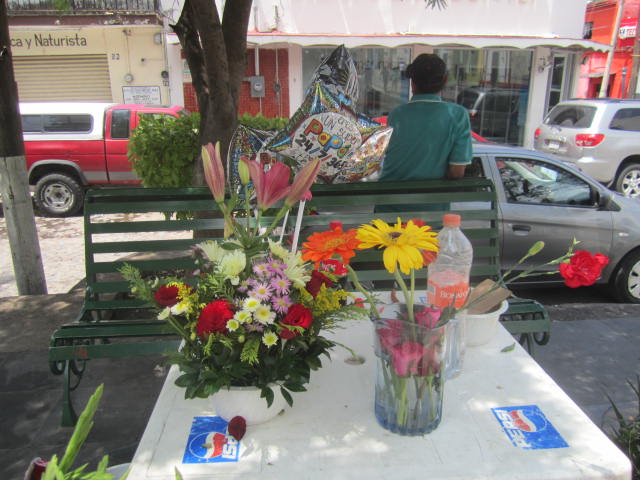 I took the above photo in the plaza. It was the only flower stand around. Check the Mylar balloons.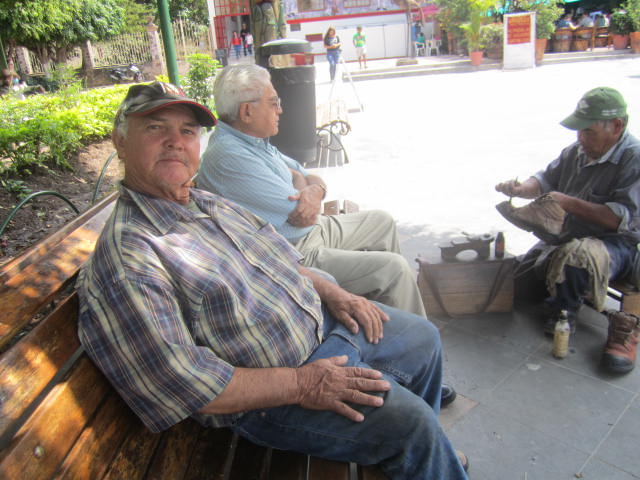 I sat for awhile on a bench next to the man in the above photo. We had a brief conversation about fathers and the lack of celebrations for Father's Day. He has a grown son. He was enjoying his afternoon sitting in the shade.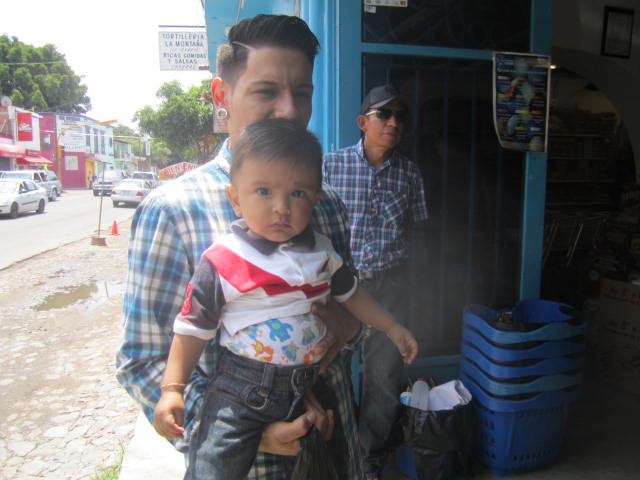 I finally decided to walk home from the plaza. On my way, I took the above photo. The man was walking into the grocery store with his son but he agreed to pose for me. The man in the background is looking on with lots of curiosity. The rest of the photos were taken at different times throughout the past year.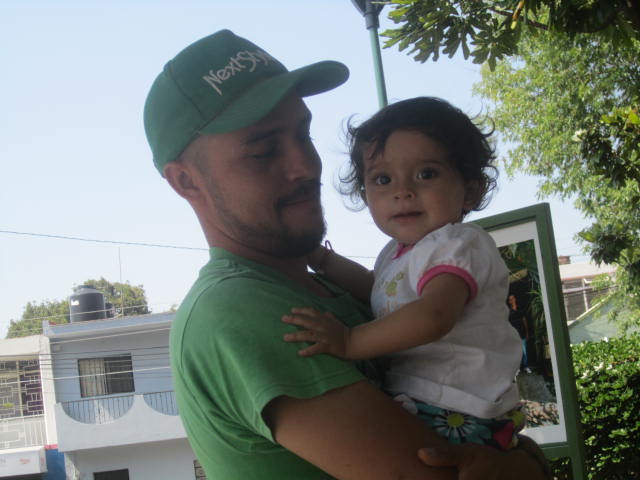 For me, the looks on the faces of these proud fathers are as important as the smiles on the babies. I have taken thousands of photos of people here and not once has a parent refused permission for me to take a photo of their child.
Often fathers are overlooked, in favor of the mothers. Like in the United States, Mother's Day is far more important than Father's Day. In this article, I want to honor the fathers and all men. As you can see from these photos, they are often in the background. But that doesn't mean that they are not important. These photos were taken throughout the year, at other celebrations or on the street. If you are lucky enough to have a father who is still alive and nearby, I hope you will give him a big hug of appreciation!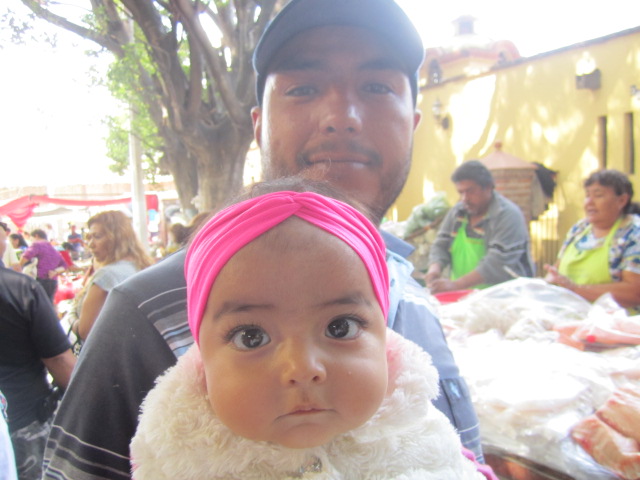 Those are the biggest eyes I have ever seen. She seems to be looking into my soul as I snap her photo. I love the father's proud smile. He knows she is a very special baby. Okay, ALL babies are special but her eyes…. They are haunting!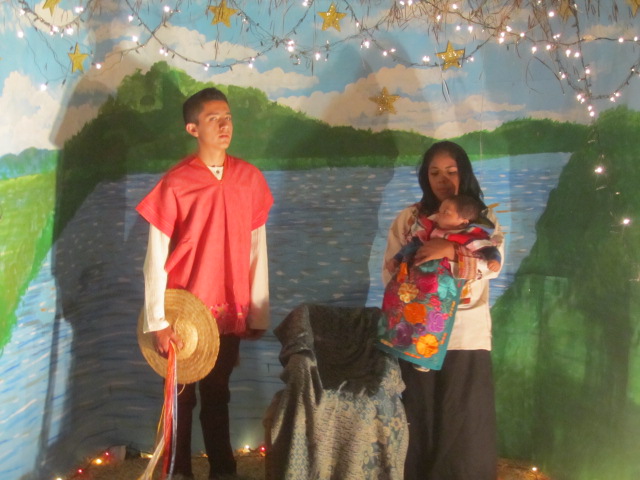 The man in the above photo looks too young to be a father. But here in Mexico, people mature quickly and have families when they are very young. So this young man is pretending to be Joseph with Mary and Jesus. He seems to be a little uncomfortable in that role.  Big shoes to fill for such a young man!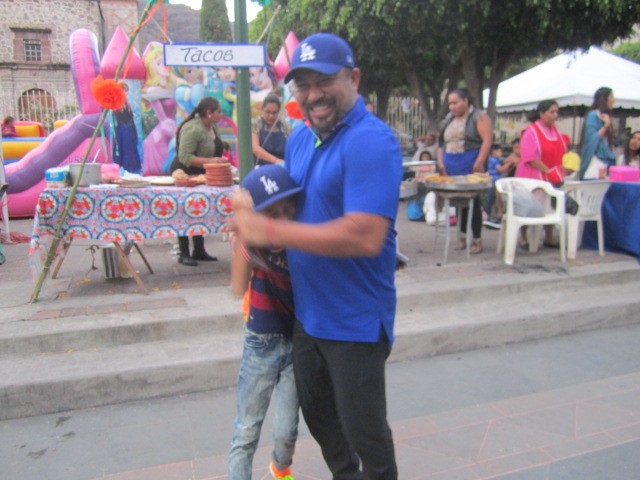 I often see fathers playing with their children in town. This little boy is getting a big hug but he isn't too happy about it. He might miss those hugs when he grows up and his father is no longer around to give them to him.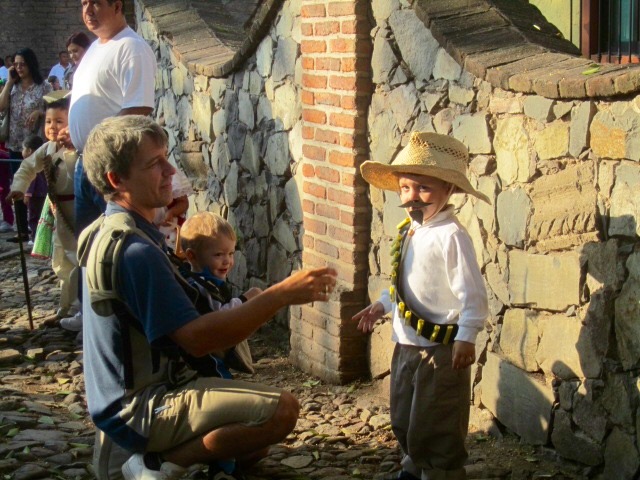 Above is a photo of an expat father with his two sons. He is getting one son ready to march in the Revolution Day parade. What a treat for the son and something he may remember for the rest of his life. The day he walked in the Mexican parade, dressed as a rebel.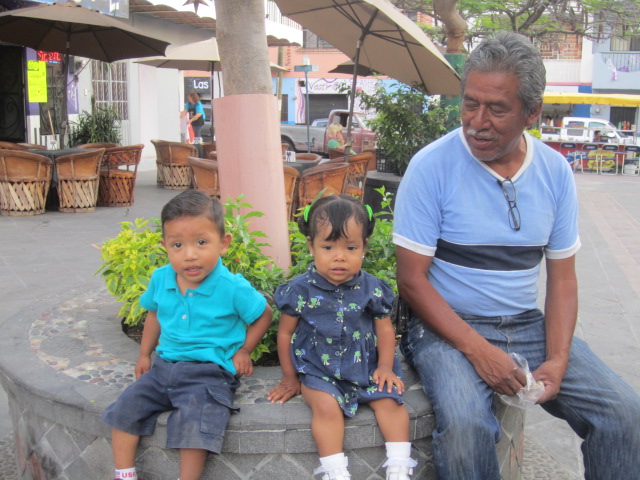 I don't want to overlook grandfathers. This man was pleased to have me take a photo of his grandchildren. He was going to step out of the photo and I told him to sit next to them. I wanted to get his smile as he looked at them because he was so proud and happy.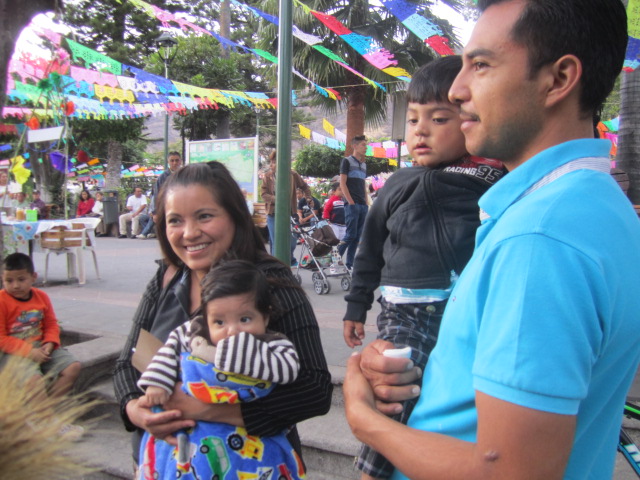 I have hundreds of photos of happy families here. This one was taken at another celebration at the plaza in Ajijic. I don't remember what celebration. So many celebrations. So many happy families.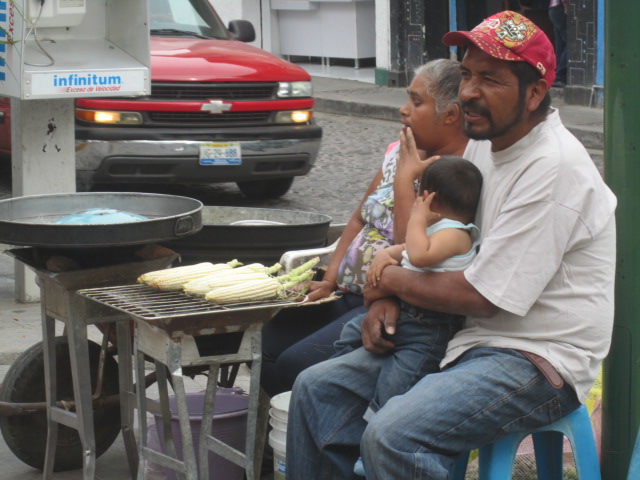 The family in the above photo is often in the plaza at night, grilling corn to sell. The woman may be his mother or grandmother. I am guessing that they are dependent on the money they make from selling the corn to pay for their own food. Life can be difficult here for people when jobs are hard to find and pay little. Unskilled workers here make in a day about what an unskilled worker in the United States makes in an hour.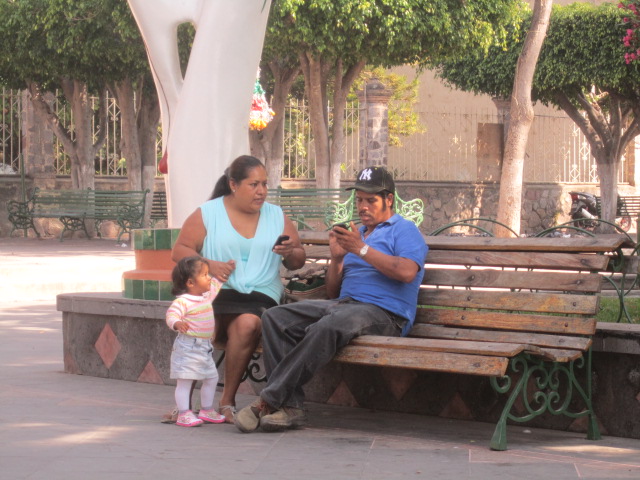 I like the above photo of the parents with their cell phones. I am surprised that the little girl doesn't have one too. Maybe she left hers at home.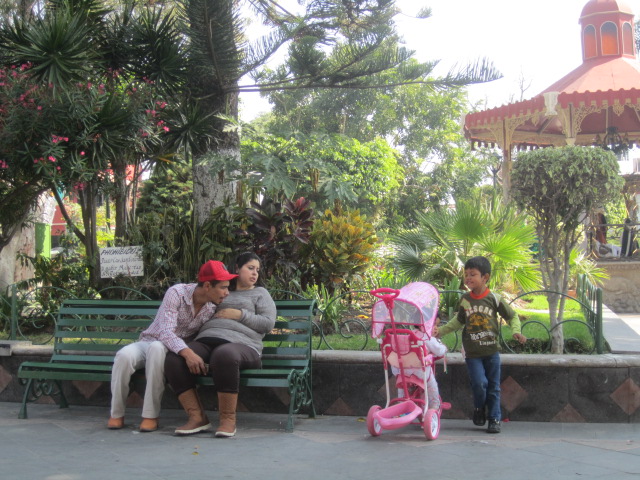 The man in the above photo looks like he is enjoying his family. His firstborn, a boy. A girl in a stroller and another one on the way.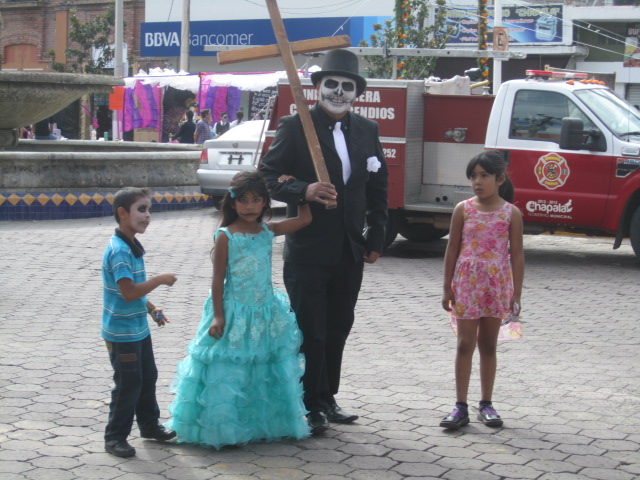 I took the above photo in Chapala as this father was crossing the street with his children. The oldest girl on the right doesn't seem happy. Maybe because she isn't in costume.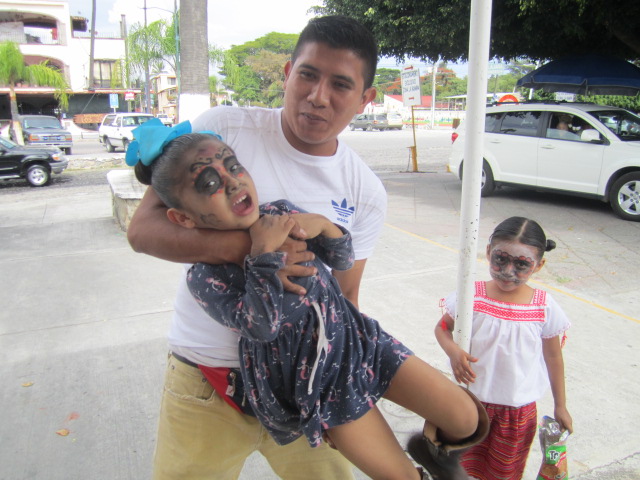 Above is another photo I took in Chapala on the Day of the Dead. The father is having fun with his daughters. Great face makeup.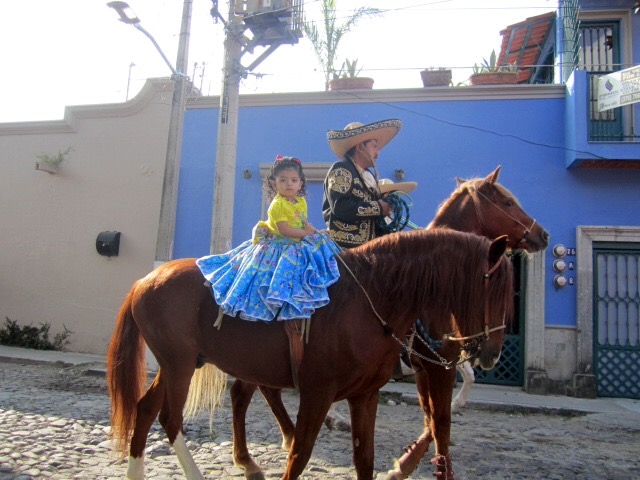 The little girl on the horse acted so proud. No wonder. She was wearing a beautiful outfit and her handsome father was riding beside her, protecting her from any harm. And making her feel special, like a queen, riding on that horse by herself.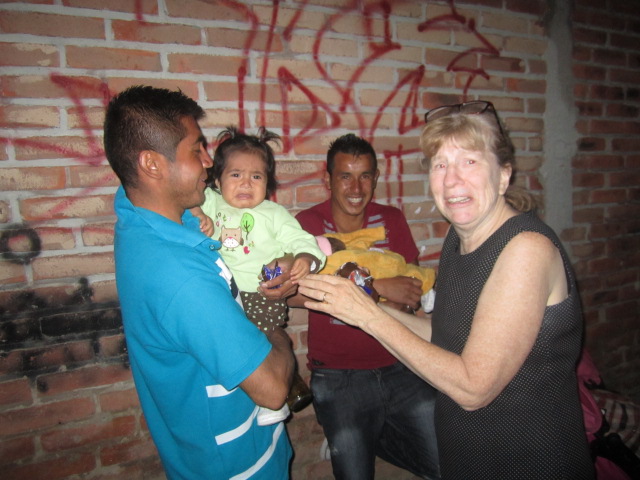 There are two fathers with their babies in the above photo. The older baby was afraid of my friend and she started crying. And of course my friend was almost crying too. The fathers thought it was funny. It is a good thing that men often can step out of the emotional dramas and have a sense of humor about things. This photo was taken during an evening Halloween celebration on the street where I live. My friend and I were invited to join in with the neighbors. Great fun, except for the crying part.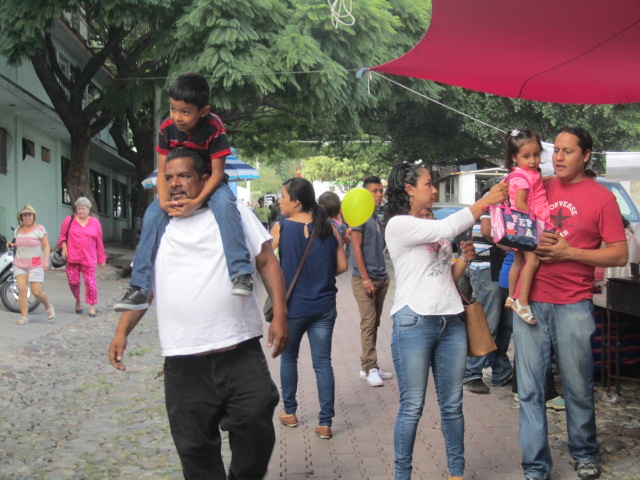 The above photo was taken at the Globos festival. These people were walking to the entrance. The little boy had a bird's eye view of things from his father's shoulders. I often see fathers here carrying their children on their shoulders. The little girl looked happy to be carried in her father's arms, with help from her mother who was arranging things.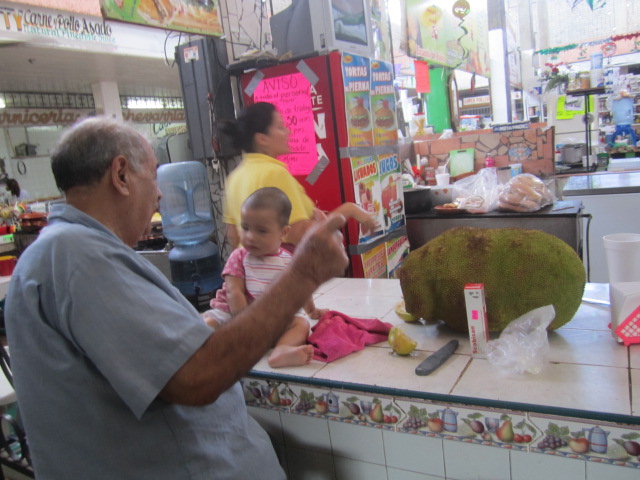 I took the above photo of the grandfather with his grand baby in San Blas. They were sitting in the market and he appeared to be explaining something to the baby. Sitting next to them, on the counter, is a very large yaka, also known as Jackfruit. They grow all around San Blas. Maybe he was telling her about the yaka. The baby appears to be indifferent to both the yaka and the grandpa. She was in her own world, maybe looking at a fly. (There were many flies around that counter.) Who knows what interests babies. Not always grandpas or yakas.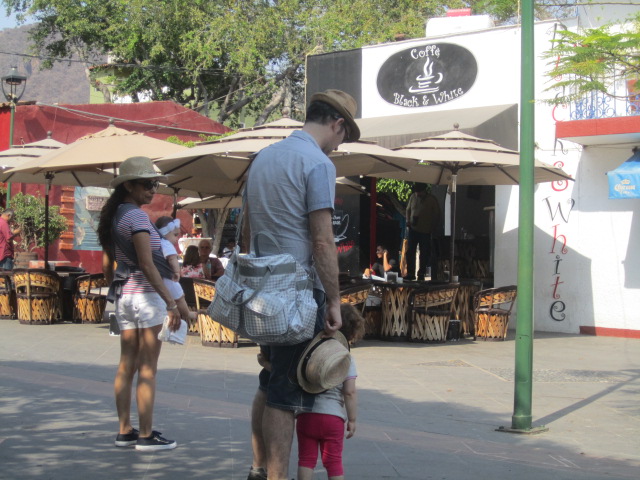 It looks like the father in the above photo is praying with his little daughter. But he really is just looking at something of interest to her. I think it was a bug if I am remembering correctly. Maybe sharing his daughter's intense interest is a kind of prayer for him. A prayer for the safety and happiness of her and for her continued interest in the world around her.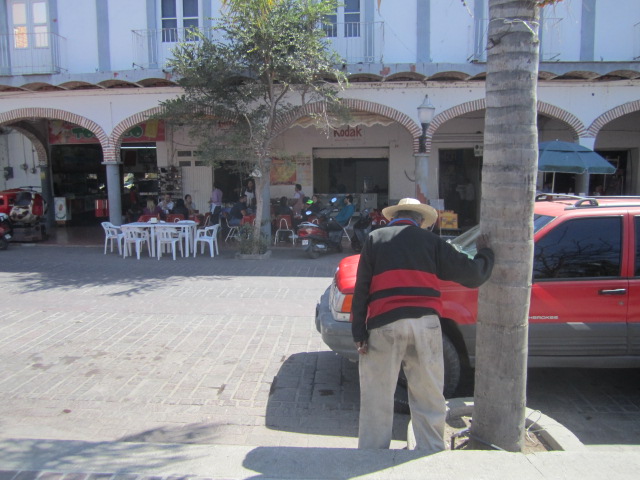 I believe that a society should be judged by the way it treats the elderly. The old man in the above photo did not look like he was being treated very well that day but this seems to be an exception in the Mexican communities. Families keep the elderly with them as long as they can. Young and old share homes. Either out of choice or necessity, or both.
I have much respect for the way Mexican families stick together and help each other out.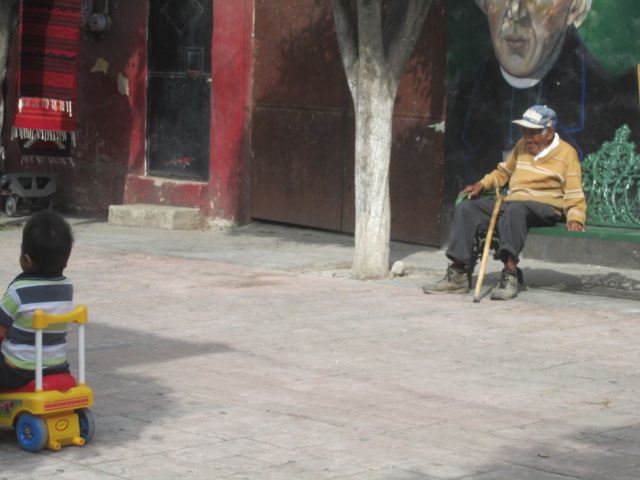 This article is not just a celebration of fathers but also a celebration of men. Old and young. I wanted to close it out with this photo of the old man resting in the plaza and the young boy passing him on his toy. The past and the future. Both are to be valued and loved.
One last photo is of two retired Mexican men, enjoying their day in the sunshine in the Plaza. Life is good here in Ajijic. Especially if you are retired! And you have a friend to share the day with, while the younger members of your family are working.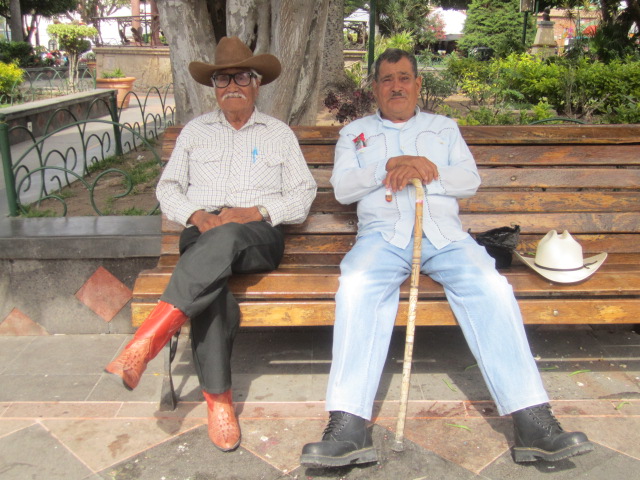 Happy Father's Day Everyone! I hope you enjoyed the photos and will stop and think of your own father, living or dead, and give him a silent thank you for all he did for you while you were growing up.