This is the 14th year of the Feria Maestros del Arte. If you have not been to this event, you don't know what you are missing. Once you see these wonderful works you will never look at art and craft items in the same way again. Your eyes will be educated and you will be much more discerning. You will never again be fooled by poor quality workmanship as you will have seen the best. There were far too many beautiful things and great artists for me to be able to show you more than a fraction of them. But if you see something of interest please go to the web site to learn more. It is www.feriamaestros.com.
This magical paper mache sculpture was at the entrance to the show. It cost fifty pesos to get in and worth every bit of that amount. I went two days. It was held November 13, 14, and 15 th from ten in the morning to five in the evening except Sunday it closed at four. It was held in the beautiful grounds of the Chapala Yacht Club. If this sculpture looks familiar, you would have seen it at the show last year too.
These women are getting ready for the rebozo fashion show. Every day there were live performances and fashion shows going on at the stage area. Music, dancing, demonstrations, etc. There were many booths to look at and sometimes it got overwhelming. It was a relief to sit down for awhile and enjoy one of the shows. Also there were many food and drink booths for the hungry and thirsty.
This is a non-profit event. It was created to promote disappearing folk and indigenous art of Mexico. The criteria for being invited are: quality of workmanship, work that has been passed on from generation to generation, work must be made out of natural pigments and materials, also undiscovered artists worth recognition, and all art must be totally handmade.
Above is a photo of a Panama hat maker from Campeche. His name is Marco Antonio Itza Colli. Every artist wore a name tag. Unfortunately I didn't get some of the names but I will put on the ones that I did get. Also some of the booths were cooperatives, with several or many different artists and their work. 

The potter in the above photo is from Jalisco. Her name is Beatriz Duran Taracido. If the artists have to come from a distance, local people give them housing for the entire time that they are in town. Their hosts also take them out to meals or cook at home for them . It is an enriching experience for everyone involved.
How do you say no to an offer of a free drink of tequila?  This isn't just any old tequila. This is a private limited production from the south side of the lake. Sandy y Daniel tequila. It is very smooth. How about one more taste?
Above is Daniel Paredes Cruz. He is from Puebla. You can see some of his work in the background. He speaks English and he invited me to his studio if I ever go to  Puebla.
Above is a weaver from Chiapas. You can see her rebozos, shawls, in front of her. She has a million dollar smile. Many of the artists make enough money at this show to support them the rest of the year. Maybe that is part of the reason for the smile. Her name is Pescuala Vazques Hernandez.

The smiling man in the above photo is Mario Lopez. He made all that wicker furniture. He is from Michoacan.
The money from the raffle goes to the Red Cross. Last year they raised 35,795 pesos. I don't know what they raised this year. Too early to tell.
The next few photos are just of various works without the artists. Above are masks and animals made by the Huichol Indians. There were many different stalls. Eight ceramic figure stalls, twelve ceramic bowl stalls, one Day of the Dead stall, one stall of dolls made by the women in prison, seven fiber and corn husk stalls, three furniture stalls, one Huichol Indian stall, eight jewelry stalls, one lacquerware stall, one leather stall, one mask and three metal stalls, two painting stalls, four paper and one footwear, one toy, three weaving and rug, two wood, and one stall of things made by the Tarahumara Indians. So here are some of the them:
There were some beautiful sculptures made out of wood with gold leaf on them. Many were religious themes.ni was told that one large religious sculpture went to a local church.
There were more pottery booths than anything else. Twenty altogether.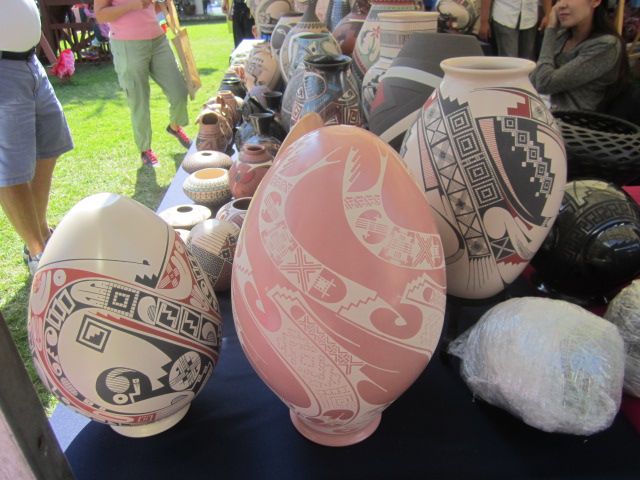 As you can see, there were many beautiful works of pottery. Unless you have tried making a pottery bowl you cannot really appreciate the fine workmanship here. But let's move on to other works. Below is a photo of the Lake Chapala society booth, selling cards made by the children in Saturday art classes.
Unfortunately, I did not get this weaver's name. My friend wanted to go back the second day specifically to watch her weaving but she wasn't there. We were told that what she was weaving was sold even before she finished it.
When we were leaving I snapped this photo. Do you think they could have squeezed anyone else into the back of that car? They really must have wanted to see the exhibits. Hope you can make it next year.