Have you ever thought of having your own TTW dance? TTW stands for Thrill the World.  It is easy. Apply through their website. Thrilltheworld.com. Fill out the forms. Pay the 25 dollar registration fee. Get a bunch of people together to practice the dance. Dress everyone up as Zombies and have the dance. Collect money for your favorite charity.  This Michael Jackson TTW concept started in 2006. At that time the world record was set at 62 people. Since then it has expanded to countries all over the world. Last year 6,451 Zombies danced at 134 events in 6 continents. An estimated 68,000 dollars was raised, plus food and clothing.
The biggest zombie dances were in Redmond, WA with 256 people. Istanbul, Turkey with 221 people and Eugene, OR. with 213 people.  Besides raising money for charity, the goal is to break the world's record for the biggest event. Don't think Ajijic will break that record. It was smaller this year than last year but it was still a lot of fun. Some of these women zombies still manage to make themselves beautiful. Now how do they do that?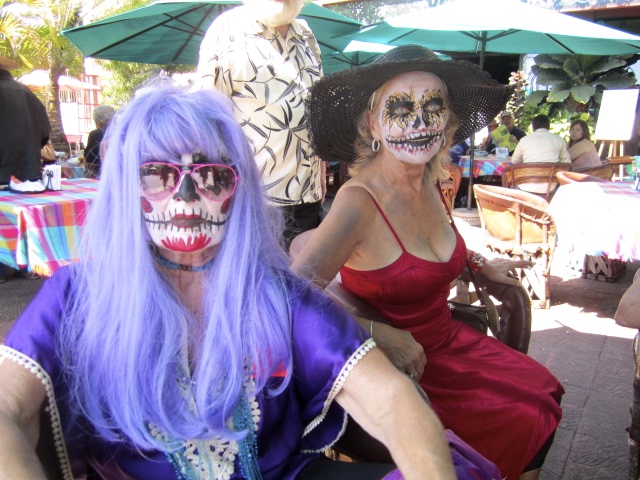 Michael Jackson's Thriller dance was first shown on MTV in Dec. of 1983. Since then it has been played thousands of times all over the world. Or maybe millions of times?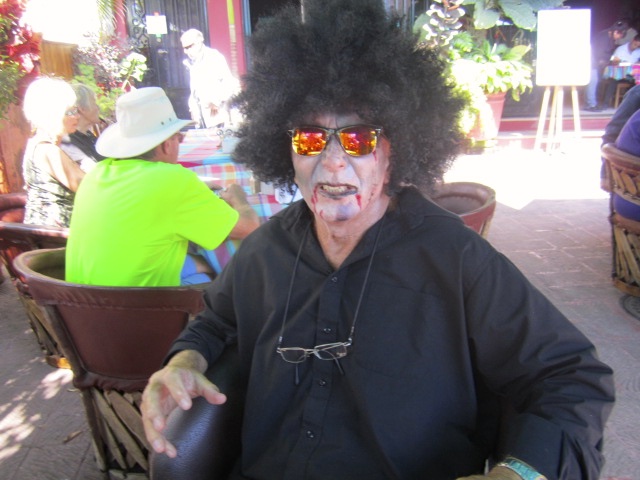 How to become a zombie. 1. Pale skin. 2. Circles under the eyes. 3. Ripped clothes. 4. Blood around the mouth. 5. Bruises and lacerations. I think this man fits the bill.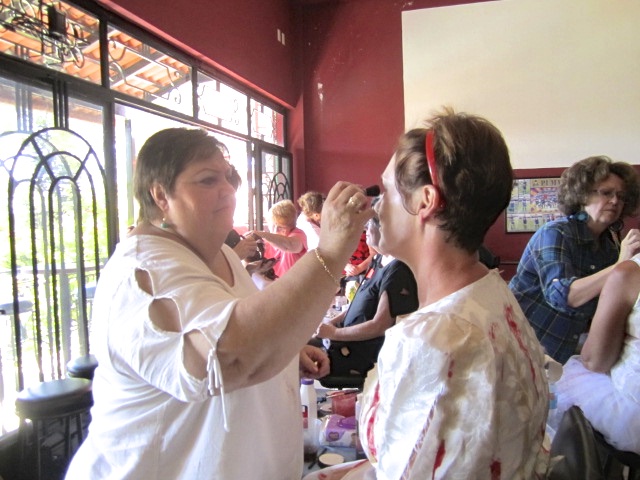 Before the dance, people came together to practice it one more time and to get their make up on. The dance lasts six minutes but it takes many hours to prepare; learning the dance, making costumes, getting on makeup.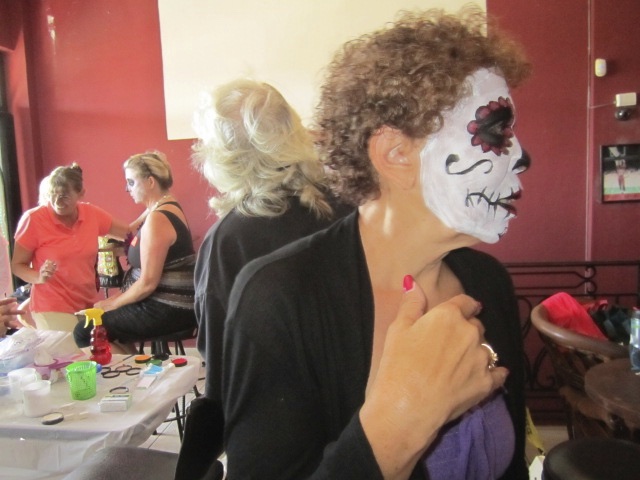 These photos were taken in their makeshift beauty shop, although the affect mostly was the opposite. But look at the pretty flower-like eyes on these women and the cute button nose on the woman in the photo below. How can you not like them?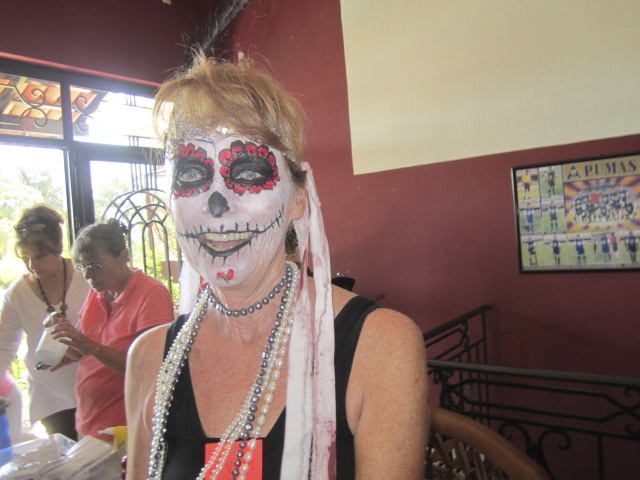 Serious business, this transforming into a zombie.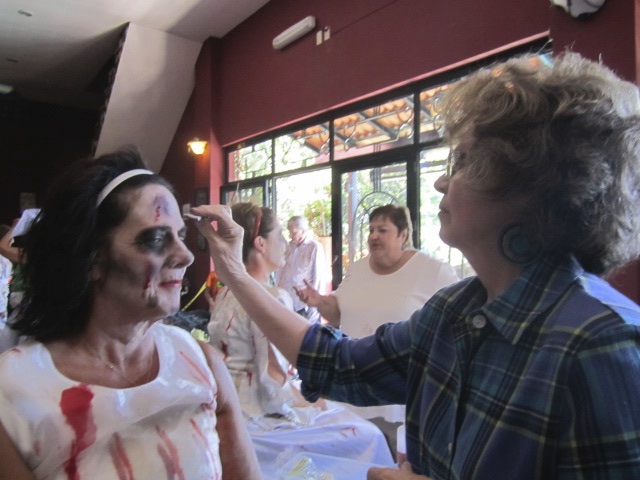 I didn't know that zombies had cell phones. I guess they keep up with the times.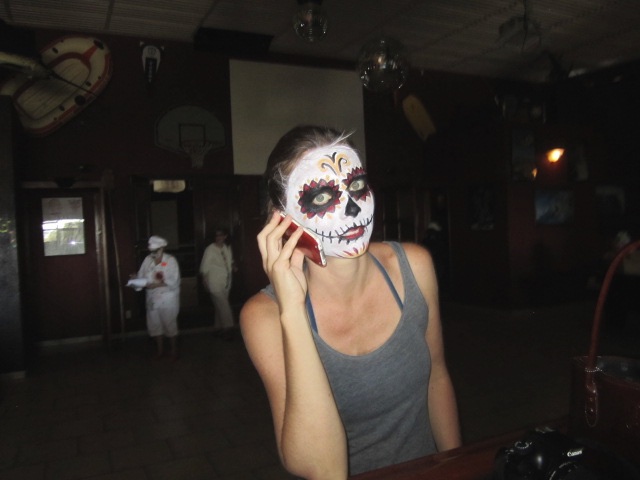 I think the zombie in the photo below is supposed to be a cook. How would you like her to fix your dinner? I would wonder what was in it.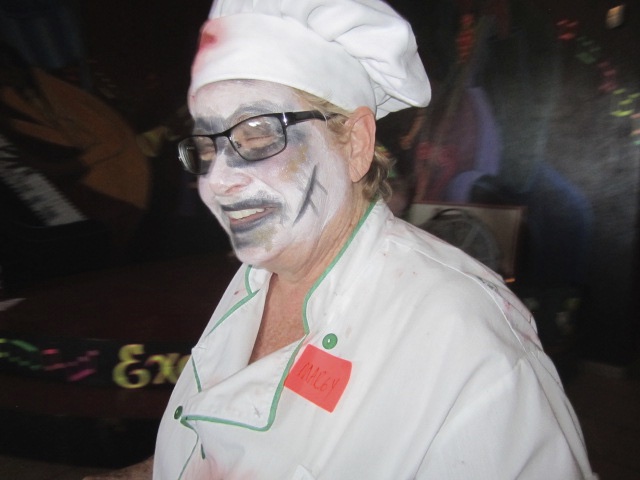 The zombie in the photo below had the saddest look. I wonder what he was thinking of at that time. Or maybe he was just tired?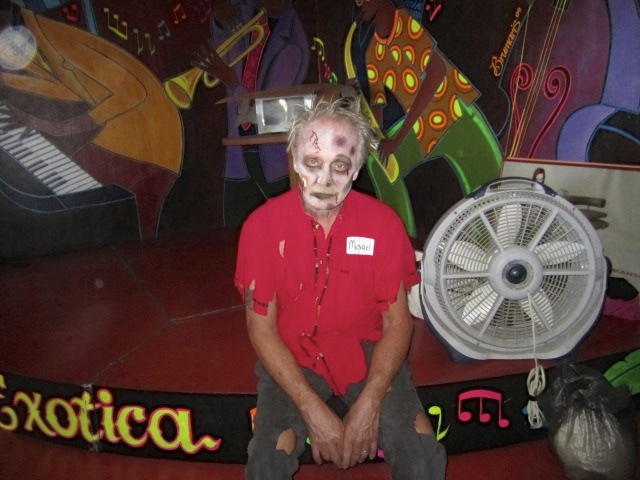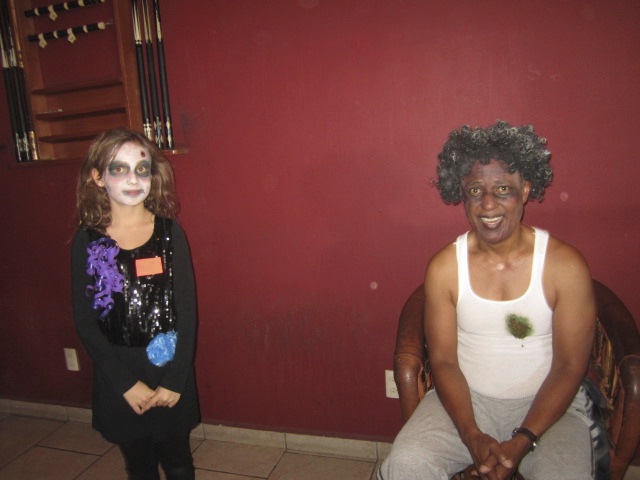 The zombie dance in Ajijic is always to raise money for the local Red Cross. Check out the faces of some of the Red Cross men. They are wearing zombie face makeup.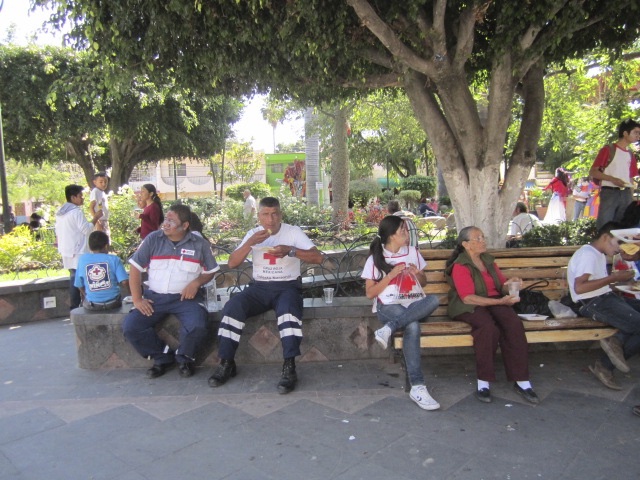 I love the photo of the young man below. He has such a sweet, innocent face that shines through under all that make up.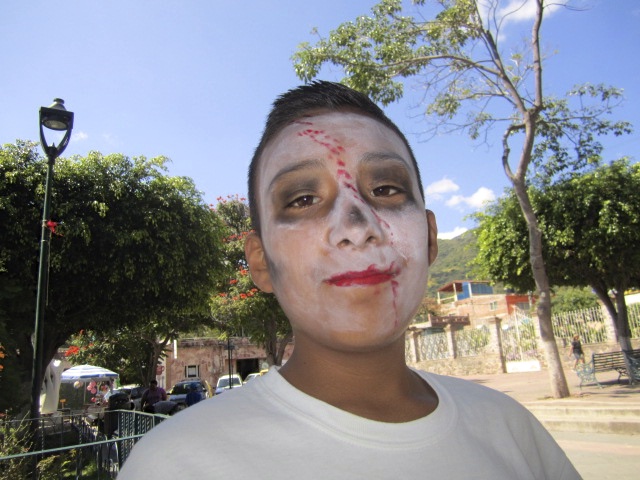 Here is another zombie woman who managed to still look beautiful under her makeup.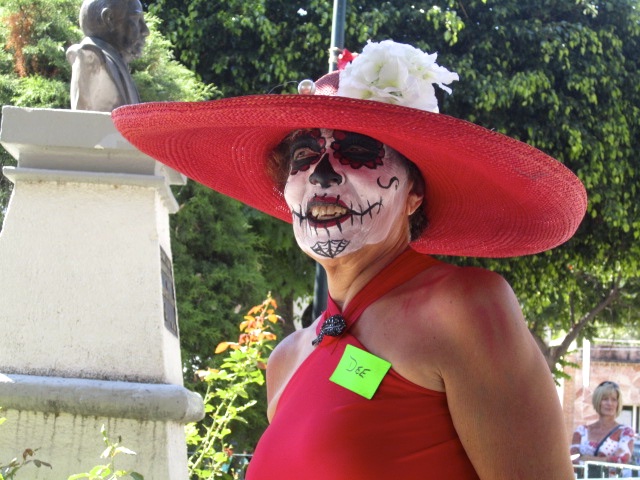 I doubt that the woman in the photo below had any intention of letting her natural beauty shine through. It was all about scaring. I would hate to see her on a dark night on an empty street.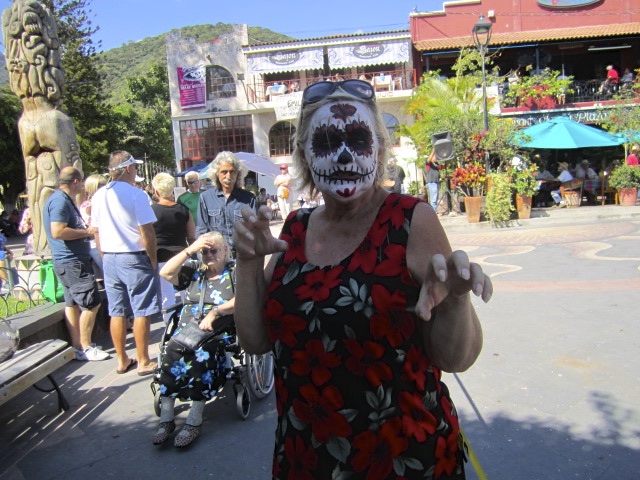 The man in the photo below is also another scary one. I would not like to run into him one night. But why is Santa in the background?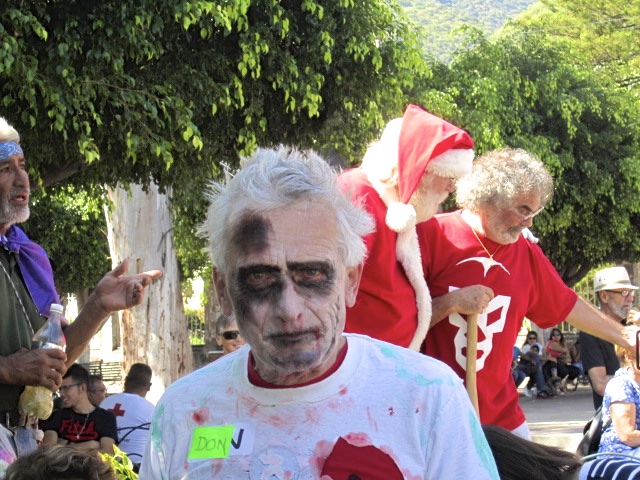 Below is a photo of just a small part of the crowd. I am not good at estimating numbers but I am guessing there were at least several hundred onlookers and maybe fifty zombies.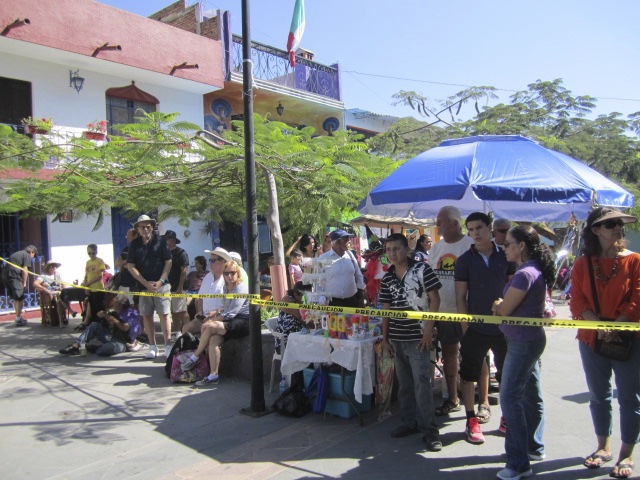 Below is a photo of the zombie Thriller dance. It looked like so much fun to be part of it. Maybe I will join in next year.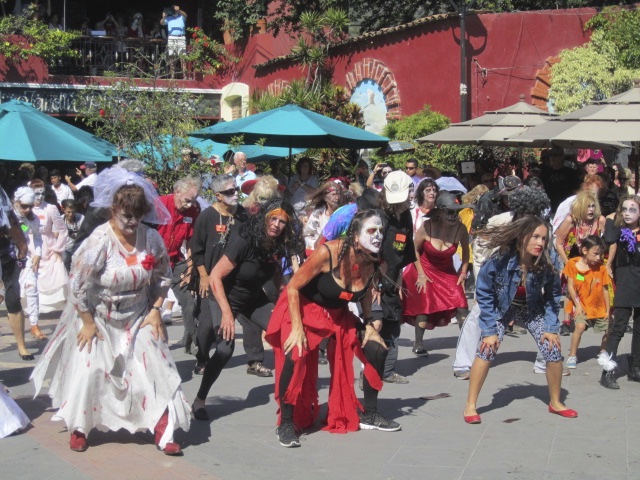 These two photos were taking during the zombie dance. At the beginning, people are on the ground and when the music starts they slowly get up and then dance. If you would like to see some of these dances, go to you tube. It is a lot of fun to watch.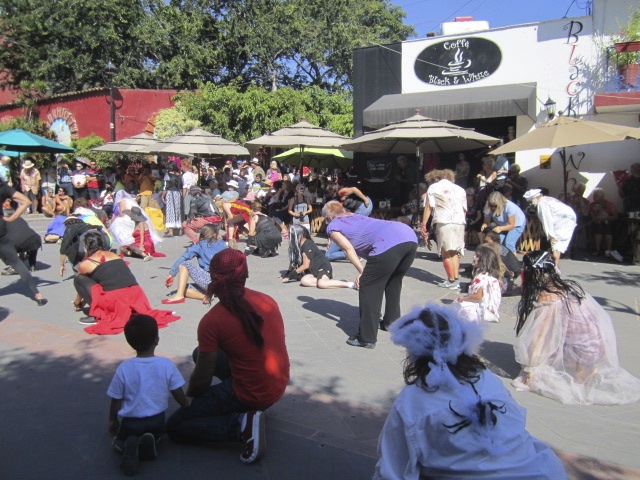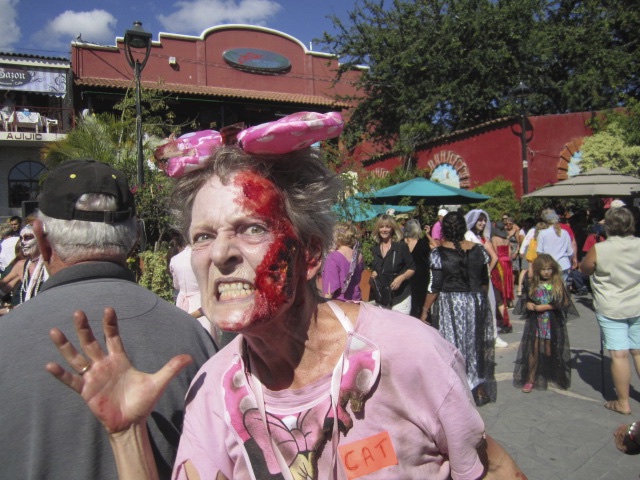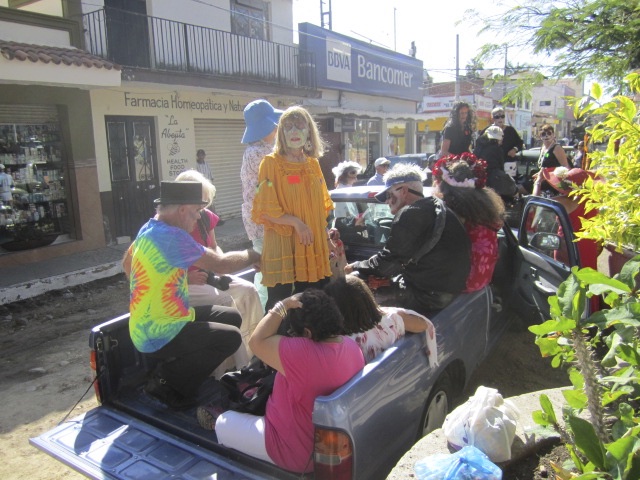 After the dance, the zombies all piled into trucks and cars and went to six corners to perform it again.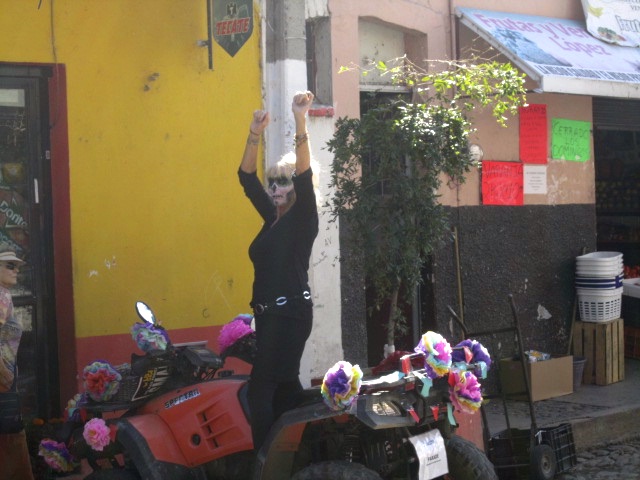 I love this photo of the woman getting ready to join the parade. What fun!  If you are ever here towards the end of October, don't miss all the festivities, especially the Thriller Dance. And if you live here, think about joining in next year. I am going to do that. Think about it, not sure yet about joining. My knees are bad.