If you have never stopped in at Arden Casa De Muebles, then when you do, you are in for a treat. You can't miss it. It is located in Riberas Del Pilar, between Ajijic and the town of Chapala, on the carretera, mountain side, as you drive towards Chapala from Ajijic. The address is 81 Hidalgo. It is a furniture, art and craft import store.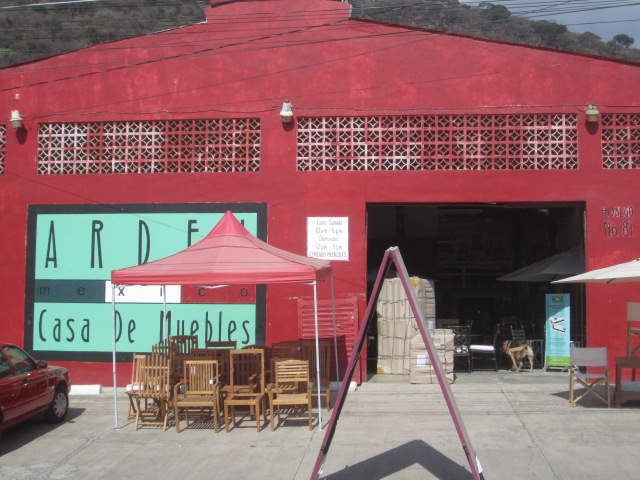 Once a month a new shipment comes in from Vietnam, India, Indonesia, Bali, or Thailand. Amazing and beautiful things.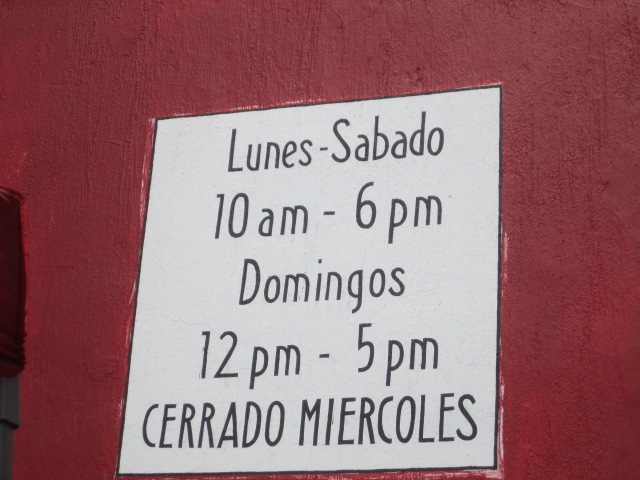 The store was established by Arthur McFarland ten years ago.  Then four years ago, his helper, Maggie Garcia, became a manager and half owner. Arthur spends all his time in exotic countries, shopping for the merchandise and Maggie spends all her time at the store in Riberas. He sends her photos of interesting things he has found. She knows what the customers want and she chooses which ones to send. Then he has one month to have the objects manufactured. He sends one 40 h.c. container a month.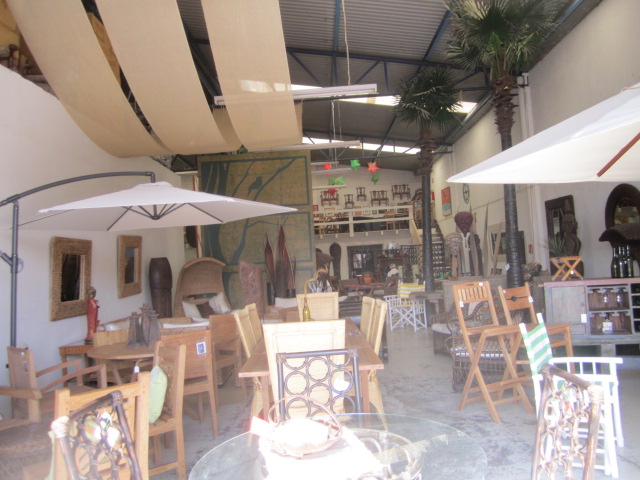 The store is very large and filled with beautiful objects. Even if you aren't interested in buying, it is fun just to see everything. If you have ever visited the far east, you will have a flood of memories as you see what just came in.  Maybe it will inspire you to take a trip there. Or you may change your mind and buy something that will make your own home feel like an exotic country.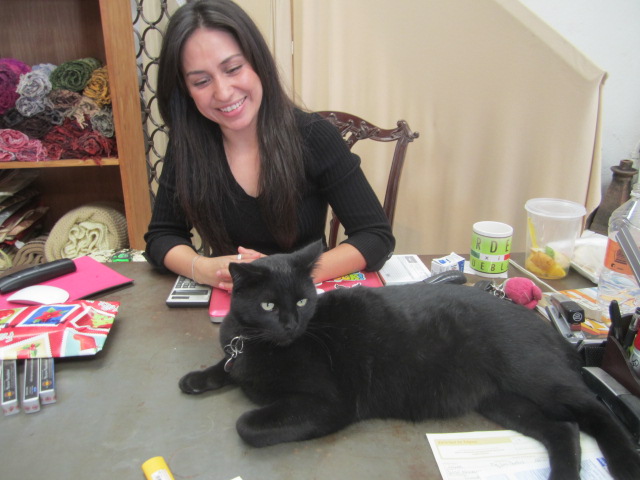 Above is a photo of Maggie and her four year old cat, Morgan.  It is hard to believe that Morgan was once a street cat. Check out that royal bearing and he doesn't look like he is starving.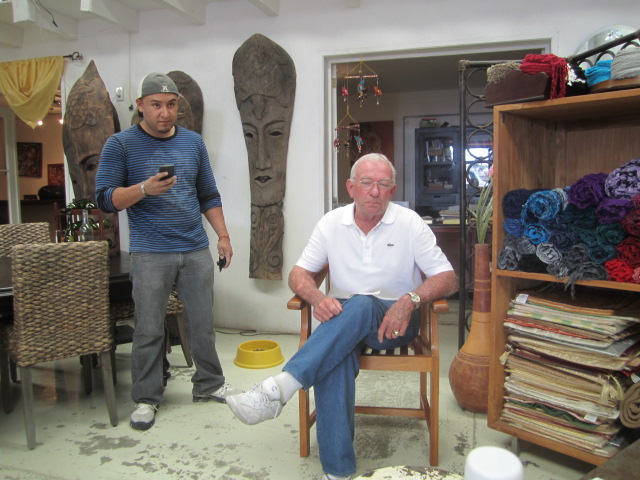 Above, standing on the left is Alex Martinez. He has been helping out there for five years. He does all the heavy lifting. Sitting next to him is Dave. He doesn't work there. He calls himself the Wal Mart greeter for Arden's.  He has been hanging out for years at the store. Maggie said that several people in town do the same thing. No wonder. It is a beautiful, peaceful place and Maggie is a warm, beautiful and intelligent woman.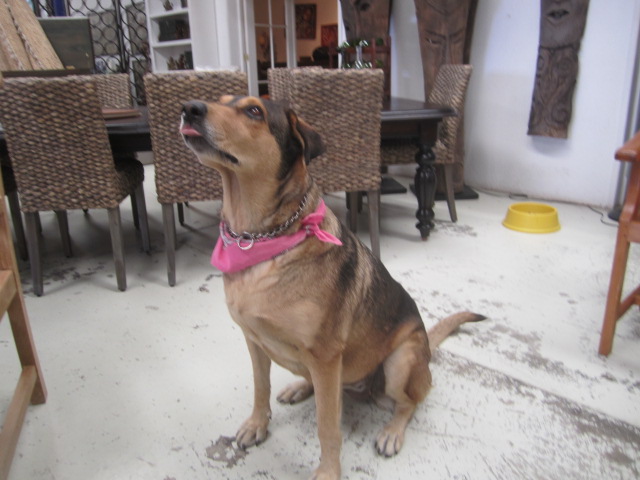 Musa also came from the street. She is ten years old. Maggie got her to sit for me. Otherwise she can usually be found napping around the store.  She is very gentle.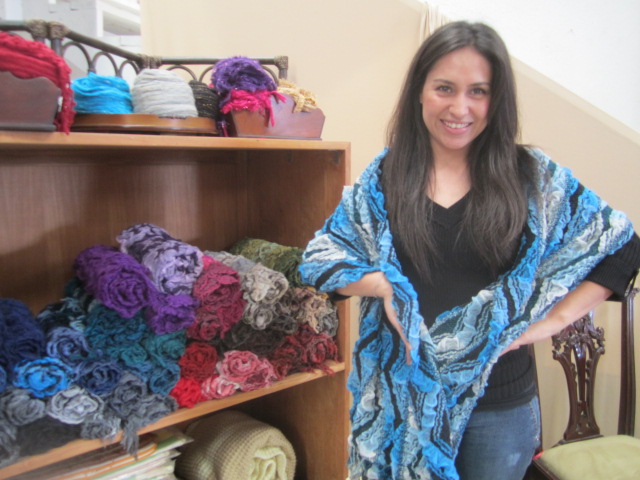 The beautiful pashmina shawl in the above photo is from India. It only costs 100 pesos and comes in a gift bag. A perfect present for Christmas. There are many small objects in the store that would make special gifts for the people you love. They were all individually made and you could be sure that the gifts were unique.  No assembly line things in this store.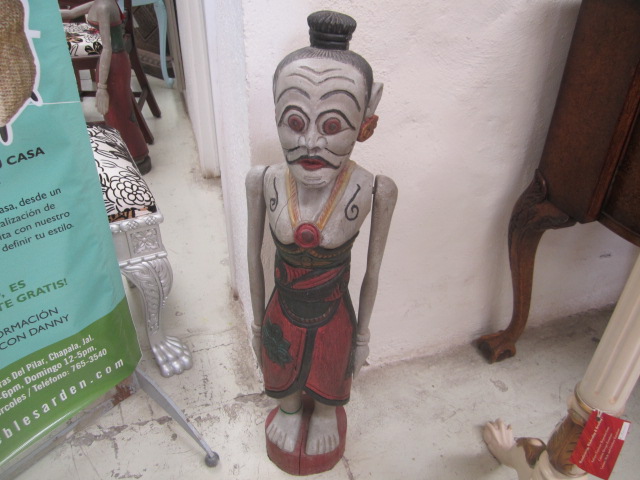 I love the figure from Bali in the above photo. Maggie says one of their best sellers is the Buddha statue. Check out the photo below.
Having a statue like that in your home would put things into perspective.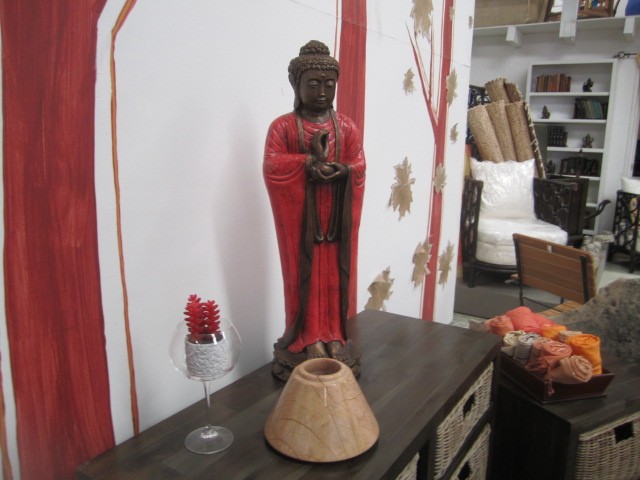 Below are masks made out the trunks of palm trees. They are from Bali. They are only 5,000 pesos. One of those at your door might scare off intruders.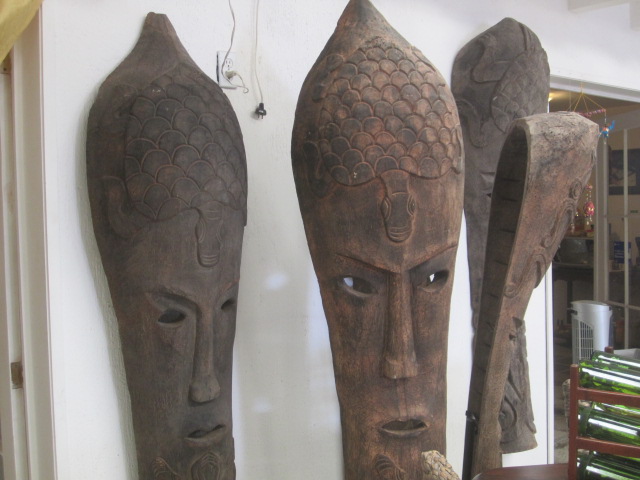 In the photo below, Maggie is spotlighting a director's chair from Vietnam. It costs 800 pesos. Maggie said that chairs are her biggest sellers and this director's chair is the most popular one.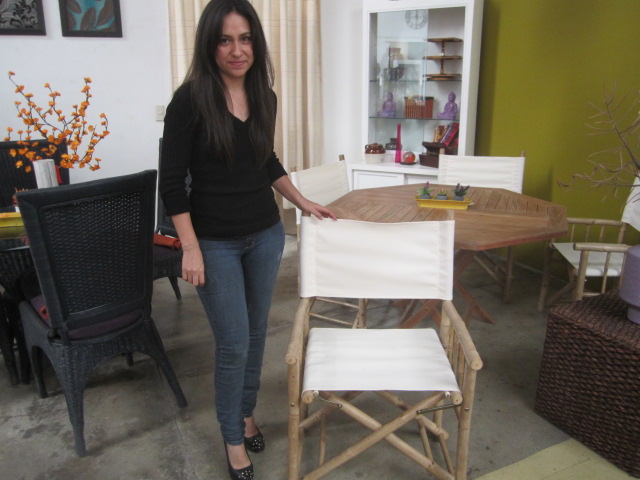 In the foreground in the photo below is a bench made out of a boat from Indonesia. It is teak. It would be quite a conversational piece at parties.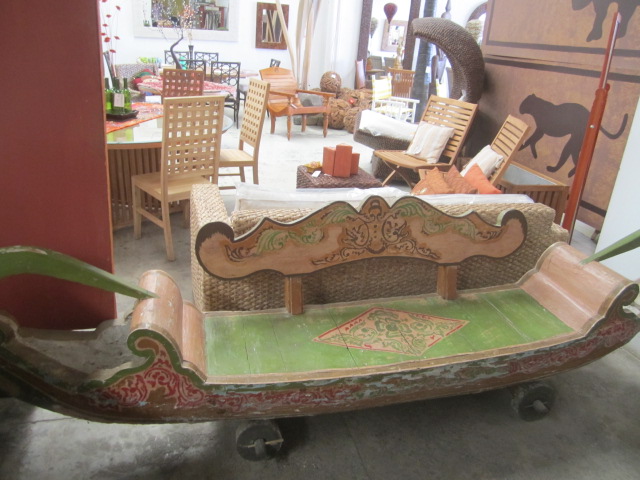 There are many exquisite mirrors in the store. This one in the photo below is made out of mother of pearl. It is from Thailand. You will see reflected in the mirror, two more on the opposite wall. They are all from Thailand.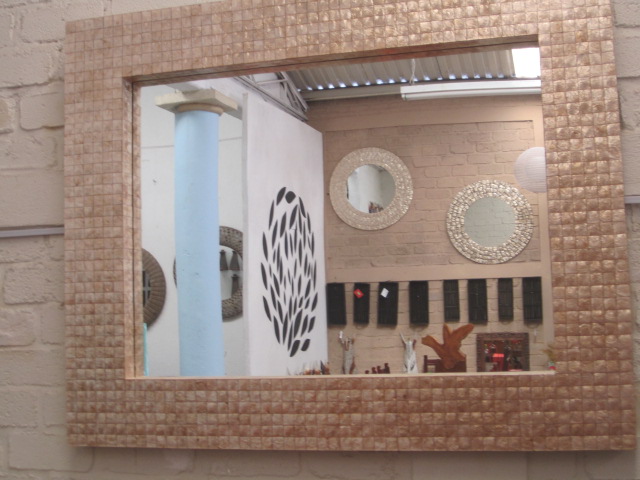 The bench in the photo below is from Thailand. It is teak. The throw pillows are from India.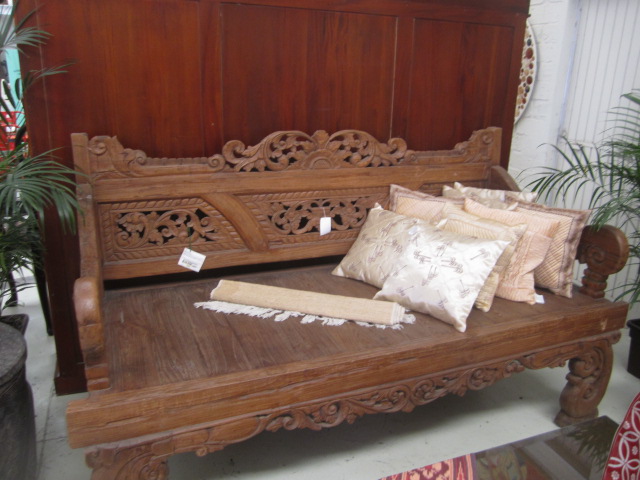 The beautiful necklaces in the photo below are another story. They were made by an expat, Delta Collins. She had been selling her handmade necklaces in the store for two years. Recently, she passed away and in her will she asked that the money made from the sale of these last necklaces go to the animal shelter. Maggie was very sad when I asked about the necklaces and she wasn't sure if I should put this into the article. But they are so beautiful, I did it anyway. Maggie, I hope this is okay with you.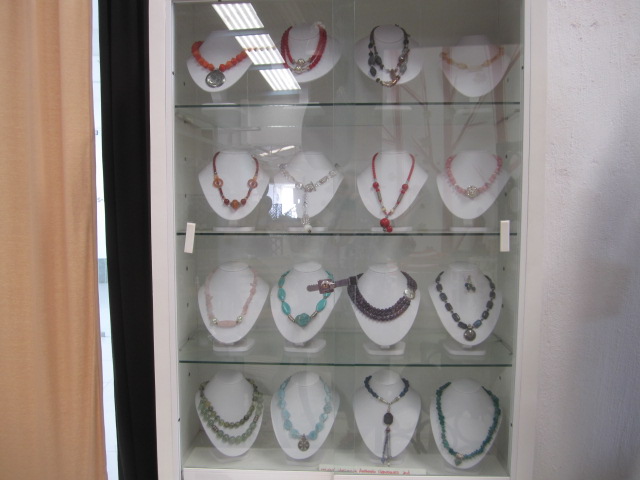 I love this painting in the photo below. It is from Indonesia.  Looks like an interesting party.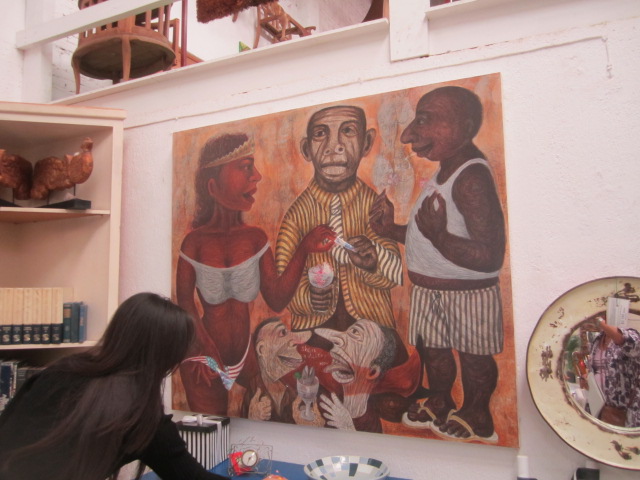 The furniture in the upstairs area is unfinished mahogany. You can choose your own finish and material for seat covers.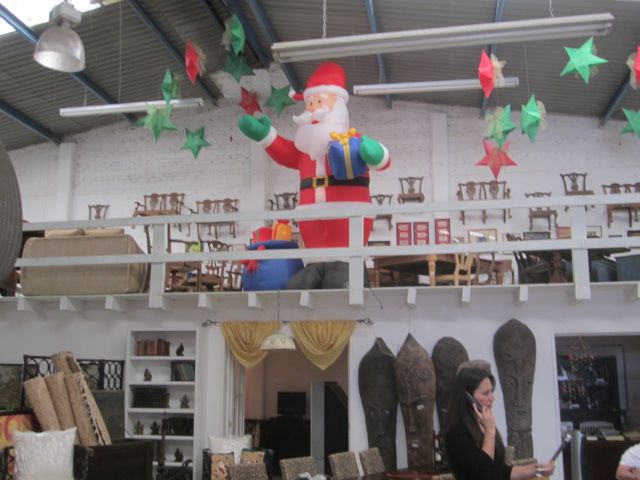 The furniture in the photo below is made out of water hyacinth. It is from Indonesia. This material is very strong and resists rain. It is good for a patio. It is also very comfortable.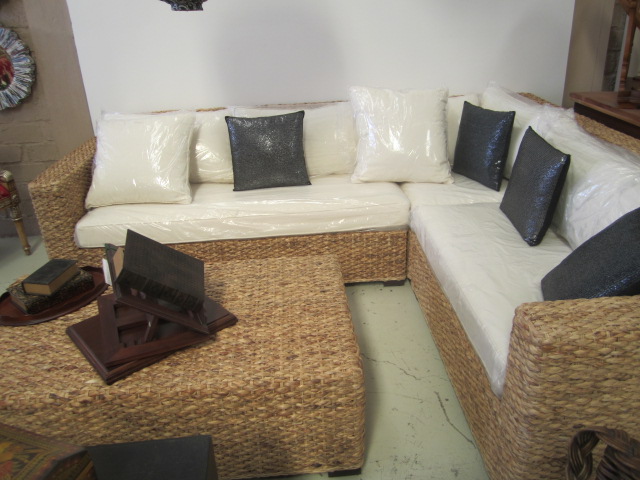 Maggie and Alex made the room divider in the photo below. She said that the room was so large, it needed some dividers in between. Good job Maggie and Alex.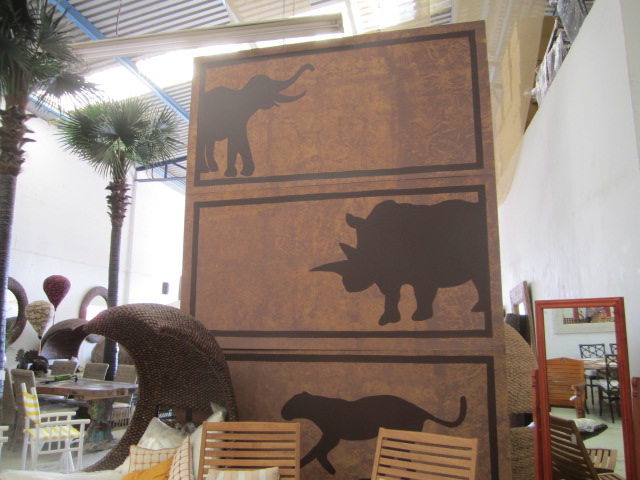 One last thing before I finish this article. Maggie is available to help you with your interior design. She doesn't charge for this service. She will go to your home and help you decide on how to decorate it. She will not only suggest things from her store, but from other stores too. Both in town and in Guadalajara. After looking at the store, I am guessing that she would be an excellent designer. She certainly has made the store a treasure to see.
Drop in anytime they are open and see for yourself. I think you will agree with me. Maybe you will meet Dave, the greeter. For sure you will meet Maggie, Morgan and Musa.  Also, check out their website from time to time. Maggie puts on the new things that come into the store. The address: www.mueblesarden.com