The Ranch Illusion, located off the libramento, had a fund raising fiesta on Saturday Dec. 14th, 2013. It was for the Equine Therapy program. This ranch is also called the Pepe Martinez Equine Therapy Center (CET).  Dr Pepe is in charge of the program.  The event started at two in the afternoon and lasted until after midnight. I guess people were having too much fun to go home. The entrance fee was only 50 pesos. There were events going on all the time, and sometimes several different things at once. It was a fun day.
I went at four in the afternoon. I left before it got dark but my friend stayed longer. She said around three hundred people showed up at nine in the evening. Even in the parking lot, there were interesting things going on. People were riding their horses all over the grounds, including next to the tables where people were eating.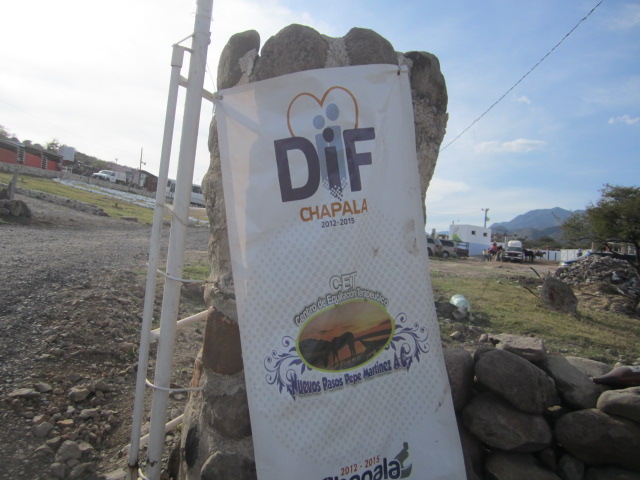 The Chapala DIF family services agency also helps fund this program. It started out as Pasos Milagrosos but after that was defunct, Dr Pepe took over the responsibility of running it. More than 30 patients are now being treated through this program. It is also funded by the non-profit association Nuevos Pasos, A.C. and the privately owned Rancho La Illusion.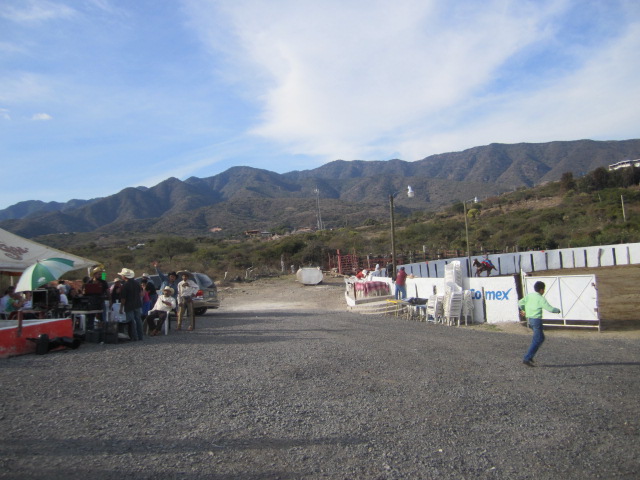 The DIF staff conducts socioeconomic screenings for therapy candidates, provides free transportation for many of the patients, handles service charge payments and lines up sponsorships for children from underprivileged families who cannot afford the full 500 pesos per month fee to compensate for operating expenses.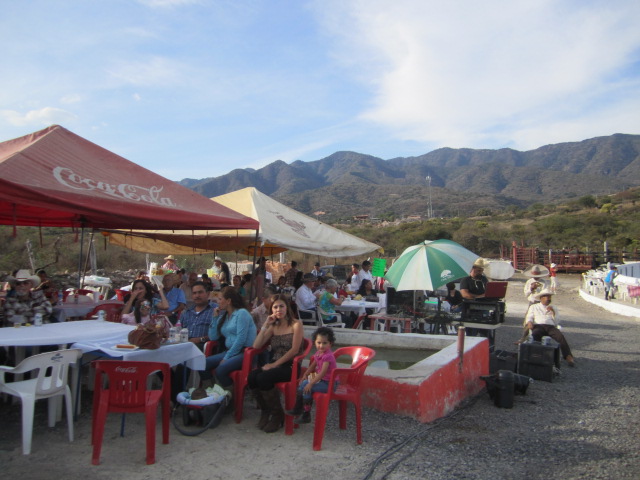 Nuevos Pasos coordinates the therapy sessions that run four days a week under the professional guidance of physical  therapist Eduardo Lara and psychologist Claudia Aranda and a team of volunteer assistants.  Ranch Illusion owner Miguel Martinez lends his facilities, a string of gentle horses and a helping hand as an animal handler during the therapy workouts. He also hosted the festival.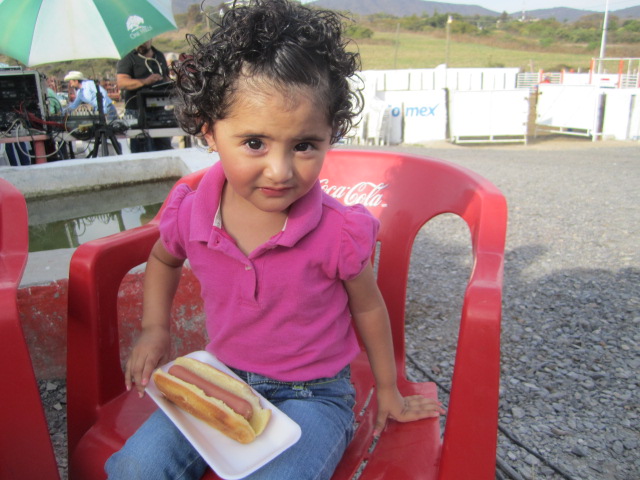 The women made lots of delicious traditional Mexican food. They also sold hot dogs for only 13 pesos each or two for 25 pesos. I had two hot dogs and they were very good. There was a bar set up where you could buy beer or mixed drinks, cokes, etc. The little girl in the above photo was more interested in me than in her hot dog.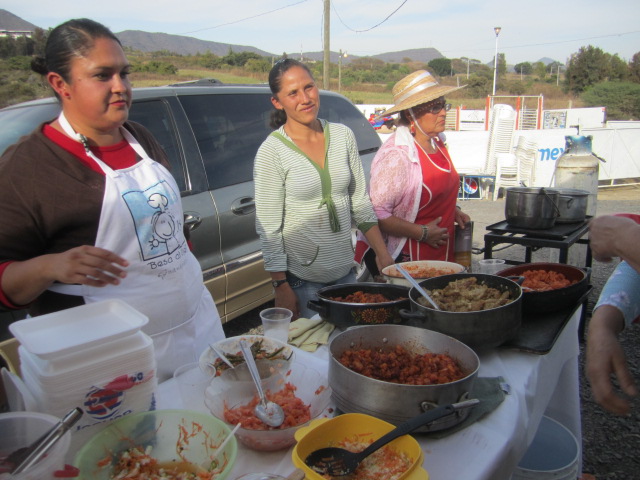 Everyone pitched in to help in one way or another. These women in the photo above look pretty tired. They had already been serving for two hours when I arrived.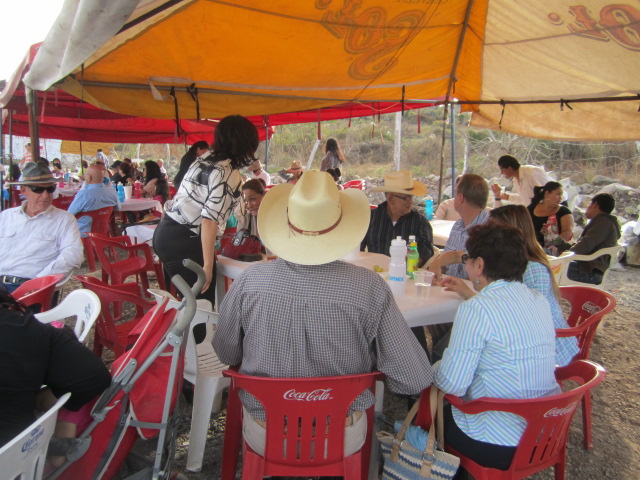 Everyone was friendly. There were both Mexicans and expats. It felt like a big happy family instead of a group of strangers. Of course, they were horse lovers, music lovers and children lovers. They had a lot in common.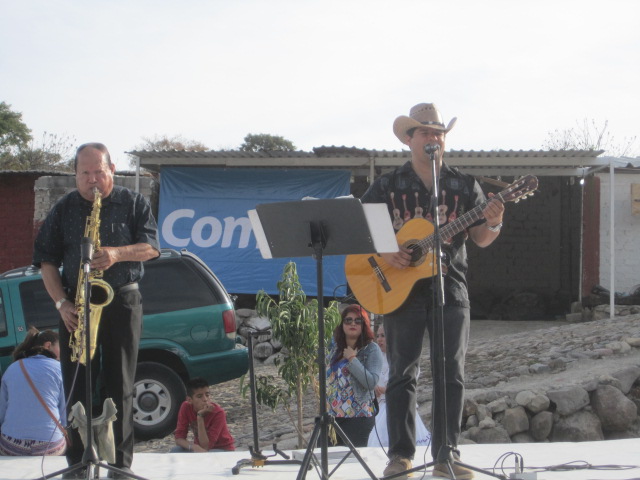 Noe and his father Paco entertained the crowd for several hours. Paco is on the left. He is Noe's father. They are famous in this area and their music is great for dancing.
In the above photo, it is mostly the young people dancing but the older folks got out there and danced too.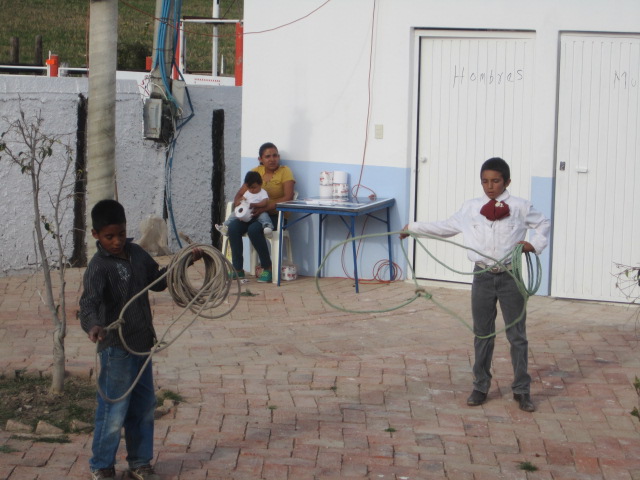 These little boys were entertaining the people who were waiting in lines for the bathrooms. Never a dull moment.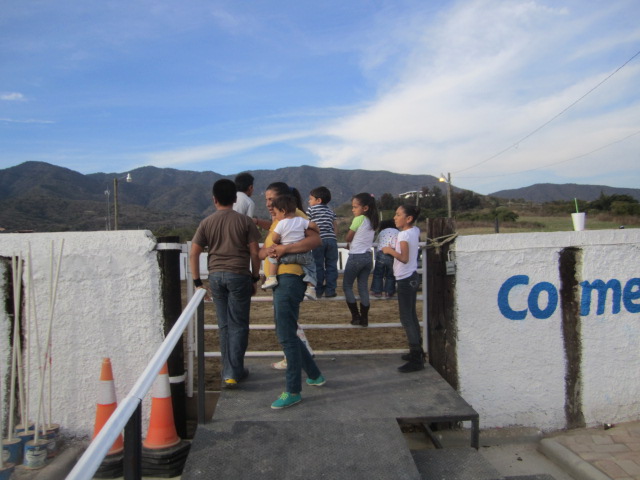 People lined around the arena for the events. They were very patient and respectful of each other. No pushing and shoving.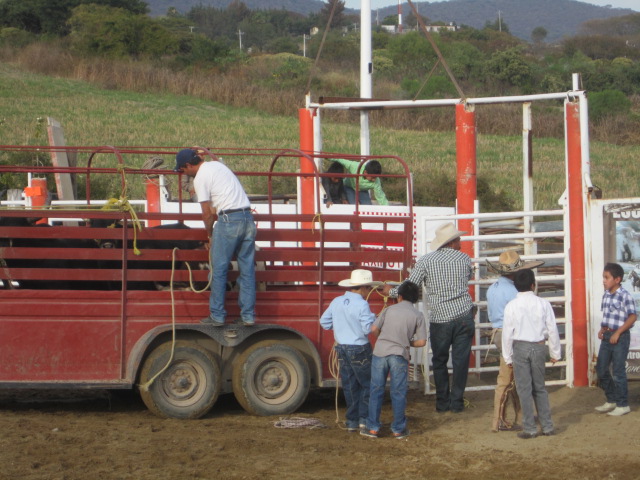 Unfortunately, I wasn't there for the bull riding. It went on later in the evening. It always exciting to watch. My friend said that after dark, people built fires and sat around them, talking and drinking, as others continued riding their horses in the area. Also the dancing went on until late in the night.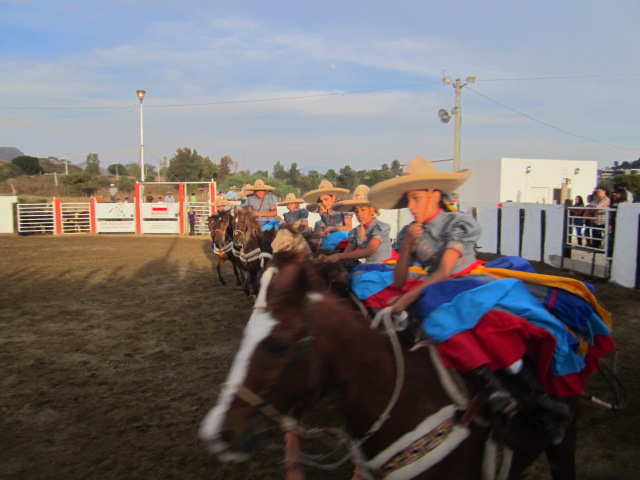 Here come the Escarmuza riders. Escaramuza  means skirmish. The riders go very close to each other and cross the ring weaving in and out of each other. It appears to be very dangerous, especially in such a small ring. Escaramuza came from the tradition of women performing in military manner, mounted sideways in the early 1800s. If you are interested in learning more about this style of riding, look at my other blog titled, The Escaramuza Show at the Ajijic Bull Ring on 2013/05/02.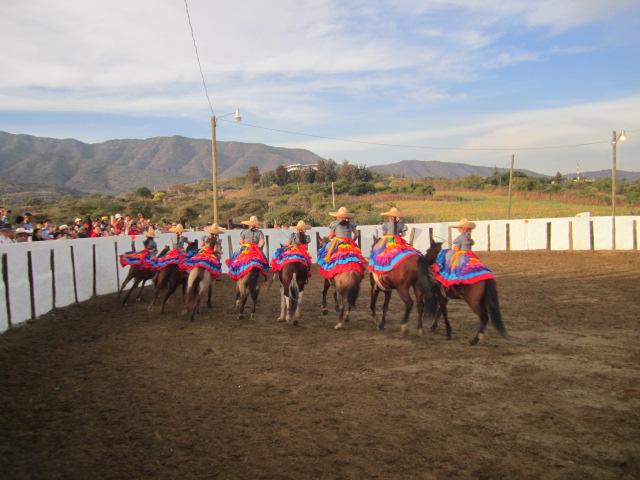 In a flash, they were gone. They were wearing beautiful dresses and all of the young women were extremely skilled at riding. Even I could tell that and I am not a horse person.
The dancing white horse in the above photo is an Andalusian Stallion or in Spanish a Pura Razza Espanola. These horses cost fifty thousand dollars and more. What a beautiful horse.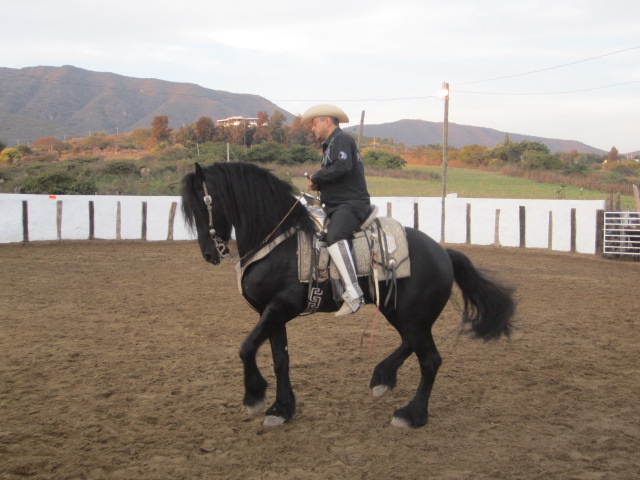 The horse in the above photo is a Friesian. My friend who owns a horse told me that it is worth over fifty thousand dollars. It was doing a beautiful job of dancing.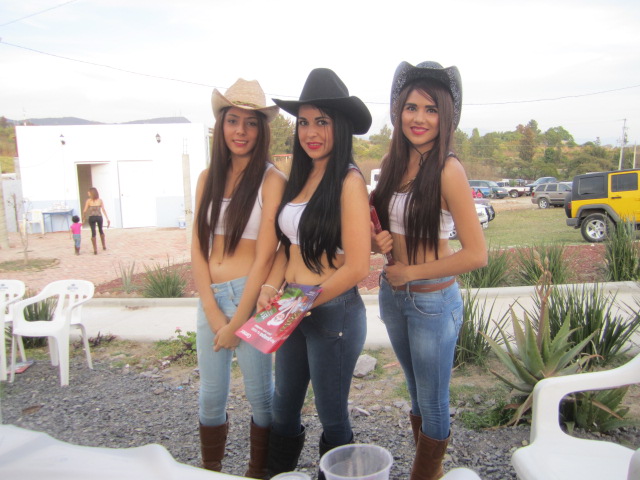 The girls in the above photo were giving out shopping bags for advertising for some company. I didn't see the bags so I have no idea of what company they were doing it for but I bet the men were far more interested in the girls than in the bags they were giving away or the product they were advertising.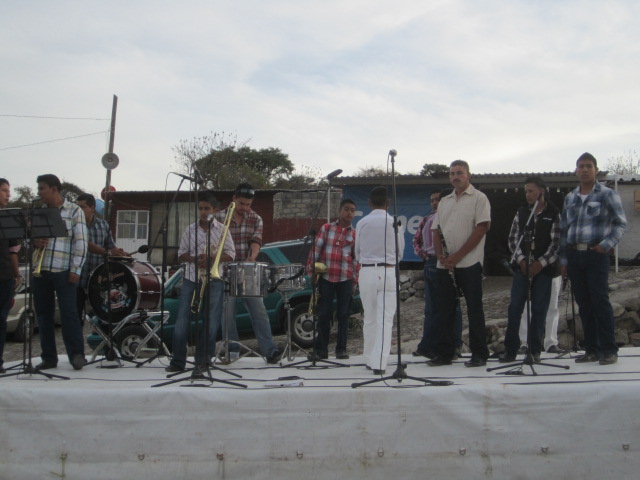 The above band played later on in the afternoon. People also enjoyed dancing with their music. Lots of drums and horns. The only description I have for it is ROWDY. Everyone plays at once in different keys.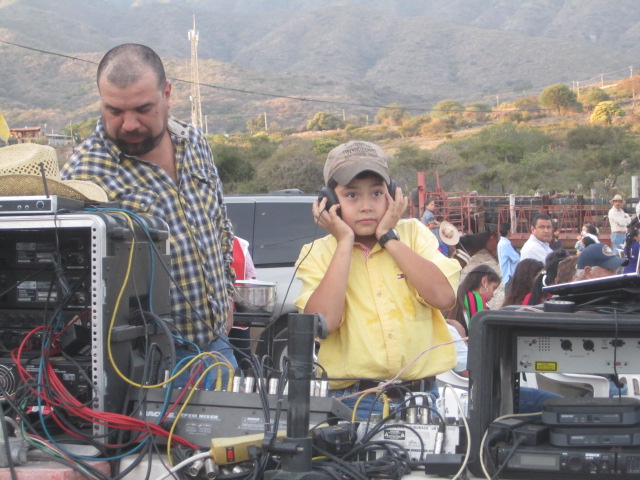 I love it when the Mexicans bring their children to work and teach them their profession. This boy looked like he was enjoying himself, a future sound man in the making.
I didn't get the name of this little boy but he stole the show. First he got his pony to dance around the ring and then he sang several songs. (The boy, not the pony.)  It was great fun to watch this boy ham it up for the audience. He didn't want to leave the arena.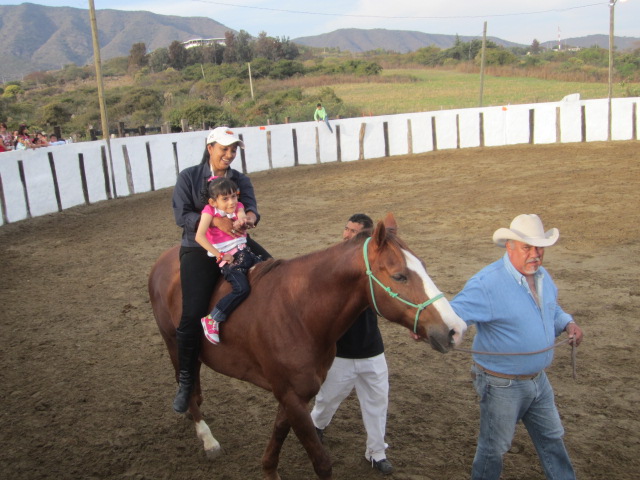 Look closely at the smile on the little girl's face as she rides on the horse. While she rides, the helpers exercise her muscles. The rhythm of the horse relaxes her so she doesn't mind having her limbs manipulated. This therapy is useful for people with both physical and mental problems. The horses relax them. Each spin around the ring takes about twenty minutes. They are closely watched.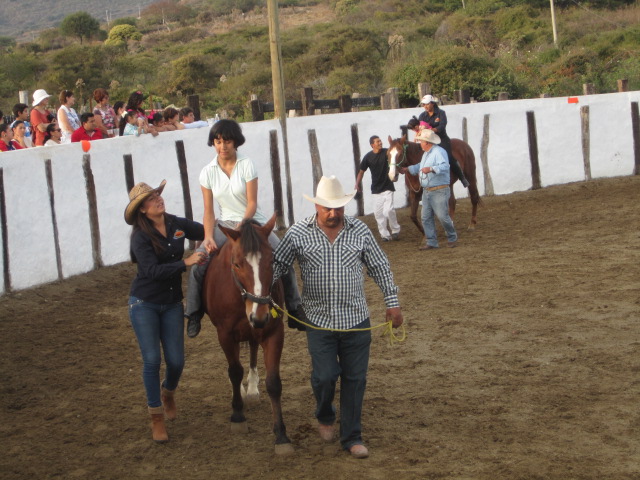 When it came time for this girl to get off the horse, she put up a fuss. She didn't want to get off. She loved it too much. On my way back to Ajijic I witnessed this beautiful sunset. I hated to leave when it just seemed to be going into high gear but I was too tired to stay any longer. Next year…….