The 42nd annual Chili Cook-Off was once again held in Ajijic at Tobolandia water park, on Friday, Saturday and Sunday, February 7th, 8th and 9th. The weather was sunny and beautiful all three days.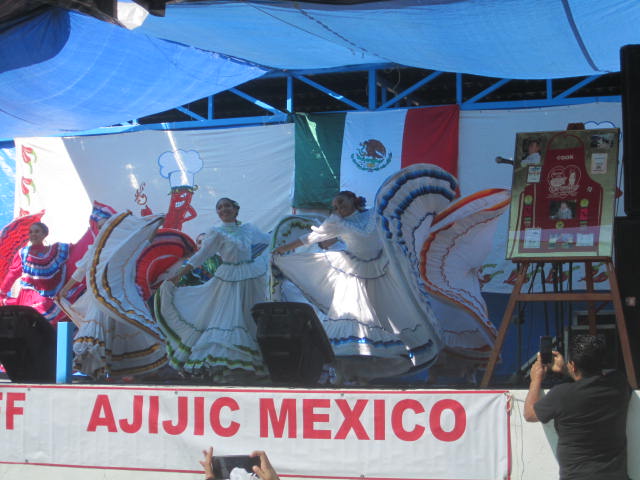 There were raffle drawings every hour and  entertainers were  performing continuously on the main stage for all three days. There were dancers, singers, and music groups. The dancers were traditional Folkloric and Aztec. Music ranged from mariachi to jazz to funk to blues. Music and dance to appeal to all tastes.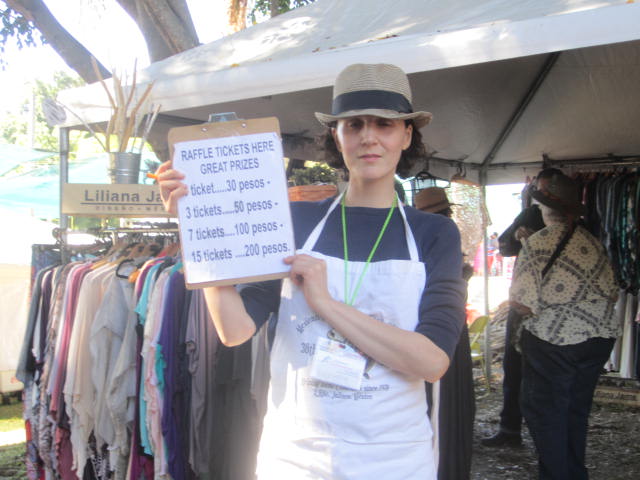 The hourly raffle drawing was always a big hit. There was a booth where tickets could be purchased and also  volunteers walked around the grounds selling tickets. If you bought tickets, then your tickets were included in all the drawings.
The money from the ticket sales goes to the various nonprofit organizations in this area. Last year each organization was given 60,000 pesos. I tried to get this ticket seller to smile. No such luck. Maybe I should have bought a ticket from her first.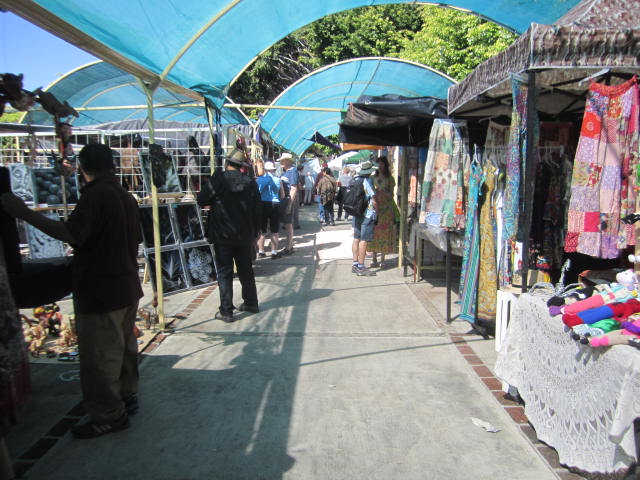 Many businesses donated prizes for the drawings, ranging from tours and restaurant dinners to beauty treatment certificates and even dental cleaning.
The daily grand prizes reached a total value of almost 16,00 pesos. Well over a hundred businesses donated prizes that greatly increased that amount. This is a big event for everyone, providing advertising for the businesses along with money for charities.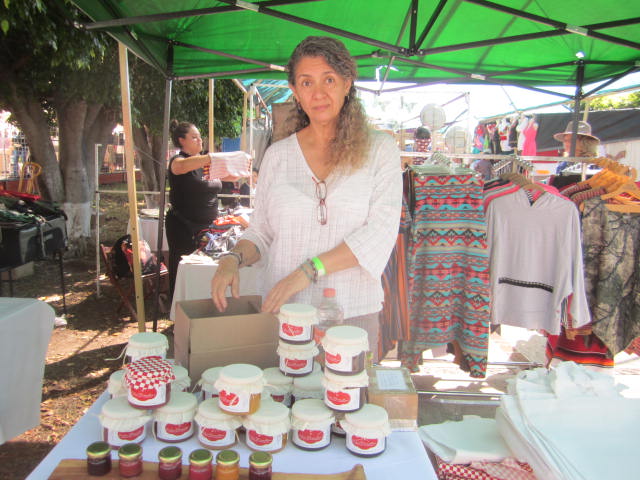 The charities are: Cruz Roja Delegación Lago de Chapala, Program Pro Niños Incapacitados del Lago, Centro de Desarrollo Ajijic, Casa de Ancianos de Chapala, Los Ninos de Chapala y Ajijic, The School for Special Children, Love in Action, The Shriner Organization and Sunrise Rotary Club.
If you are interested in any or all of these organizations, you can look them up on the internet. Or read my previous articles. Since this is the biggest event of the year, I write about it every year.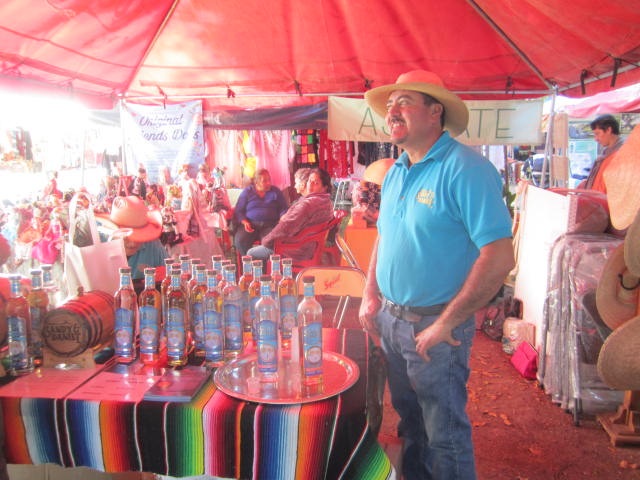 This year there were 62 booths selling food, crafts, booze, bicycles and many other things. I always like to get a sample of tequila after my long walk in that steep hill to the booths.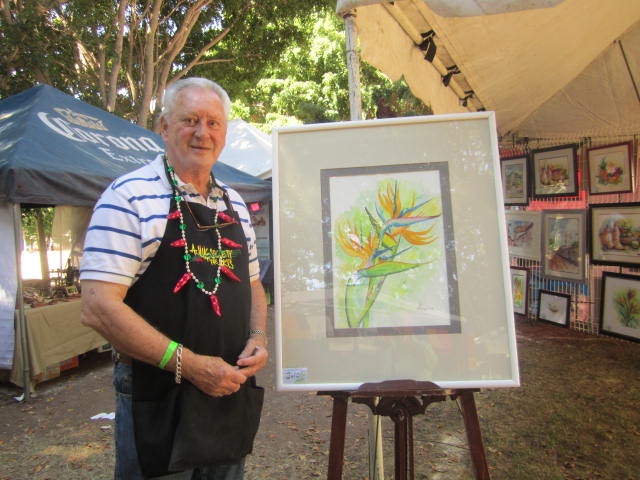 Above is one of the local artists. His paintings were selling like hot cakes. He always sells a lot of paintings.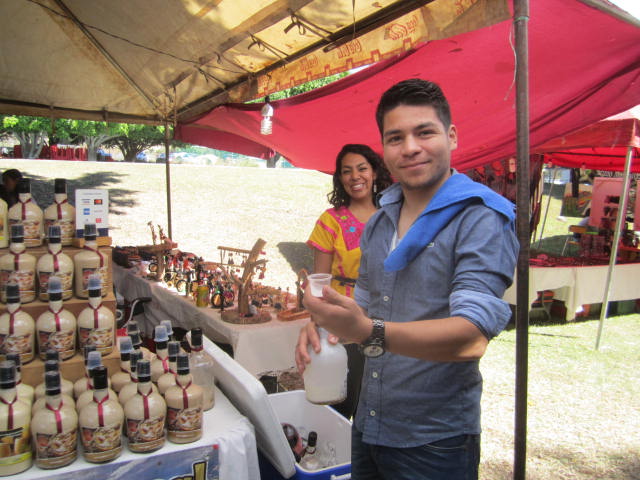 Another sample of liquor was being offered to me. This time it was a flavored liquor, kind of like Baileys Irish Cream. It was delicious.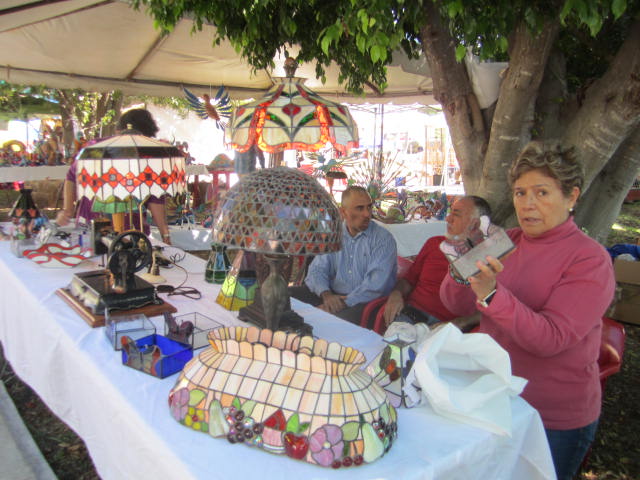 I enjoy seeing the sellers as much as their goods. Both Mexicans and Expats participate. Sometimes entire families are involved.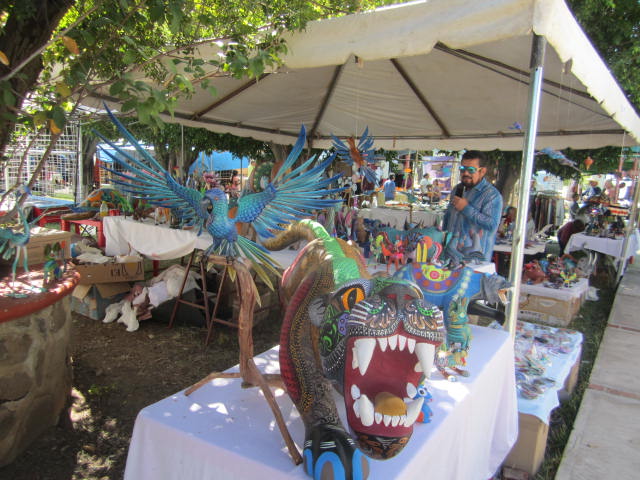 Every year I have enjoyed visiting the balsa wood animal booth.  These come up from Oaxaca. Scary.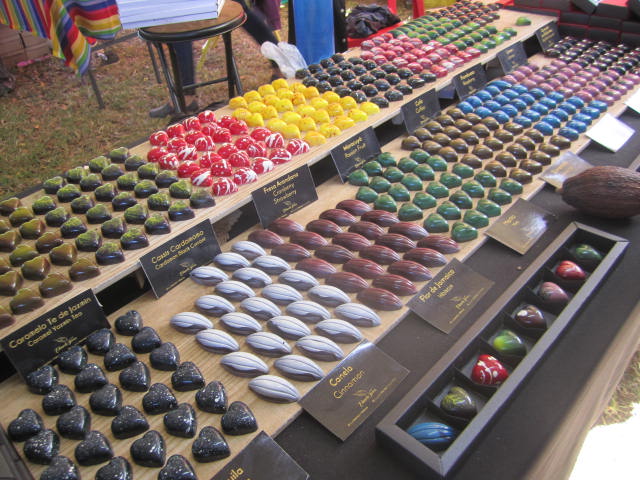 The chocolates in the above photo are made in Guadalajara. They look like works of art, or jewels. Great time to sell these, just a few days before Valentine's Day.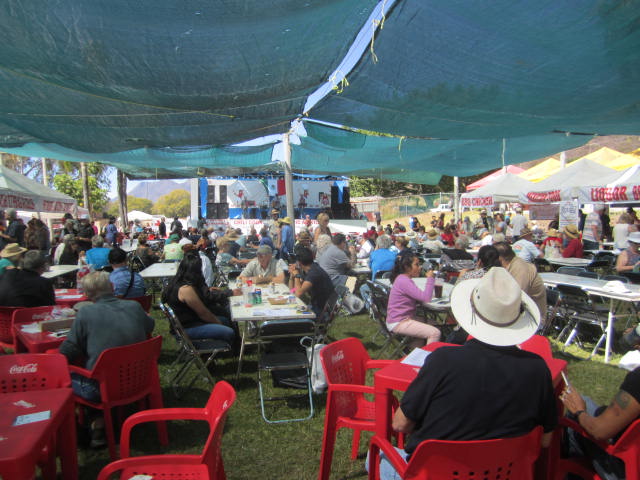 I arrived at the event a little after eleven in the morning. It wasn't crowded yet. By two in the afternoon, it was very crowded. I was supposed to meet up with friends but I couldn't find them. But everyone was friendly. I met some new people.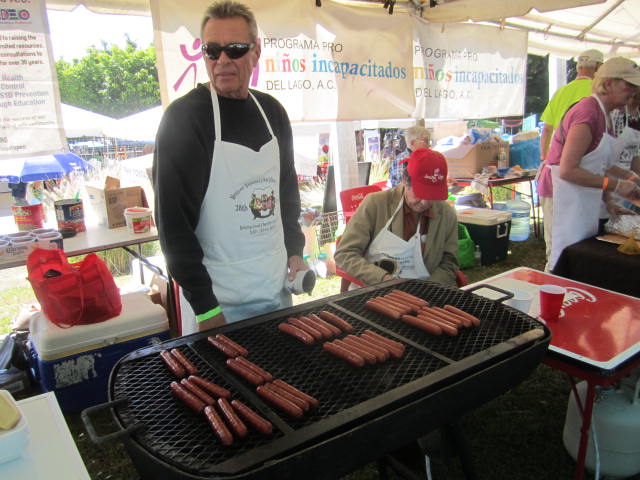 There were many other food choices besides the chili. The individual booths were selling different food to raise money for their particular charity. There were hot dogs, hamburgers, chicken, fajitas, cold drinks, fresh fruit, chili dogs and many other great looking lunches.
After the dancers had their performance, they had lunch. They preferred the food booth that was selling Mexican food.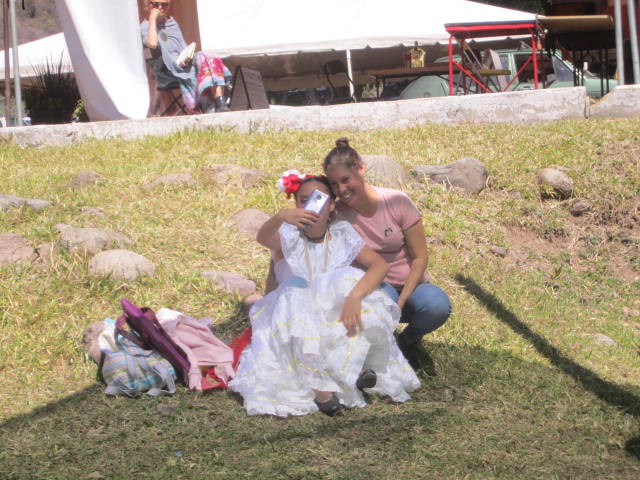 I was lucky enough to capture a special moment between a mother and her daughter as the little girl snapped their photo.  I was using my close up lens so I wasn't disrupting their time together.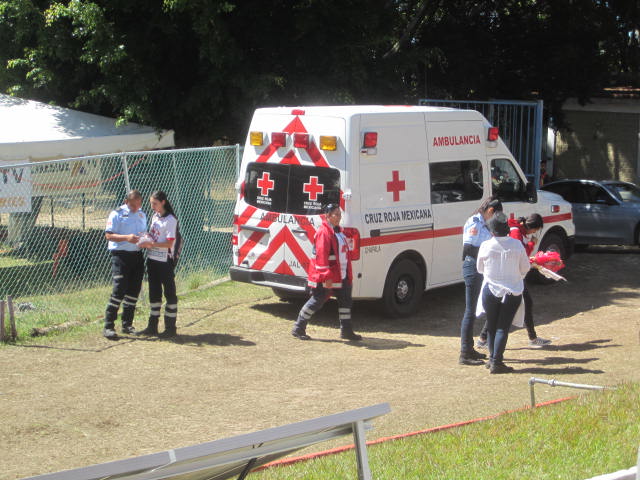 No cause for alarm. The ambulance was only there to support the Red Cross  booth. They are one of the recipients of the money raised at this event.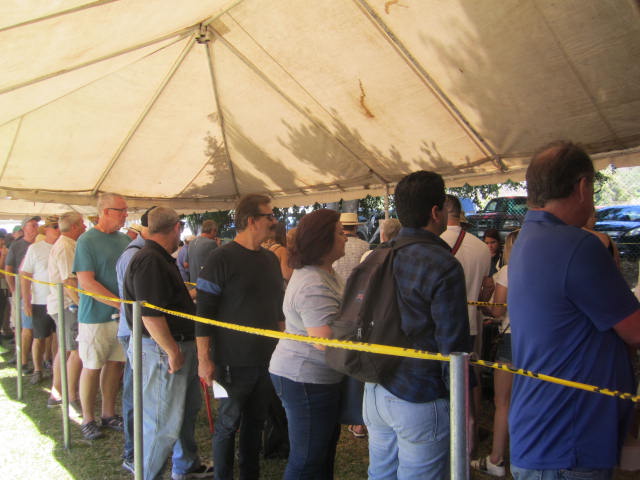 You can see in the above photo that chili tasting is very popular. I managed to get samples but was unable to match the photos of different contestants with their names. I was rushed through too quickly. So I will just list the names, not related to these photos.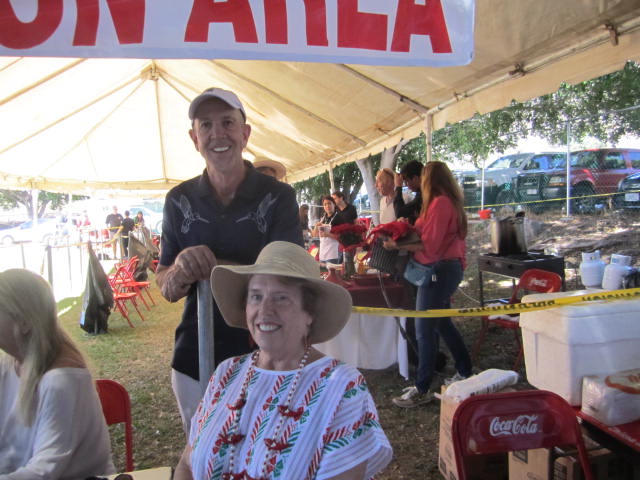 The smiling couple in the above photo were in charge of the entire festival. The man is Jacque S. Bouchard. He is listed as president. His wife is Carol Bouchard. She is listed as a board member. But from talking with various people working there, they referred to her as the president too. Anyway, they both deserve a great deal of credit.
Before I get into the names of the chili participants, I want to mention that on Friday the contest was for the best Salsa and best Margarita.
I don't have any information on those two events. Too much happening and too little time.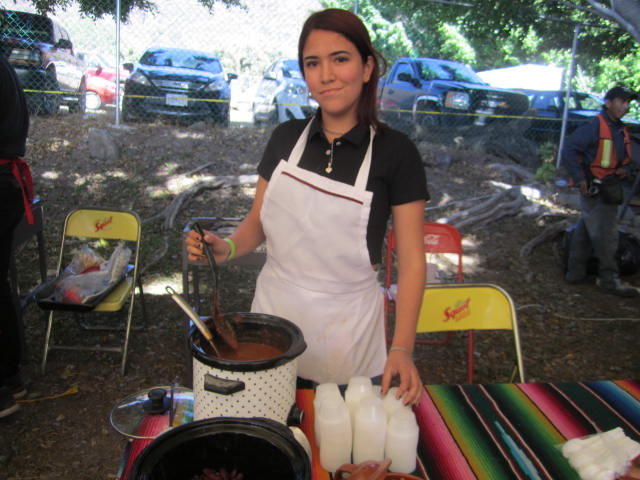 On Saturday, the chili participants were as follows: Joan Cartwright, Jonathan Mendez, Rick and Jim Wiebe, Jose Espinoza, Casa de Ancianos de Chapala AC and Lanny and Friends. First place winner was Jonathan Mendoza. people's Choice award went to Rick Tamez and Jim Wiebe.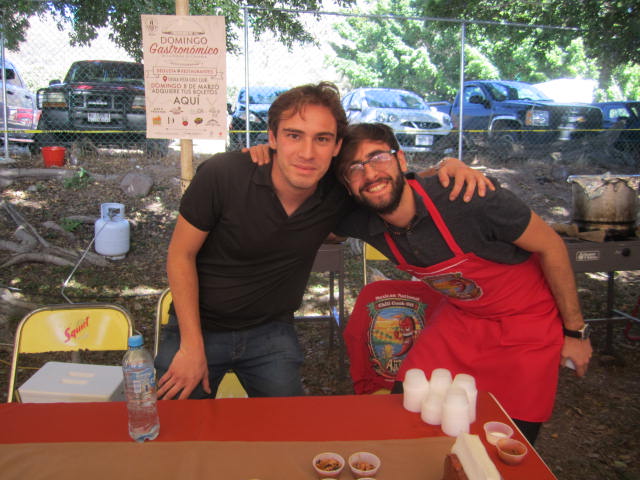 I don't have the winners on Sunday because they hadn't been announced yet. But these photos are all from Sunday.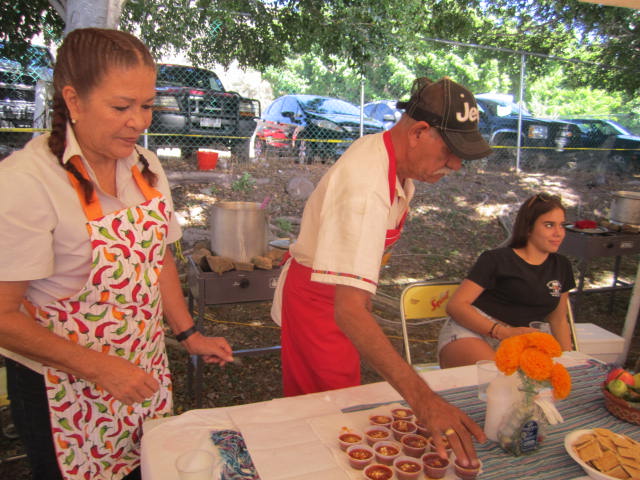 The contestants were: Jose Espinoza, Perry Phillips, Carlos Calleja, Oscar Arévalo Garcia, chef Georg Papadopoulos, Sylvia Flores, Laura Martinez, and Alcanto.
I can't guarantee the accuracy of this information because not all of them showed up. Some were just individuals, some were restaurants and one was a nonprofit organization. I hope I can guarantee that everyone had a great time. I didn't see any unhappy faces while I was there.
Each booth put out little cups of chili. The tasters had a list that they turned in after they finished the chili with their favorite one checked off. A ticket for being a taster cost 80 pesos. It was enough food to fill me up.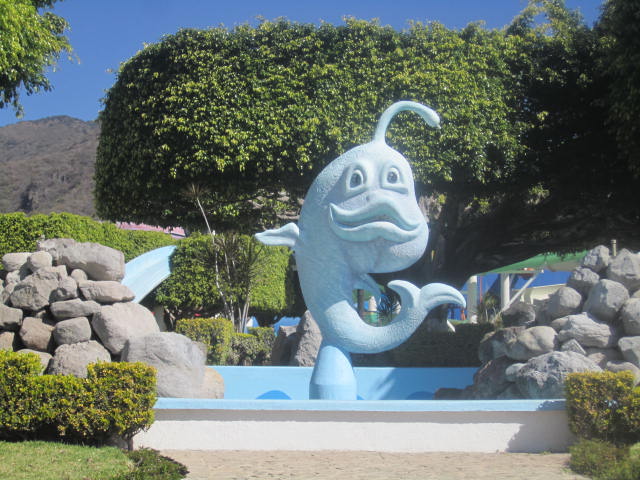 We are now at the end of the chili Cook-Off for this year. I walked down the hill, tired and full and said goodbye once again to Tobolandia's  big blue fish. I hope you were able to make it there and if not, maybe next year.  It is, for many people, the best event of the year.