I took these photos early one morning at the Chapala Plaza. It was before the streets became crowded. So, don't be fooled by these photos. The Chapala Plaza is usually an extremely busy place.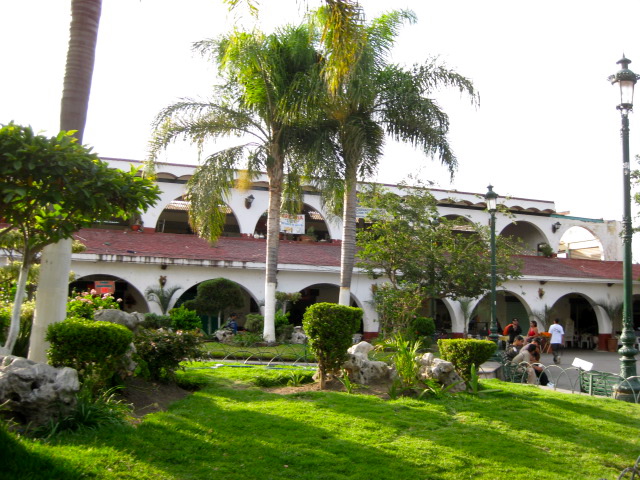 Holidays and weekends are the most crowded times. I will do another post on weekends in Chapala. It becomes like a different town when all the tourists flood in from Guadalajara and other surrounding areas. Some of my friends don't like to go to Chapala on weekends. They don't like getting caught up in heavy traffic or crowds. Since I don't have a car, bumper-to-bumper traffic isn't a problem for me. I just get off the bus as soon as it reaches the main street in Chapala.
I love to be in the midst of people enjoying their lives. But this post is about a quiet weekday morning at the Chapala Plaza when there is little traffic. People are setting up their booths for the day or are having breakfast at one of the many small outdoor cafes in and around the plaza.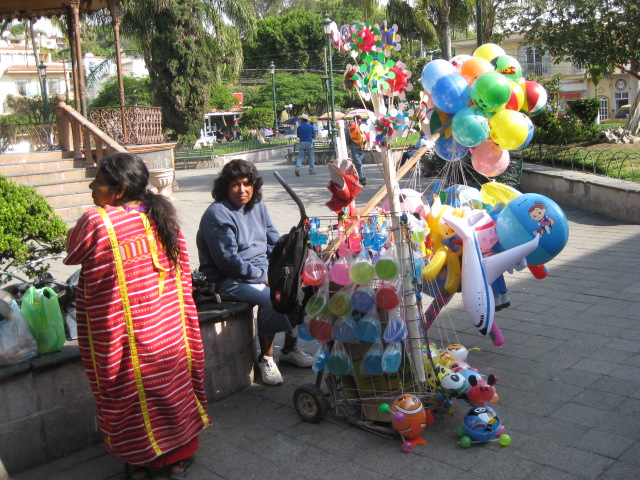 When I first came to Mexico, almost three years ago, I lived in a motel half a block from the plaza. At the time I had another injury, a torn meniscus in my knee. All I could do was limp to the plaza and sit around. I loved talking with people. I made many friends during the four months that I lived there.
The Chapala Plaza is mostly frequented by Mexicans. The Ajijic Plaza is geared more to the Expats.  Maybe that is why in Chapala the Expats stop and talk more often to strangers. Many of the Expats don't speak Spanish and it is always nice to chat in your own language even if it is nothing more than talking about the weather. Which is usually a happy topic because the weather is beautiful here.
I quickly got to know the Expats in Chapala. They are a friendly group. Many of them attend social functions at the American Legion, which is a few blocks from the Plaza.
The American Legion is to Chapala what the Lake Chapala Society is to Ajijic, a gathering place for Expats.  I will write about these places at another time. I also want to make a post on the inside of the market at the Chapala Plaza. It is lively and deserves special attention.
For now, I want to introduce the outside of the plaza and nothing else. There is so much to see and experience here and I don't want to overwhelm you with too many things at once.
Just as there is rivalry between different sports fans, there is rivalry between Ajijic and Chapala. When I lived in Chapala I heard stories about the unfriendly people in Ajijic. Chapala is more of a working class town. It is much less expensive to live there than in Ajijic.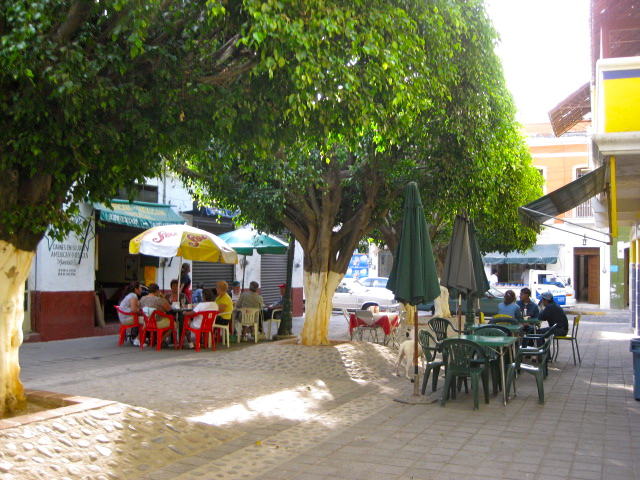 Sometimes in Ajijic I hear people bad mouthing the Chapala crowd. It is human nature to love your own town the best and see the worst in the other towns. I have nothing but good things to say about both Ajijic and Chapala. The streets in Chapala are much wider than in Ajijic. That gives more of a feeling of space. Sometimes Ajijic can feel closed in because the streets are narrow.
There are many other differences between the two towns but if you continue reading my posts you can make up your own mind. We all need to find our own places. For now, mine is in La Floresta in Ajijic. But I am always open to new things. First I have to heal from this broken ankle. It really puts a crimp in my style.  I have to remember the months it took me to recover from my knee surgery. THIS TOO SHALL PASS.