West Ajijic is one of my favorite areas near the lake.  I walk out there often. It has a quiet, country feeling. The further out you go, the less populated it becomes and then you run into gated communities and elegant two story homes beside corn fields.  You might see cows, donkeys or chickens in the fields. Sometimes they are in the road. Don't worry. They won't attack you.  If they get close, they are just curious. I have a special connection to a donkey out there. Every time he sees me he brays his hello.
Anyone in reasonably good health can walk to West Ajijic from downtown Ajijic in fifteen to twenty minutes. If you don't feel like walking, you can hop on a bus. There are two bus lines. If you walk up to the main road, the carretera, you can catch either a small local bus or the larger one. It only costs four pesos on the small bus. It will take you on a couple of detours in the neighborhoods before it goes back onto the main road. You get off at the Hacienda Ajijic Plaza and walk down the hill. You will be in West Ajijic. If you are hungry, the Hacienda Ajijic has great lunch specials.
You can also catch the small bus as it wanders through the neighborhoods. Even if you are in the middle of the block, just stick out your arm. They will usually stop and let you on. I like to walk until I get tired and if the bus comes along, I ride. I never worry if I miss it or not because it is a nice walk.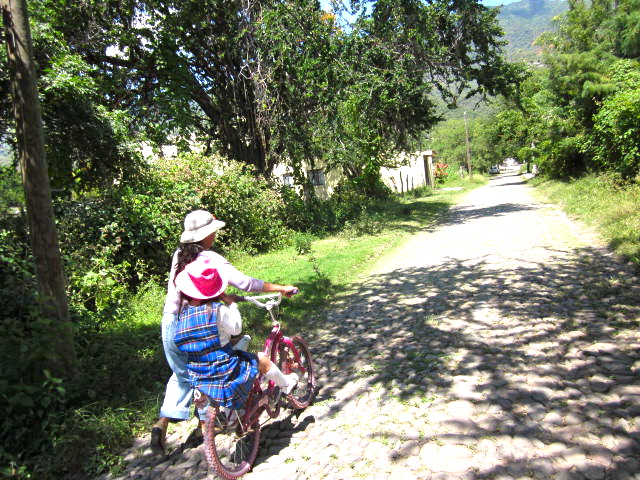 Or you can take the larger bus and get off at the same spot. It will cost you a few pesos more and it is a faster trip. But what is the hurry? This is Mexico. My favorite way to go is on foot so I can enjoy the scenery.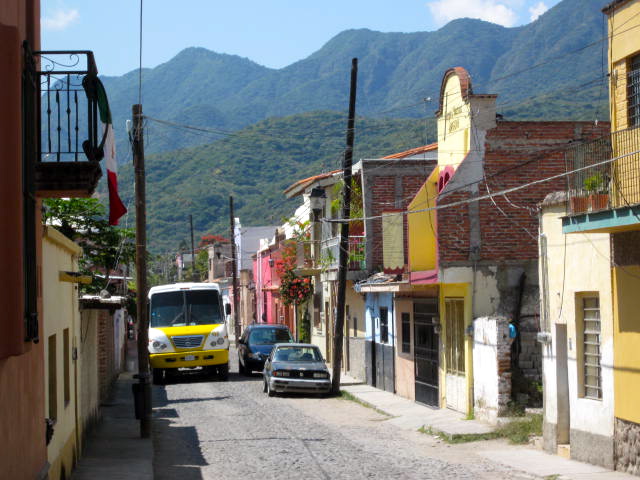 I also enjoy the bus rides. Not many Expats use the buses. It is fun to watch the small children watching me. If I get a chance I like to take their photos and then watch their faces light up then they see themselves in the camera.  They love to see themselves. And why shouldn't they? I have never seen an ugly child. I wish all children knew in their hearts the wondrous beauty that they display to the world.
In the early afternoon, the school children are out on the streets.  They also love to have their pictures taken.  Or I might come across a cowboy on horseback and if I get lucky the horse will dance for me.
Almost every block has at least one grocery store. They are small and the owners usually live in the back. There are also small paper stores where the children can get school supplies. There are meat markets, second hand stores and clothing stores. Everything you need could be found in these small local shops. If you can't find what you want then you could take the brief bus ride or drive to the larger stores closer to town.
I like to buy my things from the local families. It is fun to get to know the owners and their children. For me, creating personal relationships while doing business is more fun than shopping in larger stores. I like to know where my money goes. Even if things cost a little more than they would in a larger store, I don't mind because I feel like I am a part of the community. I don't like being nothing more than a statistic.