Access Lake Chapala Testimonials
As the years pass we help more and more newcomers make a smooth transition to the Lakeside area by guiding them through the process of making their move and finding the perfect home to live in. Many of our clients thank us once the process is complete and some provide us with a testimonial letting others know what their experience was like.
The Lakeside area is not just a home for expats that come to spend their retirements, but executives from companies located  between Guadalajara and Lake Chapala. Many major corporations have factories, offices and production centers in areas such as El Salto, Tlajomulco and the Guadalajara industrial park and the executives they relocate there prefer to live in Lake Chapala than in Guadalajara. All these areas are within a 25-45 minute driving range from Lake Chapala, so commute is easy. Some of the companies we have working relationships with are HP, IBM, Copper Tire and Benchmark electronics.
Below we have listed testimonials we have received from happy clients, there us a mix of video testimonials, written ones and signed letters received by our clients. Feel free to email us any questions you may have.
Steve Segilman, Oregon USA
I recently rented a house from Access, working closely with the Access Team. The experience was wonderfully positive and I unequivocally recommend their services to anyone interested in the Lake Chapala area. I came across their agency via a blind internet search and stayed on their website due to the wealth of information in their "Living Guide." Make a point of reading this material early in your search if possible as it is a real time saver!  We searched many real estate websites and became somewhat discerning in what we wanted in an agent. With this as context, the Access Team really stood out as the most ethical, hard- working, and sincere group of people I had known in years. And best of all, they made the process fun. You cannot go wrong working with these guys!
Luis Ceneviz, Cooper Tire Mexico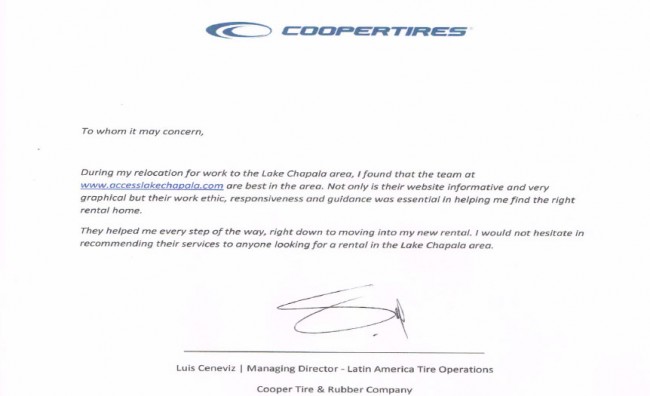 To whom it may concern, During my relocation for work to the Lake Chapala area, I found that the team at www.accesslakechapala.com are best in the area.
Not only is their website informative and very graphical but their work ethic, responsiveness and guidance was essential in helping me find the right rental home.
They helped me every step of the way, right down to moving into my new rental. I would not hesitate in recommending their services to anyone looking for a rental in the Lake Chapala area.
Bill Long, Kelowna BC
I'd like to talk a little about my experience with the Access team. I started doing research about the Lake Chapala area, particularly homes for rent. I looked at allot of different websites and actually found the Access website the most user friendly. It gave me a good idea of the different types of homes available.I made an appointment with them to view a few of their homes and they were just wonderful. Although I was here in the high season, they were able to take me to a variety of different homes within my price range. I then found one that was ideal for me and the location was great. I was able to move in promptly because the Access team did everything possible to make my move easy. Everything has been very easy working with them and I have nothing but high regards for the Access Lake Chapala team.
Paulo Vendrame, Nestle Mexico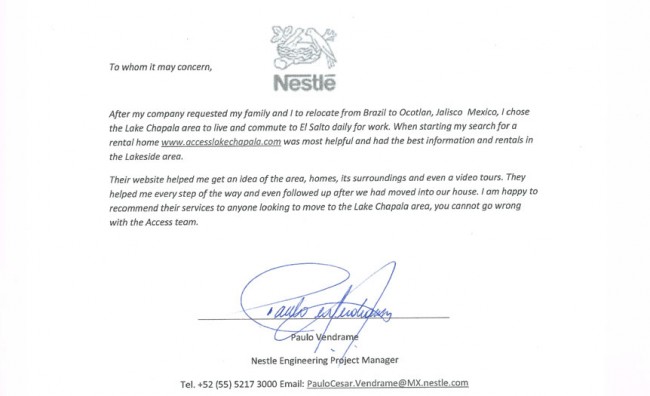 To whom it may concern, after my company requested my family and I to relocate from Brazil to Ocotlan, Jalisco  Mexico, I chose the Lake Chapala area to live and commute to El Salto daily for work. When starting my search for a rental home www.accesslakechapala.com was most helpful and had the best information and rentals in the Lakeside area.
Their website helped me get an idea of the area, homes, its surroundings and even video tours. They helped me every step of the way and even followed up after we had moved into our house. I am happy to recommend their services to anyone looking to move to the Lake Chapala area, you cannot go wrong with the Access team.
Zak Henson, Tectonic Engineering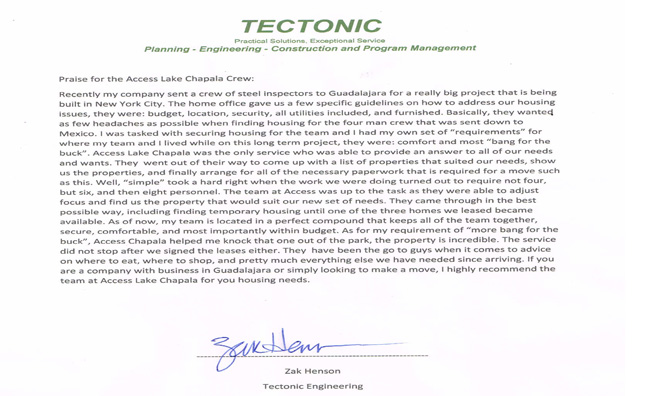 Recently my company sent a crew of steel inspectors to Guadalajara for a really big project that is being built in New York City. The home office gave us a few specific guidelines on how to address our housing issues, they were: budget, location, security, all utilities included, and furnished.
Basically, they wanted as few headaches as possible when finding housing. Access Lake Chapala was the only service who was able to provide an answer to all of our needs and wants. They  went out of their way to come up with a list of properties that suited our needs, show us the properties, and finally arrange for all of the necessary paperwork.