Buying or Selling a Property with Access
Access is one of the most unique and diverse companies in the Lakeside area. Our website presence shows you the time, effort and dedication we put into our work, not only with our online content but with or rental and sales clients. Access started with rentals back in 2009, quickly jumping to the number #1 resource in the market. Due to our experience and work ethic, many of our rental clients requested our services for buying and selling property. In 2016 Access became an agent of Lloyd Real Estate, opening the doors for our sales clients and paving our way to providing the same great service for potential home buyers and sellers.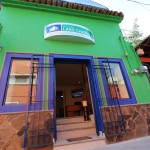 Many people who first visit the Lake Chapala area fall in love with the people, culture and the community, the initial reaction is to rent or immediately buy property, however renting before you buy is always the smart move, since studying the different communities along the Lake and the due diligence process takes time  Our specialty is to help our clients find a great rental while they look for the perfect property to buy. Since this gives you enough time in finding the home that fits your needs and to research the right location where you want to purchase.
Can a Foreigner buy Real Estate in Lake Chapala?
It is strange how sometimes facts get interpreted or misunderstood as they pass from one source to the next. You will hear different stories while you are researching the option to buy a property in Lake Chapala and the most common myth heard is that you cannot buy in Mexico, or that if you do, the property does not belong to you. One of the most common questions we have heard is:
"I would never consider buying a place in Mexico because you never own the land and you can´t leave the place to your children."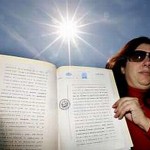 "Not true," I retorted. He is an intelligent person, just terribly misinformed on this subject. We talked through lunch about buying property anywhere and agreed that no matter where one buys, it is always best to use a reputable Real Estate Agent in Lake Chapala.  Agents everywhere are familiar with the area, they should listen to you and understand your concerns, needs and desires and, most importantly, know your budget as well.  And, of course, it is your obligation to be honest and to ask questions, but here in Mexico it is like anywhere else – it is all about location, location, location, not just price.
Yes, a Foreigner can buy property in Mexico.
We are in the sales and rental business in which eighty percent of the properties we represent are owned by foreigners. We even have clients who have several rental properties as investments, that they rent out year round. To get all the facts, you can research countless websites and will come to find that its easy to own property in Mexico  Here is a quote from Mexonline.com.
"Yes, Americans and other foreigners may obtain direct ownership of property in the interior of Mexico. However, under Mexican law, foreigners cannot own property outright within the restricted zone."
NOTE: Lake Chapala is located more than 100km away from the cost, which means you can have a direct deed in your name (read more below)
Beautiful Property in Chapala
Mexican Flag in Mazamitla
Example of zoning in Beach areas
By law the restricted zone encompasses all land located within 100 kilometers (about 62 miles) of the Mexican border, and within 50 kilometers (about 31 miles) of the Mexican coastline. Ajijic and Chapala is located more than 100km away from the border or coastline. So if you are going to invest in real estate here, you can have direct ownership, an Escritura (deed) in your name, you do not have to go through a bank trust.  If you where living in Puerto Vallarta  you would have to buy through the bank trust aka fidecomiso.
You can will or sell your property .
However, to encourage foreign investment the Mexican government created the fideicomiso which is a real estate trust. This trust, where the foreign investor, to enjoy all the privileges of ownership including the right to will or sell the property to others, applies only to the restricted zone. This clause or contract does not apply beyond the restricted zone. In other words when you buy property away from the coastline or the border, inland, the property is yours to do with as you wish.  Well, or course there are zoning and sometimes, in gated communities, other restrictions, but the property is yours to sell or to distribute in your will.
What other costs are associated with buying a property?
In most parts of the world, specially the US and Canada, property taxes can be very expensive, and are constantly on the rise. In Mexico, they are the direct opposite. Depending on the size of the lot and construction, a conservative 350 m2 (3,700 sq) lot with a 280m2 (3000 sq) home, can go for about 180-300 USD per year.
Paying the Predial at the main office
Example of Property Tax in hand
Example of Property Tax PAGADO stamp
Closing costs are known to be more expensive in Mexico, between 2.5%-4% (can vary), in which the most fees are for the transfer tax and notary fees and they calculated on the appraisal value of the property, not the purchase price. In most cases the appraisal value is about 50% less than the commercial value of the home.
Legal documents, the Notary and your direct ownership "Escritura"
All legal documents, transfer of lands and Mexican deeds, known as "escrituras" are done through a certified Mexican Notary, who is assigned by the Mexican government. There can only be a certain number of Notaries for each municipality and you as the buyer can select which Notary to use.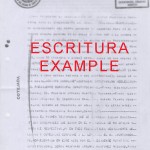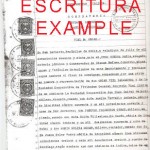 Example of Mexican Escritura
Once a deal has been made both parties need to present themselves at the Notary. The seller has to bring his deed "escritura", identification, water bill, utility bills paid up to date, and all his property tax receipts. The buyer needs to bring his passport, marriage certificate (if married), migratory document (VISA Temporal, VISA Permanente or Tourist Visa) and be prepared to pay the closing costs which always has to be paid by the buyer, can vary.
Once everything is recorded on paper the signing happens right in front of the notary and the seller receives payment once he signs over the deed, which is also done at the Notaries office.
You can buy on a Tourist Visa, Visa Temporal or Visa Permanente
If your stay in Mexico is less than 180 days, you do not even need any type of Mexican residency permits like the Visa Temporal or Visa Permanente. Mostly the short term people are those who buy in resort areas or those who come to Mexico to escape the cold or heat of their respective homes, and they usually hire a property manager to pay bills and possibly rent their homes when not in use.
Standard Mexican Tourist Visa FMM
Property managers also handle all household expenses for many clients who live in Mexico full time as it can sometimes seem confusing as to how and when to pay utilities, association dues, property taxes and association fees when they apply, and of course property managers also handle all maintenance issues and household help.
By Kevin Paulini, Access Immigration & Legal
Please use the form below to email us!
Error: Contact form not found.