El Fogon De Charlotte Restaurant Ajijic
El Fogon De Charlotte is a fairly new restaurant located on the Libramiento in the shopping center where the gas station is located. It is on the right side of the road as you are going towards Guadalajara. I was curious about the name they choose. I looked it up on the translator and it said Charlotte's Stove. But I am thinking it means Charlotte's Oven, not stove because they have a very special pizza oven. More about that later. Below is a photo of Charlotte. She is Charlie's now famous daughter. I had to put her on first because she is so special. No wonder they named their restaurant after her.
Their address is: Libramiento Chapala-Ajijic #132-9 Plaza Interlago. Charlotte is leaning against their daily specials chalk board. Every Tuesday afternoon they change their specials and post them on facebook with photos. You also can request your own specials and if possible, they will accommodate you. Or put it on the board for the next week. All you have to do is call them.
Above is a photo of the front of the restaurant. The outside patio is nice and cool. I had my lunch out there. There is no problem parking right next to the restaurant.
The owners are Charlie Robledo and Lore Chavez. Husband and wife. Charlie uses this motorcycle to deliver all over the area from Ajijic to Chapala. There is no delivery charge. You can see their phone number on the sign above and their hours on the sign below.
Lore and Charlie are in the photo below, standing inside the restaurant. It is decorated with bright colors and nice art work. It is cool and comfortable inside. They have a nice music system. They both started Lake Taco, the fish restaurant down the street from them. They ran it for seven years. Last year they finally opened their own restaurant. Sept.10th is their one year anniversary of being open and from what I can tell, they are a very successful business.
They must be good bosses because their five employees have been with them since they opened. Below is a photo the only one who makes pizza and uses the pizza oven. His name is Alfredo Zamora. He also makes other things in that oven. There are only two people in this entire area who know how to make pizza ovens. They had Jesus make theirs. Lore couldn't remember his last name. But he made a beautiful oven that does delicious pizzas.
In the photo above, Alfredo is measuring out the amount of flour needed for the pizzas. And you can see him in the photo below taking out a pizza. He takes great pride in his work. He makes his own tomato sauce. The Charolette Special Pizza is made out of Pepperoni, Salami, Ham, Italian Sausage, Pineapple, Black Olives, Green Peppers, mushrooms and onions and their special sauce. It is a favorite with the customers.
Below is the pizza as he scoops it out of the oven. This is a simple one with just sausage and sauce. You can have them put anything you want on your pizza. So, be creative.
And below is the pizza on the table, ready to eat. I didn't get the names of the two men but I am guessing that they are regulars. In just this one year of being open, they have many regulars.
Below is a photo of Alfredo taking bread out of the pizza oven. It is served with many of the meals.
Below is a photo of Lore and Benjamin, the waiter.
No one had ordered steak while I was there so I took this photo from their menu. Their meats come from Sonora meats in Guadalajara.
The customers very graciously let me photograph their meals before they started eating. The green salad looked good.
I forgot to add that they have some live music at night. Enrique. I don't know his last name but he plays the sax and will be there Friday, Saturday and Sunday evenings from six to eight p.m.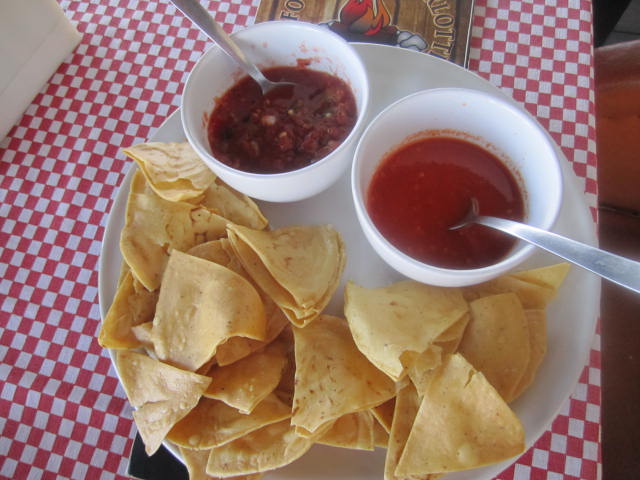 Chips and Salsa. They serve homemade chips and salsa for free before the meals. The one on the right is very hot. The left is perfect for a whimp like me.
They have a large menu. Above is one of their appetizers. Artichoke salad. I need to try that on my next trip.
Pork shank was one of their specials the week I was there and I sure wish I had ordered it. Lore said that the sauce isn't hot. They cook it in the pizza oven for six hours so it is very soft. They include salad, vegetables and baked potato with it.
My friend ordered the pork ribs and he gave me a couple of pieces. They were delicious. The sauce is very tasty. I had the fish and chips. It was fresh Mahi Mahi fish. I enjoyed my meal but next time I will try one of their other specials. They have so many different dishes that it would take me a long time to get through all of them.
If you just want to eat a small amount, then try their tacos. They have fish, meat and shrimp tacos.
I had a Margarita after my meal. They have mixed drinks, and many different kinds of beer.
I guess you can't tell from the photo but this is a very large glass. I can't believe I drank all of that.
I took some photos from their menu. I didn't put on the prices because they are always subject to change. Someone a year or two years from now might read a price and then get mad if it isn't the same as when this was written.
Above is part of their beer menu and below shows more of their plates. Lore said that clam chowder in a bread bowl is another of their popular meals.
They have Fish, Shrimp, Meat and Chicken dishes.
They make their own desserts. I was too full to order one so this photo above is from their menu. You can read some of their other desserts.
Above is a photo of their main chef. Her name is Cynthia Ibarra. She has two helpers to do the prep work, Lizet and Christobal.
Another one of the favorite specials with the customers is Chiles en Nogada. Pork Shank is right up there too. Of course, they have been told by many customers that their pizzas are the best in the entire lakeside area. So when Tuesday rolls around and you are wondering about their specials, go to Focon de Charlotte on facebook and see photo of them. Then if you don't feel like going out, call and have them deliver. They are closed on Mondays. You can take your dog there too and sit out on the patio. Lore keeps fresh water for them by the front door.
By, Evelyn Walker