I am excited to write that Access Lake Chapala is opening a new office in the central area of Ajijic. The address is: Ocampo 49. It is located next door to Manix Restaurant. It just opened this month, January of 2018. I have known the owners for six years and have been writing for them about events in town and many other informative subjects. I always knew that they would become very successful because of their high energy personalities, competence, honesty and passion for their work and for this community. I can't tell you how many times they have helped me out. I can always depend on them. They are both young, ambitious and full of energy.
They donate to local events so they will continue happening. They have been in business since August first of 2010. This will be their second office. The first one is located at 13A Morelos. In case you are not familiar with Ajijic, Morelos is the part of Colon that is closest to the lake. Streets here often will have two different names.
The first office on Morelos will be closed for a short period of time while it is being remodeled. The new office on Ocampo will be open. You are always welcome to drop in and check out the new office. There are still some finishes they are working on but should be at 100% within the next few weeks. It will be open Monday through Saturday from 9am to 5pm.
They are new agents joining the team. Currently, there will be 3 more agents to make a total of 6. Plus a support team of 5, Lourdes and Ramon in closings, Adriana in legal,  Julio in rentals  and Antonio in maintenance. Access handles both rentals and sales.
They were the first in this area to use Aeriel videos and virtual tours of houses. They have hundreds of home sales and rentals under their belts. If you go to you tube, to Accesslakechapala.com, you can see their videos of homes. You will see for yourself that they are the best website in town.
The photos on this article are of the new office. It is beautiful, large, sunny and inviting. Drop in and see it if you are in the neighborhood. Or go by and talk to one of the agents, look at their videos of home sales or rentals.
The photo above is of their reception area. I love their lighting and furniture. Every room is tastefully decorated and inviting.
Check out the beautiful hand blown glass sculpture on the wall.
There are two meeting rooms, four cubicles for the agents, a conference room, a peaceful garden and a parking lot for ten cars.
I will mention here about the parades since there is such a festive atmosphere in these photos. The parades come down Ocampo. You can see them from the front of the office. This was one of their main reasons for the location, most parades and events come right down Ocampo street.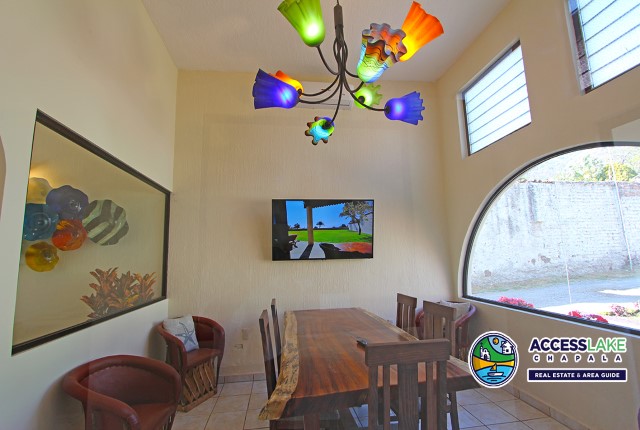 The photo above is of their conference room. It has a beautiful handmade wooden table. The windows are large so there is always lots of natural light with a view of the garden and fountain. Plus, another incredible hand blown glass light. Everything is bright and colorful in these rooms. There are some nice paintings on the walls too. It is worthwhile just to go in and see the offices.
I am a dog lover. I go everywhere with my little dog. His name is Chico. Chico is always welcome in these offices. The owners also have dogs and they know how important they are to us. After all, they are part of our families. If you are looking for a new home, you may want this family member to see it too and sniff it out. It is important to know that our dogs are welcome there.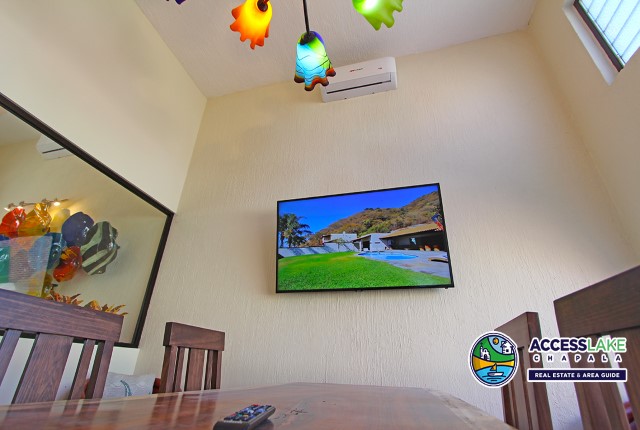 During this transition period, agents will be working out of the new office. After the office on Morales opens again, there will be agents at both offices. Currently there is one phone number for both offices. It is: 376 766 3654.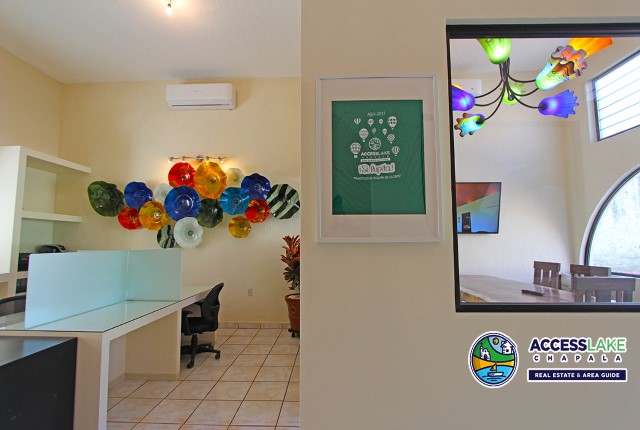 The photo above is another example of how the rooms flow into each other. Also, check out their new logo. It is on the corner of that photo on the right. All support staff members have new white shirts with that logo on it.
The photo above is an overhead view of the conference room. You can see that the rooms are all bright and flow into each other. Also, you can get a better view of that beautiful table. All the rooms have an uplifting feeling of space and comfort.
Above is a photo of the fountain and garden. Next to it is the large parking lot. If you have trouble walking, it will be easy for you to get into the office. There are no steps and the back door is close to the parking lot. Parking is always a problem in downtown Ajijic but not at this office. Parking is easy.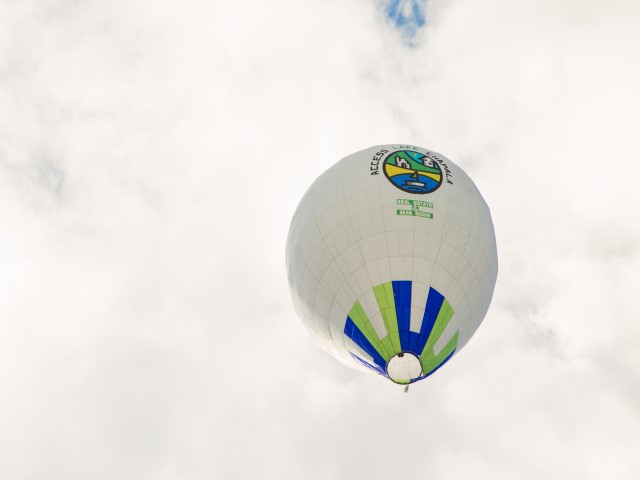 Above is a photo of one of the globos that was sponsored by Access Lake Chapala. They have at least one, sometimes two globos every year. I thought it would be a fitting end of this article because to me it represents the success of Access Lake Chapala. Always upward, hopeful and successful.
Keep your eyes out for new articles about events happening in town and BIENVENIDOS to one of the fastest growing real estate agencies in this area.