I last wrote on January 7th.  Since then I have done many different things. I probably have a hundred photos to sort through. It is always difficult for me to choose my favorite photos because there are so many interesting people and places here.  This is a photographer's paradise. Some of my favorite photos are taken at the Ajijic Wednesday market.
Before I started this article, I was thinking that I hadn't done much lately. I spend lots of time just sitting in my chaise lounge in my garden with my dog on my lap and a book in my hand. I read several books a week. Most evenings I spend at home reading or watching a video on my computer. Sometimes I use Skype to talk with my family and friends in the United States. It is fun for me to see their faces while we talk. It feels almost as if they were in the room with me. When I first visited Mexico, I lived in a small fishing village and there were no phones or computers. What a difference now. I don't feel isolated with my computer handy. Needless to say, I also spend a lot of time on my computer.
I was invited to an art opening last week. I was surprised that the artists allowed people to take photos of their paintings. It is the first art show where I didn't get into trouble for photographing the artwork. I don't know what the artists are afraid I would do with the photos. If their pictures are so easily copied then they are lacking something.  It was a pleasant surprise to be so welcomed by the three young Mexican men artists. My friend Ilona was with me. She is from Canada. She was surprised to see that we could just walk into the show and not pay an entrance fee and all the food and drinks were free. She said in Canada Art openings cost money and the food is expensive too. I loved all the paintings. I have many photos but I don't have room for them in this article.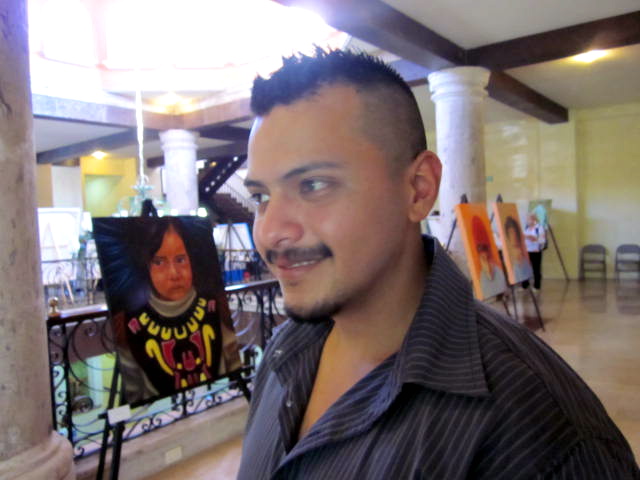 There are art openings here almost every week. When Ajijic was first getting popular as a place to live, it was because of the art scene here. It was an inexpensive place to live and many artists gravitated here. It is a great place to draw and paint because of the light and beautiful scenery. Unfortunately, the outside world doesn't know much about the art scene here because the artists usually don't like to have pictures taken of their works. But the restaurants and hotels are filled with original art works. There are also art classes that are open to everyone at minimal cost.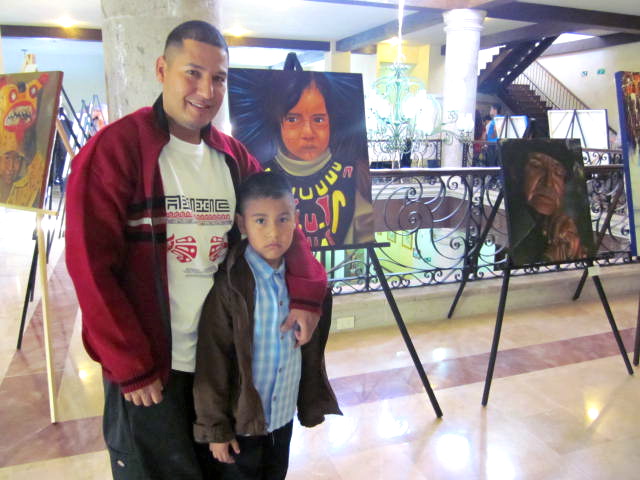 Most mornings I like to walk to the Lake Chapala Society. I have many friends here and often they are in the garden or the coffee shop.  Someone asked me if I had as many friends in the States as I do here. No. I only had a few friends in the States. It is very different here. Maybe it is because it is such a relaxed atmosphere. We are all retired. There are more single women than single men here.  The women like to stick together. It feels like I have a large, extended family with many sisters.  We help each other out and have fun together.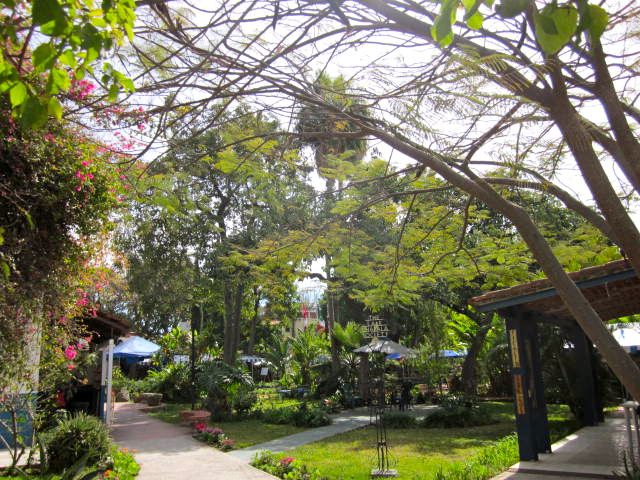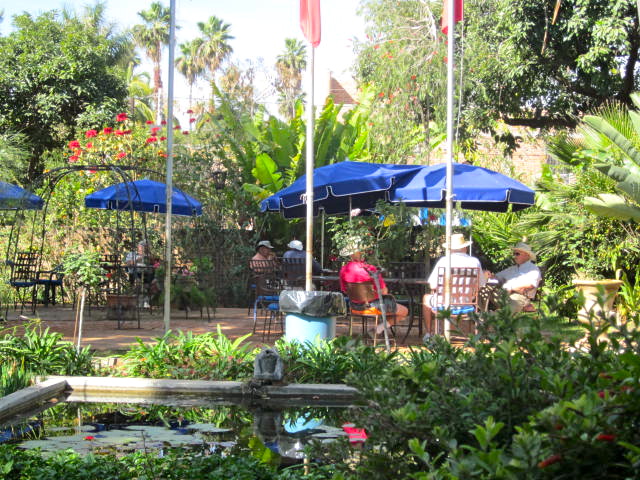 I meet new people every week. Recently I met Casey and Ilona. On Sunday we went to the Real de Chapala Hotel to have the brunch and listen to the mariachis. I love the mariachi music. For me, mariachi music expresses the soul of Mexico.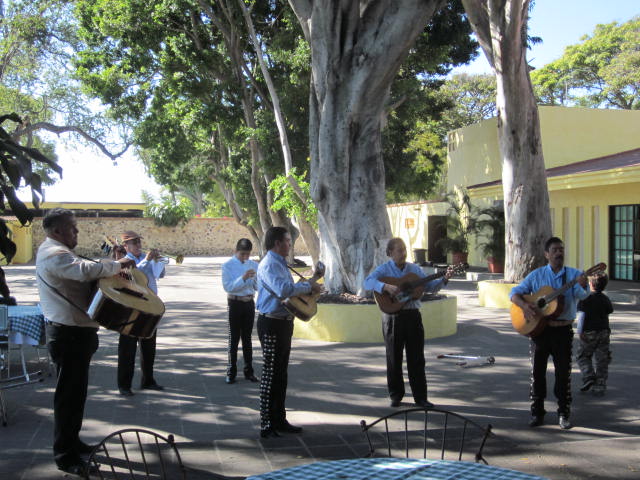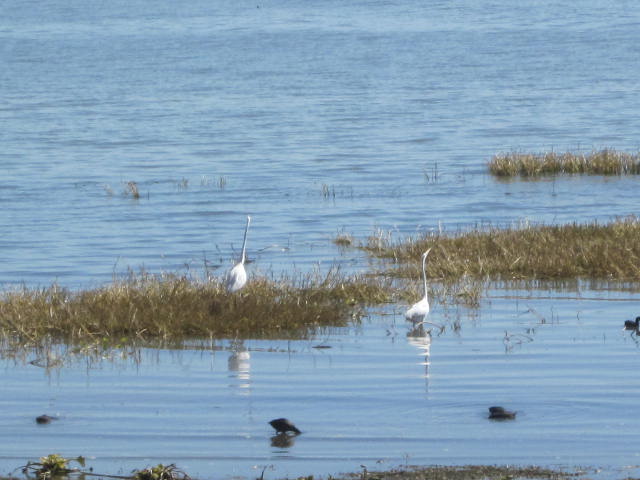 Another morning I went to the Waffle House with my friend Emily. We sat outside and the food was delicious.
I am trying to remember what else I did this past week. Oh yes, my friend Stacey had a huge birthday party. She invited fifty of her friends to lunch at the Hacienda Ajijic. She provided champagne and cake. We ordered what we wanted from the menu. Stacey has only lived here one year and she has already made that many friends. She calls herself the cruise director without a ship.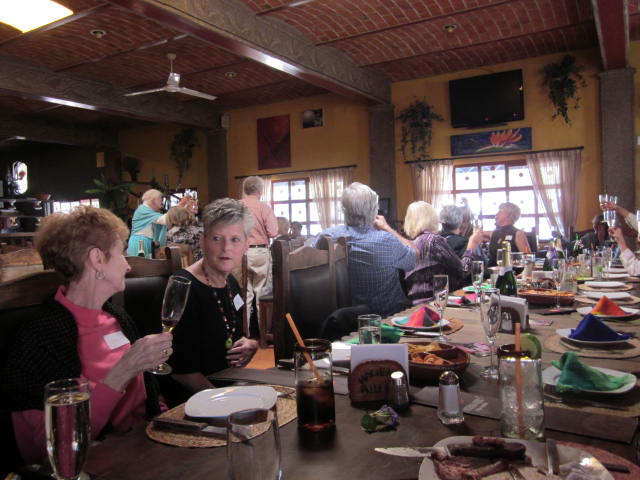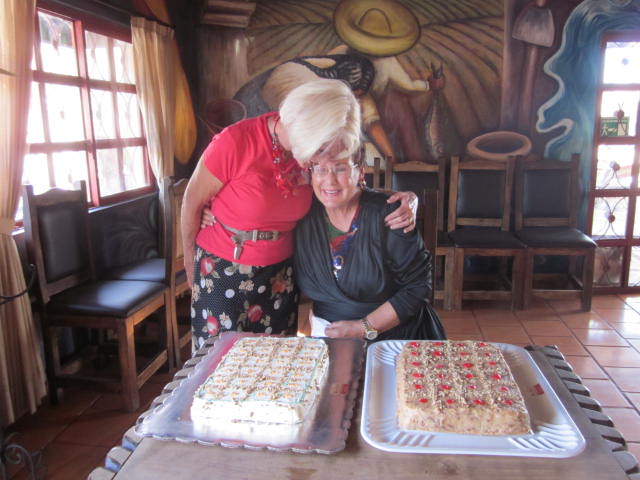 I sat next to one of Stacey's friends. He lives on the other side of the lake. I have often thought of visiting that side to see what it is like and how it compares with this area. He says it is very different. He is the only Gringo in the town where he lives. He doesn't speak Spanish. So he is teaching the Mexicans in the town to speak English. He invited me to visit with him. Stacey and a couple of other friends decided to take a day trip over there sometime soon. I will take photos and write about it. This man says he doesn't like the social scene over here. He prefers to be isolated. So you see, there are many choices of ways to live here. From Stacey's huge social circle to the isolation of her friend from the other side of the lake.
This is another reason I love living here. This is a lot of freedom. It is a live and let live world.  If you want to be the center of a social scene, it is here. If you want to be isolated, that is also possible here. I prefer a little of both worlds. That is why I spend several hours a day in my garden and most evenings in my casita. If I wanted to go out, there would be several interesting things to do here every night.
If you want to know more about the area, we are here to help.  You can contact me in the comments below and either I or one of the Access team members will be glad to help you and answer questions.