Driving Instructions from Lake Chapala Mexico to Laredo Texas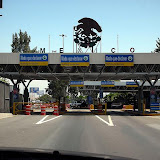 Current and updated as of January 2015 (Toll prices may vary)
This is a detailed driving instruction from Lake Chapala all the way to Laredo Texas. This driving guide has been put together by Kevin Paulini from Ajijic Legal and Immigration services. Kevin is part of the AccessLakeChapala.com team and our Immigration and Legal specialist. To contact and email Kevin, you can use the form included at the bottom of this guide or call him directly at:
Locally Lakeside:
766-4777 or 766-4888
From Mexico:
01-376-766-4777
From Outside Mexico:
011-52-376-766-4777
011-52-376-766-4888
Driving Guide Lake Chapala to Laredo Texas

There are a few different variations for driving to Laredo, Texas from GDL, Jalisco. I have personally made this trip more than 18 times, and have found the instructions below to be the best way in my opinion. There are very good roads with bypasses around almost all towns, making it a smooth and effortless 12 hour drive. This time is keeping to reasonable speeds.
Make sure you have pesos for this trip, we have not encountered any fuel station that takes dollars and certainly no tolls will. The toll costs listed below are from September, 2013 and can change at any time.
You may or may not find Military and or Federal Police check points. My last particular drive at the end of September, 2013 found only one which just flagged us through. Back in March I ran into 4, just be aware they could be out there, stop if asked, remove your sunglasses and have papers ready just in case they ask.
Most of these roads are good but do vary in surfaces for no reason. Always be alert because some of the curves and hills can catch you by surprise. Make sure all fluids including coolant are good, and tire pressures are very important as well.
Gas stations are plenty on this route, as well as some convenience stores like OXXO to get snacks and drinks. There are also a few Subway restaurants along the way too if the local cuisine is not to your liking.
The mileage listed is from my SUV odometer, and should be accurate, but I am sure some others may have discrepancies to mine. So make sure you are ready for the upcoming directions a head of time. The mileage listed is kilometers.
Most of all, have fun, this is a beautiful drive with some incredible scenery.
To read our driving guide from LAREDO to CHAPALA click here
0.0  km – mph –   Toll 50 pesos. First toll outside of GDL just past Tonala – Reset your odometer to 0.0
4.0   km – 2.5 mph –   Stay left 80D
44.1 km – 27.4 mph –  Toll 108 pesos
91.8 km – 57.0 mph –  Toll 128 pesos
120.2 km – 74.7 mph –    Be very cautious here, there are 3 options here and they are not very well marked, you will be taking the straight through option to Lagos de Moreno
148.6 km – 92.3 mph –    Left turn just past Pemex – This is the bypass around Lagos de Moreno
152.7 km – 94.9 mph –    Railway Tracks
154.0 km – 95.7 mph –    Really rough speed bumps before intersection
154.4 km – 95.9 mph –    Through intersection following signs for San Luis Potosi (SLP from here)
158.5 km – 98.5 mph –    Pass between 2 Pemex stations
159.0 km – 98.8 mph –    Another set of bad speed bumps
161.1 km – 100.1 mph –    Traffic circle which you need to take ¾ away around to head north/north east to SLP
173.1 km – 107.6 mph –    Stay on "Cuota" road
180.7 km – 112.3 mph –    Toll 90 pesos
238.8 km – 148.4 mph –    Matahuala exit
239.3 km – 148.7 mph –    Continue following Matahuala direction
286.0 km – 177.7 mph –    Toll 118 pesos
314.6 km – 195.5 mph –    Keep left towards SLP
317.1 km – 197.0 mph –    Keep right towards Matahuala/Saltillo
327.0 km – 203.2 mph –    Toll 53 pesos – This toll station is an excellent rest place with huge clean bathrooms, a coffee shop and Subway
429.8 km – 267.1 mph –    Stay left to Matahuala
500.9 km – 311.2 mph –    Tropic of Cancer
505.2   Stay right onto Cuota around Matahuala – Matahuala is the mid-way point at around 6 hours. Good place to stay if you do not wish to make the drive in one shot, this town pretty much divides the trip in half. There are also 2 good motels to choose from (Casa Inn and La Palmao) and one is pet friendly. Also good food is to be had here. If you choose this option just be careful of the mileage as it will vary from simply going around, but it shouldn't be much.
514.9 km – 319.9 mph –    Toll 20 pesos
708.9 km – 440.5 mph –    Keep right on the bypass around Saltillo
711.1 km – 441.9 mph –    Toll 55 pesos
754.5 km – 468.8 mph –    Toll 35 pesos
762.9 km – 474.0 mph –    keep right toward Monterey/Nuevo Laredo
768.4 km – 477.5 mph –    stay right toward Monterey Cuota
796.6 km – 495.0 mph –    Toll Right hand tolls towards Laredo 45 pesos which curves around to the left and under the highway – This is the Monterey bypass
812.6 km – 504.9 mph –    Toll 130 pesos
834.8 km – 518.9 mph –    Stay left towards exit Mex 85 towards Nuevo Laredo
840.4 km – 522.2 mph –    Stay left to Laredo Quota
913.9 km – 567.9 mph –    Toll 205 pesos – This is the last toll other than the bridge crossing into the U.S.
958.8 km – 595.8 mph –    Cuota road finishes – Pavement quality drops
1006.7 km – 625.5 mph –  Customs and Immigration checkpoint – AKA Checkpoint Charlie or 25 km checkpoint
1023.7 km – 636.1 mph –  Right exit to International Bridge II, also the bypass around Nuevo Laredo
1034.6 km – 642.9 mph –  Right exit to Car Permit office and Immigration
*If you do need to go down to the car permit or Immigration office you will go down under the bridge, and once you are complete come back up the same road and make the sharp right almost U-turn at the top to get back onto the road to the bridge. Bridge toll is either 25 pesos or 2 USD.
*If a stop for the car permit or Immigration is not required continue straight through to the bridge
How it looks once you reach Laredo:
Right before you get to Laredo you get to a checkpoint, here is an idea of what you will expect to see: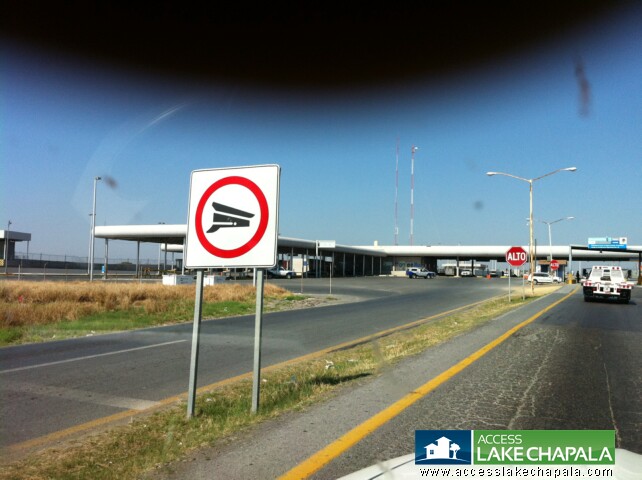 Turning in your Car Permit:
Whoopi! You made it to the US!
TIP: Try your best to get to this bridge crossing before 4:30, this will help speed things up.
NOTE: Toll prices may change, the prices are not exact. Federal military check points also tend to change every few years.
By, Kevin Paulini